Oakland Athletics outfielder Yoenis Cespedes has won the 2013 Home Run Derby! Matched up against some of the top hitters in MLB, Cespedes shocked the world and walked away with the gold.
While the Oakland star's dominance has been established, he wasn't the only hitter to impress—so what were the evening's most impressive performances?
From Cespedes' heroics to his competitors launching bombs throughout the event, we saw it all. But only a select few could emerge as the best of the best on this evening.
It all starts with the unsung hero that struck gold.
Yoenis Cespedes, Oakland Athletics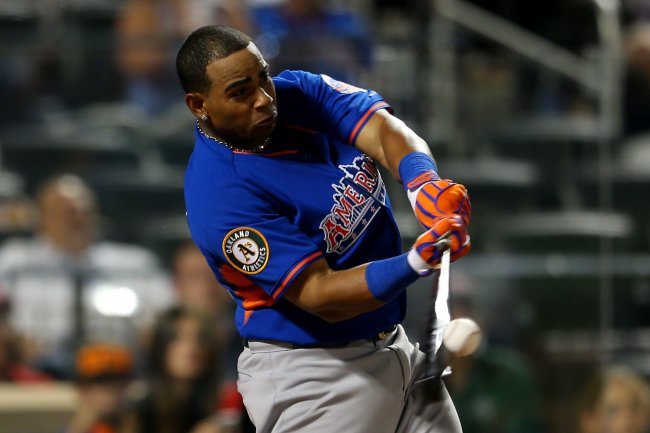 Mike Ehrmann/Getty Images
Round 1: 17
Round 2: 6
Round 3: 9
Total: 32
If you weren't impressed by Oakland Athletics slugger Yoenis Cespedes, then I'm not sure what you were looking for. After all, the 27-year-old did win the event by out-slugging everyone who rivaled him in each of the rounds he played.
And it wasn't by the skin of his teeth—Cespedes was hitting bombs.
Not only was Cespedes flashing power, but he put forth a legendary effort. During each round, Cespedes blasted shots over the wall until the competition was forced to question whether or not they could keep the pace.
Few could've stopped Cespedes on this evening.
Yoenis Cespedes-- hits the 3rd-most HR in a single #HRDerby all-time. Here's the top-5 list pic.twitter.com/70HgYxKRdV

— ESPN Stats & Info (@ESPNStatsInfo) July 16, 2013
Bomb after bomb until he was champion.
Shot after shot went over the fences, hitting everything from the car parked deep in center field to the windows on the high-rising restaurants at Citi Field. Even when Bryce Harper stacked the deck high with eight home runs during the final round of play, Cespedes broke through with no issue.
Suddenly, MLB has a new power bat to recognize and respect.
Michael Cuddyer, Colorado Rockies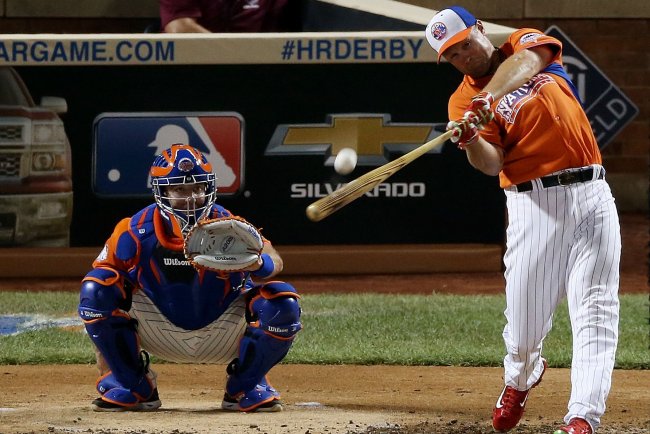 Bruce Bennett/Getty Images
Round 1: 7
Round 2: 8
Total: 15
It didn't take much baseball knowledge to know that Michael Cuddyer didn't belong on the Home Run Derby roster. A consistent producer, Cuddyer has never been viewed as a player that dominates with the long ball.
How wrong we were.
Quit hatin, and show your appreciation. Michael Cuddyer is a power hitter. #HRDerby

— ESPN (@espn) July 16, 2013
If not for a ridiculous second-round power surge by Bryce Harper, Cuddyer would have been a finalist.
Cuddyer is what's right about this event, stepping up as a representative of the players who are not household names. Even with the odds stacked against him, he got the crowd on his side with consistent power shots.
Talk about winning some new fans.
Bryce Harper, Washington Nationals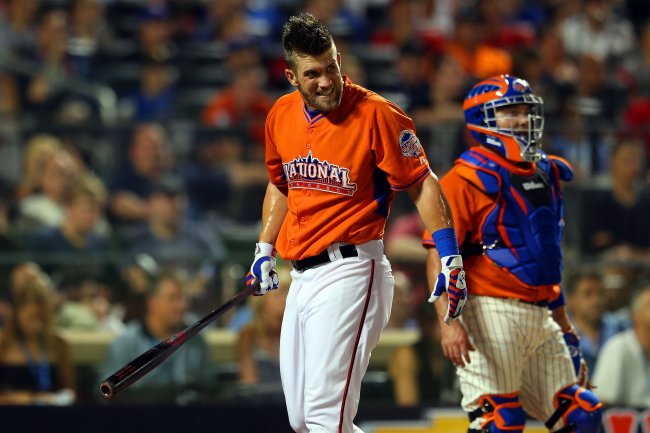 Mike Ehrmann/Getty Images
Round 1: 8
Round 2: 8
Round 3: 8
Total: 24
If Yoenis Cespedes was hitting bombs, Bryce Harper's shots were floating over the wall. To paraphrase Chris Berman, "Float, float, float—gone."
At the end of the day, it's all about whether or not they get there—not how.
Entering the 2013 Home Run Derby, there were few who questioned the raw power that Harper possesses. During the derby, however, it was the air under Harper's long bombs that had the world in awe.
Unfortunately, it wasn't enough to secure a win.
Bryce Harper looks mad he didn't win the Home Run Derby. Uber-competitive. Love it! #Nationals

— Amy Lawrence (@ALawRadio) July 16, 2013
Even at an event designed for entertainment, Harper wanted to be the best.
Harper hit numerous home runs that looked more like certain outs than balls destined to land in the crowd. Just as we looked away in disappointment, however, Harper watched his hits slowly drift deep over the wall.
And just when we slept on him, he'd hit a bomb to rival anything we'd seen that evening—the story of a phenom.