Ranking Cincinnati Reds' Best Minor League Bargaining Chips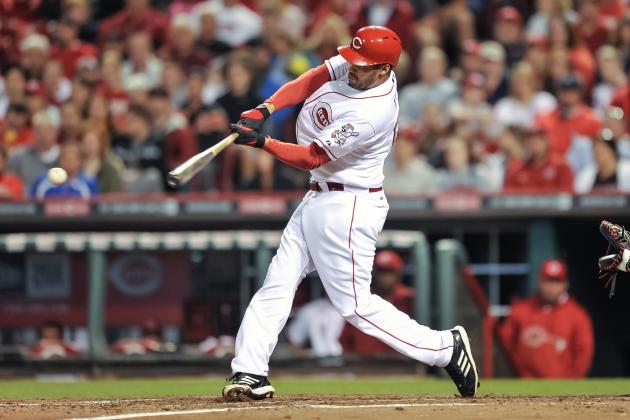 Jamie Sabau/Getty Images
Donald Lutz's power could draw interest from many teams.
With the July 31 MLB trade deadline quickly approaching, the Cincinnati Reds will have to consider dealing some of their top prospects in order to help improve the team's chances of winning the World Series.
The Reds have a depleted farm system thanks to several trades the last few years, including a deal for Mat Latos.
There aren't many holes on the team's current roster. Picking up a reliever or getting a right-handed bat in the outfield could be on the team's wish list, but there won't be any major deals made.
No, Billy Hamilton won't make this list. He would undoubtedly draw a lot of interest, but the Reds aren't going to trade him. The players on this list are players that the team would give up for the right player.
Let's take a look at minor leaguers who the team could deal for an impact player at the deadline.
*All stats are courtesy of MiLB.com
Begin Slideshow

»
2013 A (Bakersfield) stats: .251/.319/.470, 9 HR, 20 2B, 4 3B, 35 RBI, 6 SB
2013 AA stats (Pensacola): .253/.317/.368, 1 HR, 6 2B, 1 3B, 10 RBI
The numbers don't look great, but Yorman Rodriguez has the potential to be a very good player. The 20-year-old is far from a finished product. He still has plenty of developing to go through, and it will take some time for him to put it all together.
He hit above .255 only once in his career, but he has the tools to be a very good player.
As the numbers suggest, he's got a little bit of pop and some speed. He needs to work on swinging at only strikes, and he needs to work on hitting breaking balls.
He has a strong arm in the outfield and can be a very good defensive player.
Rodriguez has a lot of strengths, but there are plenty of things that he has to work on as he moves up through the system.
There is potential for Rodriguez to be very good in the majors, but he is a long way from being that player. Another team could see his potential and look to get him in a trade at the deadline.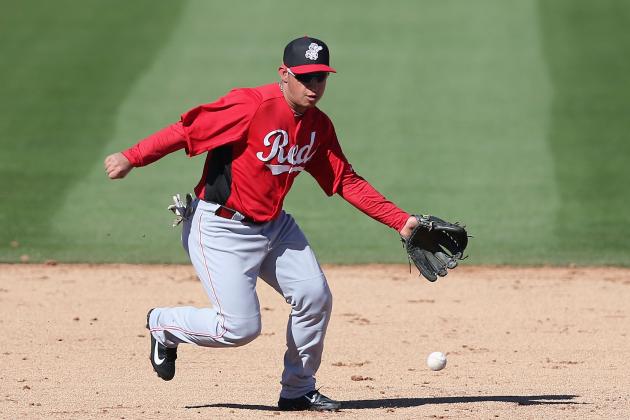 Christian Petersen/Getty Images
Henry Rodriguez is a prospect who could help the team get a good player at the deadline.
2013 AAA (Louisville) stats: .245/.285/.319, 4 HR, 13 2B, 35 RBI
Henry Rodriguez could be a valuable player for the Reds in September because of his versatility, but there isn't much of a future for him in the organization.
The 23-year-old plays second base in Louisville, and the Reds have the best second baseman in the league in Brandon Phillips. The All-Star isn't going anywhere anytime soon.
Having Phillips locked up makes Rodriguez expendable.
Rodriguez doesn't have great power, but he has hit above .300 for most of his career. He entered 2013 with a .303 average in the minors for his career.
He can hit from both sides of the plate, and he can hit a home run every once in a while. He has good speed and has stolen at least 20 bases in a season three times in his career.
Rodriguez could get to the big leagues as a utility player, but teams will be forced to find a spot for him because of his bat. He will hit for average and play wherever a team needs him.
The Reds already have a second baseman for many years to come, and they have young players on the left side of the infield. Rodriguez could be part of a deal that brings back a veteran player at the deadline.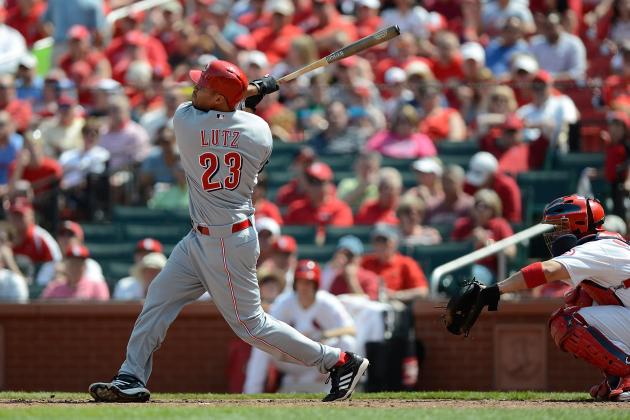 Jeff Curry/Getty Images
Lutz's power makes him an attractive prospect.
2013 MLB stats: .241/.254/.310, 1 HR, 8 RBI, 2 SB
2013 AA (Pensacola) stats: .230/.320/.422, 5 HR, 7 2B, 19 RBI, 4 SB
The 24-year-old was brought to the majors from Pensacola this year, and he did very well in his first month before tailing off near the end.
Donald Lutz's performance in the big leagues was solid given that he was brought up from Double-A.
He has great power, which is his biggest asset. He has hit at least 20 home runs in each of the last two seasons, and he is still very young.
Lutz has good speed for a big guy, and he can steal a base every once in a while. He showed that he could play defense in left field. He is a solid all-around player, which makes him a valuable addition to a team that is looking for players who can help out in the future.
His bat would fit well at Great American Ball Park in the future, but the team is looking to win now. Lutz could be packaged with other prospects to get a quality player at the deadline.
*Stats are from MLB.com and MiLB.com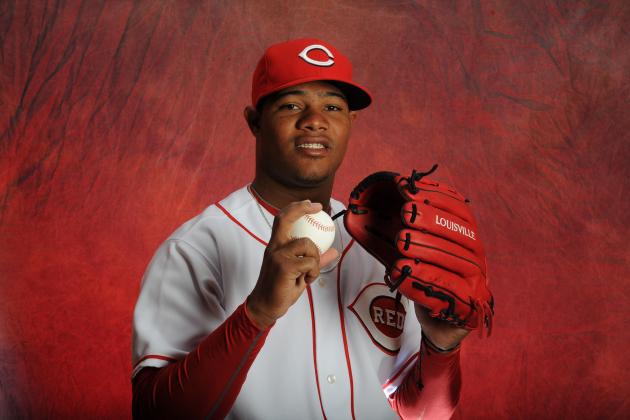 Rich Pilling/Getty Images
Daniel Corcino is a talented prospect, but the team has other pitching prospects on the way through the system.
2013 AAA (Louisville) stats: 18 G/17 GS, 4-11, 6.40 ERA, 90 IP, 58 K/47 BB
Once thought to be a top prospect, Daniel Corcino has had a rough season in Louisville. Mark Sheldon of MLB.com compared Corcino to Johnny Cueto, and the youngster could turn out to be as dominant as the Reds' ace. However, he is still a couple of years away from making an impact in the majors.
Corcino is pitching better lately. He has gone at least six innings in each of his last four starts, including seven innings three times. He had only pitched six innings once in his first 14 appearances.
His stock has taken a hit this year, but his recent starts could be adding some value. He has allowed three runs or fewer in five of his last six outings.
The right-hander has a lot of potential. However, the Reds have plenty of arms in the system.
The current rotation has Cueto, Mat Latos, Homer Bailey and Mike Leake for the foreseeable future. Southpaw Tony Cingrani is also set to be a starter next year. Right-handers Robert Stephenson and Nicolas Travieso are a couple of years away, but they could be even better than Corcino.
With the surplus of arms in the organization, Corcino could be on the move at the deadline. It's too early to give up on him, but he has some value on the market.
He's had trouble adjusting in his first season in Louisville, but the 22-year-old has plenty of time to figure it out.
The team can dangle Corcino because of its talented system, and some team would love to get Corcino's talented arm in exchange for a veteran.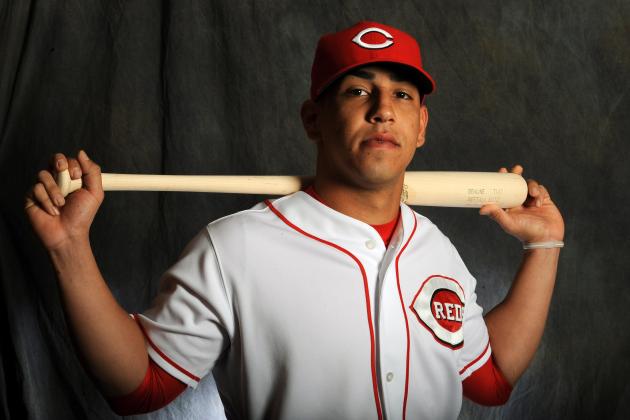 Rich Pilling/Getty Images
Neftali Soto is a key trade chip thanks to Joey Votto.
2013 AAA (Louisville) stats: .278/.319/.428, 11 HR, 17 2B, 45 RBI
Like Henry Rodriguez, Neftali Soto is the victim of an All-Star player at his position in the majors. First baseman Joey Votto is locked up for the next decade, so Soto will be traded at some point.
Soto has incredible power, so he will draw a lot of interest if the Reds put him on the market.
He has hit 20 home runs twice in a season, including 31 in 2011. He has done a good job of hitting homers and doubles.
The first baseman struggled to hit for average in his first full season at Triple-A last year, but he has improved this year. The right-hander is hitting .330 against southpaws, but he has hit home runs against right-handers and left-handers.
Soto has had an interesting season at the plate. He is hitting only .230 with the bases empty, but he is hitting .338 with runners on and .272 with runners in scoring position. He has 183 at-bats with nobody on and 151 with at least one runner on, so it's not like he hasn't had chances in both situations.
His struggles on defense make him a perfect fit for a team in the American League, but any team that needs a first baseman would be smart to grab him. He can become a solid fielder with practice, but his bat is what makes him an attractive trade chip.
Soto is stuck behind Votto, and he will have to go elsewhere in order to get playing time in the majors. His bat would help the Reds in the future, especially at Great American Ball Park, but the team could look to deal in him at this year's deadline.