Ohio State Basketball: The 5 Most Unlikely Success Stories in Buckeyes' History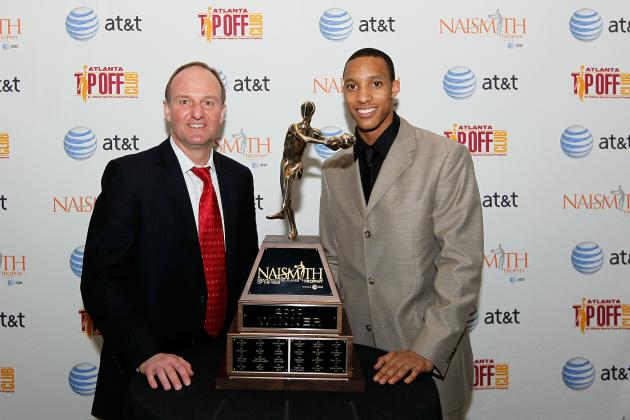 Kevin C. Cox/Getty Images

It may not quite match the historical legacy of its football counterpart, but there has been plenty of success within the confines of the Ohio State basketball program.
Only five schools have been to more Final Fours than the 11 the Buckeyes have seen, and there has been a regular stream of players going from Columbus to the NBA since Thad Matta took the reins.
But not every success story was expected to happen. Read on to see the five most unlikely tales of achievement in Buckeyes' history.
Begin Slideshow

»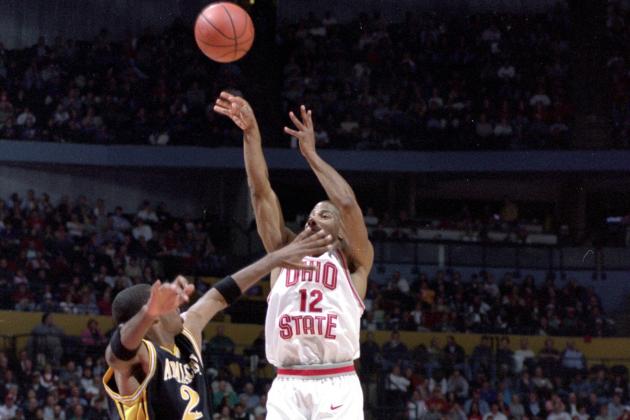 Jonathan Daniel/Getty Images

According to the NCAA, the 1999 Final Four run that Jim O'Brien's Ohio State team thrilled Buckeye Nation with never happened.
However, for those who don't necessarily accept the NCAA's revisionist history, it was a surprising March run. It's not as if the Buckeyes were a Cinderella darling along the same lines as a VCU, but few people if any expected the No. 4 seed in the South Region to emerge from a bracket that included No. 1 seed Auburn, UCLA, Maryland, St. John's, Indiana, Syracuse and Louisville.
Scoonie Penn and Michael Redd formulated one of the best backcourt pairs in Ohio State history, and each turned it on come tournament time. The two guards combined for 48 points in an upset Sweet 16 victory over Auburn and then followed that up with 42 combined points in the Elite Eight against St. John's.
The magic ran out in the national semifinals against a loaded Connecticut squad, but it was a surprising and enjoyable run from a Buckeye program that hadn't been to the Final Four in generations.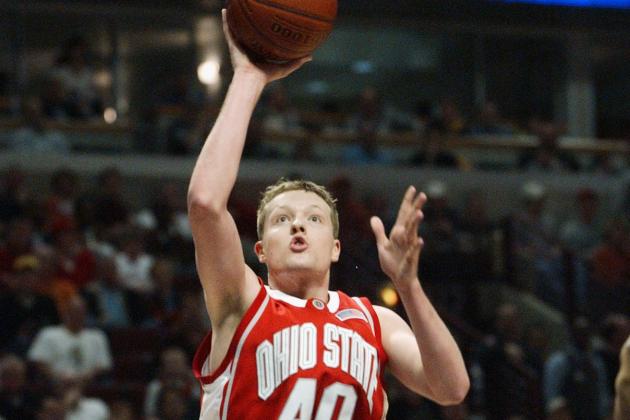 Jonathan Daniel/Getty Images

The final game of the regular season was supposed to be a formality for a mighty Illinois squad.
After all, the Illini were 29-0 and had visions of finishing the season, Big Ten tournament and NCAA tournament without a single blemish. All that stood in the way for Dee Brown, Luther Head, Deron Williams and company was an 18-11 Ohio State team that wasn't even eligible for the NCAA tournament thanks to the transgressions of a past coaching staff.
The first half played out just as expected, with the Illini taking what appeared to be a commanding 11-point lead into the locker room. Gradually though, Terence Dials (who finished with 21 points) and the Buckeyes chipped away at the lead.
With merely seconds remaining, Matt Sylvester, who came off the bench to have the absolute game of his life with 25 points, drained a three-pointer to give Ohio State a one-point lead. Illinois missed its desperation shot at the buzzer, and thousands of delirious Buckeye fans streamed onto the court in celebration.
There may not have been an NCAA tournament at the end of the road for that Ohio State squad, but that shocking upset marked the arrival of new coach Thad Matta's program to the national scene.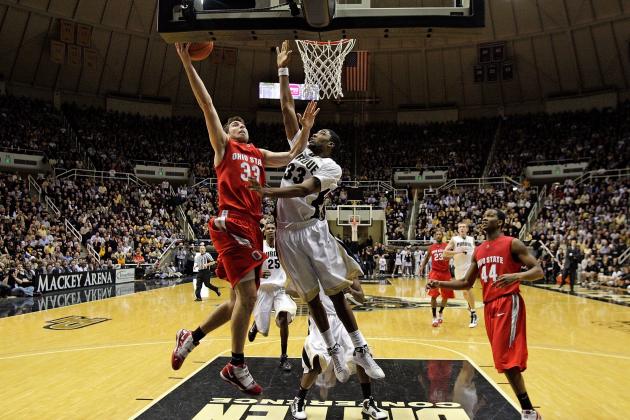 Andy Lyons/Getty Images

The phrase truth is stranger than fiction was invented for stories like that of Mark Titus.
Since almost the inception of college basketball, there have always been guys sitting at the end of the bench who will never play significant minutes and are there to fill out a roster, offer support for teammates or even entertain fans in the final moments of blowouts.
Titus filled that role as well as one could expect for the 2007 Final Four Buckeyes and with little fanfare until he humorously announced his intention to return for his sophomore season to an audience chanting "one more year" at a pep rally. The only thing was that crowd was chanting for Greg Oden and Mike Conley Jr.
From there on, Titus became one of the most popular players in all of college basketball through his Club Trillion blog, which chronicled the life of a walk-on with an entertaining sense of humor and sarcasm. The blog was deemed Club Trillion because a walk-on's box score looks like the number one trillion with one minute of action and no other statistics.
Titus went on to write a book, sell countless number of shirts in the Columbus area and now write for Bill Simmons' Grantland site, an extension of ESPN. Titus' overall success may have little to do with actual basketball, but it is about as unlikely as anything else in Buckeye history.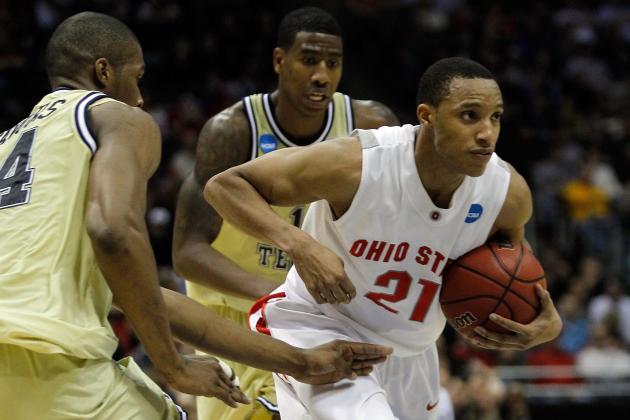 Jonathan Daniel/Getty Images

The fact that Evan Turner became one of the most successful Ohio State basketball players in program history isn't the surprising part. It was the way he did so in his final season.
Turner broke his back in a nasty fall in an early season blowout victory against Eastern Michigan, and there was legitimate fear that he would be out for the entire season. With an injury as scary as broken vertebrae, Turner's overall future off the court seemed more important at the time than how the basketball team would be affected.
Amazingly, Turner missed only six games and returned just in time for the Scarlet and Gray. The Buckeyes struggled without him and fell out of the national rankings after a 1-3 start in conference play.
Spurred by an unbelievable 32 point game at No. 6 Purdue, Turner led Ohio State to a 14-4 conference record, which was good enough for a Big Ten crown. He also won Most Outstanding Player in the Big Ten tournament that the Buckeyes won and hit a thrilling game-winning shot from just inside half-court against Michigan in the quarterfinals.
Turner won National Player of the Year honors, and his team ended up with a No. 2 seed in the NCAA tournament. The fact that he played so well that season isn't the surprising part, but his miraculous recovery from a nearly devastating injury and his flair for the dramatics (the buzzer beater against Michigan, carrying the team against Purdue, etc.) were enough to make this list.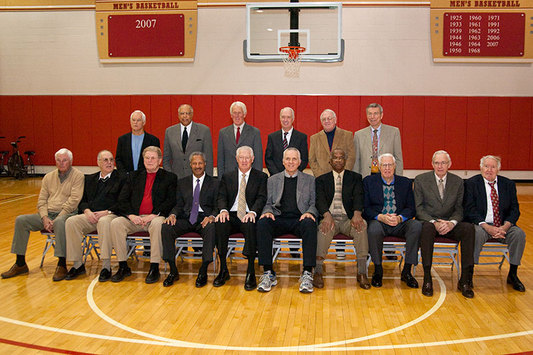 photo courtesy of thebuckeyebattlecry.com
In retrospect, a roster that included the likes of Jerry Lucas and John Havlicek winning the national title to spur a run that saw Ohio State in the national championship game three straight years isn't all that surprising.
But it is when context and history is taken into consideration.
Per sports-reference.com, the Buckeyes only went to one other NCAA tournament in the 13 years prior to their lone national title. It was so bad that they only had four winning seasons in that stretch, or just as many years that they only won single-digit games.
Yes, there were significantly fewer contests per season back then, but the fact that Ohio State went from a program that was winning fewer than 10 games a year as often as it was finishing seasons with a winning record to a champion is incredible.
The key to the national title run was landing Havlicek and Lucas on the recruiting trail. Both were highly sought after prospects who spurned more successful programs to don the Scarlet and Gray. The result was an amazing program turnaround and the solo national title hanging in the rafters of the Schottenstein Center.
Follow and interact with Ohio State basketball writer Scott Polacek on Twitter @ScottPolacek.