Ed Zurga/Getty Images
With the 2013 All-Star break behind us, the second half of the MLB season is set to kick off, meaning trade rumors and playoff races will start to heat up around the league.
From players changing teams to top prospects getting the call to the majors, the second half of the season should bring plenty of excitement.
Ranging from individual players to major awards and postseason prognostications, here are 50 predictions for the second half of the season.
Atlanta Braves: Andrelton Simmons Will Lead Team in WAR, Win Gold Glove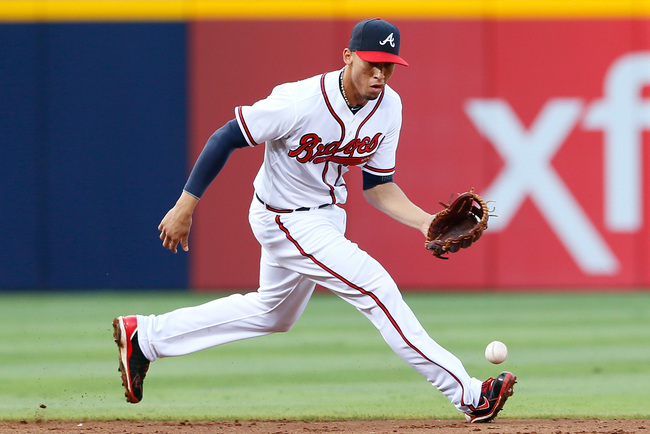 Kevin C. Cox/Getty Images
In 49 games last season, Andrelton Simmons hit .289/.335/.416 with a 2.2 WAR (Wins Above Replacement) and an 11.0 UZR (Ultimate Zone Rating) defensively at shortstop, per FanGraphs. That was enough for the Braves to entrust him with the everyday job in 2013.
He impressed at the plate for Team Netherlands in the WBC, but he's hitting just .243/.282/.348 with eight home runs and 30 RBI on the season.
Still, he's managed a 1.7 WAR thanks to phenomenal defense once again at the shortstop position. His 12.6 UZR ranks No. 1 at the position and No. 3 among all position players. If he can step up his offensive production some in the second half, expect him to top the team in WAR by season's end.
Miami Marlins: Giancarlo Stanton Will Still Reach 30 Home Runs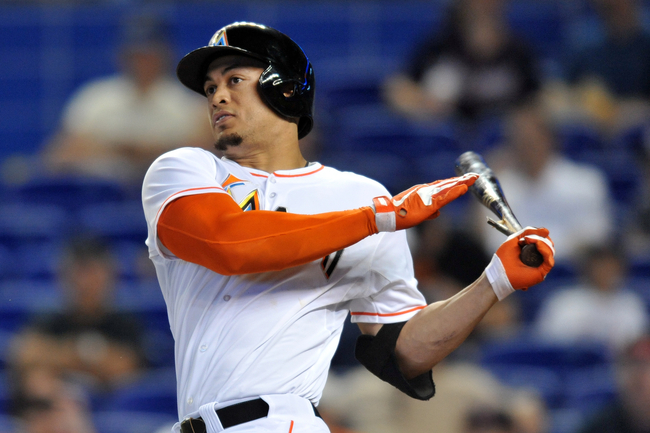 Steve Mitchell/Getty Images
There may be no one in baseball with more raw power than Giancarlo Stanton.
He was expected to be one of the few bright spots in Miami this season following the team's offseason fire sale. Instead, injuries limited him to just 51 games and 192 at-bats in the first half, though he still managed to post an .815 OPS and hit 10 home runs.
Healthy once again, he should have no problem getting his power production back on track. Expect the 23-year-old to post his third consecutive 30-plus home run season with a big second half.
New York Mets: Travis d'Arnaud Will Make R.A. Dickey Trade Look Even Better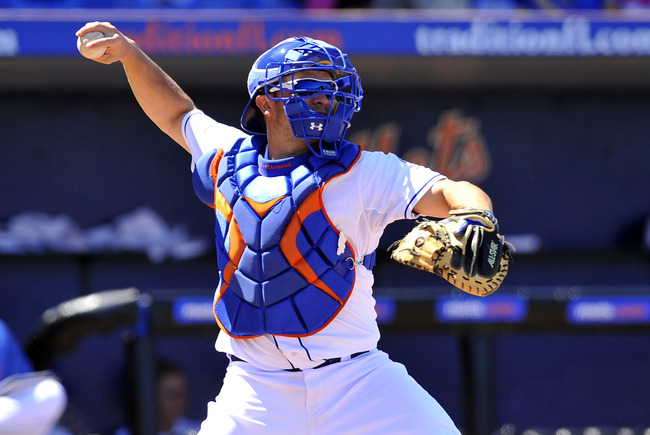 Brad Barr-USA TODAY Sports
The decision to trade reigning Cy Young winner R.A. Dickey this past offseason was no doubt a tough one for the Mets, but they managed to get an impressive return for him.
Right-hander Noah Syndergaard was one key piece acquired in the deal. The 20-year-old has gone 5-3 with a 2.84 ERA and 9.6 K/9 between High-A and Double-A. He earned the start for Team USA in the Futures Game and looks like he'll be a terrific arm alongside Matt Harvey and Zack Wheeler.
He wasn't even viewed as the top piece of the trade, though, as catcher Travis d'Arnaud entered the year as one of the top catching prospects in the game. He's been sidelined with a fractured foot since mid-April, but once he returns he should find himself in New York quickly to make that trade look even better for the Mets.
Philadelphia Phillies: Cliff Lee Won't Be Traded at the Deadline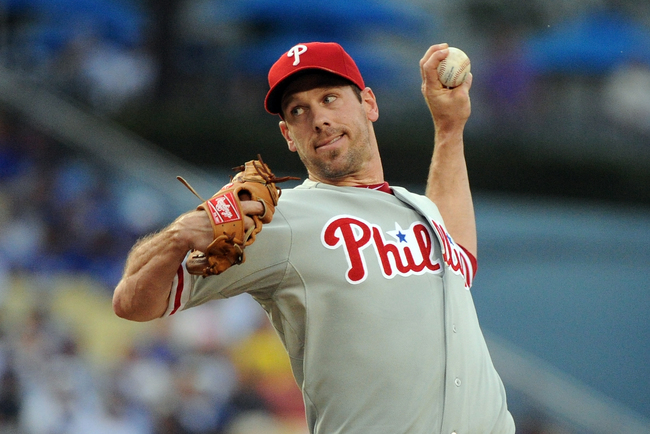 Lisa Blumenfeld/Getty Images
The likes of Matt Garza, Yovani Gallardo and Jake Peavy represent the top arms likely to be on the move at the deadline, but the prize of the group, if he's made available, would have to be Cliff Lee.
The veteran left-hander is 10-3 with a 2.86 ERA at the break. He's due $50 million over the next two years with a $27.5 million option and $12.5 million buyout in 2016, but that salary likely won't scare off contenders if he hits the market.
However, despite the fact the Phillies are headed for a rebuild, and with a number of players likely to be shopped, the asking price for Lee combined with his salary will be enough to keep him in a Phillies jersey at least through the end of the year.
Washington Nationals: Taylor Jordan Will Stick in Rotation, Post Sub-3.50 ERA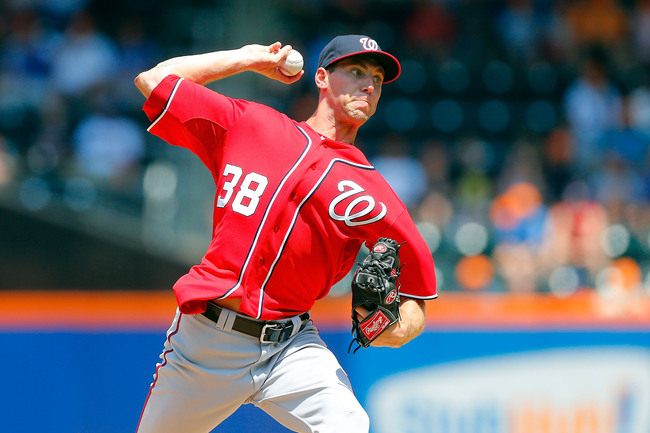 Jim McIsaac/Getty Images
The Nationals' big three of Stephen Strasburg (5-7, 2.99 ERA), Gio Gonzalez (7-3, 3.03 ERA) and Jordan Zimmermann (12-4, 2.58 ERA) have all pitched well this season, but the remainder of the staff has struggled.
Ross Detwiler (2-7, 4.04 ERA) and Dan Haren (4-10, 5.61 ERA) have made the bulk of the remaining starts, but with Detwiler injured and Haren struggling, the Nats may look elsewhere in the second half.
Taylor Jordan (0-2, 3.32 ERA) has looked strong in four starts. Now that he's all the way back from Tommy John surgery, he looks like he could be an impact arm. Expect him to stick in the rotation and post an ERA under 3.50 the rest of the way to help shore up the back of the staff.
NL East Champions: Atlanta Braves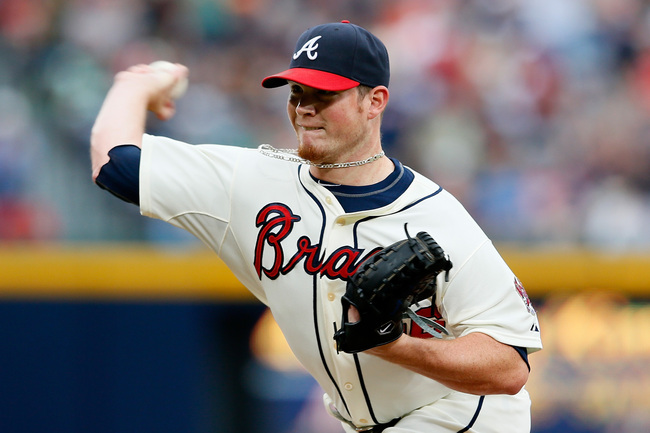 Kevin C. Cox/Getty Images
The NL East has been the most lopsided division in baseball so far this season, as the Braves hold a six-game lead over the Nationals right now.
The bottom three teams in the division are a combined 124-156 on the year.
The Nationals have the potential to improve, and they should be better in the second half. However, the Braves pitching should be enough to carry them to the division title, especially if their inconsistent offense can step things up a bit.
Predicted NL East Final Standings
1. Atlanta Braves
2. Washington Nationals
3. Philadelphia Phillies
4. New York Mets
5. Miami Marlins
Chicago Cubs: Javier Baez Will Earn a September Call-Up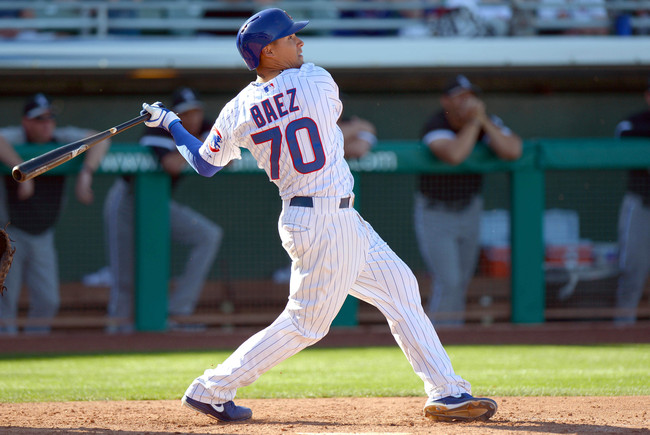 Jake Roth-USA TODAY Sports
As the rebuilding continues in Chicago, the team's farm system has already improved by leaps and bounds in the past year-and-a-half, with the stud of the bunch being Javier Baez.
The 20-year-old is hitting .267/.330/.529 with 20 home runs, 62 RBI and 12 steals on the season. Chicago promoted him to Double-A back on July 6.
He's not currently on the 40-man roster, and he's blocked at the big league level by Starlin Castro, but with the Cubs looking to give fans some reason for excitement in 2014, calling Baez up in September makes a lot of sense.
Cincinnati Reds: Billy Hamilton Won't See Cincinnati in 2013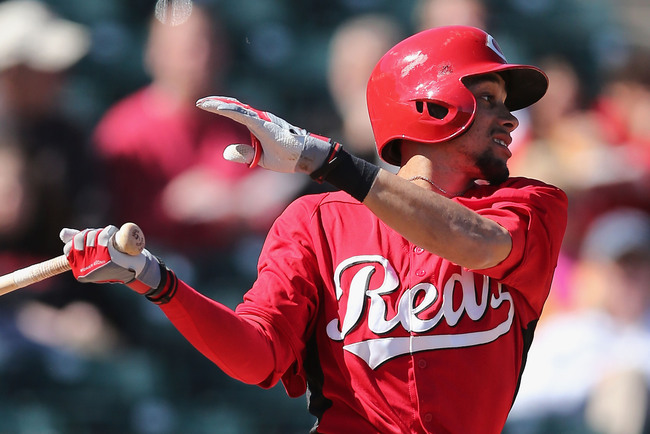 Christian Petersen/Getty Images
After stealing 103 bases in 2011, Billy Hamilton followed that up by hitting .311/.410/.420 with a minor league record 155 steals last season between High-A and Double-A.
That was enough for him to enter the season as the No. 20 prospect in baseball, according to Baseball America. He opened the season in Triple-A as he continued to transition from shortstop to center field.
With the addition of Shin-Soo Choo in the offseason, the void atop the Reds lineup has been filled. Though they have struggled to get consistent production out of the left field position, Ryan Ludwick should add a spark once he returns.
Hamilton has hit just .243/.300/.331 in Triple-A this season, though he has stolen 52 bases. Seeing as he's struggled and is not currently on the 40-man roster, Hamilton will likely spend the rest of the season in the minors.
Milwaukee Brewers: Carlos Gomez Will Top the NL in WAR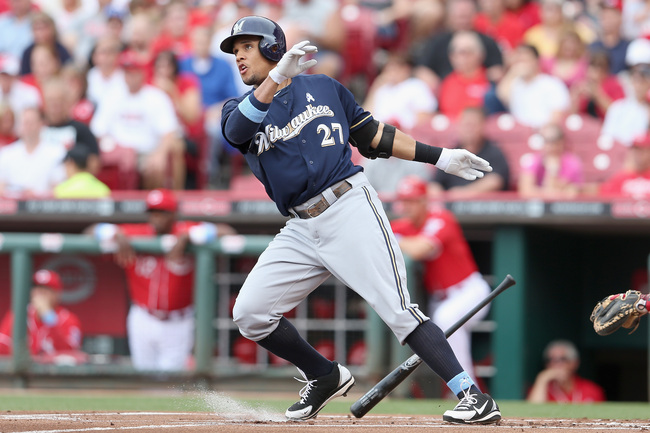 Andy Lyons/Getty Images
Carlos Gomez has always been a supreme talent, dating back to when he was one of the key pieces shipped from New York to Minnesota in the Johan Santana deal.
His talent finally turned into production last year, as he hit .260/.305/.463 with 19 home runs and 37 steals to post a 3.1 WAR. That earned him a three-year, $24 million extension that kicks in next season, and it looks like that will turn out to be a steal.
He's hit .295/.337/.533 with 14 home runs and 21 steals so far this season, good for a 4.6 WAR that ranks fifth in MLB and tops among NL outfielders. A supreme defender with a terrific all-around game, he's got a great chance to top the NL in WAR on the season.
Pittsburgh Pirates: Jason Grilli Will Break Pirates' Single-Season Saves Record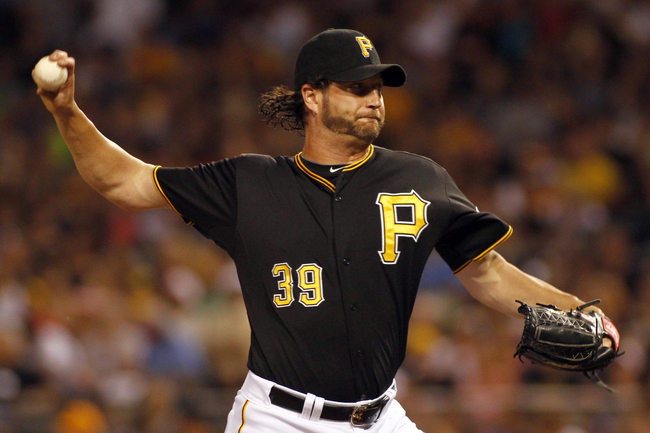 Justin K. Aller/Getty Images
The Pirates took a chance when they decided to trade Joel Hanrahan to the Red Sox and turn closer duties over to 36-year-old Jason Grilli.
The deal looks brilliant now, as Hanrahan is sidelined following Tommy John surgery. Mark Melancon, also acquired in the deal, has been arguably the best setup man in baseball and earned an All-Star selection.
Grilli has thrived in the ninth inning, as the veteran entered the break 29-of-30 on save chances with a 1.99 ERA and 13.9 K/9. He looks to have a great chance to break the single-season franchise save record of 46 set by Mike Williams back in 2002.
St. Louis Cardinals: Chris Carpenter Will Win at Least Five Second-Half Games
Ezra Shaw/Getty Images
The Cardinals have managed to overcome a good deal in piecing together their pitching staff this season. Kyle Lohse departed in free agency, and injuries have limited Jaime Garcia to just nine starts and kept Chris Carpenter and Jason Motte sidelined since the start of the season.
It looks like at least one of those pieces will be back for the second-half run, as Carpenter made his first rehab start on Monday at Double-A Springfield.
The 38-year-old missed a good chunk of last season as well with similar shoulder and back issues, but he returned to make three starts down the stretch and three in the postseason. He could have a similar impact for St. Louis down the stretch this year.
At 10-4 with a 3.00 ERA in 18 postseason starts, he'll be a welcome addition.
NL Central Champion: St. Louis Cardinals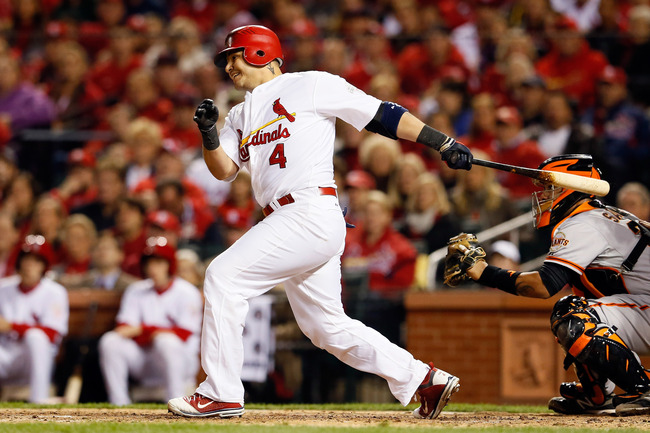 Kevin C. Cox/Getty Images
The Cardinals have looked like the team to beat over the first half of the season, as their offense has produced top to bottom with one clutch hit after another.
The pitching has exceeded expectations as well. Chris Carpenter is returning, and with a deep crop of young talent should injury strike, they should be able to come out on top in the NL Central, which may be the best division in baseball this season.
Predicted NL Central Final Standings
1. St. Louis Cardinals
2. Cincinnati Reds
3. Pittsburgh Pirates
4. Milwaukee Brewers
5. Chicago Cubs
NL Wild Card: Cincinnati Reds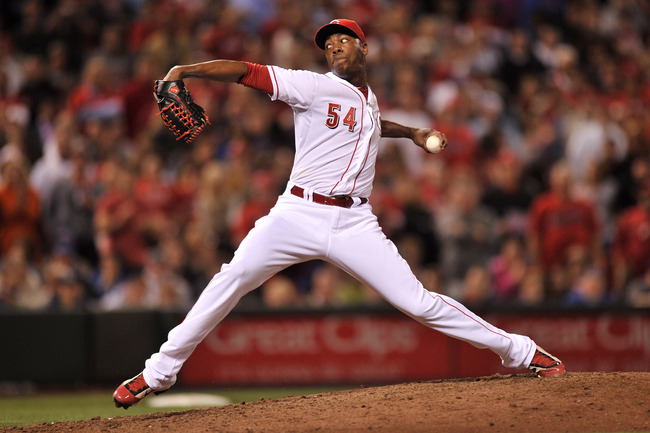 Jamie Sabau/Getty Images
The Reds are currently third in their division but have the fourth-best record in the National League, and with a complete roster, they look to have a great chance to make the postseason.
Getting Ryan Ludwick, Johnny Cueto, Sean Marshall and Jonathan Broxton back from the disabled list should only make this team better.
If the offense can keep it up and the starting rotation can stay healthy, they should make things tough for the Cardinals in the division and be the front-runners for a wild-card spot if nothing else.
NL Wild Card: Pittsburgh Pirates
Vincent Pugliese/Getty Images
After big collapses the past two seasons, most view the Pirates' success with cautious optimism this year. However, they look like the real deal this time around and should at the very least post their first winning season since 1992.
They have their sights set on more than just a winning record, though. Featuring a terrific pitching staff that includes one of the most dominant bullpens in baseball and a more balanced offense than in years past, they should be able to avoid another letdown and earn a wild-card spot.
Arizona Diamondbacks: Miguel Montero Will Turn Things Around in the Second Half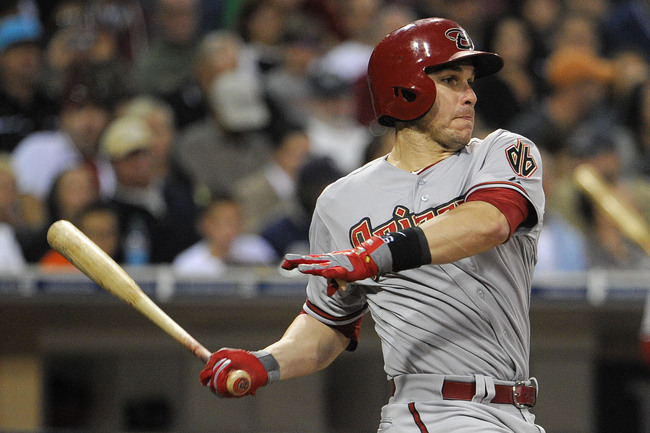 Denis Poroy/Getty Images
After averaging a .284/.372/.454 line with 16 home runs and 87 RBI over the past two seasons, Miguel Montero entered the 2013 season as one of the top offensive backstops in the game.
The Diamondbacks rewarded him with a five-year, $60 million extension last May, and he entered the season once again hitting in the cleanup spot. However, he's been bumped all the way down to the No. 7 hole and entered the break hitting just .224/.313/.339 with eight home runs and 33 RBI.
He's hitting just .268 on balls in play, down from .318 for his career, so with some better luck he could start to get back on track. His strikeout and walk rates are nearly identical to last season as well, so expect some better production as a result in the second half.
Colorado Rockies: Five Players Will Top 20 Home Runs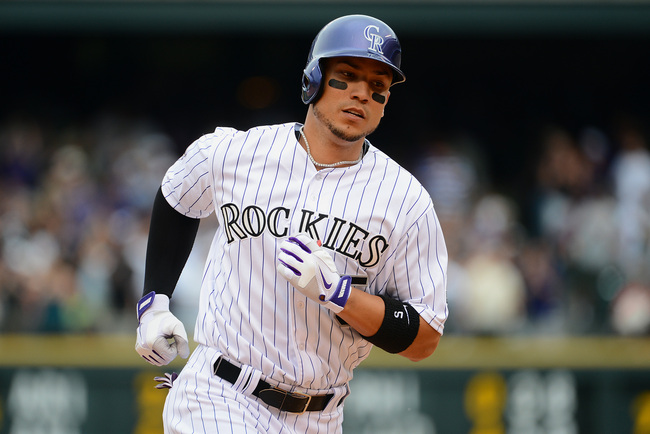 Garrett Ellwood/Getty Images
Though their pitching has no doubt improved, the biggest reason for the Rockies' success so far this season has been the play of their impressive lineup.
Carlos Gonzalez, Troy Tulowitzki and Michael Cuddyer all found their way onto the NL All-Star team, but they are far from the only bats in the lineup.
In fact, the team has a good chance of having five 20-plus home run hitters for the first time since 1997, when Larry Walker (49), Andres Galarraga (41), Vinny Castilla (40), Ellis Burks (32) and Dante Bichette (27) all reached that mark .
Gonzalez (25), Tulowitzki (16) and Cuddyer (16) could all reach 30, while catcher Wilin Rosario (13) and center fielder Dexter Fowler (10) have a solid chance of at least topping 20.
Los Angeles Dodgers: Clayton Kershaw Wins ERA Title for Third Straight Season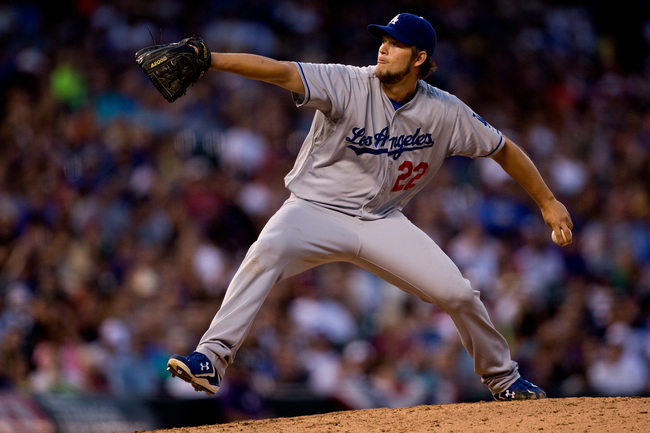 Justin Edmonds/Getty Images
It's almost hard to comprehend what Dodgers ace Clayton Kershaw has managed to accomplish before his 26th birthday, as he currently sits at 69-43 with a 2.69 ERA and 9.2 K/9 in 171 career games.
He took home NL Cy Young honors in 2011 when he won the pitching Triple Crown at 21-5, 2.28 ERA, 248 strikeouts. He easily could have won it again last year when he was 14-9 with an NL-best 2.53 ERA, but he settled for second to R.A. Dickey.
Though he's just 8-6 on the season so far this year, he entered the break with the best ERA in baseball at a ridiculous 1.98. There's no reason to think he won't take home the NL ERA title for the third straight season.
San Diego Padres: Everth Cabrera Will Lead the Majors in Steals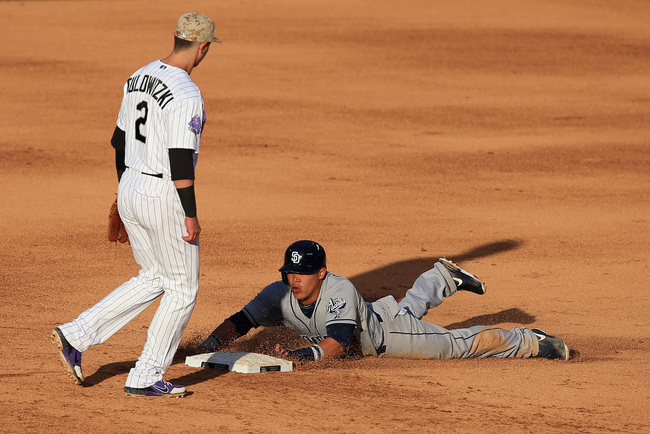 Doug Pensinger/Getty Images
The Padres have crashed back to earth after a solid stretch of games briefly put them in contention in the NL West, and it now looks like they'll have their work cut out for them to avoid a last-place finish.
They're not without their share of bright spots, though, as starter Eric Stults has pitched well and rookie second baseman Jedd Gyorko looks to have a solid future ahead of him.
The real standout, however, has been shortstop Everth Cabrera, who was the team's lone All-Star representative. The 26-year-old led the NL in steals last season with 44 but hit just .246/.324/.324 in the process.
This year, he once again leads the NL in steals with 34, but he is hitting .291/.373/.396 while doing it. He currently trails Jacoby Ellsbury for the MLB lead by two steals, but he's played nine fewer games. As long as Cabrera can stay healthy the rest of the way, the MLB steals title belongs to him.
San Francisco Giants: No-Hitter Will Be a Turning Point in Tim Lincecum's Season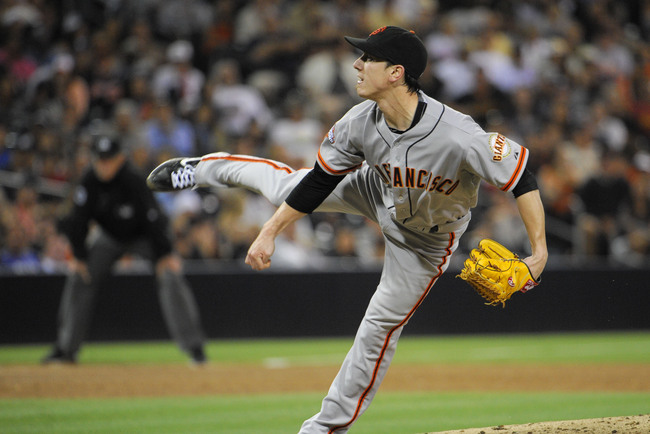 Denis Poroy/Getty Images
After going 10-15 with a 5.18 ERA last season, it had been another trying season for Tim Lincecum leading up to his last start.
The right-hander was 4-9 with a 4.61 ERA in 18 starts and had managed just seven quality starts to that point. However, everything came together in his final start before the break, as he no-hit the Padres with a 13-strikeout, 148-pitch performance.
A free agent at the end of the season, Lincecum would have been headed for a $100 million-plus payday if he had maintained his early-career production. Now his value as a free agent is a question mark, but he could use the no-hitter as a jumping-off point toward boosting his upcoming payday with a big second half.
NL West Champion: Los Angeles Dodgers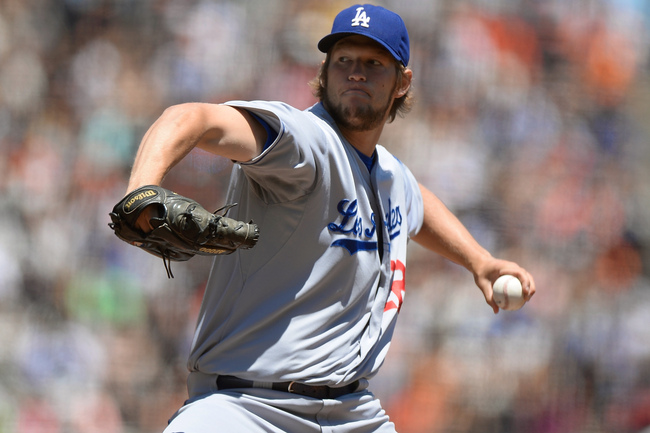 Thearon W. Henderson/Getty Images
The NL West was expected to be a dogfight this season, and while all five teams are close in the standings, it's surprising that a 50-45 record topped the division at the break.
Most expected the Giants and Dodgers to be the primary contenders, but they both fell short of expectations in the first half as the Diamondbacks currently lead the division.
Arizona will likely hang around all year, but the Dodgers entered the break 15-5 over their last 20 and should be in a position to make some noise. The Giants, on the other hand, stumbled into the break on a 5-15 slide and will really need to turn things around quickly, while the Rockies likely don't have the pitching to legitimately contend.
Predicted NL West Final Standings
1. Los Angeles Dodgers
2. Arizona Diamondbacks
3. San Francisco Giants
4. Colorado Rockies
5. San Diego Padres
Baltimore Orioles: Manny Machado Will Top 60 Doubles, Fall Short of Record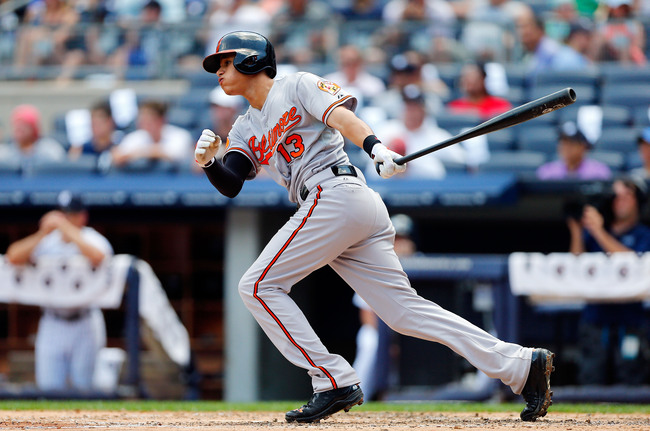 Jim McIsaac/Getty Images
For all that has been made of the 37 home runs Chris Davis had at the break and the 95 RBI Miguel Cabrera had, and rightfully so, the 39 doubles that 21-year-old Manny Machado hit deserve far more attention.
The single-season record for doubles belongs to Earl Webb, who tallied 67 back in 1931. Five others have topped the 60-double mark, but no one has reached it since 1936, with Todd Helton hitting 59 back in 2000.
Machado has played in every game for the Orioles this season and has seen 413 at-bats in 96 games. That projects to another 284 at-bats in the second half, and at his current double rate would be another 27 doubles. I predict he surpasses 60 but falls short of 28 more and the record.
Boston Red Sox: Xander Bogaerts Will Play a Key Role Down the Stretch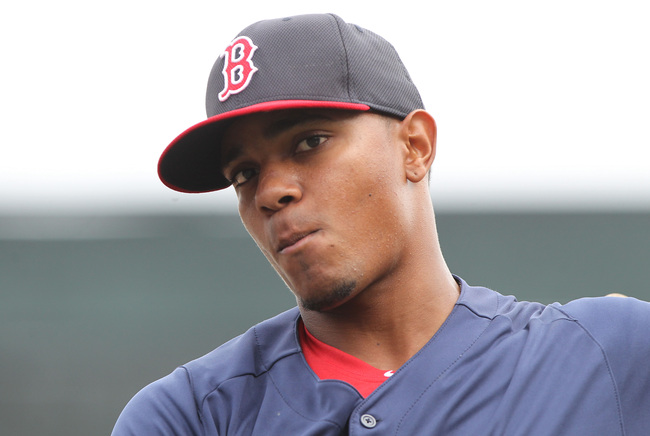 Kim Klement-USA TODAY Sports
Entering the season, the left side of the Red Sox infield was expected to be manned by budding star Will Middlebrooks at third base and free-agent signing Stephen Drew at shortstop.
Instead, Middlebrooks struggled to the point of demotion, while Drew has hit just .233/.313/.409 on the season. Jose Iglesias (.367/.417/.461) has thrived as a rookie seeing the bulk of the playing time.
Moving forward, should the team look to upgrade at shortstop as well, its best option looks to be top prospect Xander Bogaerts. The 20-year-old has hit .294/.390/.489 between Double-A and Triple-A this season, and he could make a Manny Machado-type impact in Boston if he gets the call.
New York Yankees: Michael Pineda Will Be the Bright Spot of the Second Half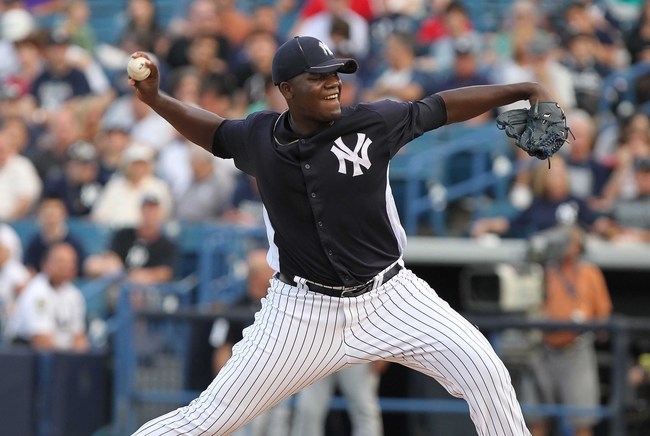 Kim Klement-USA TODAY Sports
One of the biggest trades of the offseason leading up to last year was the Yankees' acquisition of Michael Pineda from the Mariners for Jesus Montero.
Pineda was 9-10 with a 3.74 ERA, 1.099 WHIP and 9.1 K/9 as a 22-year-old rookie in 2011, but he missed all of the 2012 season with a torn labrum, and he is just now on the mend.
In six minor league starts, he's gone 2-1 with a 4.33 ERA, 1.185 WHIP and 9.0 K/9, and he's already made two starts at the Triple-A level. There is still some work to be done in the minors, but if he can return to New York and look like the pitcher he did in 2011, it would be a big plus for the Yankees moving forward.
Tampa Bay Rays: Evan Longoria Will Set Career Highs in HR and RBI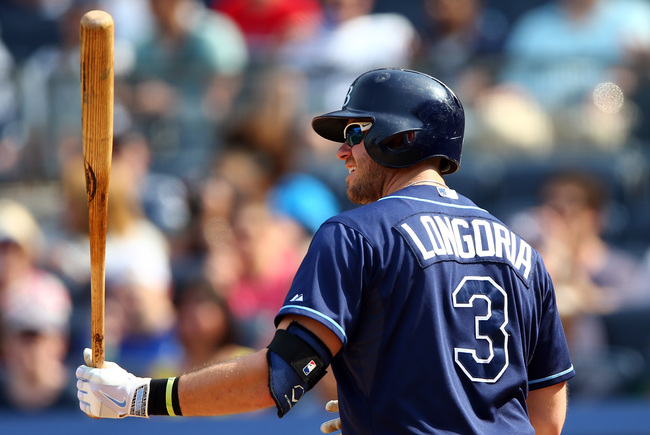 Elsa/Getty Images
Last season, Evan Longoria played in just 74 games, and while the team went 47-27 with him in the lineup, it struggled to a 43-45 record without him.
He's stayed healthy so far this season, going .278/.356/.507 with 18 home runs and 52 RBI. If he can stay healthy, it will not only bode well for the Rays' playoff chances, but it could also result in a career year for the superstar.
His previous career highs of 33 home runs and 113 RBI came back in 2009, and as long as he can stay on the field and keep producing, he should be able to make a run at those numbers this year.
Toronto Blue Jays: Toronto Will Acquire Matt Garza at the Deadline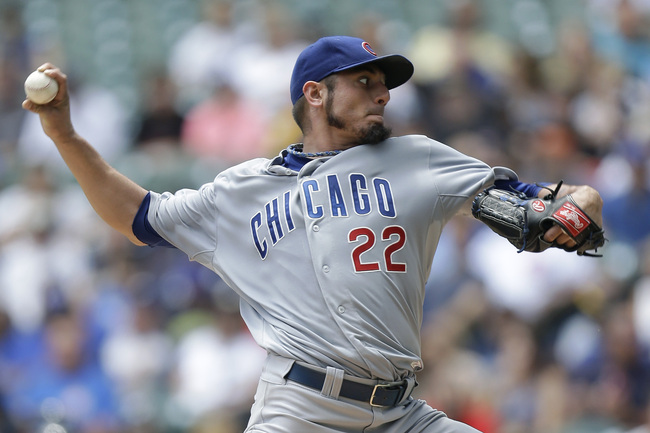 Mike McGinnis/Getty Images
The Blue Jays had as busy an offseason as anyone, pulling off a pair of blockbuster deals that led to big expectations entering the year. After struggling to a 27-36 record early on, they rattled off an 11-game winning streak and entered the break 45-49.
That may be enough to make them buyers at the deadline, and their most likely target will be another starting pitcher.
According to Bruce Levine of ESPN Dallas, the Blue Jays are among the front-runners to land Garza. Even after its offseason dealings, Toronto still has some pieces that would be of interest to the Cubs. The Blue Jays may be able to build the best package to land Garza and bolster the staff.
AL East Champion: Boston Red Sox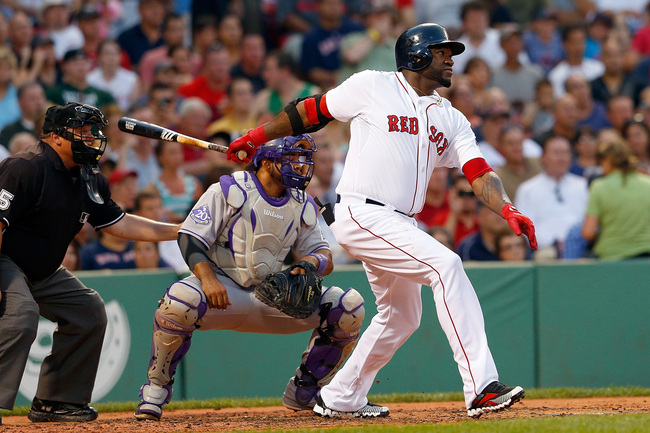 Jim Rogash/Getty Images
The AL East has been regarded as the toughest division in baseball for several seasons now, and the gap between the top and bottom has never been slimmer than it is right now.
Boston looks to be the only team in the division without a clear weakness, especially if Clay Buchholz comes back at 100 percent. The Red Sox should be able to hold on to the division lead if they can avoid injury, but you never know in this division.
Predicted AL East Final Standings
1. Boston Red Sox
2. Tampa Bay Rays
3. Baltimore Orioles
4. Toronto Blue Jays
5. New York Yankees
AL Wild Card: Tampa Bay Rays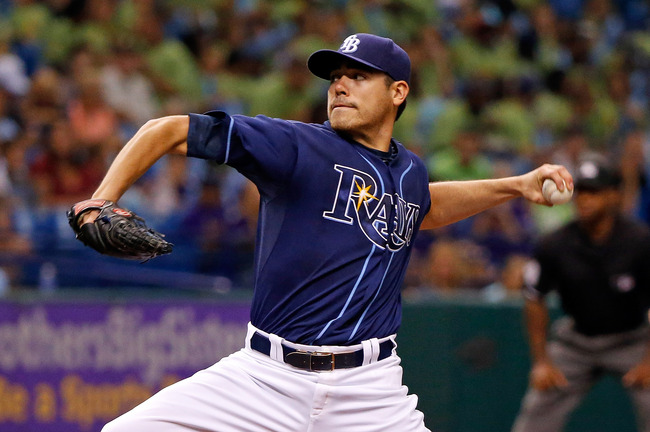 J. Meric/Getty Images
The Rays entered the All-Star break on a 14-2 tear, and with their pitching staff rounding into form, they should be able to continue their hot play in the second half.
Getting Alex Cobb back will only make things better, and if rookie Chris Archer can keep throwing like he has, the pitching looks like it can once again be a strength.
Meanwhile, the offense remains vastly improved over last season, with newcomers James Loney and Kelly Johnson both producing beyond their contracts. If Wil Myers can step his game up in the second half, the offense should be a plus too. All in all, the Rays look to be in a good position to make a run at a playoff spot.
Chicago White Sox: Alex Rios Will Be Dealt at the Deadline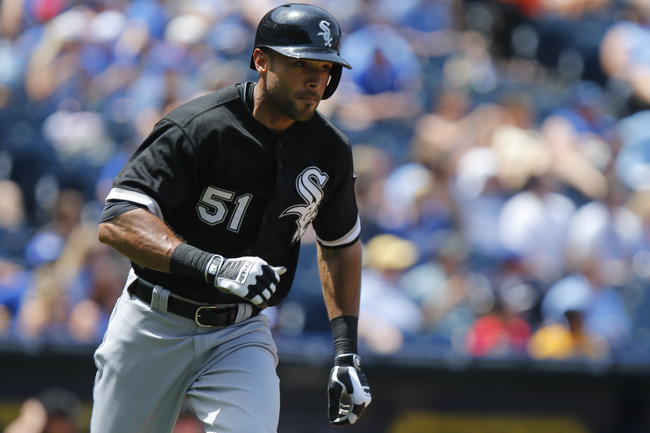 Kyle Rivas/Getty Images
The White Sox are expected to sell as aggressively as anyone at the deadline, having already moved reliever Matt Thornton. One piece that could fetch a solid return is right fielder Alex Rios.
The 32-year-old bounced back from a terrible 2011 with a solid season last year, and he's hit .270/.326/.429 with 11 home runs, 40 RBI and 19 steals so far this season.
In a thin market for hitters, he'll be one of the best bats available, and the White Sox will no doubt do whatever they can to unload him. He's due $12.5 million next season and has a $13.5 million option for 2015 with a $1 million buyout. Unloading that money would be another step in the rebuilding process.
Cleveland Indians: Danny Salazar Will Be a Major Second-Half Contributor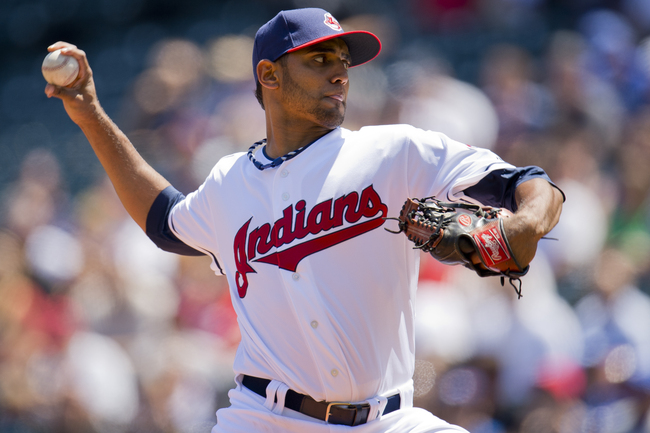 Jason Miller/Getty Images
The Indians called up Danny Salazar to make his big league debut on July 11, and the 23-year-old dazzled against the Blue Jays, as he went six innings and allowed just two hits and one run with seven strikeouts.
Before being called up, he had gone 5-5 with a 3.08 ERA and 100 strikeouts in 76 innings between Double-A and Triple-A. He was sent back to the minors following the start, but he has a good chance to make a serious impact down the stretch.
He ranked as the No. 6 prospect in Cleveland's system entering the year, according to Baseball America. Injuries limited him early in his career, but now that he's fully healthy, he looks primed to take off with a big second half.
Detroit Tigers: Detroit Will Trade for Kevin Gregg at the Deadline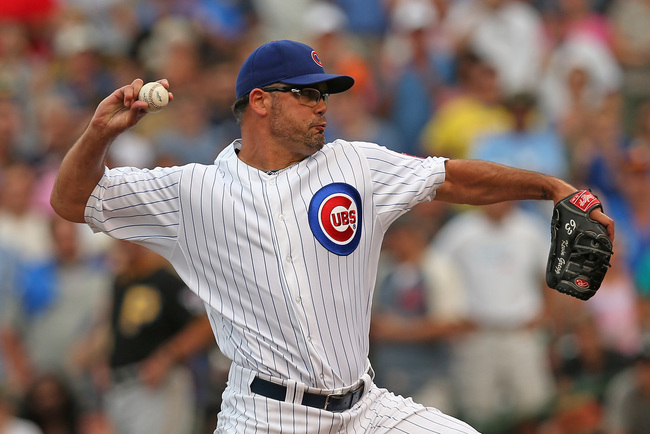 Jonathan Daniel/Getty Images
On paper, the Tigers have as dangerous a team as any in baseball, but if they hope to make a serious run at a World Series title, they'll need to shore up the back end of their bullpen.
When prospect Bruce Rondon proved unready to step into the closer's role this spring, they employed a closer-by-committee approach before re-signing Jose Valverde and entrusting him with the job.
When that didn't work out, the Tigers moved setup man Joaquin Benoit to closer, and while he's a perfect 8-of-8 on saves, the bullpen now lacks a right-handed setup man to slot alongside Drew Smyly.
The Cubs plucked Kevin Gregg from the scrap heap earlier this year, and he's gone 17-of-19 on save chances with a 2.97 ERA so far this season. The Cubs will no doubt look to flip him at the deadline, and he could give the Tigers another viable late-inning arm for their stretch run at a reasonable price.
Kansas City Royals: Yordano Ventura Will Debut in August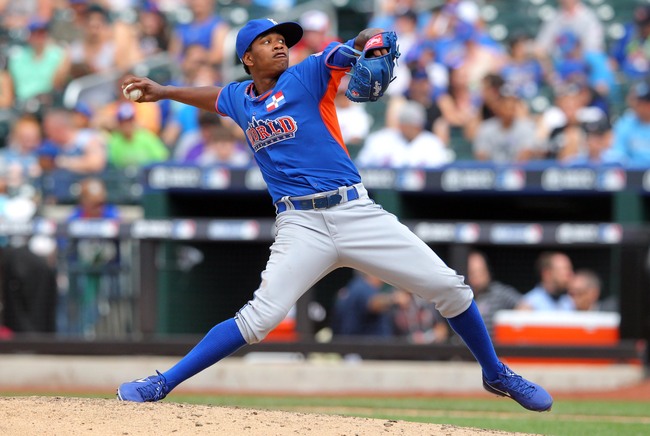 Brad Penner-USA TODAY Sports
Though they dealt several of their top prospects in their offseason deal with the Rays for James Shields and Wade Davis, the Royals still have some solid young talent.
Their top two prospects in Kyle Zimmer and Bubba Starling are still in the low minors, but No. 3 prospect Yordano Ventura is knocking on the door. Aside from being ranked as the team's No. 3 prospect, he was also the No. 85 overall prospect in baseball, according to Baseball America.
The 22-year-old right-hander is 5-5 with a 3.31 ERA and 10.7 K/9 between Double-A and Triple-A this season. Whether it's to fill a rotation spot following a July trade or not, he'll likely see the majors at some point in August if he keeps pitching like he has.
Minnesota Twins: Kyle Gibson Will Be the Team's Best Starter in the Second Half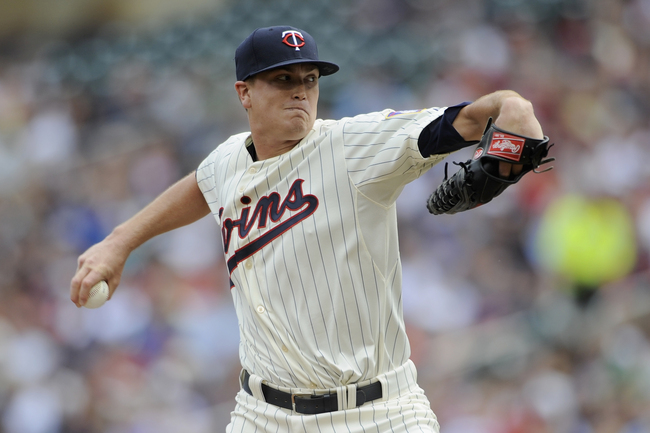 Hannah Foslien/Getty Images
It's been a long road to Minnesota for 2009 first-round pick Kyle Gibson, as he looked to be on the fast track to being an ace before injuries derailed him.
The right-hander went 11-6 with a 2.96 ERA and reached Triple-A in his first pro season, but he underwent Tommy John surgery midway through the 2011 season. He's finally back to full health and looks poised for a big second half.
He's made four starts in Minnesota so far this season, going 2-2 with a 6.45 ERA and 1.657 WHIP, but those numbers are inflated by an 11-hit, eight-run outing against the Yankees in his second start. He's 2-1 with a 4.24 ERA and 1.389 WHIP in his other three starts and should only get better the more innings he gets under his belt.
AL Central Champion: Detroit Tigers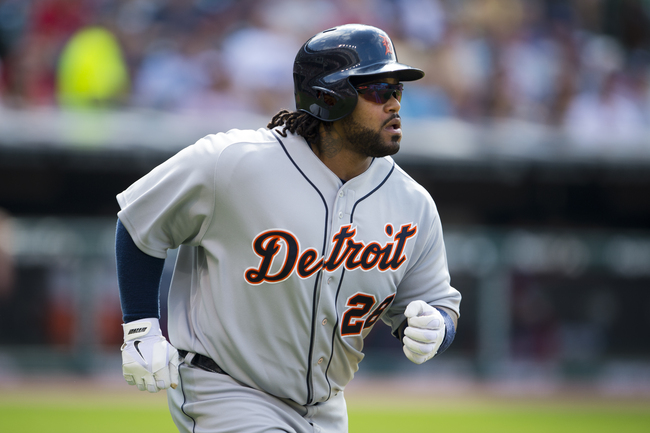 Jason Miller/Getty Images
Once again, the Tigers looked like the best team in the AL Central by a long shot entering the season, and once again they've been unable to separate themselves from the pack.
They currently lead the Indians by just 1.5 games, with the Royals hanging around at eight games back. The Indians look good enough to at least make things interesting in the second half, but expect the Tigers to come away with the division once again on the strength of their dynamic offense and loaded rotation.
Predicted AL Central Final Standings
1. Detroit Tigers
2. Cleveland Indians
3. Kansas City Royals
4. Minnesota Twins
5. Chicago White Sox
Houston Astros: Chris Carter Will Join the Prestigious 30-HR, 200-K Club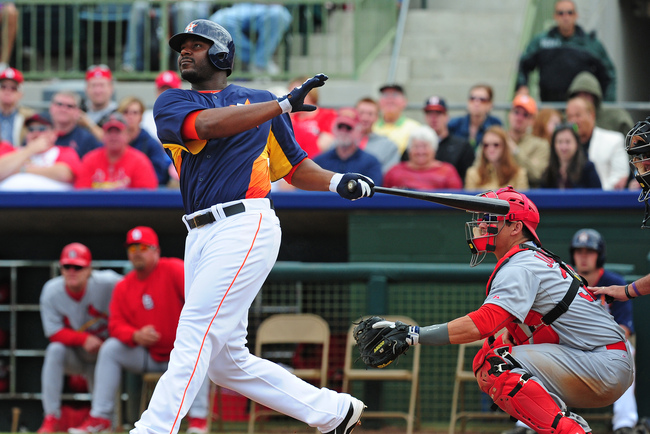 Scott Cunningham/Getty Images
Striking out 200 times in a season is no small feat, as it's happened just five times in the history of the game, and three of those have been by Mark Reynolds.
Three of the five times have been by a player who topped the 30-home run mark, with Reynolds hitting 44 and 32 in 2009 and 2010, respectively, and Adam Dunn blasting 41 last season.
Astros slugger Chris Carter has a good chance to join that exclusive 30-HR, 200-K club this season. The 26-year-old entered the break with an AL-high 123 strikeouts in just 288 at-bats, but he also managed a team-high 18 home runs in the process.
Los Angeles Angels: Mike Trout Will Again Lead the MLB in WAR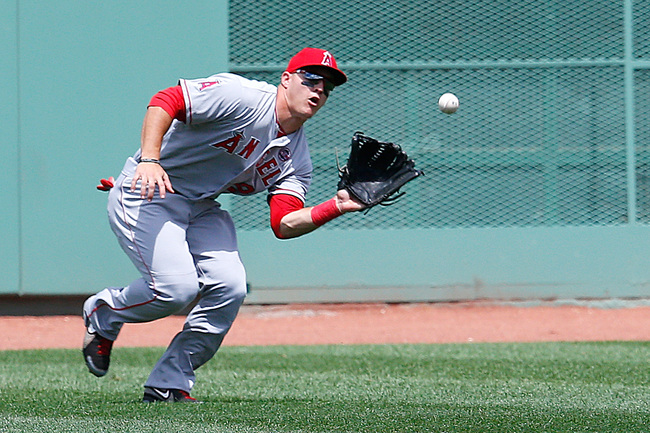 Jim Rogash/Getty Images
Last year, Mike Trout turned in one of the best rookie seasons in baseball history. He hit .326/.399/.564 with 30 home runs and 49 steals while posting a 10.0 WAR to lead all of baseball.
He's avoided the dreaded sophomore slump this year, putting up similar numbers with a .322/.399/.565 line to go along with 15 home runs and 21 steals for a 5.7 WAR.
He currently trails only Miguel Cabrera (6.0) in WAR, but if he can continue racking up steals and playing impressive defense, he should be able to pass Cabrera and again lead baseball in WAR, making for another interesting MVP debate.
Oakland Athletics: Josh Donaldson Will Be Team's First 100-RBI Player Since 2006
Ezra Shaw/Getty Images
Hard as it may be to believe, the A's have not had a 100-RBI player since Frank Thomas drove in 114 runs back in 2006, when he finished fourth in AL MVP voting.
That streak may come to an end this season, though, as breakout star Josh Donaldson entered the break with 16 home runs and 61 RBI, though he was still snubbed from the All-Star team.
The 27-year-old has really come into his own this season, and barring a major second-half collapse, the third baseman should be able to top the century mark as he continues to lead the Oakland offense for its playoff run.
Seattle Mariners: Taijuan Walker Will Be in Seattle by August 1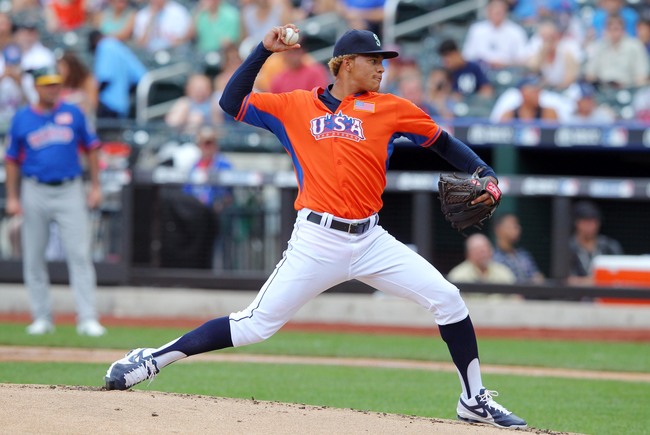 Brad Penner-USA TODAY Sports
As the Mariners continue their youth movement, they'll likely sell off a number of pieces at the deadline, including veteran left-hander Joe Saunders.
If and when he is moved, the Mariners will likely turn to one of their top prospects. Twenty-year-old Taijuan Walker looks like the leading candidate, as he's gone 6-7 with a 2.16 ERA and 10.1 K/9 between Double-A and Triple-A this season.
He entered the season as the No. 18 prospect in all of baseball, according to Baseball America, and he profiles as a future ace with his tremendous upside. He may begin flashing that potential as soon as Aug. 1 if a rotation spot is vacated at the deadline.
Texas Rangers: Yu Darvish Will Reach 300 Strikeouts
Jason Szenes/Getty Images
The Rangers spent a ton of money to land Yu Darvish. He did not disappoint as a rookie, going 16-9 with a 3.90 ERA and 221 strikeouts in 191.1 innings of work.
However, he's taken his game to another level this year, as he's emerged as the bona fide ace of the Rangers staff. He entered the break with an 8-4 record and 3.02 ERA, but the real impressive number is his 157 strikeouts.
At his current rate of 11.8 K/9, he'll need to throw about 109 more innings to reach the 300-strikeout mark, which would put him at 228.1 innings on the season. That's not out of the realm of possibility, as he threw 232 innings in his final season in Japan.
If he reaches 300 strikeouts, he'll be the first to hit that mark in a decade.
AL West Champion: Texas Rangers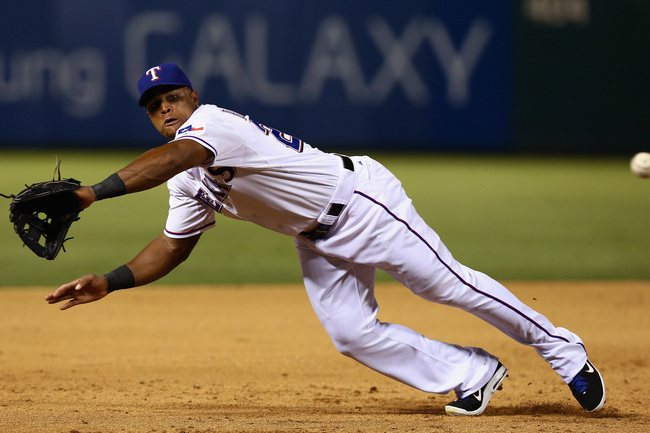 Tom Pennington/Getty Images
After another offseason of additions, the Angels were expected to join the Athletics and Rangers in a tight race for the AL West title. After their struggles in the early going, it now looks to be a two-horse race.
Oakland currently holds a two-game lead over Texas, and while both teams have their weaknesses, they should have enough to earn a spot in the postseason, regardless of who wins the division.
My best guess is that will be the Rangers, though, as they should improve at the deadline and benefit from some guys returning from the DL.
Predicted AL West Final Standings
1. Texas Rangers
2. Oakland Athletics
3. Los Angeles Angels
4. Seattle Mariners
5. Houston Astros
AL Wild Card: Oakland Athletics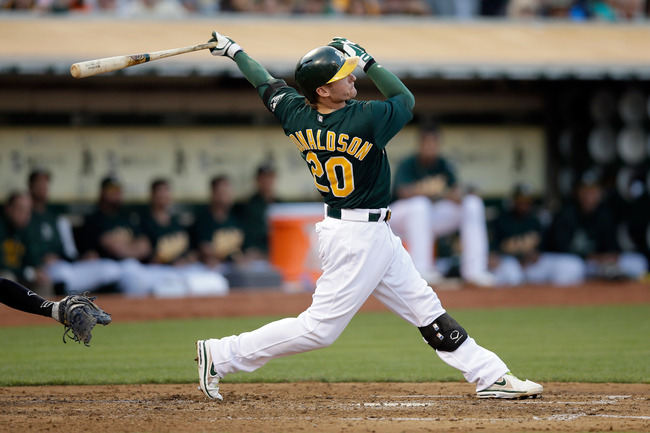 Ezra Shaw/Getty Images
The Athletics were one of the surprise teams of 2012. While they weren't sneaking up on anyone this time around, they entered the break at 56-39, the second-best record in the American League.
They are short on star power, but they know how to win games, and they have the pieces to once again make a run at the postseason.
If first-half standouts Bartolo Colon and Josh Donaldson can keep it up, and the A's can continue to get contributions from up and down the roster, expect them to be in the thick of things all season.
NL Rookie of the Year: SP Shelby Miller, St. Louis Cardinals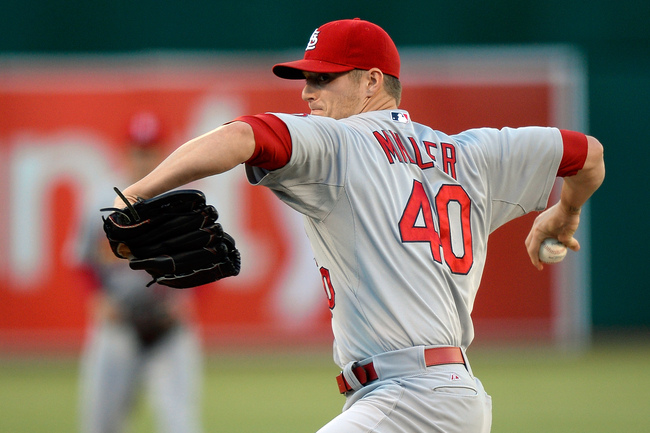 Thearon W. Henderson/Getty Images
The National League has seen a trio of starting pitchers impress as rookies this season, with Shelby Miller (9-6, 2.92 ERA, 9.6 K/9) leading the way pitching for the first-place Cardinals.
Hyun-Jin Ryu (7-3, 3.09 ERA, 7.2 K/9) and Jose Fernandez (5-5, 2.75 ERA, 8.9 K/9) have been great as well, but my guess is that Miller has the best chance of keeping it up all season.
It hasn't been all pitching, though. Yasiel Puig (38 G, .391/.422/.616) has taken the league by storm, and Anthony Rendon (43 G, .301/.352/.460) should continue to produce for the Nationals. Puig has been great, but when all is said and done, the pitchers will edge him out.
Top Five Voting Predictions
1. SP Shelby Miller, STL
2. SP Hyun-Jin Ryu, LAD
3. RF Yasiel Puig, LAD
4. SP Jose Fernandez, MIA
5. 2B Anthony Rendon, WAS
AL Rookie of the Year: SP Chris Archer, Tampa Bay Rays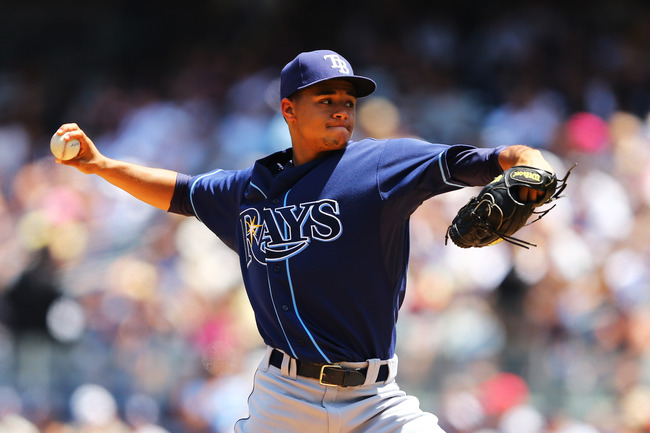 Al Bello/Getty Images
The American League Rookie of the Year picture is wide open right now. Chris Archer (9 GS, 4-3, 2.96 ERA, 7.0 K/9) not only looks like the front-runner, but he may have the best chance of anyone to keep performing at an impressive level.
His teammate Wil Myers (.288/.321/.413, 3 HR, 15 RBI) could be in for a big second half as well and may wind up coming away with the award. Martin Perez (6 GS, 3-2, 3.00 ERA, 5.0 K/9) could play a big part in the Rangers rotation down the stretch as well and is a legitimate candidate for the award.
Beyond them, Jose Iglesias (52 G, .367/.417/.461) and Cody Allen (40 G, 4-1, 2.27 ERA, 11.8 K/9) have both been candidates to this point, but it remains to be seen if they can keep it up.
Top Five Voting Predictions
1. SP Chris Archer, TB
2. RF Wil Myers, TB
3. SP Martin Perez, TEX
4. 3B Jose Iglesias, BOS
5. RP Cody Allen, CLE
NL Cy Young: Adam Wainwright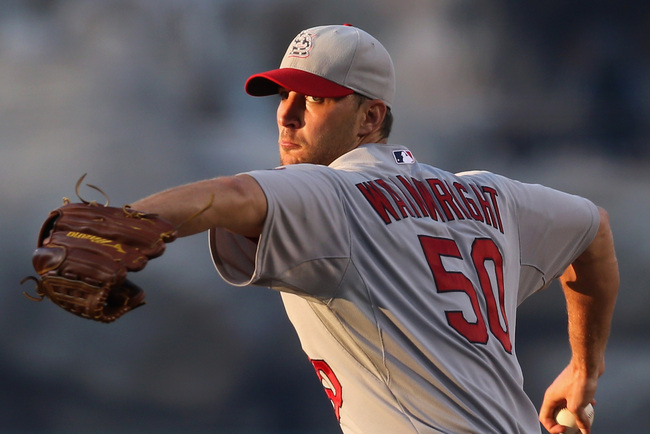 Jeff Gross/Getty Images
At the break, Adam Wainwright led all pitchers with a 4.6 WAR, as he was 12-5 with a 2.45 ERA and an MLB-high 146.2 innings pitched over 20 starts. He's a true ace, and there's no reason to think he won't keep it up in the second half.
Meanwhile, Clayton Kershaw (8-6, 1.98 ERA) looks to be in a good position to lead the NL in ERA for the third straight season. Then there's Matt Harvey (7-2, 2.35 ERA), who has been great but may fall victim to an innings limit, according to the New York Post.
From there, a handful of candidates could round out the top five, but I'll go with Cliff Lee (10-3, 2.86 ERA) and Jordan Zimmermann (12-4, 2.58 ERA) as my picks to come in fourth and fifth, respectively.
Top Five Voting Predictions
1. SP Adam Wainwright, STL
2. SP Clayton Kershaw, LAD
3. SP Matt Harvey, NYM
4. SP Cliff Lee, PHI
5. SP Jordan Zimmermann, WAS
AL Cy Young: SP Felix Hernandez, Seattle Mariners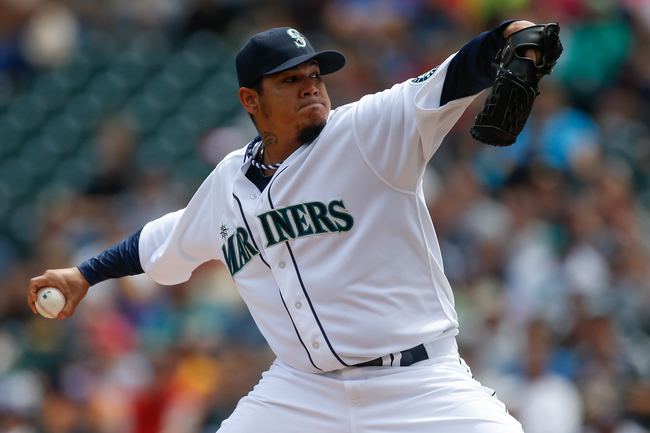 Otto Greule Jr/Getty Images
For the past several seasons, most would agree that Felix Hernandez (10-4, 2.53 ERA, 9.1 K/9) has been right on par with Justin Verlander for the title of best pitcher in the American League. He's been great again this season, and it will result in his second Cy Young award.
Yu Darvish (8-4, 3.02 ERA, 157 K) has a chance at 300 strikeouts, and as the bona fide ace of the Rangers he'll be as important to his team as any pitcher in the second half. Max Scherzer (13-1, 3.19 ERA, 152 K) was the talk of the first half, and even with some drop-off he'll be a candidate.
Chris Sale (6-8, 2.85 ERA, 131 K) has been a star for a bad White Sox team and is one of the brightest young players in the game.
Finally, Mariano Rivera (30-of-32 SV, 1.83 ERA) will no doubt get some extra attention from the voters in his final season if he keeps it up.
Top Five Voting Predictions
1. SP Felix Hernandez, SEA
2. SP Yu Darvish, TEX
3. SP Max Scherzer, DET
4. SP Chris Sale, CWS
5. RP Mariano Rivera, NYY
NL MVP: Paul Goldschmidt, Arizona Diamondbacks
Christian Petersen/Getty Images
Most would agree that Yadier Molina (.341/.386/.489) has been the NL MVP through the first half of the season, but with an ailing knee, he could wind up missing some time in the second half.
Instead, my pick is Paul Goldschmidt (.313/.395/.557, 21 HR, 77 RBI), who had a fantastic first half for the Diamondbacks and is a legitimate superstar in the early going of his career.
Andrew McCutchen (.302/.376/.471, 10 HR, 49 RBI) continues to be the leader of the Pirates offense, while Joey Votto (.318/.434/.506) looks to lead the NL in OBP for the fourth straight season. Allen Craig (.333/.378/.494, 10 HR, 74 RBI) continues to be an RBI machine for the Cardinals.
Top Five Voting Predictions
1. 1B Paul Goldschmidt, ARI
2. 1B Allen Craig, STL
3. CF Andrew McCutchen, PIT
4. 1B Joey Votto, CIN
5. C Yadier Molina, STL
AL MVP: Miguel Cabrera, Detroit Tigers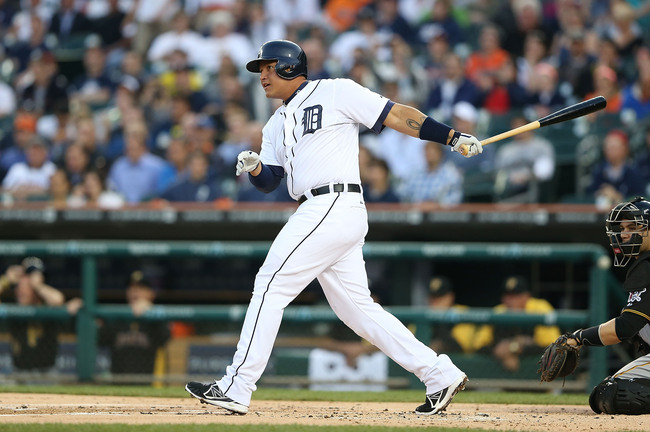 Leon Halip/Getty Images
Many wondered what Miguel Cabrera would do for an encore this season after winning AL MVP and the Triple Crown last season. He's been even better this year, hitting .365/.458/.674 with 30 home runs and 95 RBI.
Not far behind him is Chris Davis (.315/.392/.717, 37 HR, 93 RBI), who tied the first-half record for home runs in the AL but may be in line for some regression in the second half. Instead, my pick to finish second is Mike Trout, who actually has a better OPS than last year at .964 and trails only Cabrera in WAR.
A pair of franchise faces in Evan Longoria (.278/.356/.507, 18 HR, 52 RBI) and Dustin Pedroia (.316/.396/.436) are having great seasons and leading their teams in a position to contend, so they'll likely garner some votes as well.
Top Five Voting Predictions
1. 3B Miguel Cabrera, DET
2. OF Mike Trout, LAA
3. 1B Chris Davis, BAL
4. 3B Evan Longoria, TB
5. 2B Dustin Pedroia, BOS
NLCS Matchup: St. Louis Cardinals vs. Los Angeles Dodgers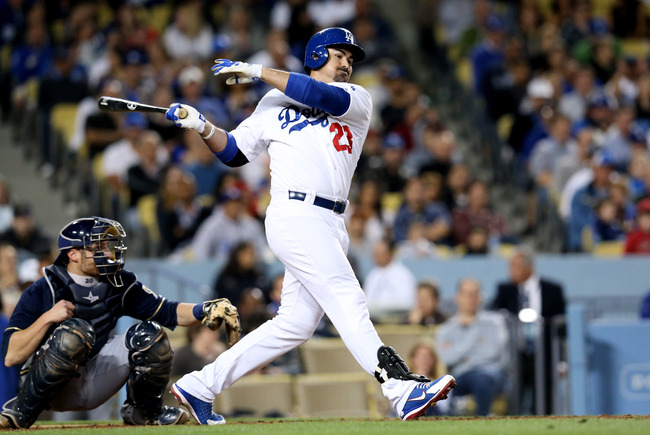 Stephen Dunn/Getty Images
NLDS Result
No. 1 St. Louis Cardinals over No. 4 Pittsburgh Pirates (Won WC over Cincinnati Reds)
Top to bottom, the Cardinals are the best team in baseball right now, but they'll have their work cut out for them regardless of who emerges from the Pirates-Reds wild-card matchup.
Not only do they have clutch hitting, a fantastic bullpen and a pitching staff led by Adam Wainwright, but they've proven time and again that they're capable of stepping their game up in October. Cardinals in three.
NLDS Result
No. 3 Los Angeles Dodgers over No. 2 Atlanta Braves
The Dodgers have been one of the biggest disappointments of the 2013 season, but they closed out the first half going 15-5 in their last 20 games and look poised for a big second half.
With a pitching staff led by Clayton Kershaw, Zack Greinke and Hyun-Jin Ryu, the Dodgers should have the upper hand over a free-swinging, strikeout-prone Braves lineup. As long as their offense stays healthy, the Dodgers could make some serious noise in October.
ALCS Matchup: Detroit Tigers vs. Boston Red Sox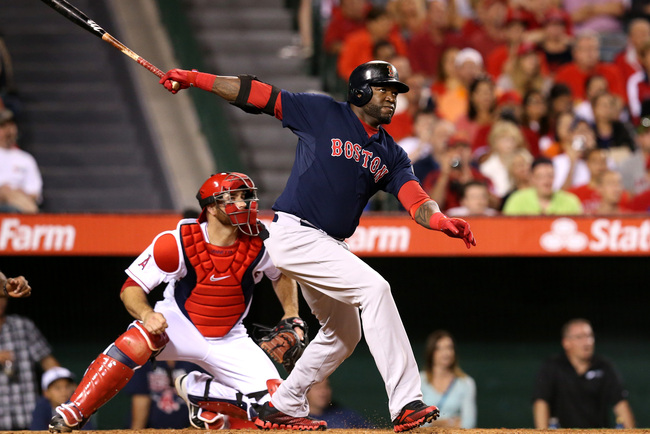 Stephen Dunn/Getty Images
ALDS Result
No. 1 Detroit Tigers over No. 4 Tampa Bay Rays (Won WC over Oakland Athletics)
The Rays have a chance to make some noise if their pitching rounds into form, but the Tigers will be too much for them, especially after Tampa Bay will be forced to throw its ace in the Wild Card Game to knock off the Athletics.
That will throw off their rotation for the rest of the series, as Justin Verlander and Max Scherzer will have an even better chance of dominating their starts. Tigers in four.
ALDS Result
No. 3 Boston Red Sox over No. 2 Texas Rangers
This should make for a fantastic series, as these two teams stack up really well. Both teams have a pair of solid arms atop their rotation and plus lineups.
The Rangers have the superior bullpen, but that won't be enough to push them over the top, as the veteran Boston lineup led by David Ortiz and Dustin Pedroia will be the difference. Red Sox in five.
World Series Matchup: St. Louis Cardinals vs. Detroit Tigers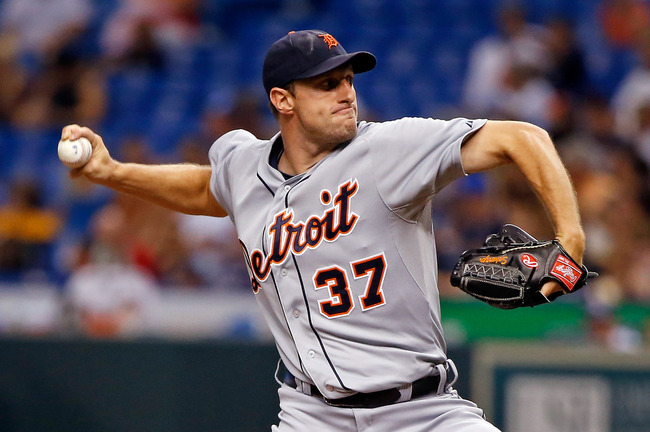 J. Meric/Getty Images
NLCS Result
No. 1 St. Louis Cardinals over No. 3 Los Angeles Dodgers
This matchup would be worth the price of admission just to see Clayton Kershaw and Adam Wainwright square off on the biggest stage in the game. Those games would be as good as it gets.
The difference would be the Cardinals' clutch hitting against the Dodgers' star-studded lineup. The Dodgers lineup firing on all cylinders may be more dangerous overall, but no offense has been more consistent than St. Louis, and it'll deliver again. Cardinals in six.
ALCS Result
No. 1 Detroit Tigers over No. 3 Boston Red Sox
Though the Red Sox are a hungry group of veterans, the Tigers have the better roster top to bottom, and they have a starting rotation made for postseason success.
A healthy Clay Buchholz may be able to keep the Tigers lineup at bay, but the rest of their rotation will be overmatched on a pitcher-for-pitcher basis. That, combined with the firepower of Miguel Cabrera and Prince Fielder, will be enough to push the Tigers over the top. Tigers in five.
World Series Winner: St. Louis Cardinals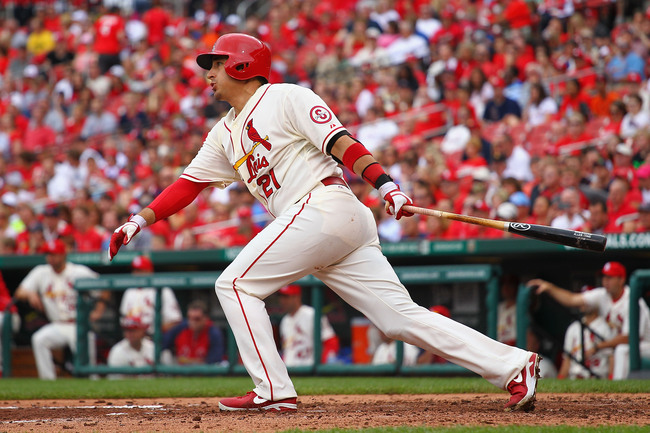 Dilip Vishwanat/Getty Images
I've said it several times already, but the Cardinals are the most complete team in baseball, and in my mind the team to beat right now.
Their combination of pitching depth and clutch hitting, coupled with past postseason experience, makes them a dangerous club come October, and they should have enough to overcome the Tigers' collection of stars. Cardinals in six.
Keep Reading
Load More Stories