Thiago Alcantara & Mario Götze Signings Add to Bayern Munich's Midfield Madness
Alex Grimm/Getty Images
Bastian Schweinsteiger, Franck Ribéry and Arjen Robben are now faced with greater competition
Bayern Munich's decision to sign Thiago Alcantara has revealed that the club is committed to fulfilling manager Pep Guardiola's personnel wishes. It also underscores once more that Bayern have incredibly deep pockets.
But with the additions of Mario Götze and Thiago Alcantara to an already stacked midfield, might there be a danger of talent overload?
Follow this slideshow to see which Bayern midfielders have secure postitions in the starting XI and which will suffer from greater competition.
Begin Slideshow

»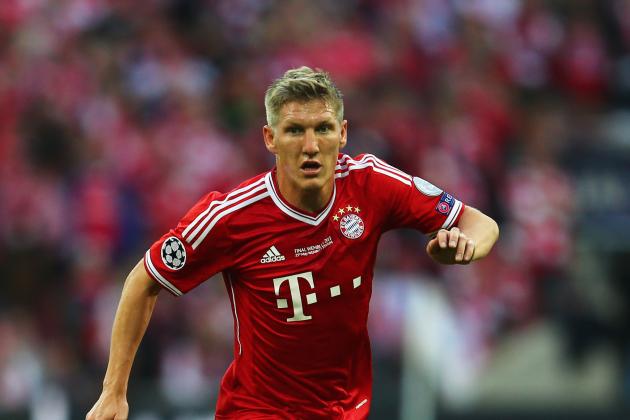 Alex Grimm/Getty Images
At the heart of Bayern's midfield, Bastian Schweinsteiger need not fret over his role in the squad.
A candidate for UEFA's Player of the Year Award, Bastian Schweinsteiger displayed all of his class last season.
His oversight and leadership on the pitch provided, the midfield strategist had a significant role to play in Bayern securing the treble last season.
Schweinsteiger is too important a player and leader to forgo in favor of alternatives. As a club icon, Schweinsteiger will remain Guardiola's first choice in defensive midfield.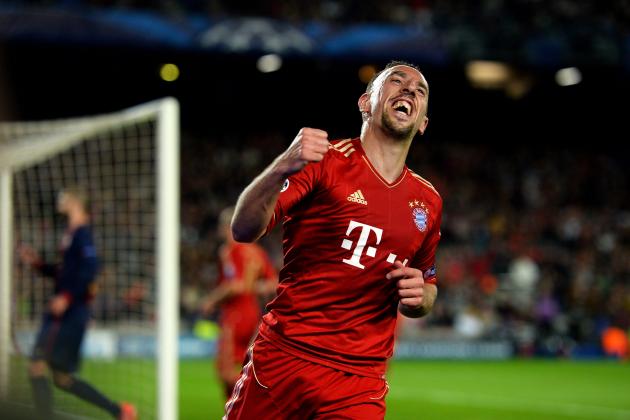 Lars Baron/Getty Images
Ribery has a secure position in the Starting XI as well. But will he be a winger or a central attacking midfielder under Pep's reign?
Franck Ribéry, much like Bastian Schweinsteiger, also proved, once and for all, last season that he is a world-class player.
As a potential heir to Lionel Messi's award-winning decorations, Ribéry may safely assume that his position on the pitch is secure.
The only uncertainty is which position that will entail. Is it his coveted role on the wing where he stunned spectators across Europe in cooperation with David Alaba? Or will Pep prefer to play the Frenchman in the more central position behind Bayern's lone striker?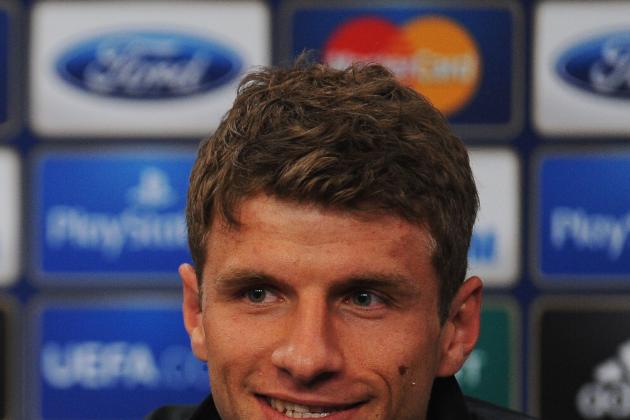 Handout/Getty Images
Thomas Müller will prevail against contenders on the right wing.
At only 23 years of age, Thomas Müller is a Bayern legend. Fans love the scrawny Bavarian as much for his dedication on the pitch as for the entertainment of his postgame interviews.
And although Pep has a preference for the more technically gifted, Thomas Müller will be his first choice on the right wing.
Müllers's versatility provided, however, don't be too surprised to see him moved around to other positions on offense—an ability he has demonstrated many a time.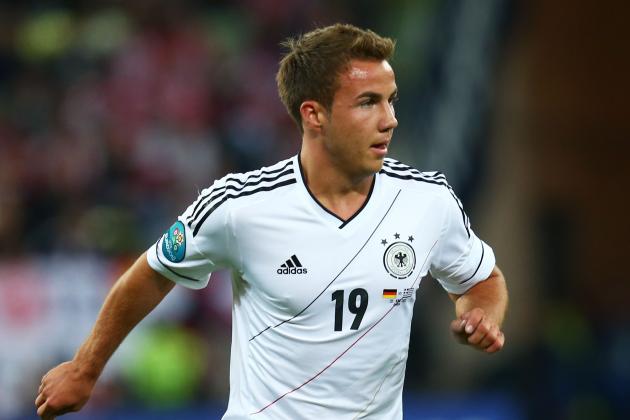 Alex Grimm/Getty Images
Mario Götze may be new to Bayern, but he will not enjoy the same type of job security he had at Dortmund.
Mario Götze knew what he was letting himself in on when he signed for Bayern. He likely also knew that he could face additional competition by further signings.
Yet, the €37 million transfer chose Bayern willingly. His intelligence on the pitch and technical finesse provided, he is most likely to be Pep's first choice as the central attacking midfielder.
While Götze will have to fend off challeges by several teammates vying for his position, don't be surprised to see Pep play the 21-year-old up top from time to time.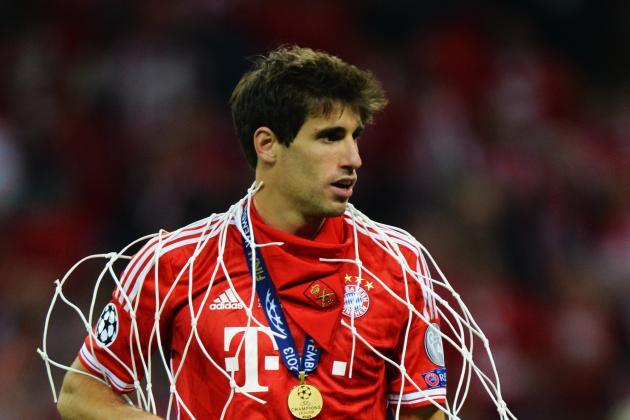 Shaun Botterill/Getty Images
Javi Martínez did well in his first year at Bayern, and he is the logical choice as Schweinsteiger's partner in crime.
Javi Martínez, Bayern's high-value addition last season, is always only a slide tackle away. Indeed, the former Bilbao man did well to adapt quickly to life in Munich.
For language reasons alone, Martínez is the only returning Bayern player to benefit from a fellow Spaniard being named manager. And with his style of play reminding of Sergio Busquets, Martínez will quickly find an ally in Guardiola.
Yet, if Bayern end up facing defensive difficulties, Martínez could end up being moved back to play as center-back. Football pundits will recall that this was the same fate Busquets encountered at times during the Guardiola era, and it was precisely what Martínez hoped to escape when he departed Athletic Bilbao.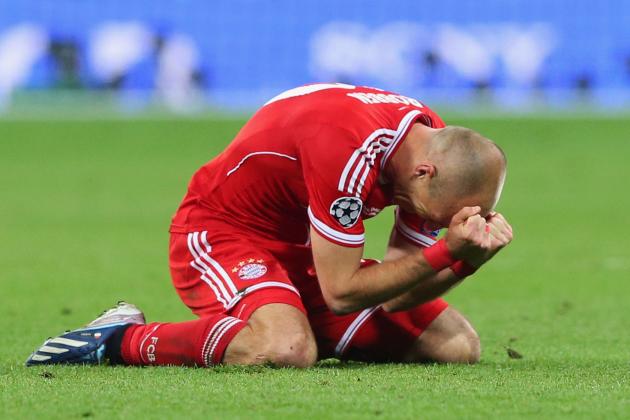 Alex Livesey/Getty Images
Arjen Robben scored crucial goals en route to the treble last season, but he will face difficulties under Guardiola.
Arjen Robben might have scored the most important goals for Bayern last season, but that will do him little good this year.
It is worth noting that prior to Toni Kroos' injury last season, Robben was only second choice. With quality additions in midfield this season, his standing will fall into question all the more. If Bayern's midfielders remain healthy, it seems unlikely that Robben, who himself is prone to injury, will be able to contest Thomas Müller's or Mario Götze's spot in the starting XI.
And if and when Robben is benched, one ought not expect that he willl remain silent about his displeasure. Prepare for drama!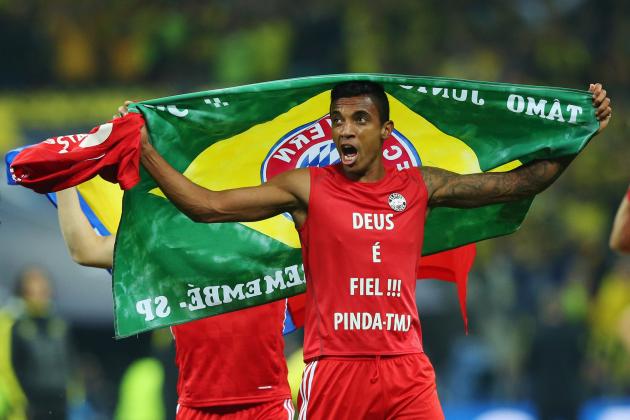 Alex Livesey/Getty Images
Luiz Gustavo will require playing time to justify his role in Brazil's National Team, but he will have a hard time finding it at Bayern.
Luiz Gustavo may be a first-class choice for Brazil, but he is only a second-class choice at Bayern.
The Brazilian is always reliable when called upon, yet he simply has the misfortune of having to compete with the likes of Bastian Schweinsteiger and Javi Martínez.
The best the Brazilian can hope for is that Pep will consider playing him as center-back alongside Dante, should the Spaniard not be content with Jerome Boateng or Daniel van Buyten in their roles as central defenders.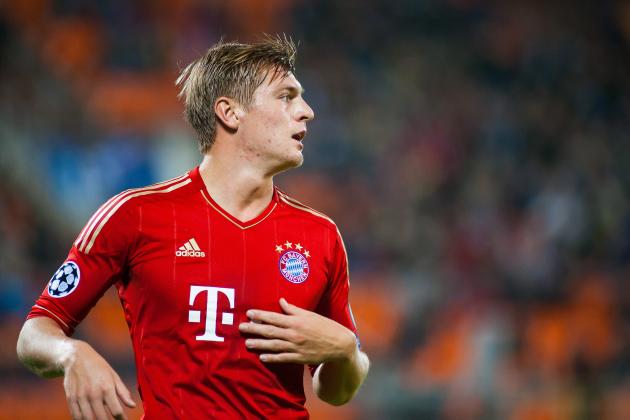 EuroFootball/Getty Images
His talent notwithstanding, Toni Kroos will suffer most from Bayern's acquisitions in the offseason.
Sidelined by injury for much of the latter part of the season, it was never going to be easy for Toni Kroos to make it back into the squad.
And then Bayern went out and acquired Mario Götze and Thiago Alcantara.
Kroos, whose style of play should generally please Guardiola, will nevertheless have a hard time seeing much playing time, the competition in the Bayern midfield simply being too fierce. And Joachim Löw, Germany's manager, will take note.
Ian Walton/Getty Images
Will Bayern prove to be the right choice for Thiago whose primary concern is ensuring a spot in Spain's squad in Brazil?
On the one hand, Pep wanted Thiago. He really, really, really wanted Thiago.
Knowing, and, more importantly, trusting Thiago will benefit the young Spaniard immensely. Yes, it will certainly facilitate his adjustment to Munich. On the other hand, however, Thiago will still have to prove himself in a foreign country, city and club.
And considering Thiago's personal interest in proving he can be a valuable asset to Spain's national team, he will require regular playing time. At this point, it is difficult to imagine him breaking into the starting XI and replacing more established players.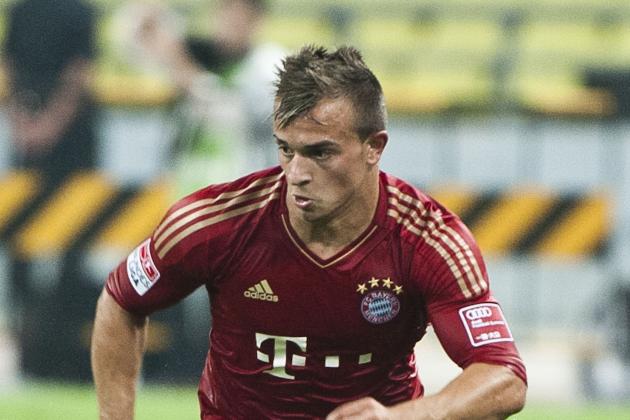 Victor Fraile/Getty Images
Xherdan Shaqiri would be well-advised to depart for another club on loan.
What a pity that Xherdan Shaqiri is a really good football player.
It is a pity because he is merely that. In a club stacked with stars, he is only second, neigh, third chioce.
Young players don't develop sitting on the bench, and therefore, he would be wise to request to depart Bayern on loan.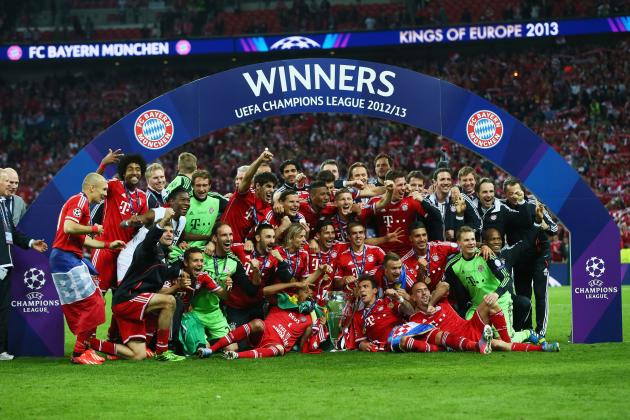 Alex Grimm/Getty Images
The mission is clear: a Champions League title repeat!
Bayern's midfield is the heart of its team. Stacked with UEFA Player of the Year nominees and the hottest talent in all of Europe, it can decide matches on its own.
With the additions of Mario Götze and Thiago Alcantara, the squad now displays even greater lethal force than it did in its Champions League-winning season.
But challenges accompany such a squad as well. A club can only do well if the dynamcs in the dressing room are conducive to team success, and players on the bench support the manager. It will be Pep's task to ensure that is the case.