5 Great Paulinho Goals to Get Tottenham Fans Excited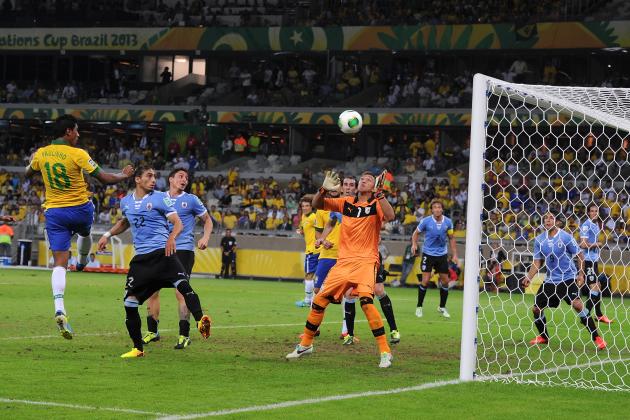 Michael Regan/Getty Images

Tottenham may have made only one signing so far this summer, but these goals show that Spurs fans have plenty to get excited about when Paulinho turns out for the club.
The former Corinthians star has become one of the hottest names in world football in recent times. He excels in the midfield area, playing mainly in a box-to-box role, and has cemented himself as a goalscorer.
As reported by The Sun, the Brazilian midfielder suggests that he is looking to become Tottenham's version of Frank Lampard—a midfielder known for his goalscoring exploits. Last season, he scored 13 goals in 48 games for Corinthians, as per ESPN FC statistics.
Here are five great Paulinho goals for Tottenham fans to get excited about.
Begin Slideshow

»
This goal, the most recent of Paulinho's strikes, is a great one to start off with.
Paulinho scored a game-winning goal in emphatic fashion in an important tie for Brazil. With the likes of Jan Vertonghen, Younes Kaboul and Michael Dawson already in the squad, Tottenham will be looking forward to the added threat Paulinho brings on set pieces.
Paulinho scores the type of goal here that would make strikers proud. He ambled into a fantastic position and finished with great technique and accuracy.
The Brazilian midfielder was playing against many of the players he will see regularly next season, and his opponents should be wary if he's doing that to the best England has to offer.
Though the technique used to score this goal was a bit strange, the end result showcases the Brazilian's mindset when going forward.
Paulinho showed that he's not afraid to shoot from any distance, and using any part of his foot. He toe-poked this one in from over 20 yards out.
He certainly meant to at least take the shot in that manner, and that shows he's creative as well.
You have to go through two minutes and 40 seconds in this video to get to the goal—not that the whole video isn't worth watching.
We've seen Paulinho score with his head and position himself inside the box to score well-taken goals, but this clip provides insight on his goalscoring abilities from long range. That will certainly be useful in England.
While this and the ingenious strike against Japan are his only long-range efforts that end in goals, there are other instances in the video where he shows that he's not afraid to have a go.
This goal is arguably the best on the list, and you can catch it about three minutes and 18 seconds into the video.
Three aspects of Paulinho's play—positioning, attacking mentality and technique—are on display in this goal. Tottenham fans will have plenty to look forward to when Paulinho finally dons a Tottenham jersey.