The Cincinnati Bengals were able to lock up one of their young defensive ends for the foreseeable future, signing Carlos Dunlap to a six-year contract extension worth $40 million.
UPDATE: Tuesday, July 16, at 10 a.m. ET by Brandon Galvin
The Bengals have announced the official re-signing of Carlos Dunlap:
We officially announce the signing of DE Carlos Dunlap to a long-term extension through the 2018 season. #Bengals #WhoDey

— Cincinnati Bengals (@Bengals) July 16, 2013
---End of update---
---Original Text---
With the prospects of a Michael Johnson contract extension already bleak, and the 4 p.m. ET deadline to extend franchise-tagged players having already passed, Cincinnati instead used their long-term money on Dunlap, according to Pro Football Talk:
Bengals give the long-term money that would have gone to DE Michael Johnson to DE Carlos Dunlap instead. Story coming at PFT.

— ProFootballTalk (@ProFootballTalk) July 15, 2013
Specifically, Bengals sign DE Carlos Dunlap to six-year deal with base value of $40 million.

— ProFootballTalk (@ProFootballTalk) July 15, 2013
Cincinnati placed the franchise tag on Johnson this offseason, and with the deadline having passed, the Bengals will allow the defensive end to play this season on the $11.175 million franchise tender.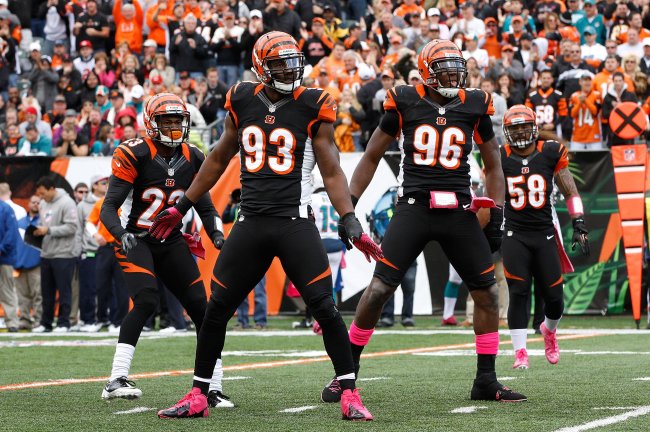 Tyler Barrick/Getty Images
Do you think the Bengals made the right decision in extending Carlos Dunlap's contract?
That's good news for Dunlap, however.
The 2010 second-round pick has exceeded expectations in his three years with the Bengals, and he's being rewarded for that hard work.
In 38 career games, the Florida product has recorded 87 tackles, 20 sacks and four forced fumbles, solidifying a pass rush that may soon eclipse that of the division rival Baltimore Ravens and Pittsburgh Steelers.
Dunlap was scheduled to make less than $1 million in 2013, and it seems Cincinnati was considering giving him a major pay raise long before July.
As Jason Cole of Yahoo! Sports reported back in February, the team was already discussing an extension:
Hearing that Cincy has had some discussions with agent for DE Carlos Dunlap about an extension. Dunlap has 20.5 sacks in first 3 years.

— Jason Cole (@JasonPhilCole) February 23, 2013
Of course, the Bengals may have ultimately chosen to wait on Johnson's contract situation to play out before settling with Dunlap. With 11.5 sacks last season, Johnson would have likely commanded a similar deal to the six-year, $40 million extension they just gave Dunlap.
But Dunlap has perhaps as high a ceiling as anyone on the team, and at 24, there was little risk in handing him a new deal. If Dunlap can continue to improve as he has the last few seasons, he'll be worth every penny of his new deal.