Smart is not a word to be used to describe recently demoted outfielder Jordany Valdespin.
According to Mike Puma of the New York Post, the New York Mets outfielder went on a profanity-laced tirade after learning he was being demoted to Triple-A.
According to a Mets source, the volatile utilityman, upon learning he had been demoted to Triple-A Las Vegas on Saturday, got into a confrontation with Terry Collins, during which he called the manager a "[expletive] sucker."

The source said Valdespin, in the course of his heated exchange with Collins, also tried to invent an injury and demanded to be placed on the disabled list.
So, let's break this down.
Valdespin thought it would be OK to spew expletives at one of the guys who has control over his spot in the big leagues? Then, to avoid being sent down, he tried to invent an injury.
Those weren't exactly the brightest moves in the world.
For what it's worth, by the time reporters were let into the locker room, Valdespin had regained his composure. Later, he tweeted out a series of messages:
Though I try not to get upset about things that are written about me,its tough for me not to react to the article about me disrespecting my

— Jordany Valdespin (@jordany023) July 15, 2013
manager. I was very upset with myself for not helping the team when I was given the opportunity to play. I respect my manager

— Jordany Valdespin (@jordany023) July 15, 2013
organization's decision to send me to triple A and am working very hard to become a better player and teammate

— Jordany Valdespin (@jordany023) July 15, 2013
and will hopefully be back to NY soon to do whatever is needed of me.

— Jordany Valdespin (@jordany023) July 15, 2013
Not His First Rodeo
Despite what seems like a sincere apology, this isn't Valdespin's first run-in with trouble.
On May 10, he hit a home run in a game that was all but over against the Pittsburgh Pirates. Instead of just rounding the bases, he flipped his bat and admired his home run, much to the ire of the Pirates.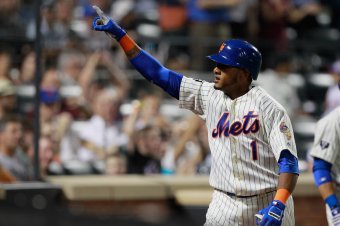 Mike Stobe/Getty Images
The next day, he was inserted in the seventh inning as a pinch-hitter and was immediately plunked by Pittsburgh reliever Bryan Morris.
Valdespin was angry. He was angry at Morris walking to first base. Then, he was angry when none of his teammates acknowledged him when he returned to the dugout, according to Anthony DiComo of MLB.com.
Mets captain David Wright guessed that Valdespin's anger stemmed from the simple fact that the plunking likely hurt. Though Valdespin declined to comment after the game, ignoring reporters on his way out of the ballpark, both Wright and Collins said he understood the retribution.
Only the Tipping Point
You can't forget about the incident dubbed "Numbnuts" by Puma. It was an incident that didn't make Collins too happy.
"You would think if you are starting at second base, you would be smart enough to wear a cup," manager Terry Collins fumed to The Post after the Mets' 11-0 victory at Joker Marchant Stadium.
Throw in the fact that he wore Miami Marlins gear on his blog and you see a history with Valdespin, although you can consider the first incident to be more detrimental to Valdespin than the Mets.
Regardless of the past incidents, Valdespin has to get his act and his maturity together.
If he can't handle being demoted, then maybe he should be a pro baseball player. After all, he was batting .188 on the year with four home runs and 16 RBI. In his last 17 games played, Valdespin was 2-for-36. That's not exactly cause to stay on the big-league roster.
Is Jordany Valdespin worth the headache to the Mets?
Just like Ike Davis, Valdespin can go to the minors and work on his swing and possibly get promoted before the season is done.
However, if he doesn't change his attitude, the Mets (nor any other team) are going to want him. Players with a .219 career average are a dime a dozen. Teams can find other players with his kind of numbers and potential, and not have to worry about the attitude problems.
The ball is in Valdespin's court now. If he wants to be an MLB player, then he needs to start acting like one.