Breaking Down How Metta World Peace Impacts New York Knicks' Playoff Ceiling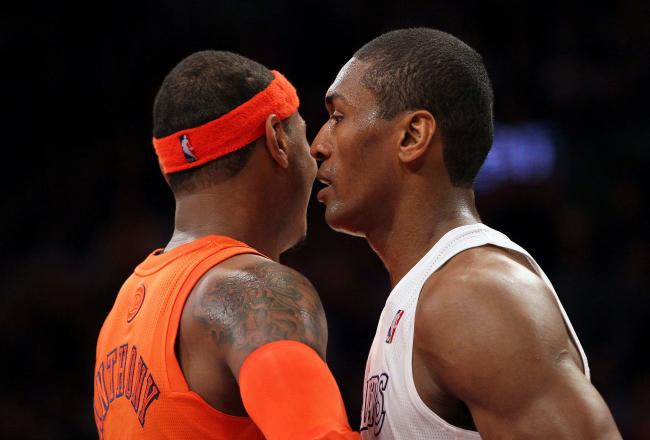 Victor Decolongon/Getty Images
Despite all his intricacies and overall weird behavior, adding Metta World Peace is a game-changing move for the New York Knicks.
While their competitors were improving their rosters, the Knicks have been hampered by limited cap space. They were able to use what little room they had to buy toughness by adding World Peace, who is one of the most physical players in the league.
World Peace's judgement might not always be spot on, but his demeanor and presence can help change a team's identity.
This was a move the Knicks had to make, regardless of the all the commotion that will occur by having World Peace and J.R. Smith in matching uniforms.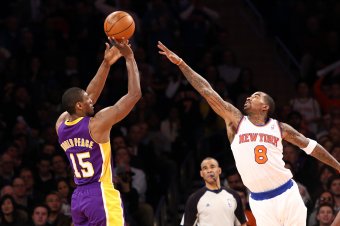 USA TODAY Sports
Coming off a playoff-series loss to the Indiana Pacers, and an offseason that saw the Brooklyn Nets add Paul Pierce, Kevin Garnett and Jason Terry, the Knicks were in desperate need of a spark. Signing World Peace puts them right back in the forefront of the conversation.
That conversation includes the Nets, Pacers and Chicago Bulls, a tier of four teams that can at least position themselves to upset the Miami Heat in the Eastern Conference.
Each one of these rosters has one main core strength. The Nets have experience, the Bulls are defensively superior and the Pacers are young, active and fresh.
The Knicks' core strength was previously just Carmelo Anthony, but now that strength might have shifted. Depending on what lineup coach Mike Woodson uses to start the game, the Knicks could employ a second unit consisting of Amar'e Stoudemire, J.R. Smith and World Peace or Andrea Bargnani.
That's some impressive depth to have behind Anthony, Tyson Chandler, Iman Shumpert and Raymond Felton.
At 6'7'', 260 pounds, World Peace also gives the Knicks a tough, versatile bully in the middle of the lineup.
They had been using the 6'5'', 220-pound Shumpert on bigger wings like Pierce and Paul George. Last season, guards Felton and Jason Kidd were sometimes forced to matchup with opposing forwards. Anthony got minutes guarding players like Pierce and George, but he's not a great defender and New York couldn't afford for him to get into foul trouble.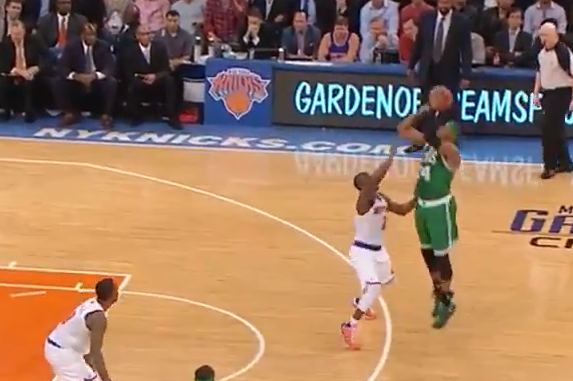 Think about all the great wing players in the East—Pierce in Brooklyn, George in Indiana, LeBron James in Miami, Luol Deng in Chicago. World Piece is an extra body to throw at them with a more natural fit for the position.
George had great success against the Knicks in the second round of the playoffs, but they didn't exactly make it difficult on him. He got to the rim with ease and was able to shoot over defenders without much difficulty.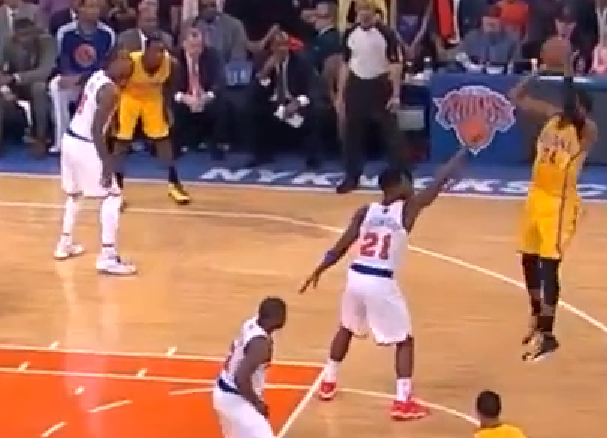 World Peace brings the exact defensive intensity the Knicks currently lack. If the Knicks can stay healthy, they should definitely be expected to compete with the other members of the top tier of contenders in the Eastern Conference bidding to dethrone the Heat.
His toughness should be his most coveted strength, but World Peace's offensive skill set fits a need here as well. He averaged 12.4 points and nearly two three-pointers per game last season, routinely stretching the floor and crashing the glass.
With J.R. Smith, one of the most erratic scorers in recent NBA history, as the team's No. 2 option, having a constant in the lineup should be beneficial.
New York still has roster spots to fill, though. Kenyon Martin is a priority and someone the Knicks need to bring back. They could also use a true backup center and extra reserve point guard.
But by adding World Peace, general manager Glen Grunwald was able to turn nothing into something with the veteran's minimum.
This wasn't a move that puts the Knicks over the top, but it certainly improves their chances of escaping Round 2 of the playoffs.
This article is
What is the duplicate article?
Why is this article offensive?
Where is this article plagiarized from?
Why is this article poorly edited?