Anderson Silva Says the Provocation Should Continue, It's Part of the Show
Use your ← → (arrow) keys to browse more stories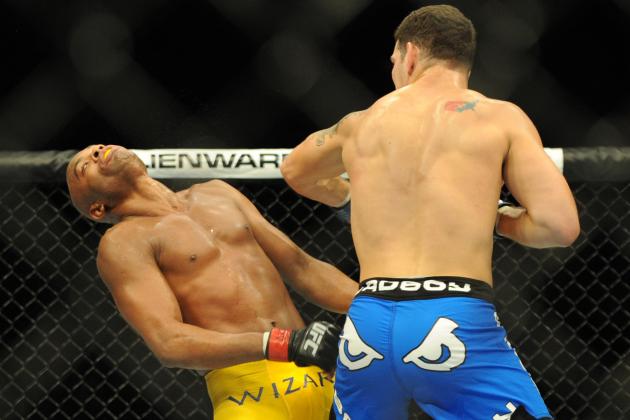 Jayne Kamin-Oncea-USA TODAY Spor

The clowning worked, and then it didn't.
Over time, we have become accustomed to Anderson Silva's taunting ways. Almost all of Silva's fights seem to follow the same pattern. He spends the first minute or so calculating time, distance and whatever else he needs to analyze, and then he goes to work. His hands drop, the jawing starts and his movement increases. Fans essentially know that at that point the fight is over. At that point Silva has decided he is going to win, and his opponents, whether they know it or not, agree with him.
Then he met Chris Weidman at UFC 162.
After getting taken down early in the fight, Silva dug deep into his bag of tricks and laid things on thicker than ever before. Silva put his back to the cage and waved Weidman in. He put his hands on his hips and waited for Weidman to wade in. He stuck his chin out and dared Weidman to try and hit him. He urged Weidman to try kicks. When the round ended, Silva patted Weidman on the side of the head and kissed him on the cheek.
Don't think the over-the-top antics didn't serve a purpose. Weidman was, without a doubt, the most confident opponent Silva had ever faced. Weidman had convinced himself, along with many fighters and fans, that Silva would not get into his head, that Silva would not be able to defeat him mentally with his antics. Silva had to know that, and in order to break the will of Weidman, he ramped things up to the next level.
Does Silva need to change his style in Weidman rematch?
The reasons for Silva's behavior in the cage are twofold. First, it serves to put doubts into the mind of his opponent; second, it tends to make his opponents reckless, serving to set up Silva's powerful and effective counter-striking game.
Some call Silva's style disrespectful, but Silva disagrees with that talk. Speaking to Globo Tv (h/t MMAFighting.com), Silva said, "If Muhammad Ali came up saying I wasn't humble, then I'd think if I was humble or not. There was no lack of respect. I respect everybody. All the provocation, hands down...It should continue, it's part of the show."
Silva's words also seem to indicate that he has no plan to change his style when he faces Weidman on December 28 in the main event of UFC 168. Then again, it's always hard to tell what goes on in the mind of Anderson Silva. Who's to say the former champ isn't already playing mind games with the current champ?