Power Ranking Each MLB All-Star MVP Performance Since 2000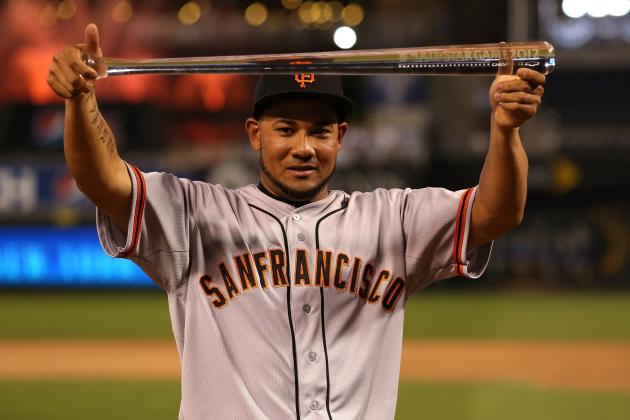 Jonathan Daniel/Getty Images

Mariano Rivera was named the MVP of the 2013 MLB All-Star Game, joining an elite club of Midsummer Classic MVPs.
Mo helped the American League end the National League's three-game winning streak by pitching a scoreless eighth inning, and he was voted MVP in his final All-Star Game.
The question left is where does Rivera's performance rank among the latest MVPs? Read on to find out.
*Note: No MVP was selected in 2002, which is why only 13 players are on this list from the past 14 years
Begin Slideshow

»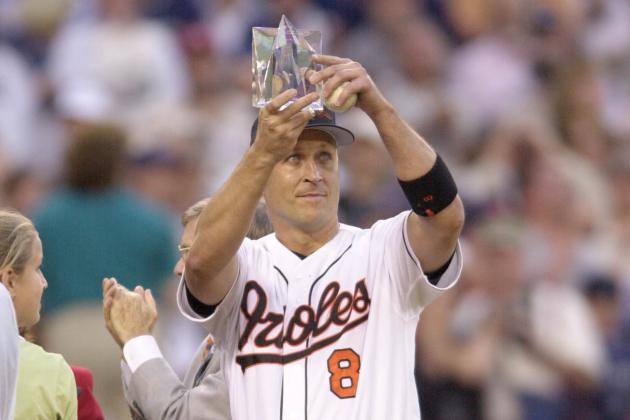 Otto Greule Jr/Getty Images

Stat Line: 1-for-2, 1 HR, 1 RBI, 1 run
Cal Ripken hit the most famous shot of the 2001 All-Star Game, launching a home run in the bottom of the third inning to break a 0-0 tie.
Ripken wasn't the only player to hit a home run, as teammates Magglio Ordonez and Derek Jeter also did so. However, Ripken's was a defining moment in the game, and his shot was the one that put the AL All-Stars up for good.
The case can be made the Ordonez actually had a better game since he went 2-for-3 with his blast, but it was Ripken who was named MVP.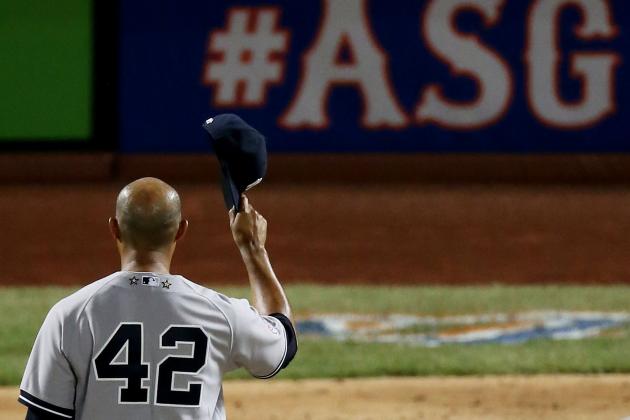 Bruce Bennett/Getty Images

Stat Line: H, 1.0 IP, 0 ER, 0 SO, 0 BB, 16 pitches

Mariano Rivera is the only pitcher to make this list, thanks to his perfect eighth inning.
While I wish I could rank him No. 1 on this list, his performance on the field isn't what won him this award.
Mo's performance wasn't necessarily better than any other AL pitcher, as the NL was held to just three hits and failed to score. However, the sentimental value of him pitching his final All-Star Game undoubtedly led to him being voted MVP.
Rivera finished his All-Star Game career with a 0.00 ERA and five strikeouts in nine ASG appearances.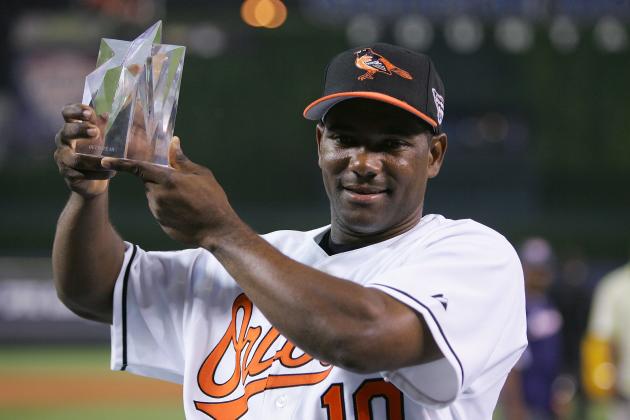 Elsa/Getty Images

Stat Line: 1-for-3, 1 HR, 2 RBI, 1 run
Miguel Tejada only had one hit in the 2005 All-Star Game, but his home run was enough to secure MVP honors.
Tejada actually finished with identical batting numbers to Mark Teixeira but was named MVP over the first baseman.
Nobody really blew away the rest of the field in 2005, which is why Tejada won the award despite a lackluster performance.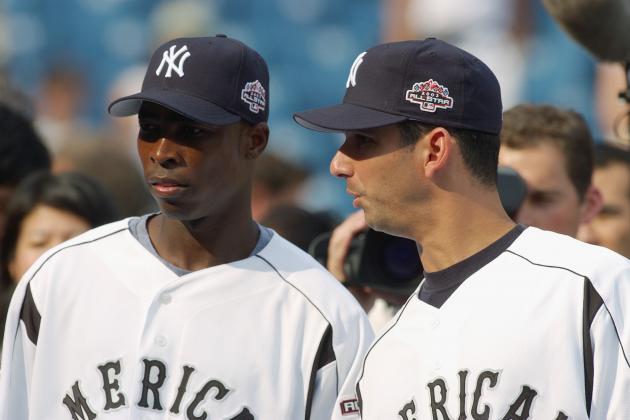 Jonathan Daniel/Getty Images

Stat Line: 2-for-3, 1 HR, 3 RBI, 1 run
Alfonso Soriano's three-run home run off of former teammate Roger Clemens was the defining moment of the 2004 All-Star Game.
Soriano came up to bat with two on and two out in the first inning. The AL was off to a fast start and was up 3-0, but a three-run lead was certainly not insurmountable. However, Soriano launched the bomb that would essentially win the game.
Putting up six runs before the NL even had a chance to bat was enough to demoralize their opponents, and the AL All-Stars won yet again thanks to Soriano's blast.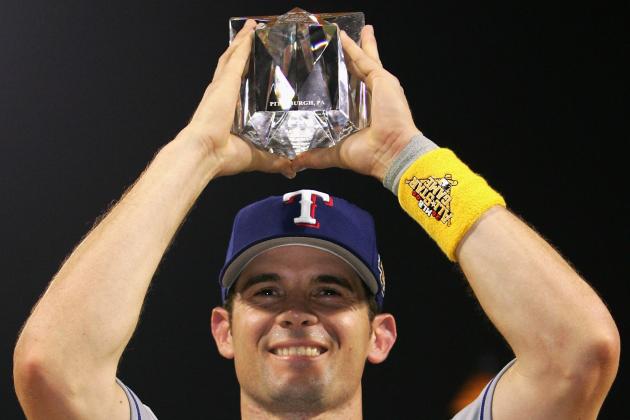 Al Bello/Getty Images

Stat Line: 1-for-2, 1 3B, 2 RBI

Runs were at a premium during the 2006 All-Star Game that the AL won 3-2.
The NL might have been able to snap the AL's win streak if it hadn't been for Michael Young, who came off the bench and hit a two-run triple in the top of the ninth to change a one-run deficit into a one-run lead.
Young got the better of Trevor Hoffman in this game. Mark Loretta started over Young, but there's no denying that Young's triple was one of the most clutch plays in All-Star Game history.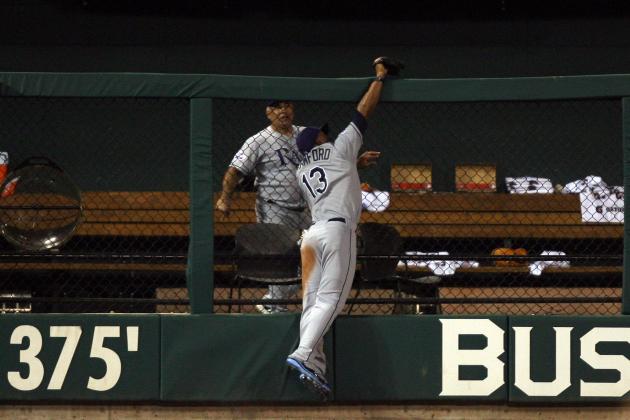 Dilip Vishwanat/Getty Images

Stat Line: 1-for-3
The 2009 All-Star Game was the fourth consecutive year that the AL beat the NL by a single run, but it almost didn't happen.
Carl Crawford didn't win MVP honors because of his bat. He won because he robbed Brad Hawpe of a home run in the seventh inning when the game was tied at three.
Crawford saved the game for the AL with his glove, and if he hadn't made that play, there's a good chance an NL player would be on this slide.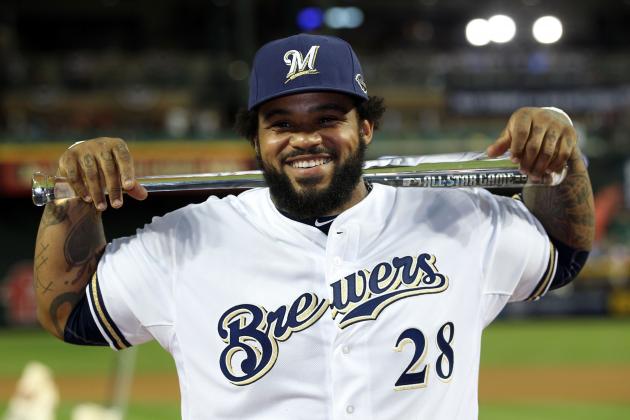 Christian Petersen/Getty Images

Stat Line: 1-for-2, 1 HR, 3 RBI

Prince Fielder batted clean up for the NL in the 2011 All-Star Game, and the night was highlighted by him clubbing a three-run home run in the fourth inning.
The AL scored the first run of the game in the top of the fourth, but Fielder came right back in the bottom half and blasted a three-run dinger to take the lead. The NL would go on to add two more runs and win 5-1, but Fielder's shot was the turning point in the game.
Fielder only had two at-bats in this game, but he made them count.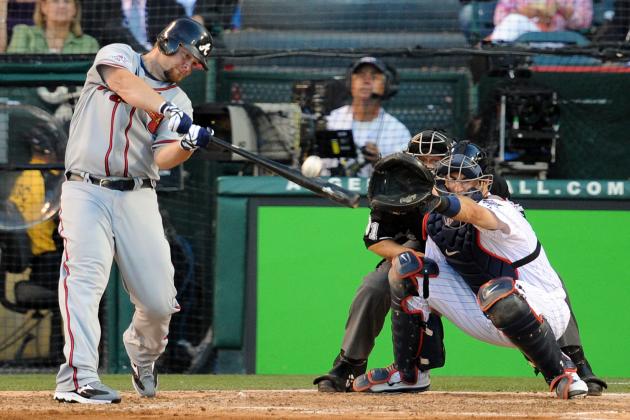 Lisa Blumenfeld/Getty Images

Stat Line: 1-for-2, 1 2B, 3 RBI

Brian McCann helped the NL win its first All-Star Game since 1996 in 2010, snapping a 14-year drought.
The NL hadn't scored a run all game and was down 1-0 in the seventh inning when McCann stepped up with the bases loaded and two outs.
McCann ripped a double to right, driving in all three runners and giving the NL a 3-1 lead that would become final. He also threw out a runner on a strike-'em-out, throw-'em-out double play.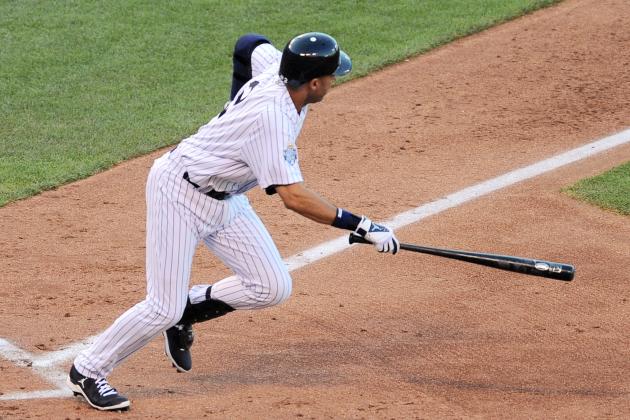 Denny Medley-USA TODAY Sports

Stat Line: 3-for-3, 1 2B, 2 RBI, 1 run
Derek Jeter was in his prime in 2000 starting at shortstop for the American League and batting second.
The Captain was simply impossible to get out, recording base hits in all three at-bats. He was also the only hitter in the game to knock in two RBI, and the only AL hitter with more than one hit.
While Chipper Jones' 3-for-3 performance with a home run may have been a bit more impressive, the AL won the game 6-3, so Jeter was named MVP.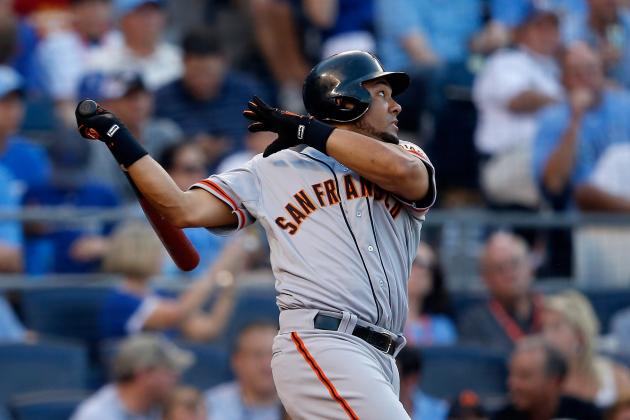 Jamie Squire/Getty Images

Stat Line: 2-for-3, 1 HR, 2 RBI, 2 runs

The Melk Man delivered in his first (and only) All-Star Game, clubbing a home run and helping to fuel the NL's 8-0 victory.
Cabrera had an incredible 2012 campaign and was elected the starting center fielder because of it.
By hitting a single that started a five-run first inning and hitting a two-run home run in the fourth, Cabrera locked up MVP honors in his only Midsummer Classic.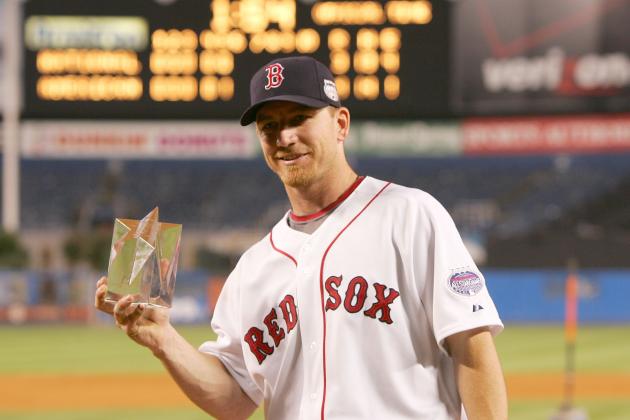 Jim McIsaac/Getty Images

Stat Line: 2-for-4, 1 HR, 2 RBI, 1 run, 1 BB, 1 SB

The 2008 All-Star Game went 15 innings, and nobody had more of an impact on the game than AL right fielder J.D. Drew.
Coming off the bench and taking over for Ichiro, Drew cranked a home run in the seventh that tied the game at two, and he would finish the game in right field for the AL.
Drew showed off his ability to hit for contact or power, run the bases, work the count and do whatever it takes to win. He did absolutely everything and was the clear MVP.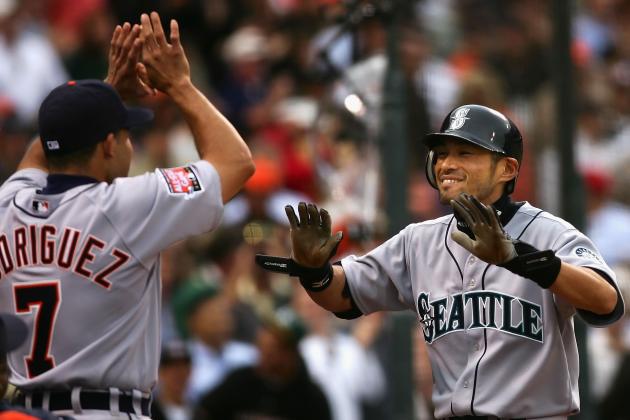 Jeff Gross/Getty Images

Stat Line: 3-for-3, 1 HR, 2 RBI, 1 run
The AL got the better of the NL yet again in 2007 thanks to leadoff man and center fielder Ichiro Suzuki.
Ichiro did it all for the AL by fielding well, smacking hits in all three at-bats and scoring the first two runs for the AL.
His home run in the top of the fifth put the team up 2-1, and the AL never looked back, winning 5-4 and holding off a ninth-inning rally by the NL that resulted in two runs.
Jonathan Daniel/Getty Images

Stat Line: 3-for-4, 1 2B, 1 HR, 2 RBI, 1 run
The day after winning the 2003 Home Run Derby, Garret Anderson showed off his power once again in the 2003 All-Star Game.
Anderson hit two extra-base hits, including a home run to lead off the sixth inning, en route to MVP honors.
He was simply too good to take out of the game, which is why he finished with more at-bats and more hits than any other player. He also tied for the AL lead in RBI and runs scored.
There was no disputing that Anderson deserved MVP, which is why he finds himself at the top of this list.