Projected Cincinnati Bengals Final 53-Man Roster, Training Camp Edition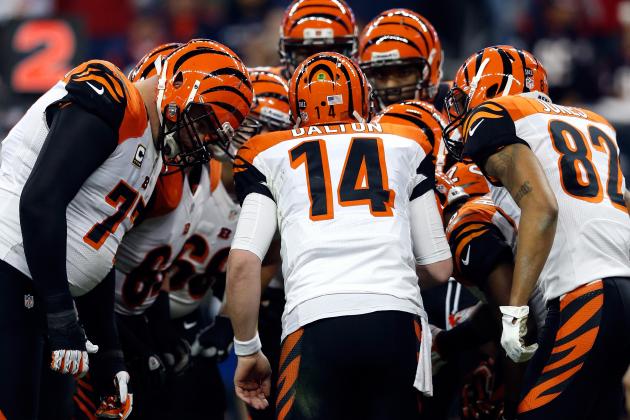 Scott Halleran/Getty Images

The Cincinnati Bengals are coming off of a roller-coaster season in which they finished the season with a 10-6 record but managed to lose in the first round of the playoffs for the second consecutive year.
If the Bengals are to take the next step and corral that ever-so-elusive playoff victory, keeping the right players on the roster will be more important that ever.
After some key re-signings over the offseason and a stellar 2013 draft, the Bengals find themselves loaded with talent on this year's roster. It will be rather difficult to decide who must be cut in order for the final 53-man roster to take shape.
Training camp will certainly be filled with plenty of enticing positional battles. There are plenty of young, hungry players on this team, and it should be expected of them to leave everything out on the field.
There will be certain players who remain on the roster bubble throughout training camp and the preseason, only to have their fate decided during final cuts. Speculation of the Bengals' 2013 final 53-man roster will be rather difficult but remains a very intriguing topic.
Begin Slideshow

»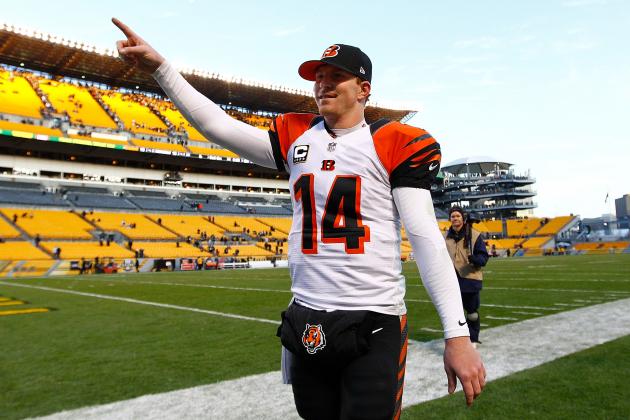 Jared Wickerham/Getty Images

(2): Andy Dalton, Josh Johnson
Analysis: The Bengals should be keeping two quarterbacks on the active roster this season. Dalton will be the incumbent starter once again this season for Cincinnati. He is entering a very crucial third year and—with the weapons he has been given—should improve over his 2012 campaign.
Johnson should be able to come away with the backup position for 2013. He has flashed his ability to make plays with his legs as well as his arm during OTAs and has a familiarity with the offense from his time spent in Tampa Bay with Jay Gruden.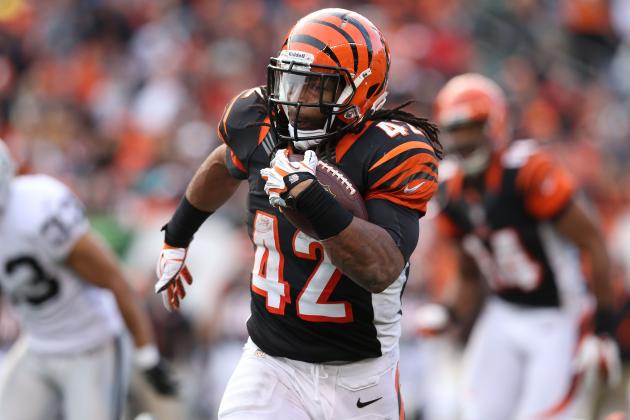 Andy Lyons/Getty Images

(4): BenJarvus Green-Ellis, Giovani Bernard, Cedric Peerman, Rex Burkhead
Analysis: The Bengals will most likely go without a traditional fullback on the 2013 roster. They are moving away from the position due to the necessity to be more explosive and versatile with every player on the field.
This allows them room to keep four running backs on the roster this season.
Green-Ellis will be the incumbent starter once again. He will receive the bulk of the carries and will continue to be the Bengals short-yardage back. He excelled toward the second half of the season in 2012, allowing him to quietly eclipse the 1,000-yard rushing mark.
Bernard was the first running back taken in the 2013 draft. He is expected to contribute right away—splitting carries with Green-Ellis and seeing some time at wide receiver. He will bring a great amount of versatility to the running back position this season—something the Bengals have not had in quite some time.
Due to his many roles on the team, Peerman should make the roster by beating out Dan Herron. At this time, Peerman gives the Bengals much-needed experience at the position and is always a huge contributor on special teams.
Burkhead will be a player who benefits from the lack of a fullback on the team. He will most likely be worked out at the H-back position during training camp this year. He has a perfect skill set to provide Dalton with an extra weapon out of the backfield.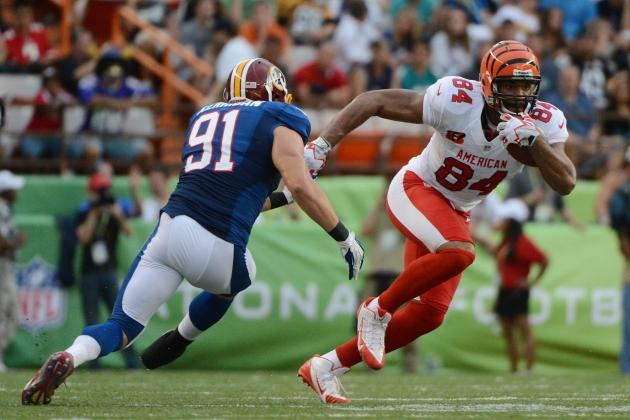 Kyle Terada-USA TODAY Sports

(3): Jermaine Gresham, Tyler Eifert, Orson Charles
Analysis: Gresham will return as the starter for the Bengals in a very important contract year. He must improve his blocking and consistency catching the football in 2013. He is a very talented athlete, and if he can put it all together, he could see a breakout season.
Eifert is another tight end who happens to be a first-round selection for the Bengals. He brings a great amount of athleticism to the position and gives Dalton another valuable weapon. His presence could create plenty of mismatches when on the field with Gresham in a two-tight end set.
Charles figures to make the roster after a slight position change to H-back. He will work as a fullback and tight end hybrid in 2013. He is a great pound-for-pound blocker, has fantastic hands and is extremely reliable. He will be a very valuable—albeit overlooked—asset for the Bengals offense this season.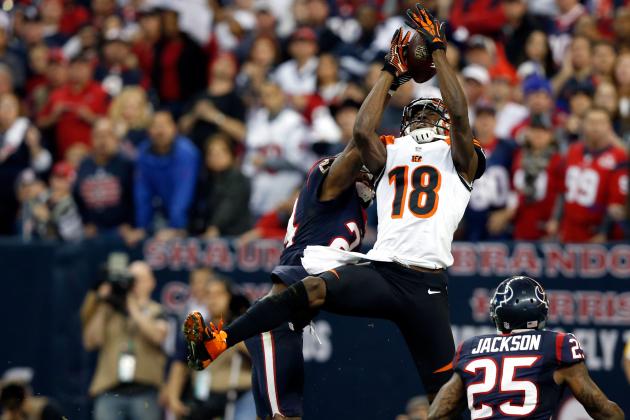 Scott Halleran/Getty Images

(6): A.J. Green, Mohamed Sanu, Marvin Jones, Andrew Hawkins, Cobi Hamilton, Ryan Whalen
Analysis: One of the best wide receivers in the NFL, Green will return as the Bengals top option at the wide receiver position in 2013. With the additional weapons on the offensive side of the ball, Green could find himself in single coverage more often this season.
Sanu will serve as a chess piece for the Bengals offense this year. He can line up outside, in the slot, in the backfield and in the wildcat formation. His versatility and reliability in the red zone could be some of the biggest benefits for the Bengals offense in 2013.
Jones is a speedy target to complement Green on the outside. He built some great chemistry with Dalton toward the end of 2012 and will look to continue to develop in 2013.
Hawkins returns as the main slot receiver for Cincinnati. Getting him the ball in space should be one of the primary focuses for the Bengals offense this year. His speed and vision make him a tremendous threat any time he touches the football.
Hamilton has impressed the coaching staff immensely during OTAs and minicamp this year. The 2013 sixth-round selection has quickly become one of the most watched players on this young Bengals offense. If he can keep up this production, he should be able to make the final roster.
Finally, Whalen should survive the final cuts due to his reliability. He has great hands and runs the cleanest routes on the team. He is a great situational player for the Bengals when crucial third downs must be converted.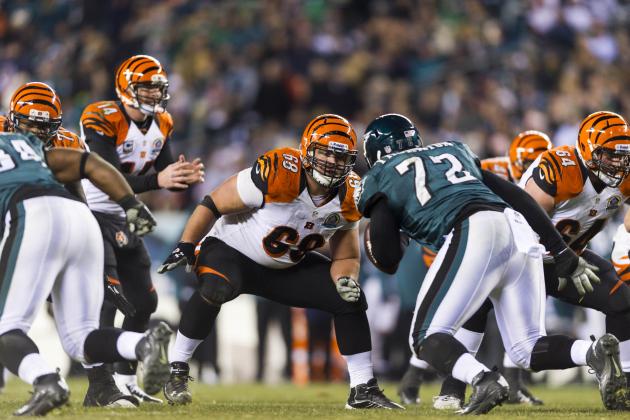 USA TODAY Sports

(9): Andrew Whitworth, Tanner Hawkinson, Clint Boling, Trevor Robinson, Kyle Cook, Kevin Zeitler, Andre Smith, Anthony Collins, Reid Fragel
Analysis: The Bengals will be fortunate to retain the same offensive line from 2012. It is very important for linemen to play next to each other for an extended period of time. This allows them to jell as a unit and improve together.
Whitworth will retain his job at left tackle, and the newly re-signed Smith will stay on the right side. These two blue-chip tackles will anchor the line once again in 2013.
Guards Zeitler and Boling will continue to solidify the interior of the line this season. Zeitler was fantastic as a rookie last year and should be improved with a season now under his belt. Boling will continue to grow after being a late plug-in starter last season.
At the center position, Robinson and Cook will be fighting for the starting role. They shared time at the position last year and will need to improve drastically in 2013.
Rounding out the group will be the versatile Hawkinson. He impressed the coaching staff by playing all five offensive line positions during OTAs and minicamp this year. Fragel, another rookie, will make the roster due to the fact that the Bengals will not be able to get him on the practice squad. He could be the heir apparent at the right tackle position.
Finally, Collins will see himself on the roster this year due to his versatility. It is very important that the Bengals keep offensive linemen who can play multiple positions. This allows them to free up other roster spots at positions which are not as deep.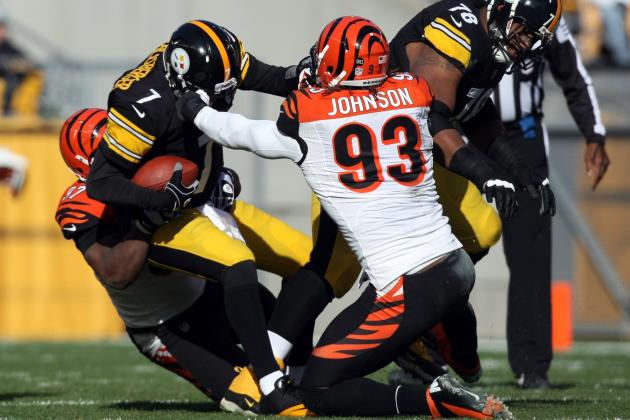 USA TODAY Sports

(5): Michael Johnson, Carlos Dunlap, Robert Geathers, Wallace Gilberry, Margus Hunt
Analysis: Defensive end should be a fairly easy position to predict for 2013. All of the key players have returned and will continue to dominate with a dangerous rotation at the position.

Johnson received the franchise tag and will play under it for the duration of the season. Dunlap is in a contract year and will look to put up big numbers if he is to receive a big contract. Geathers returns as the veteran of the group and should continue to be stout against the run. Gilberry was a surprise last season and returns on a new deal to solidify the depth at defensive end.
Hunt is the new kid on the block and has some developing to do before he can contribute on a consistent basis at defensive end. He is in a perfect situation with the Bengals—this position is deep and will not require him to contribute right away. Look for his presence to be felt on special teams during his rookie year.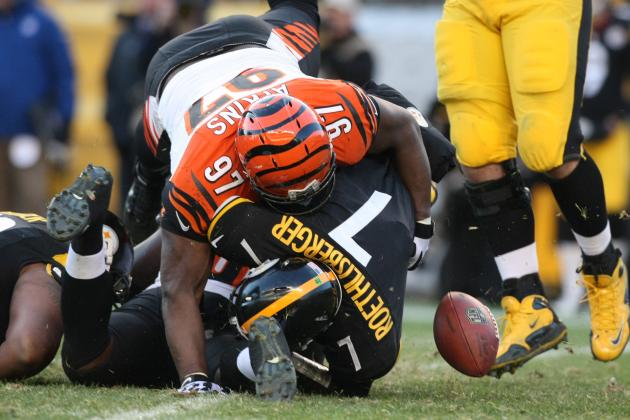 USA TODAY Sports

(4): Geno Atkins, Domata Peko, Brandon Thompson, Devon Still
Analysis: Another position that is not entirely difficult to predict is defensive tackle. The Bengals will typically keep four players at the position for the 2013 season.
Atkins is the best in the league and will anchor the defensive line once again in 2013. He will be looking for a big contract extension after the season. Next to him will be Peko—a rather underrated tackle. Peko will line up next to Atkins and continue to work as a gap-filler for the season.
Two second-year players will back up these players for 2013. Thompson will fill in for Peko and will need to step up against the run after the loss of Pat Sims in free agency. Still will rotate with Atkins and looks to be disruptive in the backfield as a pass-rushing specialist.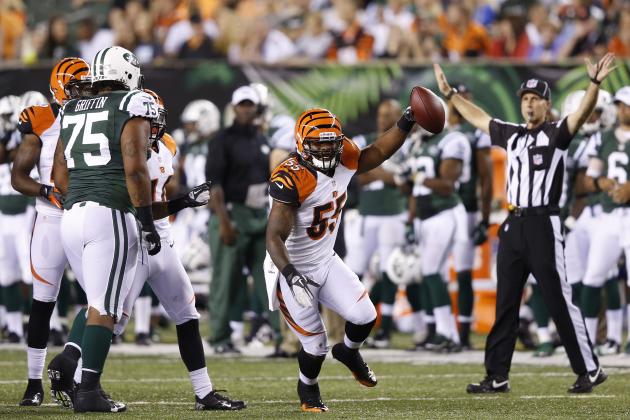 Joe Robbins/Getty Images

(7): Vontaze Burfict, James Harrison, Rey Maualuga, Emmanuel Lamur, Sean Porter, Brandon Joiner, Jayson DiManche
Analysis: This may be one of the most difficult positions to predict for the Bengals. The starters are set in stone, but there are plenty of choices for depth at the linebacker position.
Burfict, Harrison and Maualuga are slated to be the starters at the linebacker position this season. Harrison is a big upgrade on the strong side and should have an instant impact. Burfict returns to start at the weak side with another year of experience under his belt. He should be fun to watch this season. Maualuga was brought back to the middle and will look to improve upon his rocky 2012 campaign.
Lamur and Porter should be roster locks behind the starters. Lamur may be the most talented WILL linebacker on the team and could become a starter if Burfict is moved to the middle. Porter—a 2013 fourth-round pick—will learn behind the veterans and wait for his opportunity.
The last two players are interesting stories.
Joiner was signed by the Bengals but served eight months in jail for a crime committed back in 2007. He was a very impressive collegiate athlete, and if he can return to form, he could find himself on the final roster.
DiManche has freakish athleticism for a linebacker. He has the speed and power to become a very successful edge-rusher at the NFL level. He is exactly what the Bengals wanted out of Dontay Moch but without the injury problems.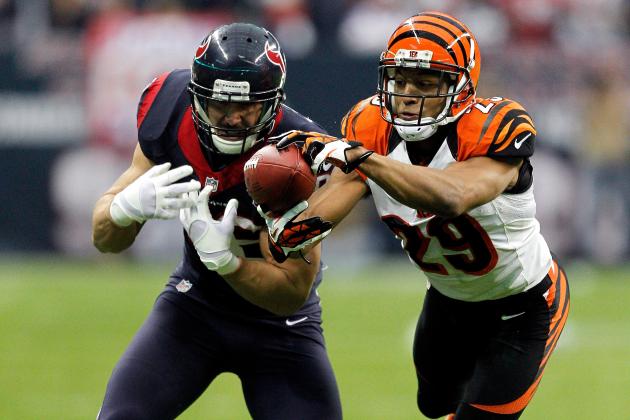 Bob Levey/Getty Images

(6): Leon Hall, Terence Newman, Adam Jones, Dre Kirkpatrick, Brandon Ghee, Onterio McCalebb
Analysis: Hall—one of the most underrated corners in the NFL—will return as the team's top option at the position this season. Hall struggled in the early portion of 2012 due to his recovery from an Achilles injury. He is now healthy and looking to capitalize on his tremendous stretch over the last half of 2012.
Newman and Kirkpatrick will be in a battle for the No. 2 position opposite Hall. Newman played very well in 2012, but Kirkpatrick—the former first-rounder—is looking to challenge him for the position throughout training camp and the preseason.
Jones will return as the primary slot corner for the Bengals. He had a great year in 2012 and remains a valuable piece of the Bengals defensive secondary.
If he can stay healthy, Ghee will finally see some time at cornerback this season. He impressed in training camp last year, but an unfortunate injury sidelined him for the season. This year, he is at it again—already impressing the coaching staff during OTAs.
The last cornerback spot should be used primarily for a player with tremendous upside. This is because this player will generally not see any work at corner during the season. McCalebb fits the bill here as he is learning the cornerback position after converting from running back. His prowess as a kick returner should allow him to make the final roster.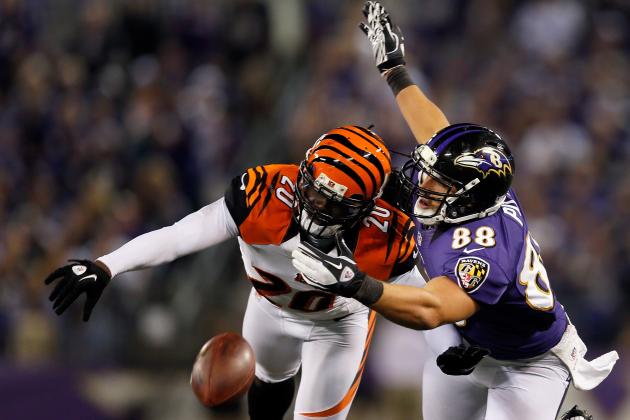 Rob Carr/Getty Images

(4): Reggie Nelson, Shawn Williams, Taylor Mays, George Iloka
Analysis: Yet another highly underrated player resides in the Bengals defensive secondary. Nelson has been a consistent jack-of-all-trades for the Bengals since joining the team in 2010. He will remain the starter this year and will take on a new role as a mentor to the Bengals third-round pick in 2013.
Williams should get the nod to start opposite Nelson despite being a rookie. At Georgia, Williams showed a great leadership ability as well as tenacity as a tackler in the box. He must improve on his coverage skills, but that is what the coaching staff will be working on during training camp and the preseason.
Mays should return to his backup role this season. He must show progress in his decision-making ability before he finds himself on the field during the regular season.
Iloka has been impressive in coverage drills during the offseason this year. A safety who can cover is something that the Bengals lack outside of Nelson. If he keeps up his production in that area, it should earn him a spot on the final roster.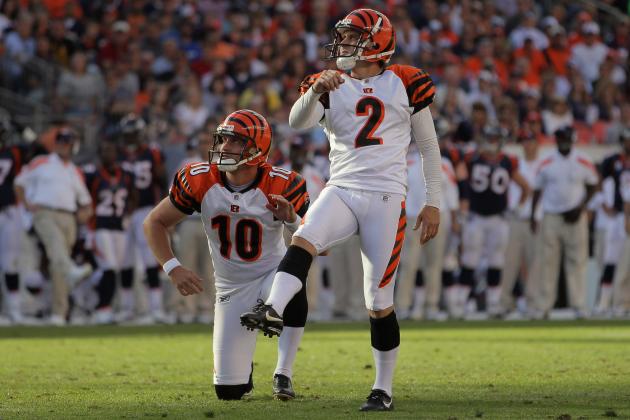 Doug Pensinger/Getty Images

Kicker (1): Mike Nugent
Punter (1): Kevin Huber
Long Snapper (1): Clark Harris
Analysis: Cincinnati made it a point to keep its special teams intact and signed Nugent, Huber and Harris to new contracts with the Bengals early this offseason.
Barring any unforeseen injuries, these three players will take on the same roles as they did last year with the franchise.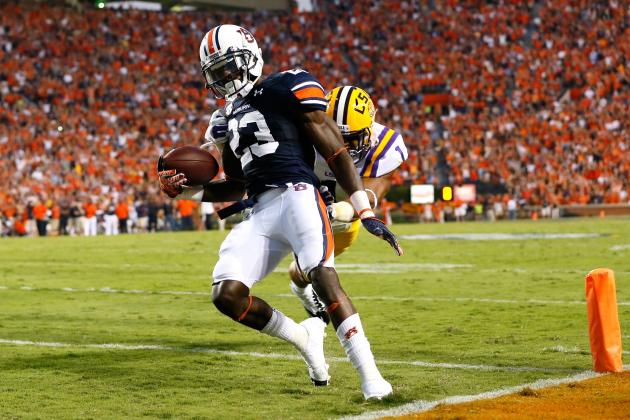 Kevin C. Cox/Getty Images

Rex Burkhead: He will just squeeze onto this roster due to his versatility in the backfield. His ability to run, block and catch will give him an edge to obtain one of the final roster spots on the team.
Ryan Whalen: The receiver position will be one of the toughest battles throughout training camp this season. Whalen will get the edge due to his reliability and chemistry with Dalton.
Jayson DiManche: Another tough roster spot to obtain will be linebacker. DiManche will get the nod here because of his great athletic ability. He is someone who the Bengals will want to keep around and develop.
Reid Fragel: Getting the final offensive line spot on the roster will be tough this year. Fragel will have the edge here because of his natural athleticism. He may not see any playing time this year, but the interest in him will be high from other teams. Cincinnati will not be able to stash him on the practice squad.
Onterio McCalebb: Cornerback is another tough battle this year. McCalebb is a converted running back and will make the final roster solely for his abilities as a kick returner.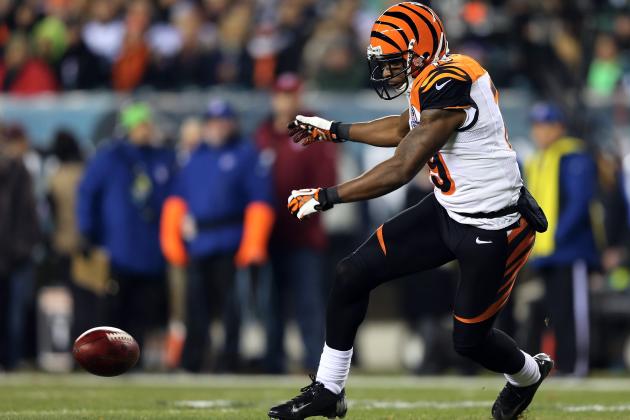 Elsa/Getty Images

John Skelton: He will be locked in a tight battle with Johnson throughout training camp. It will most likely come down to the wire; however, Skelton's lack of mobility will be his undoing.
Jeromy Miles: A special teams ace, Miles was able to stick with the team in 2012 because of his versatility. However, he looked lost when he saw time at safety last season. The addition of Williams makes him expendable this year.
Vincent Rey: Like Miles, Rey is a great contributor on special teams. However, there have been too many players who can contribute at a higher level than Rey at this point. That will be enough to take away his roster spot this season.
Dan Herron: He will be involved in a tight battle with Peerman this year. Unfortunately for Herron, Peerman's ability to contribute in the running game as well as special teams will give him the edge over the second-year player.
Brandon Tate: This may come as a surprise. However, Tate showed that he is very unreliable in the return game and lacks the consistency to contribute as a wide receiver. All it will take this year is for McCalebb to show flashes over the preseason for Tate to lose his job.