Hottest and Coldest Baltimore Orioles Players Heading into the 2nd Half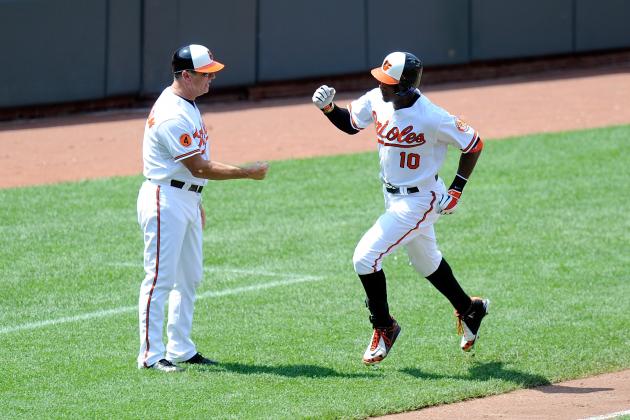 Greg Fiume/Getty Images

The All-Star break is finally here, and the third-place Baltimore Orioles are sending five of their most talented players to the game at Citi Field in New York City.
For the rest of the team, a much-needed four days off is coming their way. Guys like Matt Wieters and the bullpen arms will rejoice over receiving a small break to allow their bodies some time to mend.
Of course, some other guys may not be so excited to sit around until Friday night because they had been on a roll and would love to stay in action to keep their hot pace going.
Now that the break is here, let's take a look at who's hot and who's not for the Orioles heading into the season's second half.
Begin Slideshow

»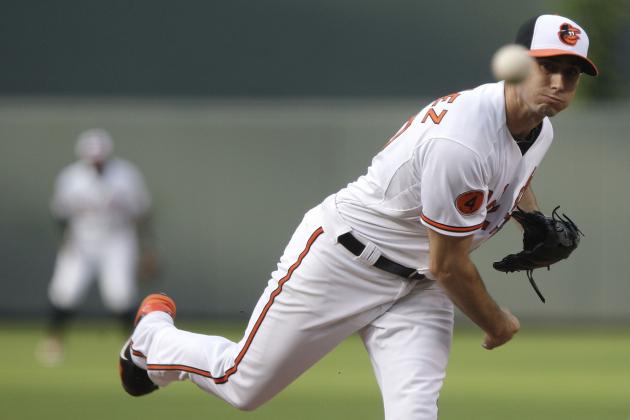 Jonathan Ernst/Getty Images

Right-hander Miguel Gonzalez has become arguably the O's best starting pitcher over the past year or so, dating back to mid-2012.
Gonzalez is 7-3 with a 3.48 ERA going into the break, and now that he's been in the O's rotation for a little over a year, he's put together a career record of 16-7 with a 3.36 ERA. That's close to ace-type numbers.
After giving up five earned runs over six innings to the Detroit Tigers at home on May 31, Gonzalez hasn't given up more than three in any of his seven starts since, going at least six innings in each start. In fact, in his past 10 starts, he failed to get through six innings just once, and that start lasted 5.2 innings.
The righty has thrown back-to-back one-run starts, at the New York Yankees on July 5 and against the Texas Rangers at home on July 11.
I think it's safe to say Gonzalez is hot right now. And if his track record of the past year is any indication, the O's will have a front-line starter on their hands to lead them toward a playoff spot.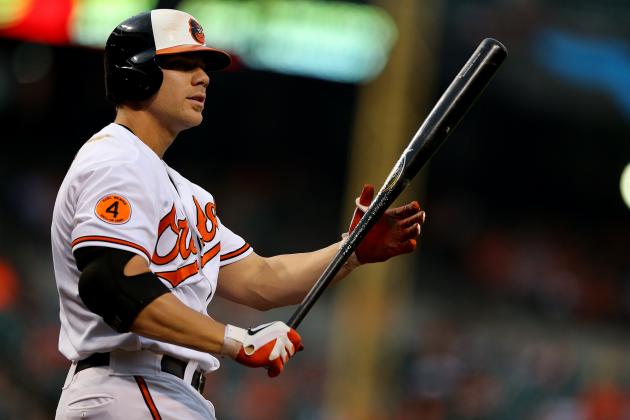 Patrick Smith/Getty Images

Baltimore's slugging first baseman has been hot all season long, so this should come as no surprise.
Chris Davis has been some kind of dialed in during the 2013 season, as he enters the break with 37 homers and 93 RBI accompanied by a .315 batting average and .392 OBP.
While he's hit just .206 over his past 10 games, five of his seven hits have been home runs while the other two were doubles.
Expect nothing more than average, homers and runs being driven in from Davis when the O's return to action on Friday in Texas.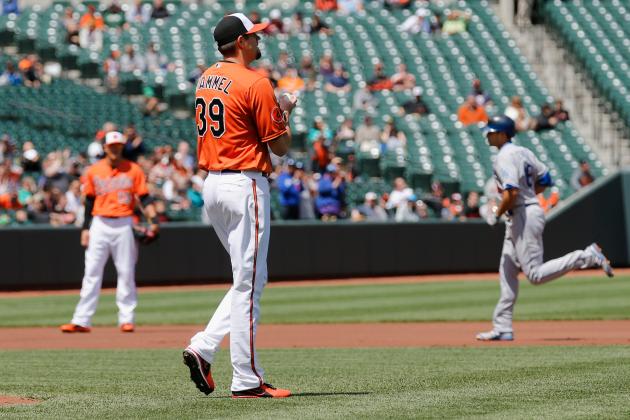 Rob Carr/Getty Images

Just like Davis, this one should come as no surprise.
Jason Hammel has been a mess all season long, with a 7-6 record and a 5.24 ERA in 19 starts this year. He definitely isn't the pseudo-ace for the Birds that he was last season, something that is a contributing factor to the O's rotation struggles this season.
If Hammel can turn it around in the second half, that would be a huge plus for the Orioles. However, I don't really see that happening, as this year's numbers are more along the lines for Hammel's career norm. Last year appeared to be a fluke career year.
Still, Hammel eats innings and provides a veteran presence. That has to count for something, right?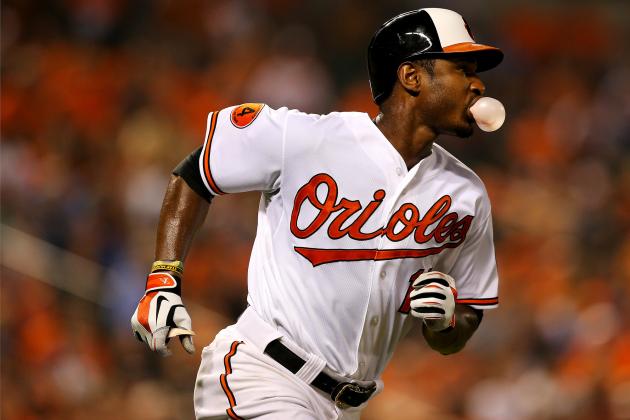 Patrick Smith/Getty Images

Adam Jones had a few weeks during late June and early July where he seemed to be in a bit of a slump, but as of his past 10 games, the O's star center fielder appears to be back on track.
While drilling four homers and collecting eight RBI in his those 10 games, he's also batted .351 in that stretch, bringing his overall season average up from .287 to .296.
What's strange about his past 10 games is that Jones has worked four walks, two of which were in the same game. I call that strange because, as any O's fan knows, Jones rarely walks. The five-tool player has just 13 walks all season long, with two of them being issued intentionally.
The O's are going to need Jones to continue his strong production in the middle of their lineup if they hope to secure a playoff spot. That shouldn't be too hard for him to do.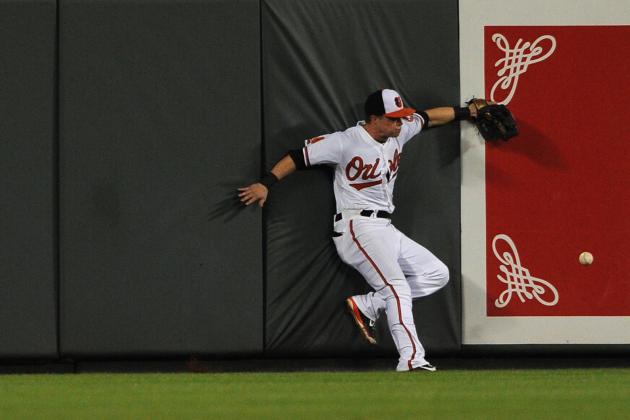 Patrick Smith/Getty Images

As the O's primary left fielder, Nate McLouth seems to be in a bit of a slump.
The catalyst atop the lineup has batted just .194 over his past 10 games and hasn't stolen a base for almost a month. He has just as many strikeouts as he does hits over those 10 games—seven—and just one walk to accompany those numbers.
Every player has his ups and downs throughout the season, and McLouth has already had a couple of hot streaks and a cold streak this year, so this sort of thing isn't unheard of from him. He'll come around.
Of course, the sooner he does the better for the O's, as they need him to get on base and wreak havoc once he's there.
Patrick Smith/Getty Images

A last-minute addition to the AL All-Star team in replacement of Detroit Tigers' ace Justin Verlander, Chris Tillman hasn't been as overwhelming this season as he was in 2012.
What he has been, though, is consistent, steady and dependable for an Orioles rotation that sorely needs it.
Tillman seemingly has as many quality starts as Manny Machado has doubles, as he's tallied six of them in his past 10 starts. He allowed more than three runs just twice in those 10 outings and leads the O's staff with 11 wins on the year. In fact, he's 8-1 over that 10-game span.
The one issue with Tillman is getting deep into games. He finished seven innings in just two of those 10 starts, never going past that seventh-inning mark. Once he sharpens up his command, that should help him not only pitch more innings, but lower his ERA since there won't be as many walks and free runs scoring against him.
With Tillman, the O's know what they're going to get almost every time out. And that's a great thing for any team to have.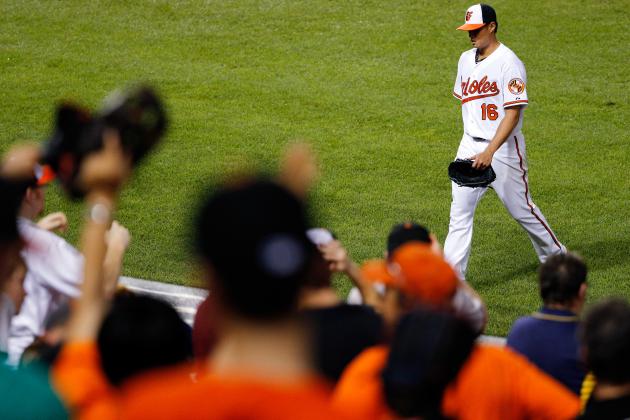 Rob Carr/Getty Images

The lone lefty in the O's rotation, Wei-Yin Chen pitched for the first time on July 10 since he injured himself during his start against the Minnesota Twins on May 12.
In his return start, Chen threw seven innings and gave up just one run against a dangerous Texas Rangers lineup, while walking three and striking out four.
Chen is one of the most consistent pitchers the O's have, logging six quality starts in the nine he's made this season. He's given up more than three runs just once this year, when he gave up five over four innings on May 1 in Seattle against the Mariners.
O's fans should keep an eye on Chen to help the team solidify their rotation. Chen has been nothing but a rock for the club since they signed him out of the Japanese league prior to the 2012 season, and I wouldn't expect that to change at all.