The 5 Biggest Storylines Heading into Eagles' Training Camp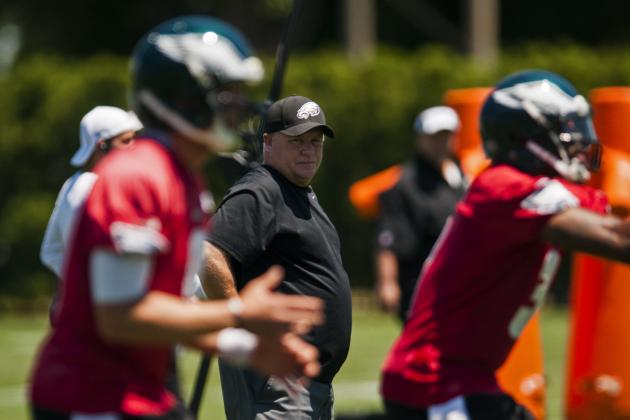 Howard Smith-USA TODAY Sports

With the Eagles primed for training camp, set to begin on July 22, headlines and questions continue to swirl around the team under Chip Kelly's first year as head coach.
However, questions are eventually answered, so expect most of them to be wrapped up by the time training camp finishes.
The biggest question mark right now is clearly the quarterback position and who will capture the starting role (initially at least) for the 2013 season.
But, there are other storylines to be examined, so let's take a look at a handful of them.
Begin Slideshow

»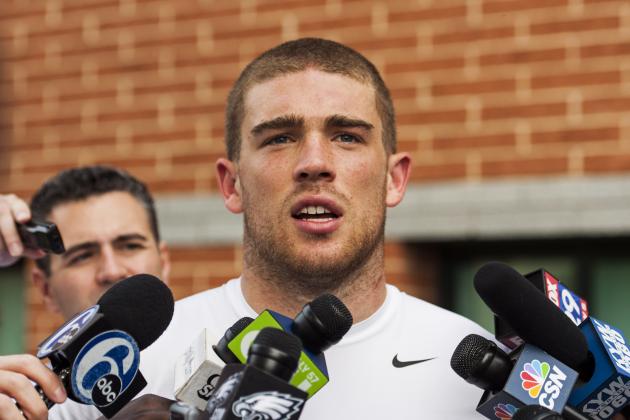 Howard Smith-USA TODAY Sports

Even though some expect Kelly's offense to be an exact replica of the one he ran at Oregon, there will be some key differences.
We're not too sure what they are yet, considering most of it will unfold once the season gets underway.
But one thing that could come to light in training camp is how exactly Kelly utilizes his tight ends—both from a positional standpoint and also selecting personnel.
What's meant by a "positional standpoint" is how Kelly will use the tight end, what situations they'll be called on during games and if the position will transform into more of a wide receiver role.
The latter is definitely possible, which is just another reason why the position is worth noting during training camp.
Also, new faces like Zach Ertz and James Casey could determine the futures of Brent Celek and Clay Harbor.
Celek, who garnered the second-most targets last year for the Eagles, could have some of his looks taken away by the two newcomers.
And as for Harbor, there's a strong potential that he gets cut by the end of camp.
On a positive note, it'll be intriguing to see what Casey, a jack-of-all-trades previously for the Texans, brings to the table and how the athletic Ertz fares in developing his blocking skills.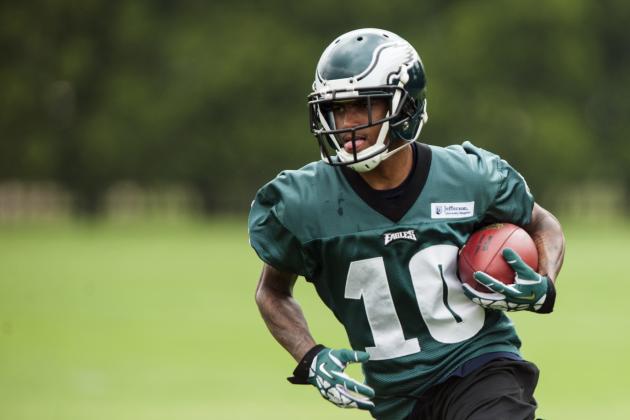 USA TODAY Sports

Whether it was his comments about the quarterback situation or the "demotion" that never was, DeSean Jackson has had his share of growing pains and headlines in his first offseason alongside Chip Kelly.
But regardless of what he's said or continues to say, the only thing that truly matters with Jackson right now is how he'll perform on the field in 2013.
The wideout, who has led the Eagles in receiving four of the last five years, had a relatively down year in 2012 and will be looking to correct that.
The question is: how does he fit in Kelly's offense, and if it's any different from what Andy Reid planned for him, what will his role be?
That's one thing we're not entirely sure of yet.
What is known is that Jackson is a playmaker, and Kelly loves to utilize speedy guys who can catch on the run and make people miss in the open field.
That'll bode well for Jackson, so it'll be intriguing to see how his training camp pans out.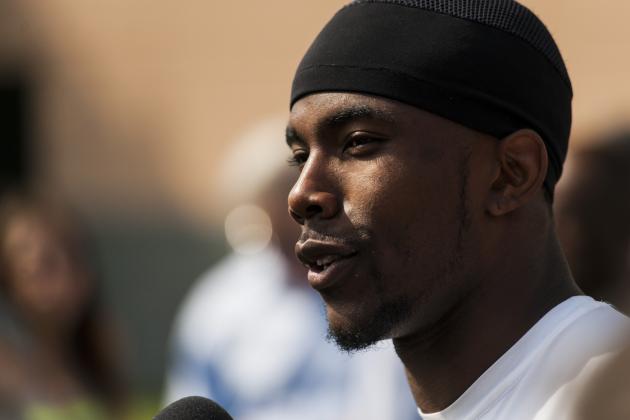 Howard Smith-USA TODAY Sports

The Eagles' secondary, while not garnering as much attention as the quarterbacks, is perhaps the biggest area of uncertainty heading into training camp.
Dropping big-name cornerbacks Nnamdi Asomugha and Dominique Rodgers-Cromartie makes things interesting.
But what's more compelling is how new faces like Bradley Fletcher, Cary Williams, Patrick Chung and so and so forth will prove their worth to new defensive coordinator Billy Davis.
Williams, while his off-the-field comments became league-wide news, is a veteran and proven winner, so he shouldn't be an issue.
A fifth-round selection in the 2013 draft, Earl Wolff already has made in-roads on starting time at safety.
Fletcher really, really wants to hit somebody.
And Jordan Poyer, who was a consensus All-American in college and was drafted in the seventh round, has 31 teams to prove wrong.
If that's not enough, just wait until these guys strap on the shoulder pads and start hitting.
Training camp could provide a lot of clarity on the Eagles' secondary moving forward.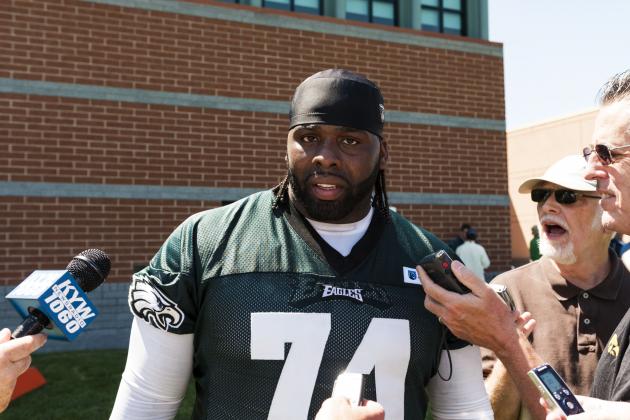 Howard Smith-USA TODAY Sports

A hefty amount of buzz was generated about the offensive line in 2013 after the Eagles selected Lane Johnson with their No. 4 overall pick in April's draft.
And even though that buzz slowly diminished during OTAs, the questions should be abundant going into camp.
Even with Johnson's development in the picture, the biggest storyline is Jason Peters and whether or not he can return to Pro-Bowl form.
When healthy, Peters is perhaps the best player on the Eagles roster.
The problem is he ruptured his Achilles tendon in 2012 before the season started.
If he returns to form, the Eagles' O-line will be significantly better than last season.
The line should improve from last year regardless, with Johnson and the rapid progress made by Evan Mathis.
But a lot of questions hinge on Peters, and the Eagles will have answers by the end of training camp.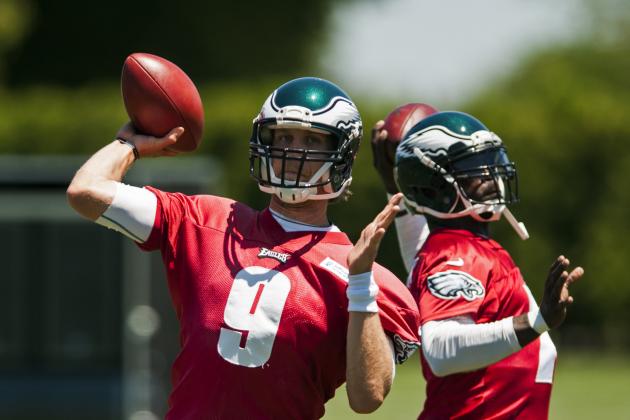 Howard Smith-USA TODAY Sports

Lastly, the quarterback situation.
The most paramount question of the Eagles' offseason, and of Kelly's time in Philadelphia, the decision to pick a starting signal-caller, isn't one that will be made hastily.
Even though Jackson and candidate Michael Vick both expressed desire at having the starter named prior to training camp, Kelly is simply not going to do that.
In fact, he thinks there's "nothing to gain" from selecting a gunslinger before seeing them in pads working out.
It's essentially a two-man race between Vick and Nick Foles, with Matt Barkley pushing for an opportunity and some fans throwing Dennis Dixon's name in the mix.
CSNPhilly.com's Reuben Frank made his case for Foles, while Snoop Dogg thinks Vick should be the starter.
It seems as though everyone has an opinion on which passer should be the starter, but the only one that matters is Kelly's.
And that conclusion won't be made until the coach sees enough in training camp, so those hoping for a swift decision should strap in.
It's going to be an interesting training camp under center for the Eagles, to say the least.