Home Run Derby 2013: All the Facts, History and Bermanisms to Help You Survive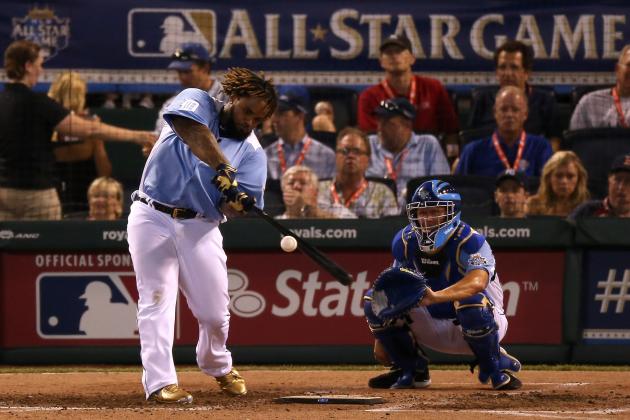 Jonathan Daniel/Getty Images

Citi Field in New York is ready for some long-ball action, and you at home can be too. It's Home Run Derby time!
If you turn up the volume really loud on Monday night, you might hear all the amazing Derby sounds. The buzz of anticipation from the crowd. The crack of the bat. The pop of the glove for every ball a hitter lets go by in an effort to find that perfect pitch.
The pop of another pitch he let go by. And another pitch…and another…and for the love of God, man, just swing at the next damn ball before we all fall asleep!
Of course, be careful how loud you turn up those speakers. Chris Berman is back, back, back calling the Home Run Derby for yet another year. ESPN brass should probably stay off the Internet for a few hours.
While he is almost universally maligned at this point in his career, I've always maintained that Berman is actually the perfect host for the All-Star Home Run Derby festivities. The entire concept of the Derby is a made-for-TV contest where the outcome matters to exactly no one. The Derby is a fun and ultimately useless exercise in slugging. Berman is a perfect match.
With that, here's a little handicapping guide to watching the 2013 dinger extravaganza.
Begin Slideshow

»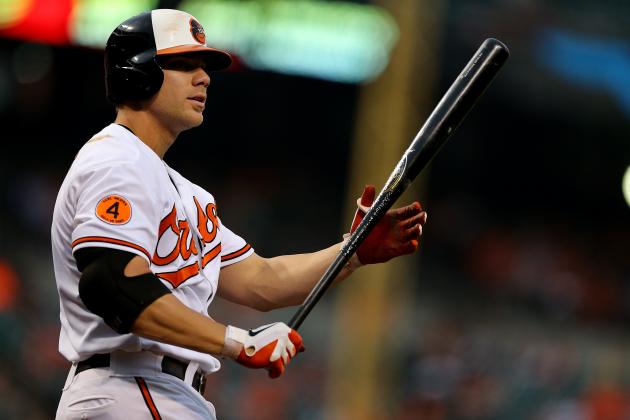 Patrick Smith/Getty Images

There are five first-time competitors in the 2013 Home Run Derby. In the previous 27 contests, a first-time participant has won 12 times.
To be fair, that number does include the first Home Run Derby, where everyone was a first-timer. Dave Parker, who won the 1985 Derby, was the only player to return in 1986, but he was unable to repeat as champion. (The 1987 and 1989 Derbies had all first-time competitors; there was no Derby in 1988.)
Since 1990, when players routinely started competing in multiple contests, a first-timer has won eight times. Since 2001, however, a first-time competitor has won six of the 12 contests.
Jamie Squire/Getty Images

A lot of people are picking Prince Fielder to repeat as Derby champion. Fielder and Ken Griffey Jr. are the only two players in MLB history to win multiple Derby crowns. Griffey, however, is the only player to ever successfully defend his crown.
Defending is not easy. Yankees second baseman Robinson Cano won the Derby in 2011 and not only finished last the following year, but he also hit zero home runs. Fielder should hit more than zero, but picking him to win goes against history.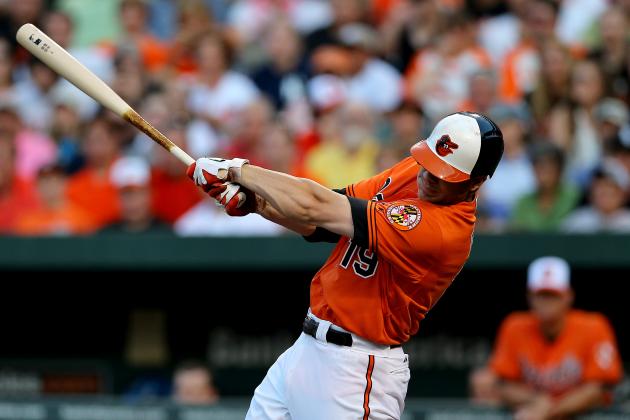 Patrick Smith/Getty Images

According to Bovada, Chris Davis has the best Vegas odds going into the Home Run Derby, but if history is any indication, having the most home runs at the All-Star break means absolutely nothing when it comes to the Home Run Derby.
Since 2003, the home run leader at the break has won exactly zero Derby titles.
In the last 10 years, the home run leader has only made the Derby finals one time (last year), and a player ranked in the top three in MLB in homers has only made the finals four times in 10 seasons, winning two.
In the same span, the competitor with the fewest or second-fewest homers heading into the break has won the Derby six times, making the finals eight of the 10 years.
Bryce Harper is not a terrible pick.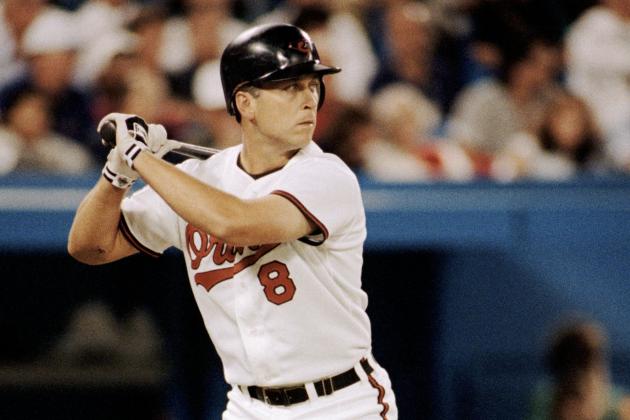 Rick Stewart/Getty Images

Just twice in Home Run Derby history has the winner of the contest gone on to also win All-Star MVP.
In 1991, Cal Ripken surprisingly won the Home Run Derby before leading the American League to the All-Star Game victory en route to MVP honors.
In 2003, Garret Anderson won the sham of a Home Run Derby (more on that in a minute) before taking MVP honors the following day as well.
Of the previous 27 years in which a Home Run Derby was held, the league that boasted the Derby champ also won the All-Star Game 14 times, a number that includes 1986 when there were two Derby champions, one from each league.
Jim McIsaac/Getty Images

The guy who hits the most home runs should win, but it doesn't always happen.
Major League Baseball changed the Derby format to include semifinals and finals in 1995, and since that year the player who hit the most home runs on the night didn't win seven times.
That seems…peculiar.
When the scores are wiped out after the second round, the finals is just a heads-up battle between the best two sluggers of the night, so it stands to reason that one might have fewer total taters while knocking out more in the final round to win.
That happened in 1995 with Frank Thomas beating Albert Belle, in 1997 with Tino Martinez beating Larry Walker, in 2007 with Vlad Guerrero beating Alex Rios in the finals and most famously in 2008, with Justin Morneau "beating" Josh Hamilton 5-3 in the final round despite hitting 13 fewer homers on the night.
Before 2003, MLB thought it would be neat to put one player against another in the semifinals. It wasn't neat at all.
In 1999, Mark McGwire hit 13 homers in the first round but just three in the semifinals, not even making the finals despite the same number of homers as the eventual champion, Ken Griffey Jr.
In 2001, Jason Giambi hit 20 homers—four more than any other player—which included 14 in the first round, but failed to make the finals after hitting the second-most home runs in the semifinals (six), losing to Sammy Sosa in that round. Sosa then lost to Luis Gonzalez in the finals.
Did MLB change the rule, then? No! It took until after the debacle in 2003 to change that rule, counting up the aggregate score for the first two rounds to determine the finalists.
In 2003, Giambi again failed to make the finals, despite hitting 23 homers in the first two rounds, five more than any other competitor. Giambi lost 14-11 to Albert Pujols in an epic semifinal but failed to make the finals after Garret Anderson—the eventual winner despite the third-highest HR total of the night—won his semifinal 6-4.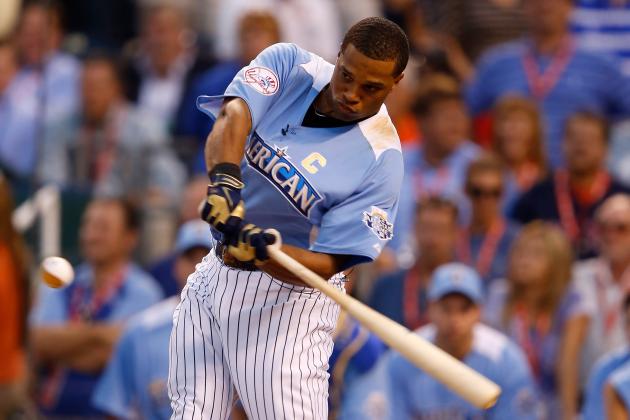 Jamie Squire/Getty Images

Home runs, on average, are going up. In the late 1990s into 2000s, Derbies would average around 61 home runs per contest. The last four contests have averaged about 88 dingers. That's a lot.
That's too many.
The changes in rules over the years—adding rounds, most specifically—have made some contests incredibly boring. More isn't always better.
Last year's Home Run Derby had 222 swings, a number that does not include the hundreds of balls batters let go without swinging.
In years like 2005, when Bobby Abreu hit 41 bombs, or 2008, when Josh Hamilton hit 28 in the first round, the Derby can be as good as ever. Yet watching players slog through three rounds with all the TV commercials and other superfluous nonsense that goes along with the telecast has made it, in a way, terrible TV.
Instead of giving each player 10 outs, MLB should give each player 15 swings. That may eliminate the majesty of an Abreu or Hamilton moment, but it would make the event go by much faster, making for a far better televised event.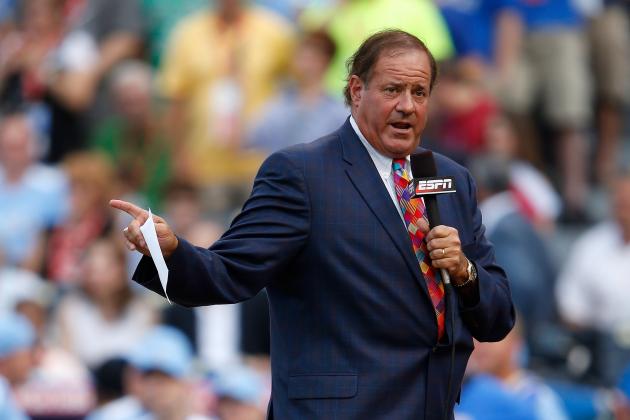 Jamie Squire/Getty Images

ESPN is hosting the Home Run Derby, with Chris Berman anchoring the coverage alongside Nomar Garciaparra and John Kruk. Two of the best hitters on the ESPN roster of former players, Nomar and Kruk combined for 329 career home runs (Nomar had 229 of those) in their MLB careers.
ESPN has very little home run power on its team, focusing more on pitching than hitting in the analyst seat with the likes of Orel Hershiser, Rick Sutcliffe and Curt Schilling.
Barry Larkin joined ESPN in 2011 and did have 198 homers in his career, but he's not part of the Home Run Derby crew. Dave Winfield, who is no longer listed on ESPN's roster after taking a front-office position with the Padres, had 465 career dingers. They don't count anymore.
In total, the ESPN lineup has just 841 home runs spread across 13 players, including four pitchers. Someone call Barry Bonds in for next year's Derby.
Actually, it doesn't matter who is on the set for ESPN, really, as any player gets wildly overshadowed by Berman and his nickname-laden schtick. It's fun and campy once a year—and if you don't like it, mute it—but given how overexposed Berman has become the rest of the sports calendar, he becomes the Internet's punching bag on Derby day.
The longer the event goes, the more ire Berman receives. Let's all hope for a swift Derby this year.
That said, it's old news to complain about Berman. He's a top guy at ESPN, and it isn't getting rid of him anytime soon. So rather than complain about the guy, let's embrace him (note: not literally; it's going to be a hot night in Queens, and an actual embrace might get sloppy).
Here's a fun set of Berman over/under wagers for the Home Run Derby. Play along with your friends.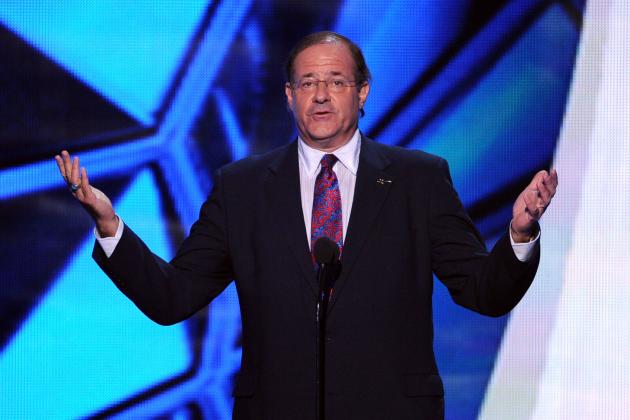 Kevin Winter/Getty Images

• The number of "back" calls: 135.
Here's the logic on that number. The last four Derbies averaged nearly 90 home runs. Early in the event, Berman is paying attention to every home run, and his energy level is high. He may give as many as six "backs" for one home run. "That ball is crushed to left…back, back, back, back, back, back…gone!"
Later in the event, Berman will either lose interest or lose energy, going from his chicken-like quick "back" call to a slower, more deliberate "back….back….." call, as if that cadence in any way adds to the drama of a ball flying in the air.
With that, the average "back" call per home run should be set around three, marking somewhere around 270 "backs," which is far too many given the multitude of guests and interviews during the telecast.
There may be an entire round of a batter in which Berman does not give one "back" at all. Hence, the number 270 is cut in half to give us a fair and reasonable over/under.
• The number of awkward conversations with players not in the Derby and/or celebrities who gained access to the field because of something they are promoting: three.
• The number of times a town in New York (or another borough) is referenced: 10.
• The number of times a road, bridge, river or tributary is referenced: six.
Remember, Berman cares not for mapping or basic, logical directions.
Citi Field's home plate faces north, so left field is prime location for a Grand Central Parkway or East River reference, while right field is right in line with the Van Wyck Expressway, and a really far shot to right might garner a Throgs Neck Bridge reference, which would be great for Berman to pull out.
White Plains, Scarsdale and Yonkers are all in play for a ball hit to center or the gaps. Berman could even make a veiled Mad Men reference—Jon Hamm is hosting the ESPYs this week—if he throws in a nod to Ossining, which is 40 miles due north of Citi Field.
Really, Berman can't miss with any ball hit to left or center field if he makes a Bronx reference—expect a tip to Yankee Stadium if Robinson Cano hits one that direction—but if he starts making references to Queens, Brooklyn, Staten Island or even Long Island, he's mailing it in.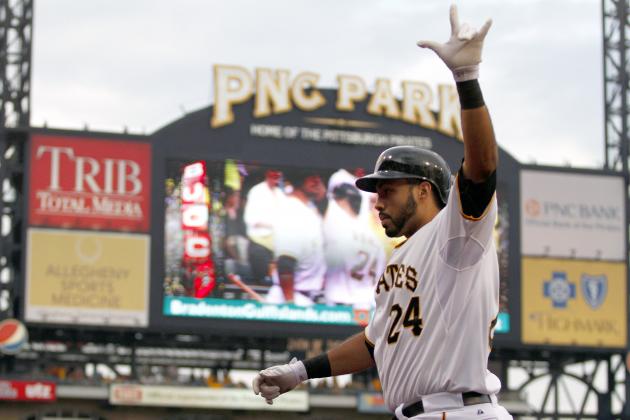 Justin K. Aller/Getty Images

I almost forgot—the Derby is about the homers, not those calling the homers.
The over/under for the number of homers hit during the 2013 Derby is...87, with the winner collecting an even 30.
As for the longest home run, that is the contest I'm most interested in seeing. I'll give that one to Pedro Alvarez this year, who I think will hit at least two balls over 500 feet. The longest in-play home run ever hit in Citi Field, if you're wondering, was 465 feet by Giancarlo Stanton in 2011.
Expect that number to be passed by half the field.