WWE: Rumored Bad News Backstage for Seth Rollins and Roman Reigns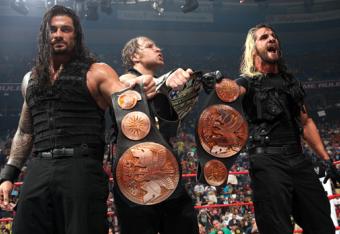 Many balked at the thought of WWE Tag Team Champions Seth Rollins and Roman Reigns being relegated to the Money in the Bank Kick-off Show on YouTube. The dominant members of The Shield have turned in great match after great match since debuting less than a year ago.
There are now rumors circulating that the duo may be in hot water backstage, causing their match to be left off the main card for the show (Source Wrestling Observer h/t 411Mania).
The move by WWE to put the tag match on the kick-off show seemed suspect from the start. The Shield has been an integral part of the company's creative direction since Survivor Series, and the sudden loss in direction these last few weeks has disappointed.
For long-time wrestling viewers, this shift in focus would be enough to draw a wary eye and serve as indication that something caused this loss in momentum.
I disagree, though. While there may or may not be heat on Rollins, Reign and/or Dean Ambrose backstage, last night's pay-per-view results shouldn't have any impact on our collective paranoia.
WWE is about making money. Would Rollins and Reigns vs. The Usos have led to any more pay-per-view buys? Doubtful.
If this match were to have occurred on the main show, it would have required some other match to be dropped to YouTube. That match would likely have been the Intercontinental Title bout between The Miz and Curtis Axel. That match lasted less than 10 minutes, whereas the tag title match received nearly 15 minutes to put on a great contest.
Money in the Bank has drawn 195,000 buys and 188,000 buys over the last two years, respectively. It will likely cash in around these figures again. As of this morning, the YouTube player counts nearly 200,000 views of the tag title match, which is certainly gaining greater traction online due to the rave reviews for the bout.
WWE sells advertising on these matches and earns income from YouTube. It's in the company's interest to give us a match on YouTube that will garner this kind of attention so they can make more revenue from increased viewership.
Sure, Rollins and Reigns could have messed up backstage. Rollins could be viewed as a cocky indie star that doesn't deserve his spot. Reigns could be viewed as a kid that only gets where he is due to his spot on The Rock's family tree. One of them could have looked at one of the Bella Twins wrong and upset John Cena. They could have forgotten how Triple H likes his coffee.
The list of potential pitfalls of navigating the WWE locker room is endless and without any sense of reason. The rumors could be true. However, if we are basing this assumption off The Shield's placement on the kick-off show, we are likely off-base.
This article is
What is the duplicate article?
Why is this article offensive?
Where is this article plagiarized from?
Why is this article poorly edited?