Which NHL Teams Are Acing the 2013 Offseason?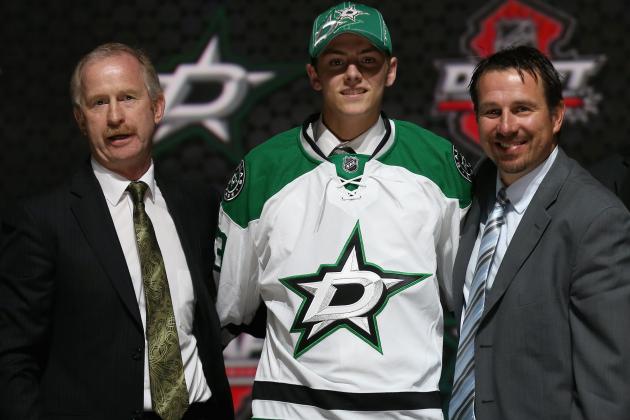 Bruce Bennett/Getty Images

General managers have found a few challenges in upgrading their rosters for the 2013-14 NHL season.
The salary cap decreasing by about $6 million has hurt the financial flexibility of teams that don't have the prospect depth to fill holes on their roster, while the clubs fortunate enough to have cap space didn't have much to work with on the free-agent market due to the lack of elite players available.
These issues have forced GMs to be creative, especially in the trade market, which is where most of the headlines have been created this summer.
Let's look at which teams are doing the best job of improving for next season and the future after the first few weeks of the 2013 offseason.
Begin Slideshow

»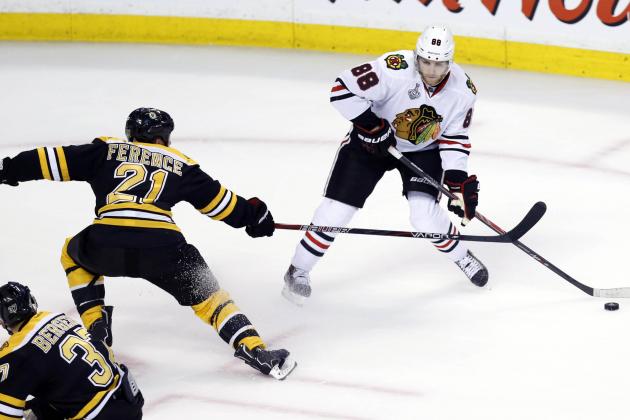 Greg M. Cooper-USA TODAY Sports

The Edmonton Oilers have done a fine job improving their roster for next season by adding depth and talent to the blue line, while also upgrading the team's bottom-six forward group.
The signing of veteran defenseman Andrew Ference adds Stanley Cup-winning experience, penalty killing and strong leadership to the Oilers (a team that finished 19th in GAA in 2013). Opposing forwards will find Edmonton to be much more difficult to play against next year because of Ference's defensive abilities. He was fantastic in last year's Eastern Conference Final against Penguins superstar Sidney Crosby.
In addition to his blue line upgrades, general manager Craig MacTavish improved the team's faceoff skill with the signing of Boyd Gordon. The former Coyotes center won 57.3 percent of his faceoffs last season and automatically becomes the best faceoff man on an Oilers team that ranked 30th in faceoff percentage last year.
Another bottom-six move was the acquisition of St. Louis Blues winger David Perron via trade. He adds size, scoring and defensive skill to the team's third line, which should be much better than it was in 2013.
MacTavish also let veteran goalie Nikolai Khabibulin walk in free agency and signed a younger, less expensive replacement in Jason LaBarbera to back up starter Devan Dubnyk.
By acquiring important forward depth, finding a capable backup goalie and improving the blue line, Edmonton has enjoyed a stellar offseason.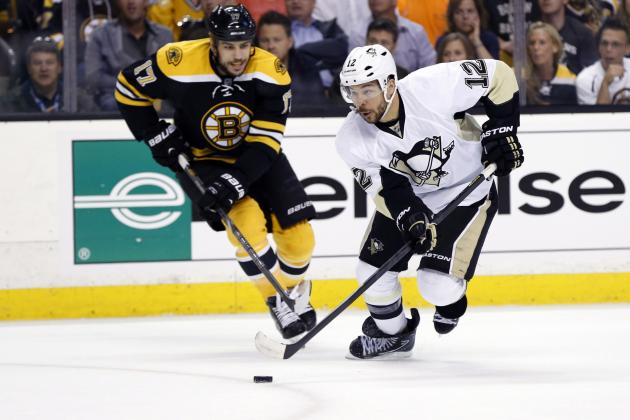 Greg M. Cooper-USA TODAY Sports

The Boston Bruins have been busy this offseason by making substantial changes to a team that went to Game 6 of the 2013 Stanley Cup Final.
General manager Peter Chiarelli's first major move was trading former No. 2 overall draft pick Tyler Seguin and the cap-burdening contract of Rich Peverley to the Dallas Stars for winger Loui Eriksson and three quality prospects.
Eriksson gives the Bruins a better defensive player than Seguin for the right wing role on the second line and someone who is more consistent offensively. The Swedish forward is also a far better fit in head coach Claude Julien's style of play.
The other notable addition was signing top-six winger Jarome Iginla as a free agent. In addition to leadership and grit, the veteran forward will upgrade the Bruins' power play and provide 20-30 goals for a team that goes through prolonged scoring droughts.
Chiarelli also re-signed two players who make up the spine of the team by coming to terms with center Patrice Bergeron and star goalie Tuukka Rask on eight-year deals. Eight years is a long commitment, but only No. 1 defenseman Zdeno Chara makes an impact each game that is comparable to Rask and Bergeron on the Bruins.
Boston re-signed two of its more important players and made meaningful upgrades to a position (right wing) that failed the team in its latest playoff run.
That's a productive offseason.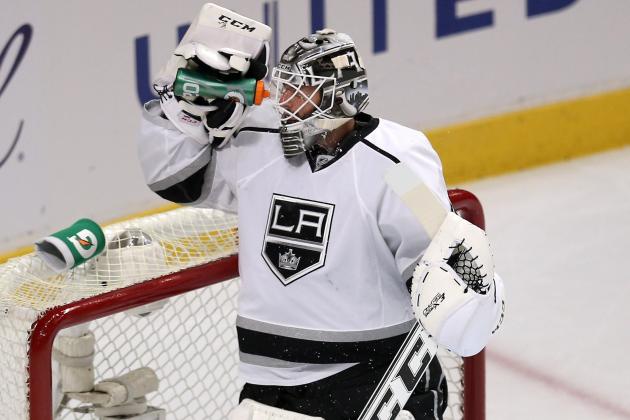 Jonathan Daniel/Getty Images

The Toronto Maple Leafs have taken important steps in ensuring they begin a streak of playoff appearances next season.
Acquiring goaltender Jonathan Bernier from the Los Angeles Kings via trade was a positive step in the team's search for a No. 1 goalie of the present and future. The Quebec native outplayed former Conn Smythe Trophy winner Jonathan Quick for stretches last season in Los Angeles and is a future star.
General manager Dave Nonis also re-signed top-six center Tyler Bozak, enforcer Colton Orr and finalized a contract for David Clarkson, who was arguably the top UFA winger on the market.
Nonis also bolstered his forward depth by trading for Chicago Blackhawks center Dave Bolland, who, like Clarkson, excels in the type of physical style of hockey that head coach Randy Carlyle wants to play. Bolland also adds championship experience and clutch playoff scoring to a young Leafs team.
Toronto got tougher, deeper, more talented offensively and strengthened its goaltending this offseason, which Nonis deserves a lot of credit for. If young star Nazem Kadri is re-signed as an RFA, which is expected, the Leafs will be one of the major winners of the summer.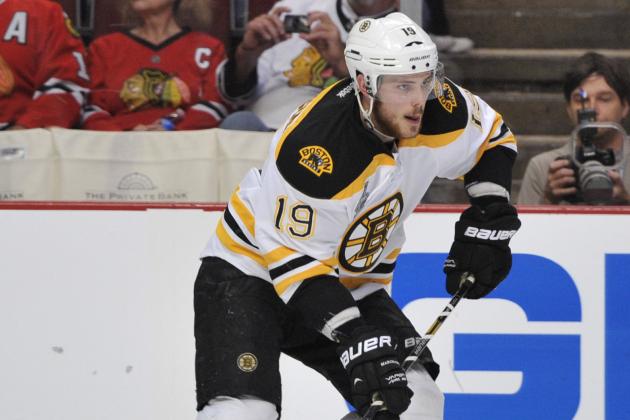 Rob Grabowski-USA TODAY Sports

Dallas Stars fans are eager to see their club return to postseason action after a five-year playoff drought, and they may get their wish next year because of general manager Jim Nill's impressive summer moves.
He ended the team's lengthy search for a No. 1 center by acquiring Tyler Seguin from the Bruins. He also added valuable scoring depth, championship experience and faceoff skill with the acquisition of veteran center Rich Peverley in the Seguin trade.
Nill also bolstered his center depth by trading for Edmonton Oilers center Shawn Horcoff, who will improve the team's skill down the middle while also providing strong leadership.
All of these moves have made the center position one of strength for Dallas, which hasn't been the case for many years. Other than giving up Loui Eriksson in the Seguin deal, the Stars didn't give up any elite trade assets to make these changes.
On the blue line, which was an area of weakness for Dallas last season, the addition of free agent Sergei Gonchar will help the team at both ends of the ice. The veteran defenseman is a consistent scorer and capable of logging 17-22 minutes against the opponents' top forwards each game.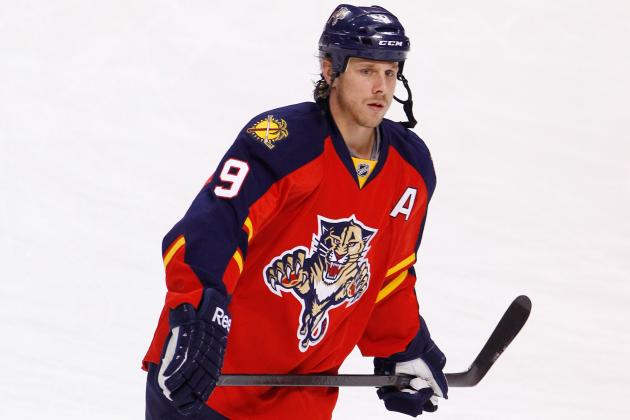 USA TODAY Sports

The Eastern Conference will be a lot more competitive next season when the Detroit Red Wings join as part of the league's new realignment plan.
Detroit was active in free agency by signing former Ottawa Senators captain Daniel Alfredsson and Florida Panthers No. 1 center Stephen Weiss on the first day that UFAs could officially sign with new teams. Both players provide scoring depth, leadership, power-play skill and the motivation/desire to win the first Stanley Cup of their careers.
These two forwards will also set a strong example for the next generation of Red Wings stars with their strong leadership. Players such as Dan DeKeyser, Gustav Nyquist, Brendan Smith and Joakim Andersson will benefit from the work ethic and knowledge that Alfredsson and Weiss will share.
Detroit also resisted any temptation of re-signing Valtteri Filppula and Damien Brunner. These two forwards played key roles for the team last season, but they are far from irreplaceable and not worth overpaying to sign long-term.
It's easy to see why general manager Ken Holland has a reputation for being one of the best in the business. He consistently finds way to maintain a playoff-caliber roster while putting pieces in place for future championship success.
Nicholas Goss is an NHL Lead Writer at Bleacher Report. He was also a credentialed writer at the 2011 and 2013 Stanley Cup Final, as well as the 2013 NHL draft.