Grading CM Punk's Post-WrestleMania Return after Money in the Bank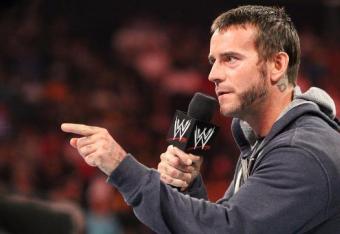 wwe.com

How can you give a professional wrestler a grade on his performance who up until 29 days ago was MIA since WrestleMania 29?
Look at what CM Punk did before he left the company to lick his wounds, heal from injury and decide whether or not to pursue a feud with Paul Heyman's guys.
For 69 days prior to Payback, the "Second City Saint" was a blip on the WWE radar, with no real opportunity until Chris Jericho decided to challenge him at the Chicago pay-per-view. The speculation by myself and others that he might not appear in his own hometown was enough for all of the readers on Bleacher Report to come out in droves and tell me (in their own special way) how crazy I was for the mere thought.
But as Punk used his Twitter account to discuss hockey and anything else unrelated to putting on a pair of wrestling boots and enter a ring, I really thought I might be onto something.
Punk, in the end, proved me wrong.
Is CM Punk the same wrestler he was before he left following WrestleMania 29?
After watching last night's episode of Raw, it only proves to me the that man who held the WWE title for 434 days will be stronger than ever going into SummerSlam, regardless of the injuries he sustained at Money in the Bank in the All-Star ladder match.
Whether you want to dub Punk the "Comeback Kid" or the "Savior of the WWE," there is something about his drive. No matter what he is involved with, the former indie wrestler gives us the show we want to see.
Applying a true "grade" to Punk and his performance since WrestleMania may not be fair because the body of work is not complete.

Is he the same Punk who was WWE champion? No. Is he the same performer who was dynamic and could take over a match? Not yet. Does he still give us some of the best promos on camera and have us wanting more? Yes.
So where does his performance land on a grading scale? The answer to that will be determined in the coming weeks. If it sounds like I am taking the high road, then maybe I am. The readers of Bleacher Report told me on more than one occasion to allow the Punk/Heyman feud fester and boil and after MITB, we would know more about where everyone stood.
I have grown to understand many of them are wise and see the wrestling "story" for what it is. The story being told here is the need for not only Paul Heyman to become the baddest heel manager of all time, but to see the transition of Punk, his "best friend" to face the alter ego in Brock Lesnar, who I refer to as the "Elephant in the Room."
Punk was everything we wanted him to be Monday night; angry, infuriated, calculated, and on point. The back-and-forth between him and Heyman may be some of the best "point and counterpoint" we will see since the days of Chris Jericho and Shawn Michaels.
The words that come out of the mouths of these two are filled with venom, which adds to the true value of the performance.
Upon Punk's return, the match with Chris Jericho at "Payback" was decent but not great by both wrestlers' standards. I gave it a B- because Punk looked winded, out of shape and off his game. But he wasn't losing in his home town.
The build of the All-Star Ladder Match at MITB was great, but the focus of Punk winning was not important. Developing the feud between Heyman, Lesnar and Curtis Axel was more valuable. Punk was never going to win the match, but the story got better as time went on.
Now, after the pay-per-view, Punk is mad. He looks like Wolverine with his facial hair and haircut. Is this the "real" Punk coming out? The betrayed man allows anger to build withing and make him even greater. I always said an angry Punk and a Punk chasing the WWE title was better than a Punk with the title.
I was proven wrong on that count when Punk was as mean a heel we had seen in years. Now, he needs to channel himself like before.

Should he do that, and make SummerSlam as huge as it could be, the marks for this term will be much higher and we will all see him move right back to the head of the class.
This article is
What is the duplicate article?
Why is this article offensive?
Where is this article plagiarized from?
Why is this article poorly edited?