Early Predictions for Every Phoenix Suns Stat Leader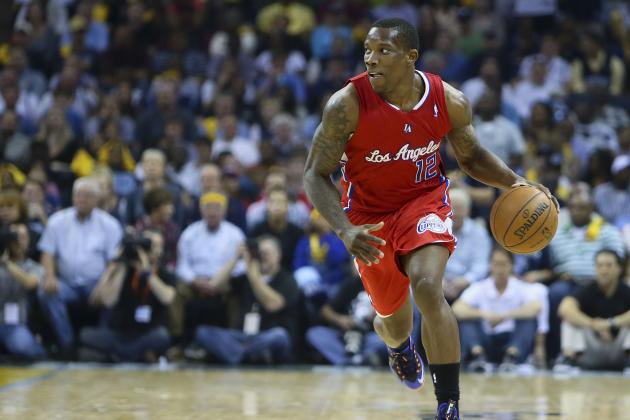 Spruce Derden-USA TODAY Sports
The Phoenix Suns are welcoming Eric Bledsoe with open arms. He will take advantage of it.
We know that the Phoenix Suns will not be a league leader in the NBA's most important statistical column: win-loss record. In fact, GM Ryan McDonough's team in the desert probably shouldn't make the postseason—even with the additions of Eric Bledsoe, Caron Butler and No. 5 overall pick Alex Len.
As the organization continues to move forward—and I truly believe that bringing in McDonough from the Boston Celtics organization was a positive first step—regular season statistics will be the most reliable foundation for talent evaluation. That leaves 82 games for each individual on the roster to prove to the new basketball operations team that he deserves a permanent place in the Suns' future blueprints.
Last season, point guard Goran Dragic and center Marcin "The Polish Hammer" Gortat were the Suns' stat hogs, together earning the team-high ranks in points, rebounds, assists, steals and blocks. Alas, the team won a measly 25 games and finished dead last in the Pacific division.
Oftentimes, hitting rock bottom is a necessary step to an entirely successful rebuild. While many athletes and their coaches get defensive when critics suggest they are "tanking," Phoenix didn't exactly play like a contender in 2013. Their insuccess led to the selection of Maryland's Alex Len and marked a true starting point for a new generation of Suns basketball.
Who will emerge in 2013-14 and lead Phoenix's rebuilding efforts? Click through for an early look at predictions on statistical category leaders for the upcoming season.
Begin Slideshow

»
Eric Bledsoe finally has a chance at a starting role, and he will capitalize. Lining up in the backcourt next to Goran Dragic, the Phoenix Suns' steals leader from 2012-13, Bledsoe will showcase his stingy defense by outdoing Dragic's steals average.
In just under an average of 20 minutes per game through his first three seasons, Bledsoe has accrued 1.2 steals per contest. With a significant increase in minutes (and salary) coming his way, Bledsoe will have his first real opportunity to make a game-changing impact on the defensive end.
At 6'1" and nearly 200 pounds, the 23-year-old shooting guard is best known for his athleticism and on-ball defensive skills. He will be an absolute hound this year, pressing ball-handlers and forcing mistakes by anyone who takes the Suns lightly.
Need proof? Check out the above video of his anticipation steal and consequential transition dunk.
As Bryan Gibberman of ArizonaSports.com points out, Bledsoe still has room to improve as a team defender, and that arena is ultimately the most important. Just being strong and athletic is not enough. Highlight plays like chase-down blocks and lane-clogging steals will be there, but to help his team improve, Bledsoe needs to be more cerebral and have a better understanding of help defense.
Much of this development will happen as the shooting guard matures in a starting role. For now, Bledsoe's individual skills and increase in playing time should notch him a spot as the Suns' steals leader.
Marcin Gortat averaged 1.6 blocks per game a year ago, enough to lead the Phoenix Suns.
Not impressed? Defensive Player of the Year Award winner Marc Gasol averaged the same for his Memphis Grizzlies.
Alright, so maybe the Polish Hammer doesn't quite measure up to the interior stinginess of the younger Gasol brother. That doesn't change the facts that he will be the starting center on a bad team and playing for a new contract.
The Suns' lottery selection of Alex Len almost certainly means that Gortat will be on his way out after this season, so the big man will have every incentive to flaunt his size and toughness for future suitors. What I like most about his defensive game is that he has active feet and stays with plays all the way through.
As you can see, Chris Paul was doing everything possible to exploit the Orlando Magic in a high pick-and-roll (throwback to Gortat and Dwight Howard twin towers), but even in initially passing, Gortat was unable to finish the scoring play. Gortat kept his feet moving, displayed good footwork, patience and length and sent Paul's layup attempt away. Not in my house!
Gortat is the Suns' most established interior presence, as he led Phoenix in rebounding as well as rejections. My hunch (spoiler alert!) is that he will do the same again this season.
Ezra Shaw/Getty Images
Additional talent should help Marcin Gortat avoid the swarm he often faces as the Sun's lone rebounding presence.
If Marcin Gortat does his job properly this season, the Phoenix Suns' glass (both defensive and offensive) will be shinier than the top of the big man's head.
Averaging 8.5 rebounds per game a season ago, Gortat ranked among the middle of pack of NBA big men with respect to hauling in misfired shots. However, the next closest on his team was Luis Scola, followed by NBA journeyman Jermaine O'Neal.
Gortat's numbers were not especially gaudy in his sixth NBA season, but one has to remember to manage expectations from a player whose team won 25 games. Marcin has little-to-no help on the glass, and as a result, can be pushed around by dominant centers down low.
Factor in Eric Bledsoe's instincts and ability to crash the boards and Gortat should see a little bit more freedom from box-outs in the painted area.
I'm not saying the Polish Hammer will have NBA-leading numbers, only that he will stand out once more because his greatest competition for the rebounding mark is rookie Alex Len.
Goran Dragic led the Phoenix Suns in points (14.7), steals (1.61) and assists (7.4). I've already predicted Eric Bledsoe to swipe the steals lead from Dragic, but he'll maintain his grip on the assists lead with some new offensive weapons to dish the rock to.
Goran will be paid a steady $7.5 million to make this offense go. With new tools at his disposal—mainly Bledsoe and Caron Butler—Dragic will be able to play a more natural point guard role. He has proven skills with the ball in his hands, but will thrive best as a creator.
He's entering the prime of his physical career at age 27 and should be a mentor to young first-rounder Archie Goodwin. A one-and-done out of Kentucky, Goodwin has exciting athletic potential and plenty to learn.
It will be nice for Dragic to shoulder less of the offensive production, and the Suns should put together over 30 wins. At the helm, Goran will facilitate more plays than any other member of his team.
So, which of the two starting guards will be the leading scorer?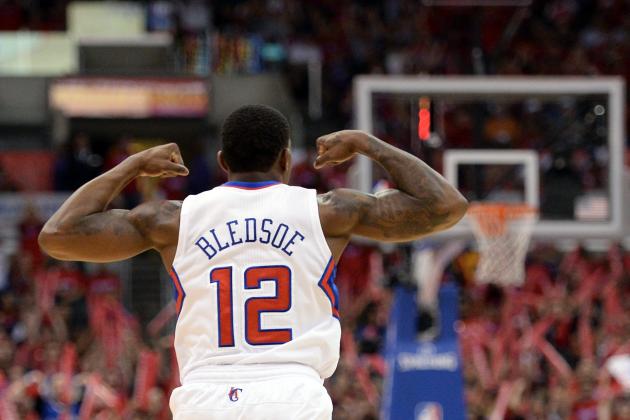 Harry How/Getty Images
Now's your chance, Eric Bledsoe. Make it count.
Goran Dragic or Eric Bledsoe?
Will the scoring leader of a year ago protect his title, or will the prize of the offseason prove his worth?
I think it will be fairly close, but I think Eric Bledsoe will get the job done. I've watched him a lot in limited minutes with the Los Angeles Clippers, and I believe he has explosive potential.
Given that Bledsoe will also be the assists leader, he'll relish more opportunities to lay in easy transition points. His physical presence will contribute to a tougher Phoenix Suns defense which will reward him on the other end.
Additionally, Bledsoe has the ball-handling skills to run an effective pick-and-roll with Marcin Gortat. My hunch is that Goran Dragic and Bledsoe will team up and create a pick-and-roll clinic on all parts of the floor.
That said, I don't see the Suns climbing too far from their position at the base of the Pacific Division. They'll throw in a few more wins than 25, and Bledsoe will be the main highlight of the offense.