6 Ways MLB Can Fix the All-Star Game Once and for All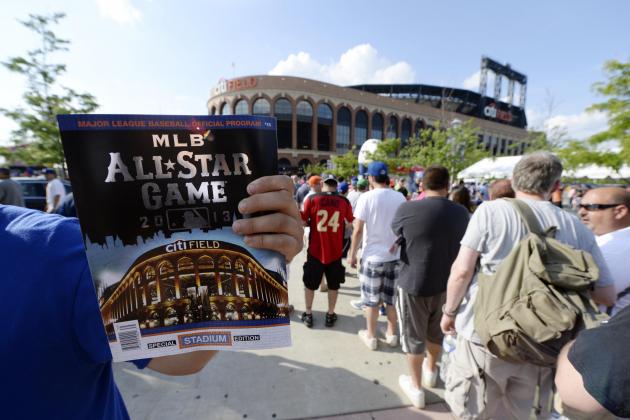 Robert Deutsch-USA TODAY Sports

Given how many "baseball is broken!" and "fix the All-Star Game!" comments and tweets are visible on social media, the sport does have folks talking during this time every season. Yet despite the "controversy creates cash" mantra that undoubtedly filters through the halls of MLB's executive offices, baseball can improve its yearly showcase.
As we sit back and enjoy the best of the best in Major League Baseball on Tuesday night, don't discount the many ways that baseball can improve the product, showcase its talent and build up to the biggest non-postseason event on its yearly calendar.
In a sport that can be too in love with tradition and the past, while attempting to seamlessly marry the present and future into the conversation, the product can become muddled and confusing.

Here are six ways Major League Baseball can fix the All-Star Game once and for all.
Begin Slideshow

»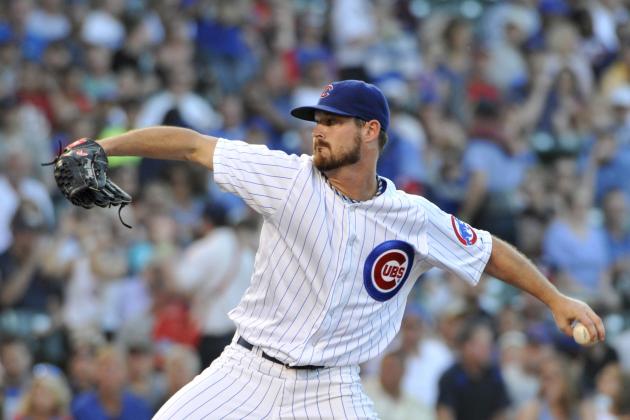 David Banks/Getty Images

Travis Wood is a good pitcher. In fact, Travis Wood is a good pitcher in the midst of a very nice season. With a 2.79 ERA at the break, the 26-year-old Cubs left-handed pitcher may be coming into his own as he develops into a cost-effective weapon in Chicago's rebuilding project.
Of course, he's not an All-Star because of his improvement, ERA or high number of quality starts.

He's an All-Star because he happens to play for a bad Cubs team that, by rule, needs a representative in the All-Star Game.

To be fair to Wood, he's hardly the worst of the lot of lone reps from poor teams over the years, but the idea of selecting him over, say, Stephen Strasburg doesn't hold water.

In an era of MLB.tv, MLB Network, Extra Innings and fantasy baseball leagues, the fans of the sport know who Travis Wood is in 2013. They also know he shouldn't have to be an All-Star.

The rule is antiquated and played out.

Put the best 35 players in each league on the field, and fans will flock to watch the true All-Stars play together.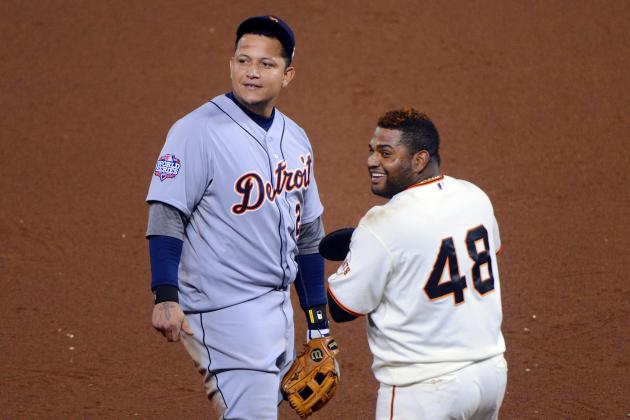 Kyle Terada-USA TODAY Sports

The upcoming 2013 World Series could be a duel between the Baltimore Orioles and Los Angeles Dodgers, the St. Louis Cardinals squaring off against the Tampa Bay Rays or even a faceoff between the Boston Red Sox and Pittsburgh Pirates.

Yet in the ninth inning tomorrow night, the game could easily come down to an at-bat between Michael Cuddyer and Greg Holland, a Rockie and Royal, respectively.

If you don't follow baseball's logic in putting home-field advantage in the World Series on the line tonight, join the club.

Since 2003, the Midsummer Classic has "counted" for the league that won, garnering home-field advantage in the World Series for its rep.

The next person who believes in this idea might be the first.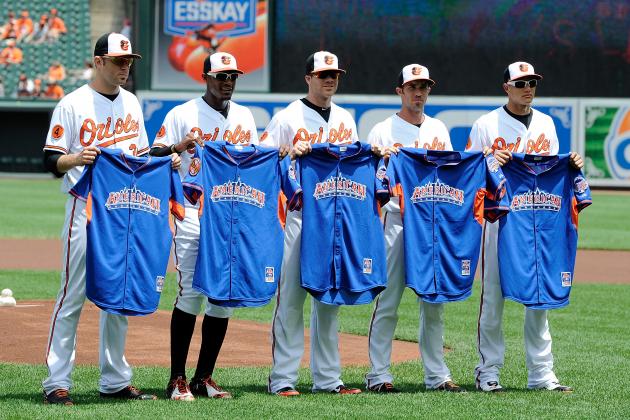 Greg Fiume/Getty Images

If you've attended a game during the first half of a Major League Baseball season, odds are that you've been subjected to a "Vote (insert team here)!" campaign.

For example, the Baltimore Orioles rolled out "Vote Orange" this spring and early summer, pushing their fans, both in the park and via the world wide web, to vote any and every Orioles representative on the ballot.

The push worked. Tuesday evening, five Orioles will take the field as American League All-Stars, three of whom will be introduced as starters.

Outside of Chris Davis, none have played like locks to start the game. Outside of Davis and Manny Machado, the other three are All-Star-caliber but far from locks to be at the event this season.

Fans are smarter than they are given credit for here. If a hometown player is deserving, he should get pushed and voted for by his organization, but the idea of highlighting and voting every Royal or Astro or Oriole is embarrassing for the respective fanbases.

Vote for All-Stars, not your favorite players.
Stephen Dunn/Getty Images

While taking away voting from fans altogether would eliminate some of the voting campaigns, this process is supposed to be fun and for the masses to enjoy.

Under my plan, fans can still vote early and often, but their say will be weighted as part of the process, no longer the final say on starting lineups.

Right now, the fans pick the starters, followed by player, manager and Final Vote picks.

Unfortunately, the views and priorities of these groups are disjointed, leaving the final rosters looking discombobulated.

For fans, vote campaigns and loyalty to the hometown team cloud judgment. For managers, loyalty to old-school values and familiarity breeds head-scratching picks. For opposing players, the first-half schedule, which could include up to 12 games against a certain opponent but three or fewer against others, makes it difficult to properly evaluate the true first-half difference-makers.

Due to the issues involved on all sides, make the voting process weighted.

Fans can have a say. Managers can make picks. Players can vote for their peers.

In the end, the best players will attend the game.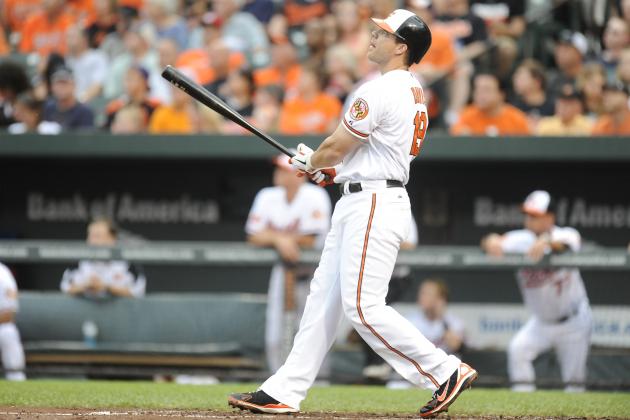 Mitchell Layton/Getty Images

Chris Davis, Baltimore's slugging first baseman, is in the midst of a sterling season and deserving of every accolade thrown his way this week.

Unfortunately, baseball's scheduling issues have clouded the larger picture, making his excellent season seem legendary.

With 37 home runs, it's undoubtedly a fact that Davis has the most home runs for any American League player at the break since Reggie Jackson in 1969.

Only one player ever ended with more at the All-Star break: Barry Bonds in 2001. Of course, as you might remember, Bonds went on to surpass Mark McGwire's home run record that season.

While Davis is on pace for over 60 home runs, he's likely not going to come close to Bonds' 73 in 2001. Why? Because the 2013 season isn't halfway over. In fact, it's 59 percent complete.

If July 16 feels like a late date for the All-Star Game, it's for good reason.

Play the game closer to the actual midway point, baseball.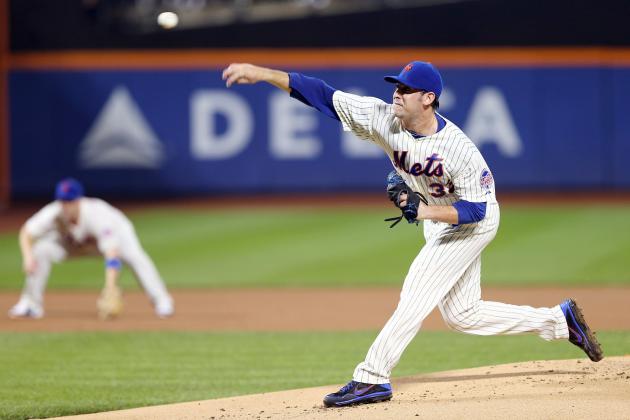 Elsa/Getty Images

On Tuesday night, sometime after 8 p.m. ET, Joe Buck and Tim McCarver will appear on your television screen as part of Fox's broadcast of the 2013 All-Star Game. After music, introductions, pageantry and a slew of high-priced commercials, baseball will actually begin.

It is the middle of summer, so young, impressionable baseball fans will be awake to watch Matt Harvey pop 99 or 100 mph on the radar gun against Mike Trout and Robinson Cano, but the idea of eight- or nine-year-old kids making it to, say, midnight, when Mariano Rivera faces off with Paul Goldschmidt in a tie game in the ninth inning, is far-fetched.

The future success of the sport hinges on upcoming generations of sports fans.

For baseball, the vision of grade-school children donning NFL and NBA jerseys over MLB t-shirts is a stark reality.

During this portion of the sports calendar, baseball needs to take center stage, winning over the fans of tomorrow.

At 9:30 on Tuesday night, they'll showcase the best of the best, but by early Wednesday morning, many kids will have missed out on the ability to watch a game-saving catch by Carlos Gomez or strikeout by Greg Holland.

The future of the game is at Citi Field, but the sport won't put it on display at a more reasonable time.