WWE Champion John Cena certainly had his hands full with 418-pound "World's Strongest Man" Mark Henry on Sunday night at Money in the Bank, but he may have truly met his match during a friendly sumo competition against former New York Giants defensive end Michael Strahan on Live with Kelly and Michael on Monday morning.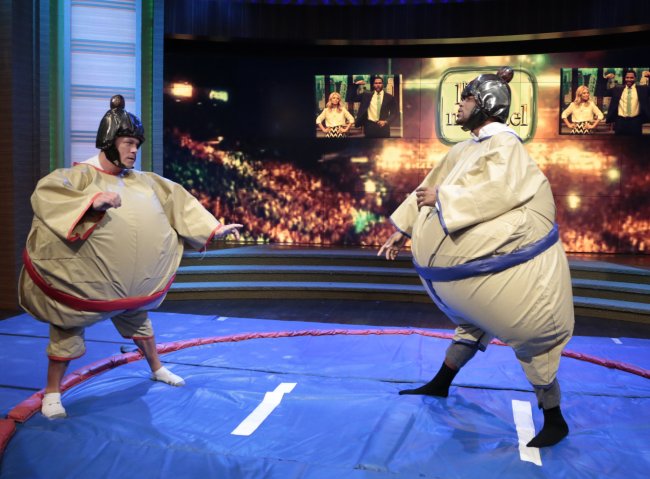 Cena was a decisive winner on Sunday night in Philadelphia, as he forced Henry to tap out to the dreaded STF. Cena vs. Strahan was closer to a stalemate, though, as the WWE Champion and the former Super Bowl champion were equals in oversized sumo suits, as seen in this Instagram video of the tussle:
Even though Strahan gave Cena a tough fight, it's safe to say that Cena retained his title for the second time in less than 24 hours.
Cena and Strahan's sumo showdown was a long time coming, as the leader of the Cenation appeared on Live with Kelly and Michael the day after WrestleMania XXIX at MetLife Stadium. Strahan talked a bit of trash about Cena and claimed that he was actually the real champion since The Rock had previously given him a WWE Championship belt.
Much to Strahan's surprise, a fired-up Cena emerged from backstage to confront the future Pro Football Hall of Famer, but it was all in good fun as they discussed their meeting at WrestleMania before ultimately reconciling.
All was quiet on the Cena vs. Strahan front until Cena tweeted last Friday that he would be coming back on Live with Kelly and Michael to grapple with Strahan.
Monday morn post #MITB I'm headed to @KellyandMichael to talk @WWE #Totaldivas and grapple @michaelstrahan #RTimeIsNow

— John Cena (@JohnCena) July 12, 2013
Both men seemed to be exhausted after the physical affair, particularly Strahan as he struggled to get to his feet, as seen in this Tout tweeted by Live with Kelly and Michael's official Twitter account.
LOL @JohnCena & Michael Strahan after wrestling! VIDEO: http://t.co/JW90QXNBks

— LIVEKellyandMichael (@KellyandMichael) July 15, 2013
Despite that, the WWE Champion seemed to have a great time, as he tweeted a photo of himself in full sumo garb.
Well thanks @KellyandMichael for the new wardrobe @WWEUniverse @eonline @ENews pic.twitter.com/piOiwSdmvW

— John Cena (@JohnCena) July 15, 2013
Cena's new look brought back memories of another former WWE Champion in the form of Yokozuna, who certainly would have been very much in his element on Monday morning's show.
Strahan clearly wasn't in his element, though, as he and co-host Kelly Ripa struggled to get into their sumo suits prior to the big match, as seen in this Tout:
Chaos backstage before the wresting match!! #KellandMichael VIDEO: http://t.co/sjTpmQJgwd

— LIVEKellyandMichael (@KellyandMichael) July 15, 2013
With Monday night's edition of Raw emanating from the Barclays Center in Brooklyn, N.Y., there is no question that the bout between Cena and Strahan got WWE fans excited about what might be next for the 11-time WWE Champion.
Follow @MikeChiari on Twitter