British Open 2013: Definitive Manual for the Open Championship
Rob Carr/Getty Images

The Open Championship is golf's oldest and, typically, most unpredictable major. Its unique links courses, changing-by-the-hour weather and broad international field create great drama, terrific images and often unexpected outcomes.
For the first time in just over a decade, the British Open returns to famed Muirfield on the shores of Scotland, and we're prepping you for four days of viewing the best golfers in the world compete for the coveted claret jug.
When to watch, who to follow, golfers to look out for and the challenges that Muirfield will offer are just a sampling of the nuggets of knowledge we're dropping on you prior to the launch of the 2013 Open Championship on Thursday.
For good measure, we'll also tell you who is going to lift the claret jug come Sunday at Muirfield. If we're right, remember you saw it here. If wrong, forget we ever mentioned it.
Either way, here's what you need to know to be in the know for the 2013 Open Championship.
Begin Slideshow

»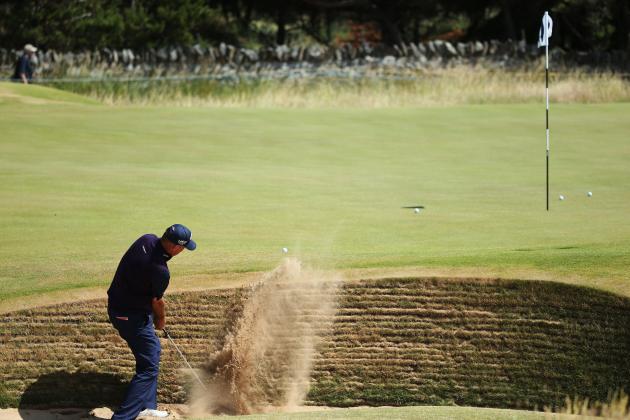 Andy Lyons/Getty Images

It's been 11 years since Muirfield has hosted an Open Championship, but the memories of the thrilling 2002 British Open still resonate due to the weather it endured and the champion it enshrined.
Ernie Els survived a brutal day of weather in the third round that left much of the field, including Tiger Woods, in tatters. After entering Saturday at four under, Woods shot a third-round 81 on the par-71 layout to end his victory hopes.
Els, however, held strong and won his first Claret Jug on Sunday in a playoff over Thomas Levet, Steve Elkington and Stuart Appleby for his third career major at the time.
Since that classic Open Championship, Muirfield has undergone some small changes, but the character of the course is certainly intact.
A little more than 150 yards was added to the course a couple of years ago, and some bunkers have been added in drive areas. In addition, several greenside traps have been tightened and shifted to demand more accuracy on the approach shots.
That said, those who competed on the legendary links layout in 2002 will find the surroundings quite familiar this week.
It's the 16th time in its history that Muirfield is hosting the Open Championship, and the Scotland layout has never disappointed.
What the weather will demand around the course is certainly unpredictable. What is an absolute certainty, however, is that Muirfield will once again prove to be a significant challenge for the world's best golfers.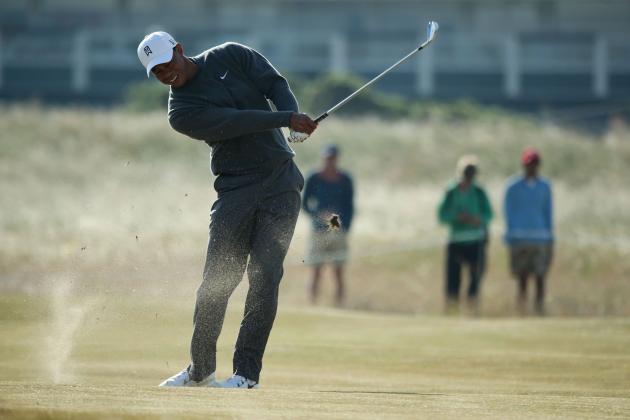 Andy Lyons/Getty Images

Is Tiger Woods truly healthy? Has Phil Mickelson actually figured out links golf? Can Rory McIlroy possibly be this bad? Is the 43-year-old Ernie Els a real threat to repeat as British Open champion?
There are a ton of storylines heading into the 2013 Open Championship, and the majority of them include the top golfers in the world today.
As he usually is at a major, Tiger is the primary focus at Muirfield this week. Specifically, there's been much speculation as to how healthy his strained elbow is and whether he is mentally right enough to finally end his five-year major drought.
Woods says yes to both of those questions, but ultimately his play will tell the tale.
With his victory at the Scottish Open on Sunday, Mickelson is officially a threat at Muirfield this week, and that is a significant story, considering Lefty has failed to win a British Open in his brilliant career. In fact, his Scottish Open win was the first for the American in Great Britain.
In addition to the storylines around the two most recognizable Yanks, there's plenty of headlines coming from Muirfield this week.
There's McIlroy's nearly year-long winless streak and Els' attempt to repeat as British Open champion and win a second Claret Jug at Muirfield. There's also the possibility of a third first-time major winner in 2013.
Those storylines will undoubtedly resonate throughout the week, and some currently unforeseen headlines will rise to the surface once the Open Championship tees off on Thursday.
Ultimately, the biggest story will be the winner of the Claret Jug on Sunday. Until then, however, there's plenty to chew on in advance of this week's British Open.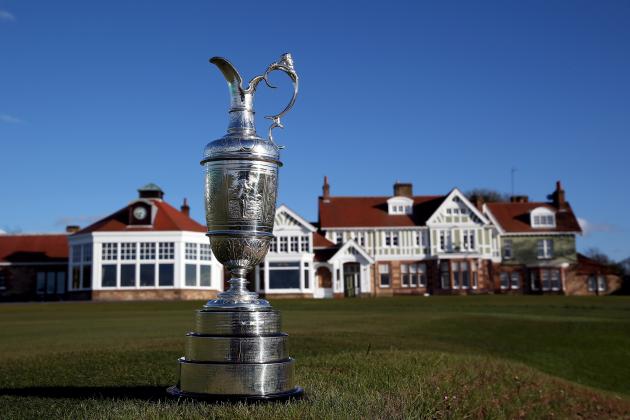 Ross Kinnaird/Getty Images

For those of us who love the British Open and its own unique brand of golf, it's going to be four days of early wake-up calls starting on Thursday.
If the goal is to watch the Open Championship live rather than on TiVo, alarm clocks will begin ringing and coffee will begin brewing at 4 a.m. on Thursday and Friday.
Things get a little more reasonable for the third and fourth rounds, but there's no doubt that for the diehard among us, there's going to be some early a.m. ESPN viewing later this week.
Thursday and Friday (First and Second Rounds)
*All times Eastern
Television
4 a.m to 3 p.m.—ESPN
Saturday (Third Round Coverage)
Television
7 a.m. to 3 p.m.—ESPN
Sunday (Final Round Coverage)
Television
6 a.m. to 3 p.m.—ESPN
Times courtesy of www.chiff.com.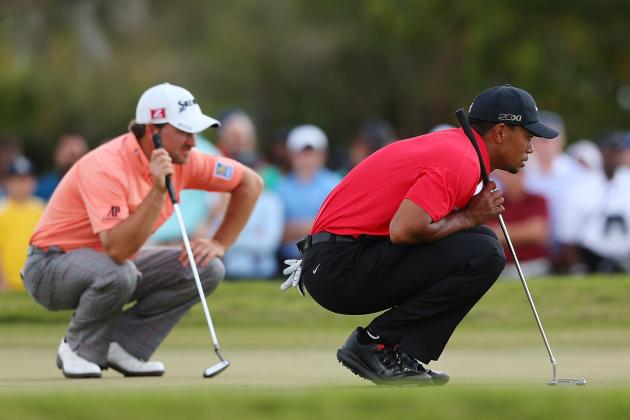 Mike Ehrmann/Getty Images

Just as he was at the U.S. Open a month ago, three-time British Open champion Tiger Woods is part of the marquee grouping of the first two rounds at Muirfield.
Tiger is joined on his quest for a 15th major victory by a pair of respected major champions in Graeme McDowell and Louis Oosthuizen and plays late on Thursday (Scotland time) and early on Friday.
That said, there are plenty of other pairings to keep an eye on when the competition for the claret jug gets going later this week.
Phil Mickelson has an interesting group that includes Rory McIlroy. Matt Kuchar, Luke Donald and reigning Masters champion Adam Scott will dance together on Thursday and Friday. Defending Open champion Ernie Els will play alongside 2013 U.S. Open winner Justin Rose and Brandt Snedeker.
Here are our favorite groupings with their Thursday/Friday East Coast start times:
Bubba Watson, Nicolas Colsaerts, Dustin Johnson: 3:44 a.m./8:45 a.m.
Nick Faldo, Tom Watson, Fred Couples: 4 a.m./9:01 a.m.
Justin Rose, Ernie Els, Brandt Snedeker: 4:11 a.m./9:12 a.m.
Ian Poulter, Keegan Bradley, Billy Horschel: 4:22 a.m./9:23 a.m.
Rory McIlroy, Phil Mickelson, Hideki Matsuyama: 4:44 a.m./9:45 a.m.
Lee Westwood, Charl Schwartzel, Sergio Garcia: 9:01 a.m./4 a.m.
Adam Scott, Matt Kuchar, Luke Donald: 9:12 a.m./4:11 a.m.
Rickie Fowler, Matteo Manassero, Hunter Mahan: 9:23 a.m./4:22 a.m.
Tiger Woods, Graeme McDowell, Louis Oosthuizen: 9:45 a.m./4:44 a.m.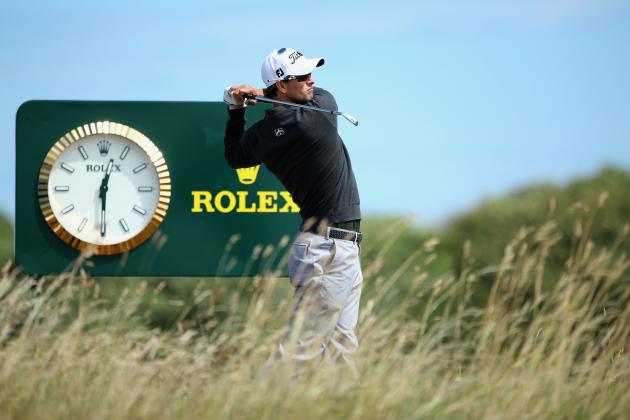 Andy Lyons/Getty Images

Success in the 2013 Open Championship comes down to three simple yet crucial elements: accuracy, focus and execution.
All three of those attributes are are absolutely required for victory at Muirfield this week.
The golfers that challenge for a claret jug come Sunday will have played from the fairways and away from bunkers.
They will have handled, accepted and moved on from the unexpected changes in weather and bad bounces that inevitably come with links golf.
The contenders will have also executed a links-style game plan that limits danger and optimizes opportunity around the challenging Muirfield layout.
The U.S. Open may well be the toughest test in professional golf, but, by most standards, the British Open is the most difficult to win.
That's due in large part to the complete unpredictability of the British weather and the unique links layouts that are so difficult to traverse for four straight days without frustrating incidents.
At Muirfield, golfers will have to sacrifice distance off the tee in favor of finding fairways and dodging the deep rough and heather that surrounds the course. Likewise, avoiding bunkers, many of which represent an almost automatic one-shot penalty, will be crucial.
All of that will be part of a game plan that experienced links players will have crafted heading into the Open Championship and will have to stick to no matter what comes their way over the four days of competition.
Bottom line, the golfer who best avoids trouble off the fairways and the deep dangers of Muirfield's bunkers and does so while maintaining composure throughout will celebrate a major accomplishment come Sunday afternoon on the breathtaking Scotland shore.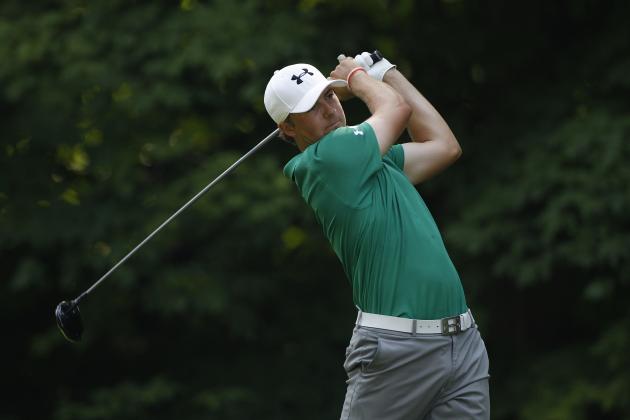 Michael Cohen/Getty Images
Jordan Spieth is a player to watch at Muirfield this week.
The British Open is well known for introducing previously unknown golfers to the world. Those introductions have included the likes of Justin Rose, Louis Oosthuizen, Thomas Levet, Ben Curtis and Paul Lawrie in the past 15 years or so.
It is, in many aspects, the underdog's major championship of choice.
Given that, we fully expect to meet players we've never known at the top of the leaderboard and others we recognize but didn't expect to be there at Muirfield late on Sunday.
This past weekend, Jordan Spieth became the first teenager in 82 years to win a PGA Tour event. In doing so, he punched a ticket to this week's British Open.
Considering it's his first Open Championship start, it might be a stretch to expect the 19-year-old to challenge this week, but considering his season to date, don't count him out.
Likewise, South African Branden Grace was a standout at the Scottish Open this past weekend, losing in a playoff to Phil Mickelson. Don't be surprised if the talented golfer furthers his growing reputation at Muirfield this weekend.
In regard to veterans poised to surprise as Stewart Cink did in 2009 and Ernie Els did last year, keep an eye on Lee Westwood, Hunter Mahan, Jason Dufner, John Senden and Henrik Stenson. Every one of those golfers has the game to excel at Muirfield and the experience to handle the pressure.
Younger but just slightly off the radar golfers to follow include birdie machine Billy Horschel, Harris English, Matteo Manassero and Kyle Stanley.
There's no guarantee any of these players will be an unexpected contender come Sunday at Muirfield. What you can expect, however, is that several golfers few saw coming will be major factors at the 2013 Open Championship.
It's one of the best aspects of golf's most senior major championship.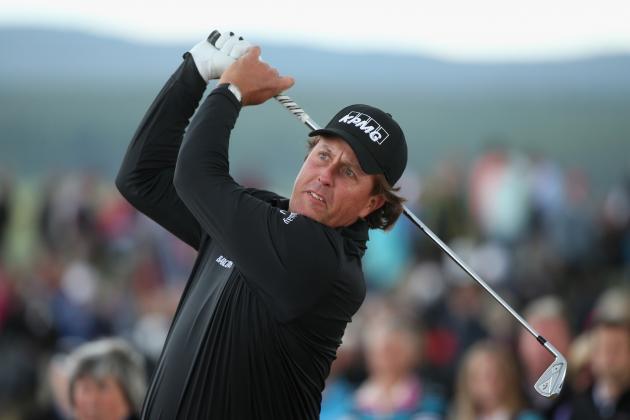 Andrew Redington/Getty Images
Phil Mickelson claimed his first victory on British soil Sunday at the Scottish Open.
Despite coming off his worst-ever performance in a major championship at the 2013 U.S. Open and not having won one in more than five years, Tiger Woods remains the bookmakers' favorite to capture the 2013 Open Championship this weekend.
The world's top-ranked golfer, however, has plenty of competition among the favorites at Muirfield this week.
Coming off a surprising and eye-opening victory at the Scottish Open this past weekend, Phil Mickelson has put himself at the top of the list of favorites along with Woods, who is seeking his third Open title.
For his part, Mickelson hasn't won a British Open but seems more prepared than ever to do so this week based upon his performance at the Castle Stuart course last week.
Likewise, 2012 runner-up Adam Scott is seeking to reverse the devastating loss from last year's British Open in which he bogeyed the final four holes to lose to Ernie Els by a single stroke.
Joining Scott, the reigning Masters champion, is fellow countryman Jason Day, who owns top-three finishes at both the Masters and U.S. Open this year.
The Aussie lacks a major championship triumph, but his recent performances show he is ready for a career breakthrough.
Remaining favorites include U.S. Open champion Justin Rose, fellow Brits Luke Donald and Ian Poulter and Irishmen Graeme McDowell, who will play alongside Tiger in the first two rounds, and reigning PGA champion Rory McIlroy.
There's certainly no guarantee the winner will come from this group, but betting on any one of these talented stars isn't close to throwing good money after bad.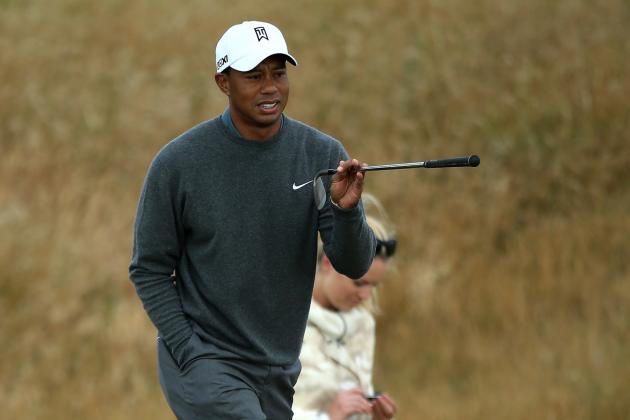 Andy Lyons/Getty Images
If Tiger Woods is indeed healthy, he will win the 2013 Open Championship.
Despite the relative unknown surrounding his elbow injury and the rather putrid performance at the U.S. Open a month ago, we're siding with the oddsmakers and calling for Tiger Woods to end his five-year major drought and claim his fourth claret jug at Muirfield this weekend.
Albeit not with the conviction of Tiger predictions past, something just says Woods will put recent frustrations—both physical and mental—behind him and earn his 15th major title on the Scotland shore this week.
More than any other golfer in the 2013 field, Woods has shown the ability to tailor his game to Muirfield's links layout, and his performance at the legendary course 11 years ago promises a strong showing this time around.
In 2002, Woods played the first two rounds at Muirfield in four under before terrible third-round weather doomed him to a 10-over 81 that washed away his hopes for victory.
Tiger, however, rebounded with a six-under 65 on Sunday, proving he has the game and fortitude to perform well at Muirfield.
We're trusting Woods that he is indeed 100 percent healthy and his mind is in a better place at Muirfield than it was at Merion Golf Club a month ago. If it is, we will have nailed this prediction.
If not, Tiger will still be chasing his own struggling tail, and we'll be dining on some less-than-tasty crow come Sunday.