The 5 Biggest Storylines Heading into Dallas Cowboys Training Camp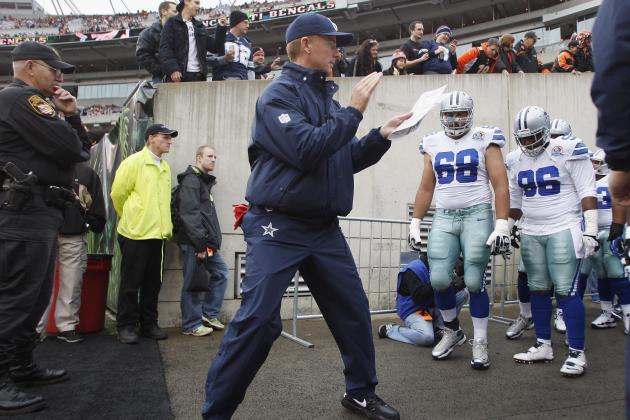 John Grieshop/Getty Images

The Dallas Cowboys are literally days away from reporting to Oxnard in what should prove to be a very important training camp for the franchise. Yes folks, the wait is virtually over and it's time to find out what the 2013 version of the Cowboys has in store for the fans.
There is always going to be a significant degree of uncertainty for any team coming off of back-to-back 8-8 seasons, but the microscope for the Cowboys is usually wound a little tighter. Will they make the playoffs? How far will they advance? Where do they stand in the NFC east?
Many, many questions abound for this team and the answers will soon be defined. If the Cowboys plan on getting back to an elite level, it will take a collective effort from the entire organization, and that starts this week.
So, with the first practices and preseason games approaching rapidly, let's take a look at the storylines that will serve as the backdrop to this year's camp.
Begin Slideshow

»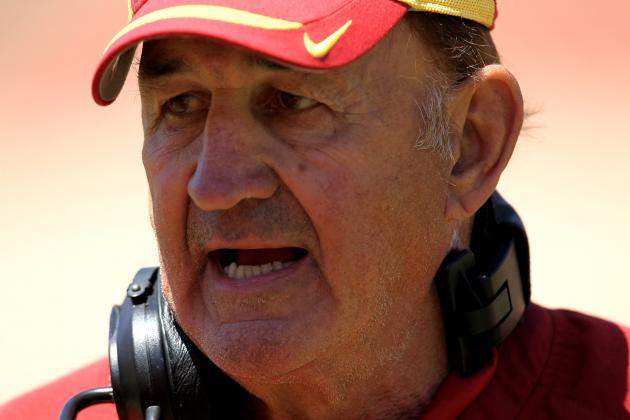 Stephen Dunn/Getty Images

The Cowboys defense sustained injuries to five starters last season, and they had to rely on street free agents for significant contributions. As a result, they allowed the most yards on defense in team history and simply could not get off the field in crucial situations.
Rob Ryan wound up being collateral damage and was replaced as defensive coordinator by long-time NFL specialist Monte Kiffin. Kiffin, who had recently been on college staffs at USC and Tennessee with his son Lane, is going to be counted on to revive this defense by installing his vaunted scheme.
Kiffin enjoyed most of his success with the Tampa Bay Buccaneers, and he will be looking to replicate the same blueprint in Dallas. But the switch to a new scheme will require players like Anthony Spencer and DeMarcus Ware to switch to new positions.
The defensive line will be counted on to force pressure, wreak havoc and contain the run, but are there enough players to get this done? Other changes include Jason Hatcher moving inside, and players such as Kyle Wilber will now serve as depth at defensive end.
Would the Cowboys be better off sticking with Ryan's complex 3-4 scheme for one more season with a healthy roster? Or will Kiffin's scheme be the answer and the right fit for this team?
This could be the most significant story heading into 2013.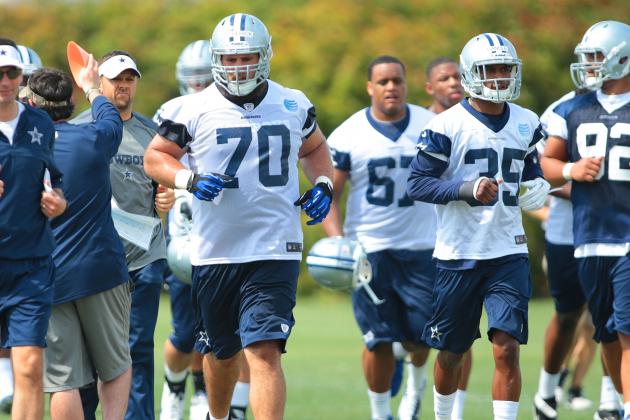 Rick Yeatts/Getty Images

The offensive line was arguably the Cowboys' Achilles heel in 2012. There were too many times to count where Tony Romo had to improvise, scramble to find space, elude immense pressure and make something out of nothing just to keep this team competitive.
Injuries, inconsistency, bad play and a lack of cohesion was the recipe for failure in a lot of areas for the Cowboys, but none more true than with the play of the offensive line. Even as elusive as Romo is, he was still sacked 36 times, and this team needs to protect him for any shot at success.
Heading into camp, the biggest questions surround Doug Free's ability to rebound, rookie center Travis Frederick's progression and the overall need for improvement. In fact, Frederick could really turn out to be the key to this unit's success in 2013.
The play along the interior of the line will dictate a lot for this team, and protecting Romo isn't the only aspect of that. The Cowboys finished 31st in rushing last year, and a replication of that statistic will be fatal for this franchise. Players like Nate Livings, Mackenzy Bernadeau and Ronald Leary need to step up and embrace the respective challenges ahead of them.
The Cowboys must be able to run the ball in order to use their pass-catching weapons efficiently. The competition at the offensive line position will be fierce, and the best players need to be on the field, regardless of salary or tenure.
When you're 8-8, it's the only path for improvement.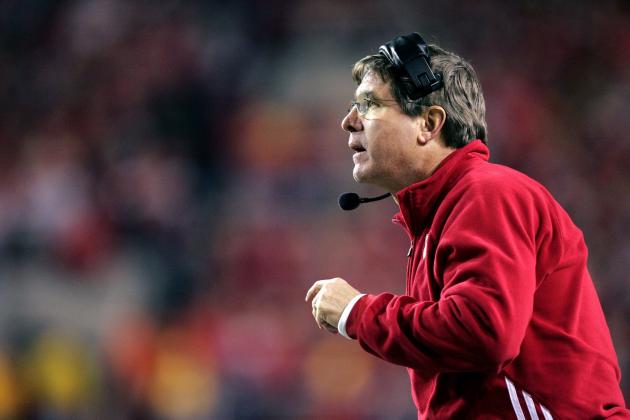 Brian Bahr/Getty Images

Offensive coordinator/offensive line coach Bill Callahan will be calling the plays in 2013. This is interesting because nobody besides Jason Garrett has held that responsibility since 2006, and the question is: is the shift in duty for Callahan seen more as a positive or a negative?
With Callahan being a veteran coach who has seen it all, it's logical to call it a positive for this team, as it may help Garrett's development as a head coach.
Under Garrett in 2012, the Cowboys managed to finish sixth in total offense, and they've never finished lower than 13th during his tenure. But too many times the Cowboys left points on the board, drives had a tendency to stall in the red-zone and Garrett's offenses were top heavy in favor of yards and not enough points. As far as his scheme is concerned, there seemed to be a degree of predictability and a lack of developing other wrinkles.
Garrett's success as the play-caller is nothing to sneeze at, but the timing was right to delegate the responsibility in order to focus more on managing the team, have a greater sense of situational football and take the next step as a head coach.
Garrett will very much remain in the offensive game plan, and rightfully so, but Callahan will be driving the bus. This will be interesting.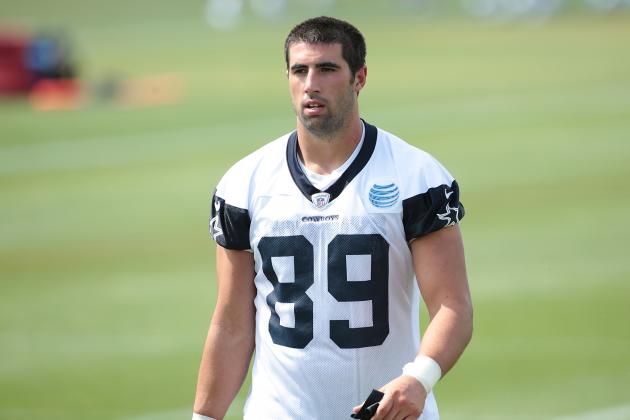 Rick Yeatts/Getty Images

The 2013 draft for the Cowboys yielded tight end Gavin Escobar, wide receiver Terrance Williams and running back Joseph Randle. Those players will all have a role this season, and their performance in camp and in the preseason will determine their potential impact.
The Cowboys have twice tried unsuccessfully to implement another tight end into this offense to pair with Jason Witten, but Jerry Jones feels like that trend will be broken with the selection of Escobar. He has outstanding hands, athleticism and an opportunity to be a beast in the red-zone.
Williams will be given every opportunity to challenge for the third receiver spot and possibly in the return game. He enjoyed a stellar career at Baylor, and now, it's time to see what he can do for this offense. Williams could also be positioning himself for a starting role next year, as Miles Austin's contract could be an issue.
Randle is slated to be the backup to DeMarco Murray, and getting him in the fifth round of the draft could prove to be a steal. He's a shifty back who carried a big load at Oklahoma State, which could serve him well in the event that Murray goes down with an injury.
It will be exciting to see how all these new pieces fit into the Cowboys offense. The team surprisingly made offense a priority in the draft, and now, it's time for the payoff. Their strategy will either be a huge success or an epic failure.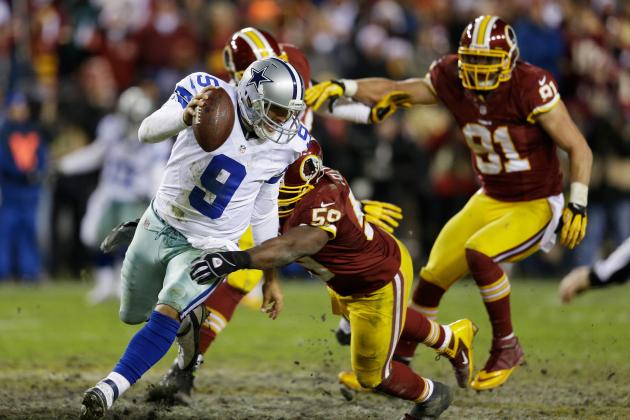 Rob Carr/Getty Images

So what exactly are the expectations for a team wallowed in mediocrity? Are they going to be challengers for the division? Are they actually better than their NFC East foes?
This franchise has a lot of questions surrounding their present and future, but this is the biggest one of them all. Based upon recent success in the draft, a commitment to youth and lessons learned from enduring some tough losses, the Cowboys have a lot to draw back on as they look to improve.
One person who will have huge expectations is none other than Tony Romo, especially now that the ink is dry on an enormous contract extension. Still, he will always have his haters, critics and devoted panel of analysts dissecting his game, and the pressure on him is huge.
But one man shouldn't shoulder all the success or failure of any team. The Cowboys need to approach this season with a renewed focus and realize that champions are built during the dog days of summer.
Of course, staying out of the spotlight is hard for this franchise and Jerry Jones, but this team needs to realize that their window of opportunity is on a year-to-year basis.
The Cowboys and their fans are starving for some success. Losing to divisional rivals in winner-take-all situations and key games has taken a toll, and right now, the Cowboys have a label on them that is not quite envious.
So, is this a 8-8 team, a 6-10 team or a 10-6 team?
This, undoubtedly, will be the biggest storyline of the entire season.