Early Fantasy Football Lessons We've Learned from the 2013 Offseason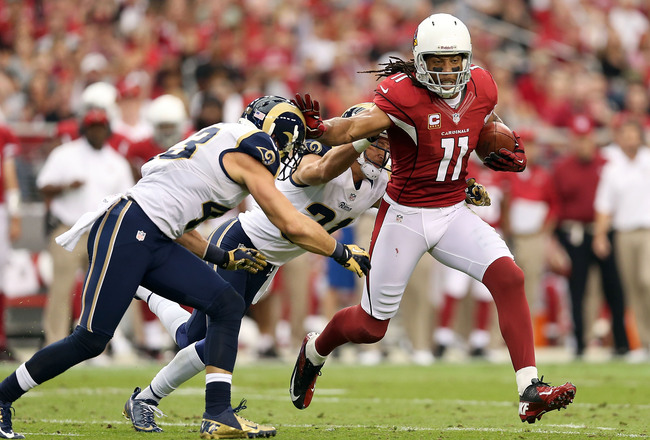 Christian Petersen/Getty Images
No Wes Welker or Aaron Hernandez? No problem for Tom Brady.
Think the San Francisco 49ers passing offense will struggle without Michael Crabtree? Think again.
The 2013 NFL offseason has been filled with plenty of moves that will have major implications on your fantasy football league next year.
Whether it is players like Larry Fitzgerald, who are looking to have bounce-back seasons, or someone like Anquan Boldin, who is trying to prove that his 2012 postseason dominance was no fluke, here is a list of early fantasy football lessons we've learned from the 2013 offseason.
Victor Cruz Is Eli's Go-to Guy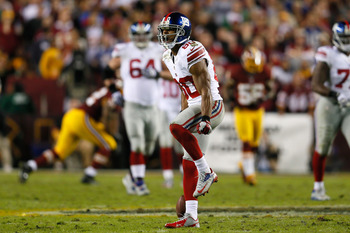 Rob Carr/Getty Images
With Victor Cruz finally signing a contract extension, one thing that is for sure is that Eli Manning is going to have his go-to receiver around for a while. Now that this distraction is gone, expect Cruz to put up some of his best numbers yet.
Cruz's stats took a bit of hit last year, only recording 1,092 receiving yards, but he still caught 10 touchdown passes. Part of the reason why Cruz barely cracked the 1,000 yard mark after racking up over 1,500 yards in 2011 was because Hakeem Nicks was playing injured all last season. With Nicks coming in healthy into the 2013 season and Rueben Randle continuing to improve, Cruz is definitely worth drafting as a No. 1 fantasy receiver.
Tom Brady Will Still Be Tom Brady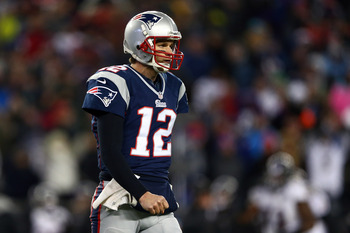 Elsa/Getty Images
Despite all the drama surrounding the New England Patriots this offseason, whether its been Aaron Hernandez, Wes Welker or Rob Gronkowski, there is still no doubt that Tom Brady is going to be one of the best fantasy football quarterbacks in 2013.
Though he no longer has Welker and Hernandez, and with Gronkowski's health in question, Brady is still guaranteed to throw for at least 4,500 yards and 30 touchdowns. Last season, Brady threw for over 4,800 yards and 34 touchdowns, and that was with both Hernandez and Gronkowski missing multiple games with injuries.
Regardless of the receivers the Patriots put on the field, Brady is still going to be Brady. He is going to put up great numbers and find a way to get the job done.
The Acquisition of Anquan Boldin Was a Must for the San Francisco 49ers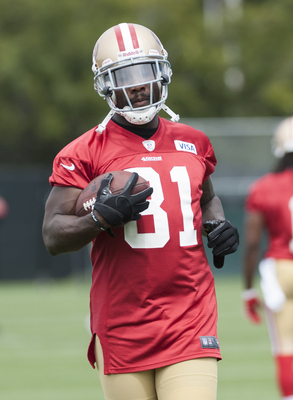 Ed Szczepanski-USA TODAY Sports
There may not have been a more important acquisition this offseason than the San Francisco 49ers trading for Anquan Boldin. With their top receiver, Michael Crabtree, possibly out for the entire 2013 regular season, Boldin is now the top receiver on the 49ers roster.
Boldin proved in the 2012 postseason that he can still be one of the most dominant wide receivers in the NFL. Though he hasn't had 1,000 receiving yards in a season since 2009, Boldin racked up over 300 receiving yards and four touchdowns in the Baltimore Ravens' Super Bowl run.
With the rest of the 49ers' receiving corp having little experience in Quinton Patton and A.J. Jenkins, Collin Kaepernick is going to be targeting Boldin all the time. Look to draft Boldin as your No. 3 fantasy receiver. He could easily put up 1,000 receiving yards and seven touchdowns.
Dennis Pitta Will Be One of the Best Tight Ends in 2013
Mark J. Rebilas-USA TODAY Sports
Now that Anquan Boldin is no longer a Baltimore Raven, fantasy football owners have to target Dennis Pitta. Pitta had his best season yet in 2012, catching 61 passes for over 650 yards and scoring seven touchdowns.
In 2013, expect Pitta to put up even better numbers that will make him a top five tight end in the NFL. Joe Flacco is going to look to throw to Pitta on almost every play, especially in the red zone. Pitta is taking over the possession receiver role for the Ravens, while Torrey Smith will still be the vertical threat.
Expect Pitta to have at least 75 receptions, 850 receiving yards and eight touchdowns next season.
Larry Fitzgerald Will Be a Top 3 Fantasy Football Receiver Again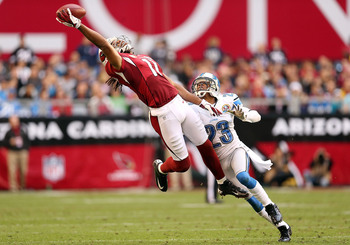 Christian Petersen/Getty Images
If you had Larry Fitzgerald on your fantasy football team last season, chances are you probably couldn't have been more disappointed in a player. After years of being one of the best wide receivers in the NFL, Fitzgerald had less than 800 receiving yards and only four touchdowns.
The Arizona Cardinals realized, though, that this wasn't Fitzgerald's fault at all, but due entirely to the fact that they had no quarterback. Lets face it, Kevin Kolb should not be a starting quarterback in the NFL anymore.
The Cardinals are entering 2013 with a completely revamped offense. They brought in Bruce Arians to be their head coach and acquired Carson Palmer and Rashard Mendenhall. With a new starting quarterback and running back, look for Fitzgerald to get back to being a top-three fantasy football receiver. Palmer still has the ability to throw for over 4,000 yards and will be targeting Fitzgerald at least 10 times a game.
Keep Reading