Indiana Basketball: Predicting Who Will Lead Hoosiers in Every Stat Category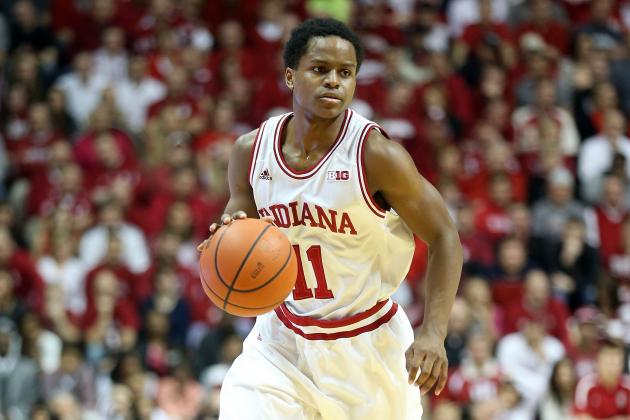 Andy Lyons/Getty Images

Indiana basketball's squad in 2013-14 will be very different from last year's team. The new-look Hoosiers are led by Yogi Ferrell, Will Sheehey and Noah Vonleh. The familiar faces of Cody Zeller, Victor Oladipo, Christian Watford and Jordan Hulls are gone.

Members of that group led the Hoosiers in every major statistical category. They were the team's backbone. Now, a new group of players must step up and lead Indiana.
This slideshow will predict which Hoosier will lead Indiana in the categories of points, assists, blocks, rebounds, three-point shooting and steals.
Begin Slideshow

»
Noah Vonleh joins the ranks of Eric Gordon and Cody Zeller as recent top recruits to join Indiana's program. Both of them led IU in scoring their freshman year. Vonleh should do the same.
He will be in the starting lineup, and Tom Crean will rely on him heavily. The 5-star recruit, via ESPN, can do it all. He can score inside and out. He can even step back to the three-point line and shoot from distance. Because of his skills, size and speed, Vonleh is a matchup nightmare.
Crean will want the ball in his hands.
Vonleh can even create scoring opportunities with his defense. His 6'9" body and 7'4" wingspan make him a capable defender. He disrupts passing lanes, getting steals which turn into easy layups.
If he plays the way he's capable of, he will be IU's best and main offensive weapon.
Bob Donnan-USA TODAY Sports

This is a no-brainer. Starting point guard Yogi Ferrell led the team in assists last year (4.1 APG). No way he doesn't do the same this season.
Realistically, he should dish out more assists in his sophomore season. An encouraging sign for Hoosier faithful is his play at the 2013 Men's World University Games. In seven games, zero of which he has started, Ferrell has 32 assists (4.6 per game). An impressive stat considering he is getting less minutes than usual on a team with little chemistry.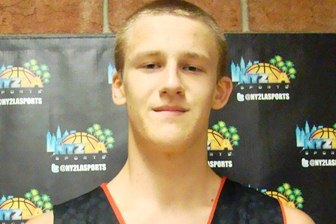 Credit: ny2lasports.com
Because of IU's shortage of big men, Luke Fischer should get significant playing time and plenty of opportunities to send shots into the stands.
Fischer might be a lanky 6'9", but he is a solid low-post defender. Like Vonleh, he has long arms and a body designed for blocking shots. It's no coincidence he averaged 2.9 blocks per game his senior year of high school.
As long as he can adjust to the college game and stay out of foul trouble, Hoosiers fans should see a good number of blocks courtesy of Fischer.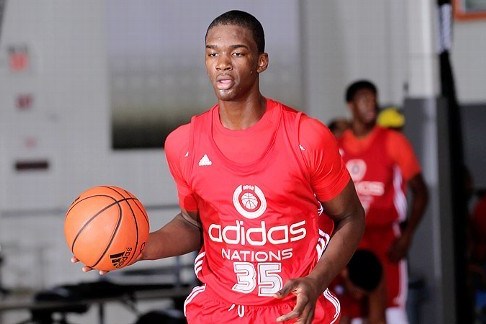 Credit: themarsreel.com
Vonleh isn't afraid to crash the glass. In high school, he was a proficient rebounder.
Zeller leaving for the NBA gives the Hoosiers a gaping hole in team rebounding. The 7-footer averaged 8.1 rebounds per game last season. The post players replacing him aren't close to seven-feet tall, meaning forwards like Vonleh will be counted on to pick up the slack.
Vonleh (6'9", 220 lbs), shares the body type of Watford (6'9", 232 lbs). Watford was able to pull down 6.3 rebounds per game, so Vonleh should put up similar numbers in his freshman season.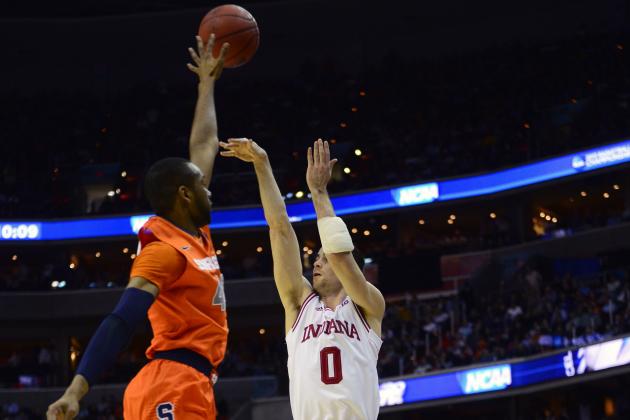 Bob Donnan-USA TODAY Sports

Will Sheehey was a solid three-point shooter last season (34.6 percent) but has to be better. Indiana's two best threats from three, Watford and Jordan Hulls, graduated. Sheehey must understand the team needs him to improve.
There are multiple reasons why he will be Indiana's best threat from distance. Crean is a good coach and will tell Sheehey he needs to dedicate his offseason to becoming a better shooter. It will be a priority for him.
Sheehey has already shown improvement. In the 2013 Men's World University Games, he is 5-of-8 from beyond the arc. It may be a small sample size, but nonetheless it's a good sign.
Sheehey will be a featured player in Crean's offense. He should play more minutes than he ever has before, and you can bet Crean will want the ball in the hands of his most experienced player.
If defenses are forced to worry more about Vonleh and Yogi Ferrell can become lethal at penetrating and passing the ball to the outside when the help defense arrives, Sheehey will get his fair share of looks from three. Now, he just has to make them.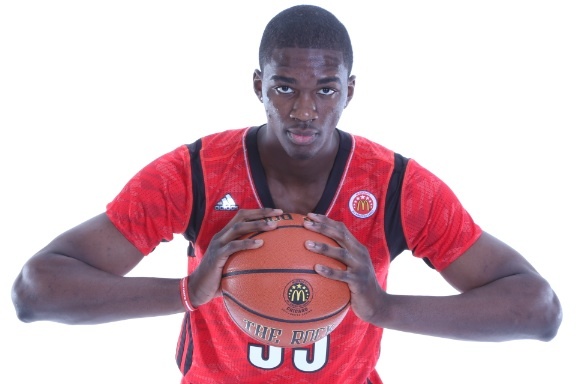 Brian Spurlock-USA TODAY Sports
Credit: insidethehall.com
The reason Vonleh excels on defense is because he is long and athletic. His 7'4" wingspan makes him a defensive terror.
Vonleh uses his superior length to get in passing lanes. His long arms enable him to knock the ball away from whoever he is guarding.
Vonleh will lead the team in steals because of his similarities to Oladipo. Oladipo averaged 2.2 steals per game because of his speed and quick hands. Vonleh's defensive game has those characteristics as well. Add in his length, and you have Indiana's next defensive force.