Kansas City Chiefs: 5 Players Who Will Surprise in Training Camp
Jonathan Daniel/Getty Images
Image altered by Brett Gering
Training camps serve as the barometer for expectations: They gauge a player's talent, reveal their work ethic and file preseason progress reports.
Andy Reid's Kansas City Chiefs resume their day jobs on July 26.
In the aftermath of a bottom-of-the-barrel 2-14 struggle, a team's forward momentum tends to hit a Leonidas line (NSFW). The 2013 Chiefs are the exception to the rule.
Ownership uprooted the rickety foundation, ensuring that next season's squad is far more than a refurbished product. The drastic turnover adds more weight to training camp's significance, but the new coaching staff also deletes history and opens the window of opportunity for up-and-comers.
Five players will turn heads and spellbind spectators.
Begin Slideshow

»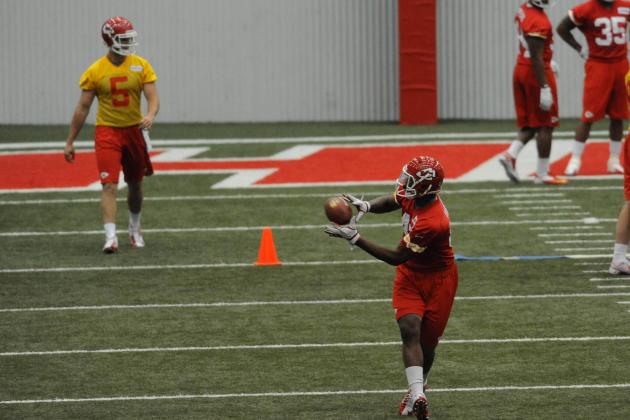 Denny Medley-USA TODAY Sports

Every afternoon that Tony Moeaki rehabs boosts Demetrius Harris' odds of cracking the 53-man roster.
Moeaki's edge in experience is glaringly lopsided, but the rookie is making strides.
Harris is the latest in the line of hardwood-to-gridiron converts, and as Andy Reid told KCChiefs.com, "He's making the most of it so far."
If Harris hones his blocking skills—the weakest link in Moeaki's game—he could supplant his veteran cohort.
Moeaki's latest knee injury will only hinder his efforts as an in-line blocker. However, he's still a dangerous target in the passing game.
Given John Dorsey's affinity for stocking up on draft picks, it's feasible that Moeaki is cast as a lure in the trade market. There's a select group of Bostonians who would welcome his services with open arms.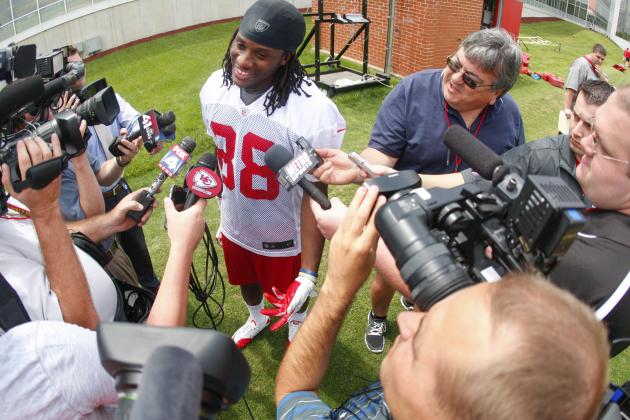 Kyle Rivas/Getty Images

Junior Hemingway is a mixed bag of capabilities.
As a receiver, he can line up outside or in the slot. His 6'1", 225-pound frame makes for a hulking target, and he has magnets disguised as hands.
Although he's by no means a burner, Hemingway expertly adjusts to deep passes and overpowers opponents in the air.
If he's afforded the opportunity to make a play on the ball, No. 88 will reward it.
The second-year wideout flashes playmaking potential after the catch as well.
Another resume builder: Hemingway's a seasoned special teams contributor.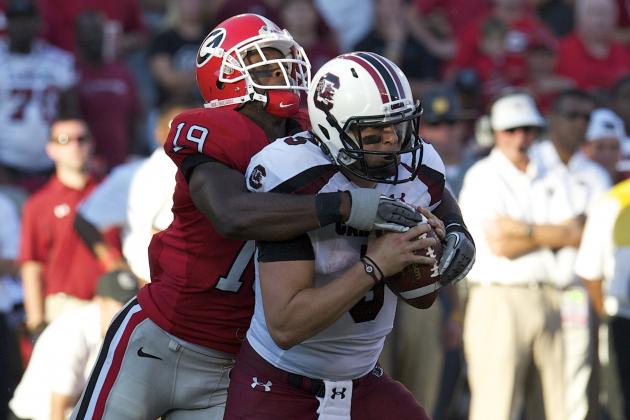 Dale Zanine-USA TODAY Sports

Kendrick Lewis and Husain Abdullah are far from scrubs, but their collective playing time will steadily erode throughout the season.
Sanders Commings may not breach the starting rotation as a rookie—although, that's not out of the realm of possibilities—but he's a sure-fire lock to become an immediate contributor.
His baseball background enables him to track aerial threats like an anti-aircraft vehicle. He boasts tier-one speed and rings more bells than Gene Frenkle.
Obviously, his biggest hurdle will come in the form of experience. While the position isn't foreign to him, the vast majority of his collegiate snaps were played at corner.
Commings possesses every tool to eventually become a solid starter at free safety.
Beached whale or "landshark?"
The 331-pound nose tackle has struggled with fluctuating weight and stamina concerns in the past.
If he's the most athletic person in the room, the room is probably full of pocket protectors.
But Powe can wreak havoc when plowing ahead—something he was forbidden from doing throughout his first pair of seasons.
When aggressive, his strength oppresses blockers, and he packs more explosion than the average 330-pounder.
Defensive coordinator Bob Sutton is a fan of the former 5-star recruit.
"Landshark" it is.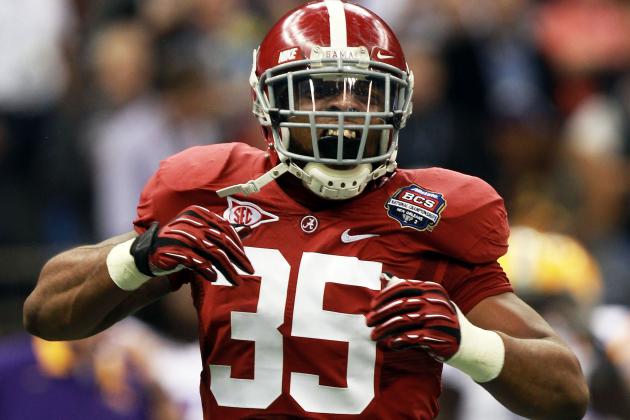 Ronald Martinez/Getty Images

When acclimating to life in the NFL as an inside linebacker, enlisting the help of Derrick Johnson isn't a bad first move.
During a sit-down with KCChiefs.com, Nico Johnson relayed, "I talk to Derrick Johnson a lot and he's been talking about stepping into that role of leading this team to where we want to go. We have the right mindset and we just want to go out each and every day and get better."
His closest competition, Akeem Jordan, invested six years in Philadelphia before following his coach to Kansas City, but this season will be his first within a 3-4 scheme.
In comparison, the incoming freshman spent four years mastering his craft in Nick Saban's 3-4.
Johnson looks the part of an effective two-down run-stuffer. His main vulnerabilities lie in pass coverage, but according to Mitch Holthus, the fourth-rounder's turning the corner in that facet as well.
Brett's Twitter: Follow @BrettGering
Brett's Email: gering.brett@gmail.com