Pros and Cons of Sacramento Kings Trading Away Tyreke Evans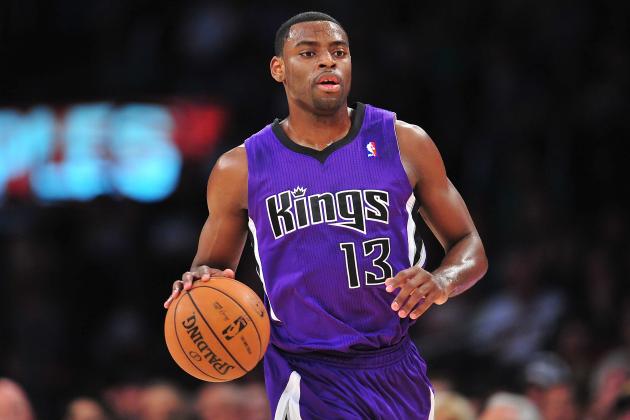 Gary A. Vasquez-USA TODAY Sports
Tyreke Evans was recently traded to the New Orleans Pelicans.
A new era of Sacramento Kings basketball is upon us, and with it comes plenty of changes to the makeup of the roster. James Johnson, Toney Douglas and Cole Aldrich have all moved on, while players like Luc Mbah a Moute, Carl Landry, Ben McLemore and Ray McCallum have been brought in. But perhaps the most highly publicized addition was that of Greivis Vasquez, who was acquired in exchange for Tyreke Evans.
Ever since the Kings drafted Evans in 2009, he's been a mainstay with the franchise. From the start, Evans' career looked promising, as he won the Rookie of the Year in 2009-10. But after four consecutive losing seasons, and with Evans eligible for free agency for the first time, apparently the organization felt it was time to move on.
As free agency opened, it became apparent that he was a player the New Orleans Pelicans really desired. The team put on a full-court press for Evans, quickly agreeing to a four-year, $44 million offer sheet. Evans was a restricted free agent, so the Kings had the opportunity to match it.
Yet Sacramento clearly felt the deal overvalued Evans, so instead of matching the offer to retain him, the Kings quickly hammered out a sign-and-trade with the Pelicans. In exchange for Evans, the Kings received Greivis Vasquez. The Portland Trail Blazers, the third team in the deal, got Robin Lopez and Terrel Harris from New Orleans for rookie Jeff Withey. Portland also sent two second-round picks to the Kings.
As far as the Kings are concerned, their real swap was Evans for Vasquez. But now that the deal is official, how does the trade impact Sacramento? What are the positives of the trade? What might be some of the potential pitfalls in losing Evans? To answer those questions, I've come up with a list of pros and cons to the Tyreke Evans-Greivis Vasquez trade.
Begin Slideshow

»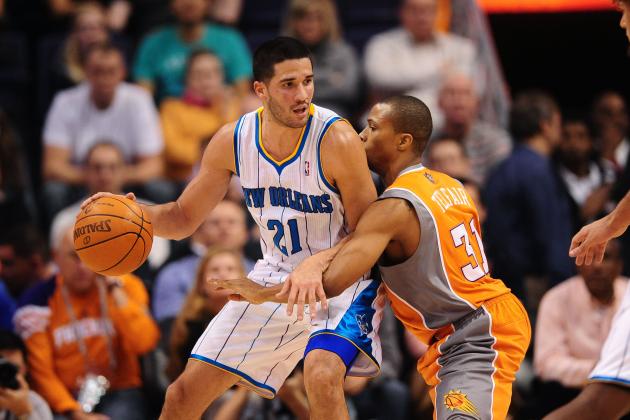 Mark J. Rebilas-USA TODAY Sports
Vasquez gives the Kings the pure point guard they've been lacking for some time.
For years the Kings have been lacking a true floor general. By acquiring Vasquez from the Pelicans, that's exactly what they're getting. Vasquez came into his own last season, his third in the NBA, and proved that he can be one of the league's premier distributors.
He averaged a career-high 9.0 assists per game in 2013-14, topping the NBA in total assists with 704 and finishing third in the league in assists per game. On top of his increase in assists, Vasquez also set a career low with an 18.6 turnover percentage and a 9.0-to-3.2 assist-to-turnover ratio.
The addition of Vasquez allows Isaiah Thomas to come off the bench, which is an ideal role for him and the Kings. Thomas, while a solid starter at point guard, would be one of the premier backups. And having him come off the bench will only extend the lineup and give coach Mike Malone more options to work with.
Losing a player of Evans' caliber certainly hurts the Kings. But he was never going to become the type of distributor that Vasquez is, even if the Kings switched him back to point guard. And with the Kings selecting Ben McLemore with the No. 7 pick in the draft as their shooting guard of the future, there seemed to be a conflict of interests if Evans stuck around.
At least this way the Kings get something in return for him, and Vasquez fills a major hole on the roster.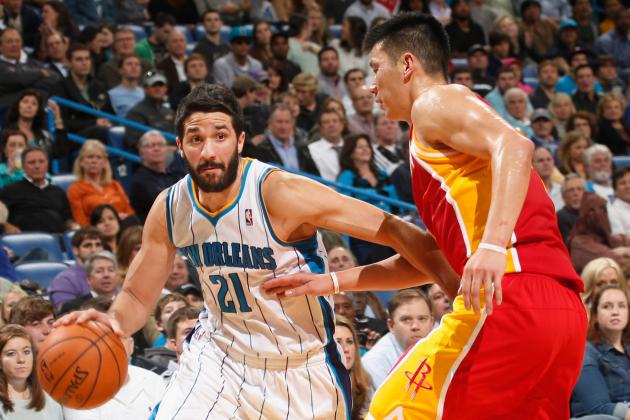 Chris Graythen/Getty Images
Vasquez is a restricted free agent after the season, so Sacramento could find itself in the same situation one year from now.
Presumably the Kings ended up acquiring Vasquez because Tyreke Evans was a restricted free agent. Once it became apparent Evans received an offer the Kings didn't want to match, it became a question of getting some sort of value in return for him. In Vasquez, the Kings did just that.
Yet Vasquez will be a restricted free agent following the 2013-14 season. That means the Kings could be in the exact same position one year from now, with Vasquez receiving an offer they don't want to match and Sacramento scrambling to get something in return.
If the Kings would have matched the offer and retained Evans, they at least would have had him under contract for the next four years. It also would have provided some cost certainty and a clearer picture of the coming years.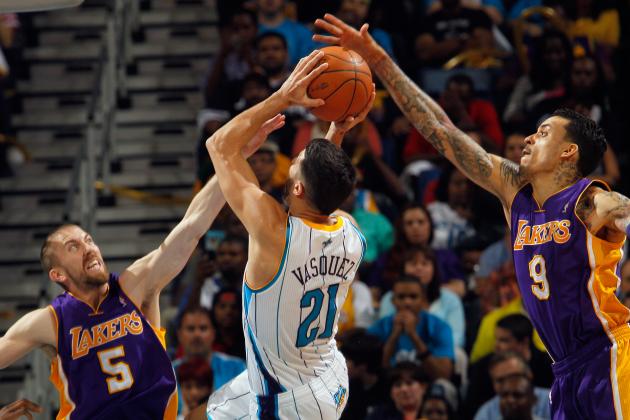 Chris Graythen/Getty Images
Vasquez improved virtually every area of his game last season.
As was already pointed out, Greivis Vasquez took a major step forward as a distributor in 2013-14. But he didn't just improve as a passer—he improved across the board.
Vasquez set career highs in points per game, rebounds per game, field-goal percentage and three-point percentage. Furthermore, his 14.5 points, 9.4 assists and 4.5 rebounds per 36 minutes were all career highs, showing his improvements weren't solely a factor of increased playing time.
At 26 years old, Vasquez is just now entering the prime of his career, so the Kings shouldn't expect to see a dip in that production. If anything, they could see some improvement, as last season was Vasquez's first as a full-time starter.
As far as Evans is concerned, one could argue that he'd topped out. I don't necessarily subscribe to that thinking, but it's often pointed out that his points per game, rebounds per game and assists per game decreased every year he was in the NBA.
That ignores the fact that he set career highs in field-goal percentage, three-point percentage, offensive rating and win-shares per 48 minutes. It also overlooks that his playing time decreased every year, along with his usage percentage, so a decline in cumulative statistics was to be expected. Evans still posted per-36-minute averages in line with his career numbers, as well as showing increased efficiency.
But while that's my opinion, it's not necessarily one that's supported by everyone. Yet everyone agrees that Vasquez has only improved since he's been in the NBA.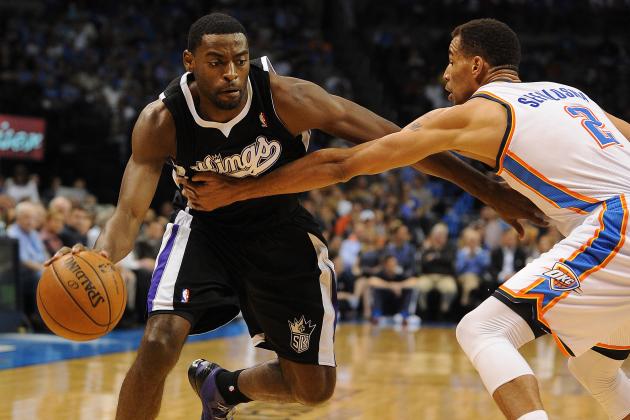 Mark D. Smith-USA TODAY Sports
Even though Evans has been in the NBA longer than Vasquez, he's actually considerably younger.
This one may be a moot point if you're of the mindset that Evans has already topped out as a player. But if you're convinced that he's still got room to grow, then Evans would be a better long-term option, as he's considerably younger than Vasquez.
Evans, currently 23, will be 24 years old when the 2013-14 season tips off. It's hard to believe because he'll be entering his fourth NBA season, but it's true. Vasquez, on the other hand, will be 26 years old at the start of the campaign, and he'll turn 27 midway through the season.
Neither of them is old in the sense that you'd expect a decline in the immediate future. But if you're going to bet on one taking a bigger step forward, the smart money might be on Evans simply because he's so much younger.
And with the Kings unlikely to qualify for the playoffs next season, even if they take a good step forward, the argument could be made that the team should still have an eye toward its future. Evans might have a brighter future, and he'd be locked in for the next four years, unlike Vasquez, who is slated for restricted free agency next offseason.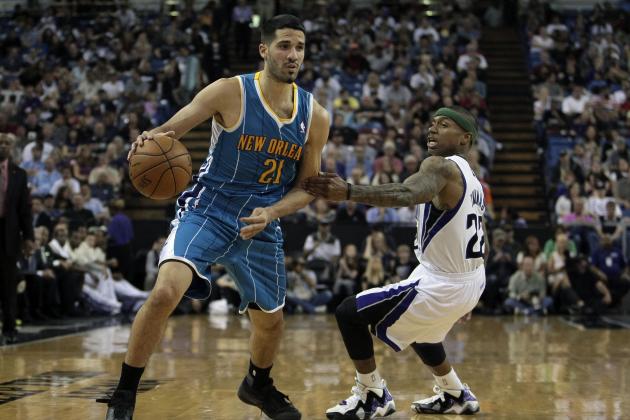 Kelley L Cox-USA TODAY Sports
This image is case in point of the size Vasquez brings to the position. Look at him tower over Isaiah Thomas.
In general, the Kings have been undersized in the backcourt in recent years. It's even more of a problem at the point guard position. Isaiah Thomas (5'9", 185 pounds) and Ray McCallum (6'2", 191 pounds) figured to be the primary point guards before the trade. At 6'6", 200 pounds, Greivis Vasquez provides a serious upgrade in this regard.
Teamed up with Ben McLemore (6'5", 195 pounds), who figures to be the starting shooting guard, the Kings will now have a starting backcourt with some serious size. If Sacramento had kept Evans (6'6", 220 pounds), it would have another guard of similar size.
But Evans was unlikely to switch back to point guard, a position he hadn't played since his rookie year, so the Kings weren't going to be able to pair his size with McLemore's for extended periods of time. This way, Sacramento has the requisite size to match up with basically any backcourt thrown its way.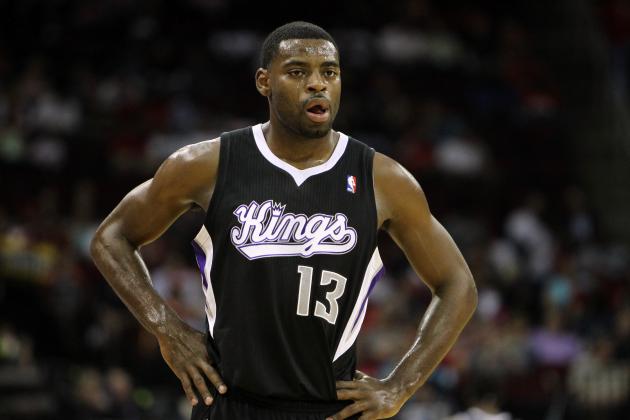 Brett Davis-USA TODAY Sports
If the Kings balked at giving Evans a market-value contract, they might be reluctant to do the same with Vasquez.
The trade is over and done with now, so there's almost no point in using revisionist history. However, the only reason the trade occurred in the first place is because New Orleans signed Evans to a contract that the Kings felt greatly overvalued him as a player. Rather than let him walk for nothing, Sacramento was able to get something in return.
The only other alternatives would have been to let Evans walk for nothing, which would have been the worst possible scenario, or the Kings could have matched the offer to retain him. The team felt Evans was overpaid, so matching the deal wasn't much of an option. But was Evans really overpaid by New Orleans?
His four-year, $44 million contract seems like a lot of money for a player of his caliber. Yet free-agent contracts are based on what similar players receive. And as I wrote back in May, players of Evans' production received something in the neighborhood of four years, $40 million.
So the contract Evans ended up signing with New Orleans is actually pretty close to market value. Therefore, what it really comes down to is whether the Kings think they're better off with Evans or Vasquez. Sound arguments could be made on either side.
Really, the only reason this is worthy of being brought up isn't because the Kings don't have money or aren't willing to spend money. But if their player evaluations and assessments of value don't jibe with the marketplace, then they may have a difficult time retaining players.
This could come into play with Vasquez next offseason. What if he gets a market-value contract but the Kings think it overvalues him and refuse to match? At that point, the long-term outlook of the deal could suddenly turn sour.
Follow me on Twitter: @SimRisso