If we learned anything from Archie Bradley's inning of work at the 2013 MLB Futures Game on Sunday, it's that he's very close to being a big leaguer.
Bradley, the top prospect for the Arizona Diamondbacks, was selected to the U.S. Futures roster this year and showed everyone what he can do. The 20-year-old tossed a perfect frame, inducing a pair of ground-ball outs as well as a fly-out.
Nick Piecoro of the Arizona Republic called it an "easy" inning:
Easy inning for Archie. Fastball up to 98, threw a few curveballs for strikes. Gets an easy fly out and two ground-ball outs.

— Nick Piecoro (@nickpiecoro) July 14, 2013
Ben Badler of Baseball America liked Bradley's arsenal of pitches:
Archie Bradley with an overpowering 96-98 mph fastball and a low-80s hammer with power and depth. Filthy.

— Ben Badler (@BenBadler) July 14, 2013
Taijuan Walker, the top prospect for the Seattle Mariners, liked something else about Bradley on Sunday, according to MLB Network Radio:
Taijuan Walker on Archie Bradley: "Threw a 98mph FB, threw some hammers, but what I liked most is he was out there smiling." #FuturesGame

— MLB Network Radio (@MLBNetworkRadio) July 14, 2013
Bradley started the 2013 season pitching for Single-A Visalia, but he was only with the squad for a few weeks. The right-hander dominated the competition, going 2-0 in five starts while allowing just four earned runs in 28.2 innings of work. He also had 43 strikeouts and just 10 walks in his time with the team.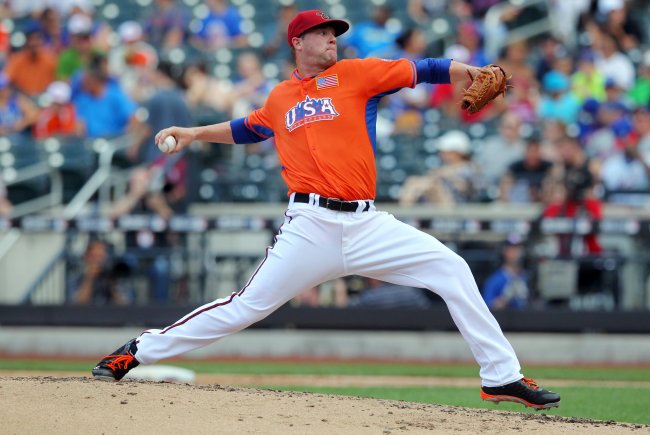 Brad Penner-USA TODAY Sports
In early May, the Diamondbacks decided that Bradley was ready for the next test, so the club promoted him to Double-A Mobile. While the hitters he's facing are tougher, Bradley has been just as good. Through 13 starts, he's 6-4 with a 2.37 ERA in 76 innings of work. He's averaging just under a strikeout per inning.
When Bradley was ready to take the mound for the U.S. Futures, J.J. Cooper of Baseball America reminded everyone that he's the top pitching prospect in baseball:
Best pitching prospect in the game (by a hair over Taijuan Walker in our Midseason rankings) Archie Bradley now in for U.S. #futuresgame

— JJ Cooper (@jjcoop36) July 14, 2013
The Diamondbacks haven't had as strong of a rotation as they would've hoped this season and may look to add someone before the trade deadline.
Arizona could promote some of its younger arms instead, though. Piecoro reports the GM Kevin Towers is considering promoting Bradley:
We've kept our eye on Archie. We've kept our eye on Holmberg. Those are two guys that have thrown the ball well. We don't want to rush them. We want to make sure they're ready. But we'd look at both Double-A and Triple-A.
Based on what Towers said, it appears Bradley could be making his major league debut in the near future. The right-hander would bring a lot of value to the Diamondbacks, who are hoping to make the playoffs this season for the first time since 2011.
Drafted seventh overall by Arizona in the 2011 MLB draft, Bradley is quickly rising through the organization's minor league system. While it's still early in his professional career, the young righty may have what it takes to be an ace in this league.
Sunday's outing was just a glimpse of what's to come.