Teenage sensation Jordan Spieth won the 2013 John Deere Classic with a final-round score of six-under par to finish the tournament at 19 under, but he needed extra holes to get the job done.
Zach Johnson, David Hearn and Spieth took to the course after 72 holes to decide the winner by way of a sudden-death playoff:
We're headed to a playoff at the @JDClassic. @ZachJohnsonPGA, @HearnDavid and 19-year-old @JordanSpieth will head to the 18th. #PGATOUR

— PGA TOUR (@PGATOUR) July 14, 2013
In the end, Spieth was able to come through in the clutch with a par on the fifth hole of the playoff to win at TPC Deere Run in Silvis, Ill.:
19 year old Jordan Spieth is your 2013 @JDCLASSIC Champion!

— John Deere Classic (@JDCLASSIC) July 14, 2013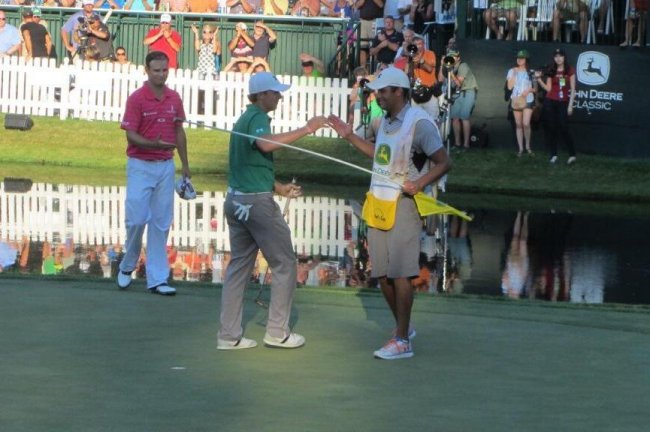 It was Spieth's first career victory. As noted by the PGA Tour, it was the first time a teenager had won a Tour event since 1931. Additionally, the win moved Spieth to No. 11 in the FedEx Cup race and earned him a trip to Great Britain, where he'll compete for the chance to win the 2013 British Open:
Jordan Spieth, 19, is the first teenager to win on the #PGATOUR since 1931, winning the @JDClassic in five playoff holes!

— PGA TOUR (@PGATOUR) July 15, 2013
At the beginning of the year, @JordanSpieth had NO status. He just moved to No. 11 in the #FedExCup race and earned a spot in @The_Open.

— PGA TOUR (@PGATOUR) July 15, 2013
There's really no way to overstate what a huge victory this was for Spieth. A former All-American at the University of Texas, the Dallas native is one of the biggest up-and-coming stars in the sport.
Here's a look at the leaderboard, followed by the best highlights and takeaways from Sunday's action.
2013 John Deere Classic Round 4 Leaderboard
Pos

.
Golfer
Score
1
Jordan

Spieth

-6
-19
T2
David

Hearn

-2
-19
T2

Zach Johnson

-3
-19
T4
Martin Flores
-8
-18
T4
Jerry Kelly
-3
-18
T4
Daniel

Summerhays

+1
-18
T7
Patrick Reed
-4
-17
T7
Matt Jones
-3
-17
T7
J.J. Henry
-2
-17
T10
Steve Stricker
-5
-16
T10
Jim Herman
-4
-16
View the full leaderboard at PGA.com.
Highlights and Biggest Storylines
TPC Deere Run is annually one of the lowest-scoring tournaments on the PGA Tour. Since 1999, when the event changed its name from the Quad City Classic, the top score was 16-under par, which has occurred three times.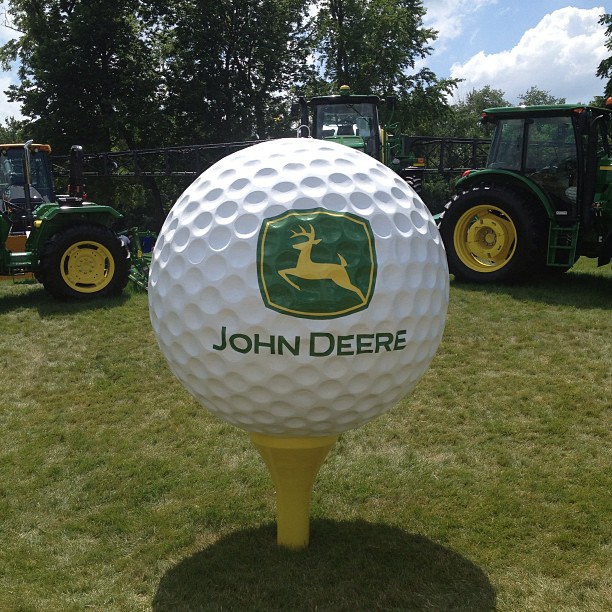 The course offers an inviting blend of wide fairways, shallow bunkers, relatively short rough, and big, receptive greens. Therefore, it isn't surprising that so many players have had success on the course. That said, the leaders all performed at the top of their games throughout the proceedings.
As such, there was no shortage of highlight-reel shots.
Playoff!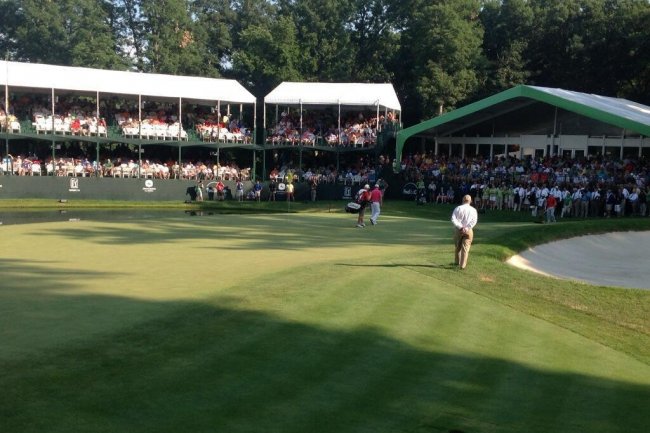 Zach Johnson nearly won the tournament when he missed a chip-in on the first playoff hole from just off the green. He thought it was in, and the crowd thought it was in. But just as the ball hit the pin, it rattled off the flag enough to alter course.
The 2007 Masters champion fell to the ground in disbelief, as the PGA Tour noted:
Zach Johnson nearly holes his chip shot, which lips out hard. He can't believe it and falls to the ground in disbelief. #PGATOUR

— PGA TOUR (@PGATOUR) July 14, 2013
Johnson tapped in for his par, and Spieth left his 25-foot birdie putt about one foot short to tie Johnson and force a second playoff hole. Hearn also saved par with a gutsy putt after a solid chip shot from well off the green.
The players then headed back to the 18th hole to do it all over again:
Here we go again... pic.twitter.com/bGQWZAz1Tv

— John Deere Classic (@JDCLASSIC) July 14, 2013
Johnson and Spieth both found the fairway on the second playoff hole, while Hearn hit his ball into a bad spot in the right rough. Hearn punched the ball out with precision, however, putting his ball in a good place about 20 feet from the pin.
Do you prefer tournaments that feature low scoring like the John Deere Classic?
Johnson followed up that brilliant shot with a nice shot of his own, hitting his approach shot to within about 15 feet on the right side of the hole.
Meanwhile, Spieth attempted to hit a precision draw into the left hole location, but pushed his shot into the rough on the right side of the green in between the greenside bunker and the green.
Johnson and Hearn both made par to move on to the third playoff hole at No. 16, and Spieth kept his incredible run alive by draining his six-footer for par after a shaky chip.
Hearn safely in. Moving to 16 now!

— John Deere Classic (@JDCLASSIC) July 14, 2013
Off the tee on No. 16, Spieth didn't quite get his ball on the green and Johnson didn't get his ball close. Hearn, on the other hand, dropped his tee shot to within about eight feet.
Spieth and Johnson both missed on their birdie opportunities. At this point, the only thing you could hear on the course was the chirping of birds and the sound of Hearn' heartbeat, as he had an opportunity to win the tournament with his relatively easy birdie putt.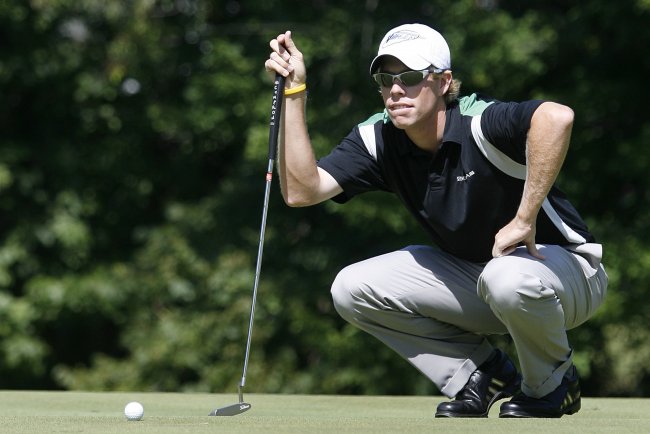 Jim Rogash/Getty Images
The 34-year-old Canadian missed the shot, however, pushing his putt right to settle for a par and send the playoff to its fourth hole—the par-five No. 17:
All 3 players are still alive in the playoff. They will play the par 5, 17th hole.

— John Deere Classic (@JDCLASSIC) July 14, 2013
Of the three men, only Hearn was able to get his second shot close. He was just 20 feet from the green on his approach, and he put his third shot in close for a potential birdie putt:
Hearn 20 feet from 17 green. pic.twitter.com/5hoLgCZcbU

— John Deere Classic (@JDCLASSIC) July 14, 2013
After Johnson and Spieth both missed their birdie opportunities, it was once again up to Hearn to sink his putt for the win. Once again, he missed, as the ball dipped into the hole before lipping out.
David Hearn's putt goes all the way around the hole and doesn't drop. Unbelievable!

— John Deere Classic (@JDCLASSIC) July 14, 2013
It was a gut-wrenching miss, and it forced a fifth playoff hole, with the trio heading to No. 18 for the third time.
As the sunlight continued to wane, all three golfers pushed their tee shots to the right. Nerves were well frayed by this point, as the men seemed to have exhausted their emotional reserves after so much great golf to that point.
Jason Sobel of the Golf Channel made a salient point while watching them on what would be the playoff hole:
It's exhausting just watching this playoff. These guys must be mentally drained. Especially with so many close calls already.

— Jason Sobel (@JasonSobelGC) July 14, 2013
Johnson hit his shot into the water after ending up behind a huge tree trunk, putting an end to his bid as a repeat champion at the John Deere Classic:
This is what Johnson has on 18 pic.twitter.com/Xc1AMArkj3

— John Deere Classic (@JDCLASSIC) July 14, 2013
Hearn punches out safely into fairway. Johnson's punch out hits off a tree and into the water.

— John Deere Classic (@JDCLASSIC) July 14, 2013
After Johnson's missed shot and Hearn's layup out of the thick rough, Spieth hit one of the best shots of his young career out of the rough, putting his ball about 20 feet from the cup just behind the green.
Spieth with a great punch shot that finds the back fringe. Looks to be about 20-25 feet from the hole.

— John Deere Classic (@JDCLASSIC) July 14, 2013
He missed his birdie putt from the fringe, however, allowing Hearn an opportunity to match him with a par putt. Hearn had another knee-knocker for par—a six-footer that absolutely had to go in—and he pushed it to the right.
From there, young Jordan Spieth had but a tap-in for his par and the title, which he drained.
Martin Flores Plays "How Low Can You Go?"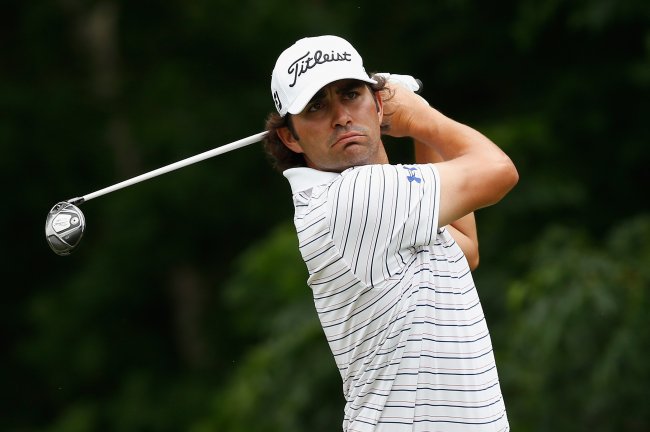 Scott Halleran/Getty Images
After beginning the final round in 22nd place, Flores put on a show before the leaders even had a chance to tee off on hole No. 1. With an incredible eight-under 63, as noted by the PGA Tour, Flores put himself in position to win the tournament should the leaders falter:
Martin Flores turns in a final-round 63 and posts -18 to take the @JDClassic clubhouse lead. Bowditch (T-2 last week) in at -15. #PGATOUR

— PGA TOUR (@PGATOUR) July 14, 2013
His brilliant final round started when he eagled the No. 2, and he carried his momentum throughout the round by posting six more birdies without logging a single bogey. He was simply striping the ball all round long and making consecutive big putts.
Flores finished off his round with a par at No. 18, but he put in one final highlight on the 17th with a birdie on the par five.
After his round, Flores spent some well-deserved time with Bill Macatee and Ian Baker-Finch in the CBS booth:
Martin Flores in the CBS booth with Bill Macatee and @IBFinchy for a post-round interview. pic.twitter.com/adBK4lsLbW

— John Deere Classic (@JDCLASSIC) July 14, 2013
Though he didn't win, Flores' final round was memorable nonetheless. He finished the tournament just one shot behind the leaders.
Young Phenom Jordan Spieth Moving Up in the World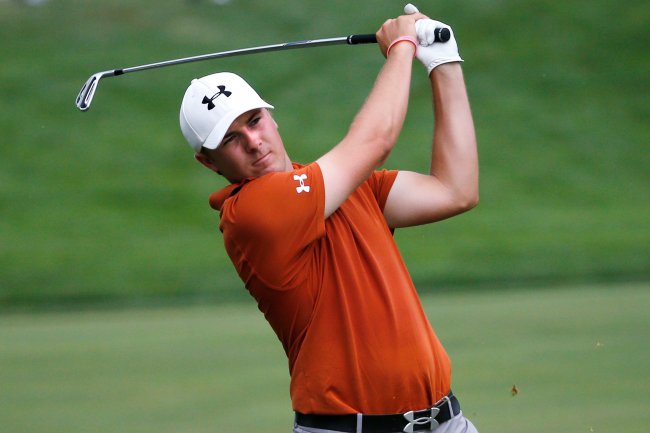 Rob Carr/Getty Images
For a young man who hasn't yet hit his 20th birthday, Spieth seems to have this pro golf thing down pat. Before the 2013 John Deere Classic, Spieth had logged five top-10 finishes this year.
He played well throughout the four days at TPC Deere Run, and he finished his final round with an impressive score of 65—his third straight round of six-under par. His final seven holes were magnificent, barring one minor setback. He birdied five holes while suffering a bogey on No. 15.
After getting into trouble in the greenside rough on No. 14, Spieth hit a superb chip shot to within a few feet of the hole and walked off the green with a well-deserved birdie.
Then, on the par-three 16th, right on the heels of his bogey on the previous hole, he drilled his tee shot on the course's signature hole and drained the 10-footer for birdie. Far from finished, he had fans on their feet on his 72nd hole of the tournament with a brilliant bunker shot that dropped in for birdie.

This gorgeous shot moved Spieth into a tie for first, which would hold up to force the eventual three-way playoff:
Unbelievable! Needing a birdie at the last, @JordanSpieth holes his bunker shot and posts -19 to post the clubhouse lead. #TheseGuysAreGood

— PGA TOUR (@PGATOUR) July 14, 2013
Spieth fell apart somewhat in the playoff, hitting a few shots well off the mark under pressure. But he came back in a major way with a couple of clutch shots—his recovery shot from the right rough and his impressive putt from the fringe to get to within tap-in range.
Will Spieth be a contender at the 2013 British Open?
Next up for Spieth is Great Britain. Can the 19-year-old star-in-the-making make some noise at Muirfield later this week?
If he plays with the same kind of precision and skill that he displayed at TPC Deere Run, he'll certainly be in the mix.
Follow me on Twitter @JesseReed78