5 Players Who Could Surprise at Arizona Cardinals Training Camp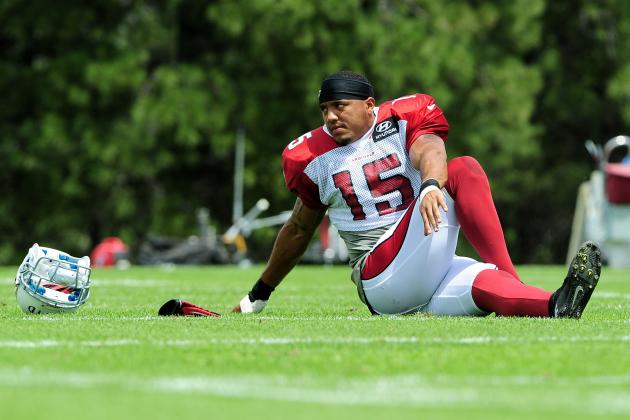 Jennifer Stewart-USA TODAY Sports
Michael Floyd and the Cardinals open camp later this month.
The Arizona Cardinals are just 10 days away from having veterans report to the start of training camp. The first practice is set for July 26, and it's the first time the team will not hold training camp in Flagstaff, Ariz.
The Cardinals will have their training camp at University of Phoenix Stadium, and fans will be able to attend any of the 17 open practices they have scheduled through August 22.
But who will the big surprise players be in training camp? Start the slideshow and find out who will surprise at camp.
Begin Slideshow

»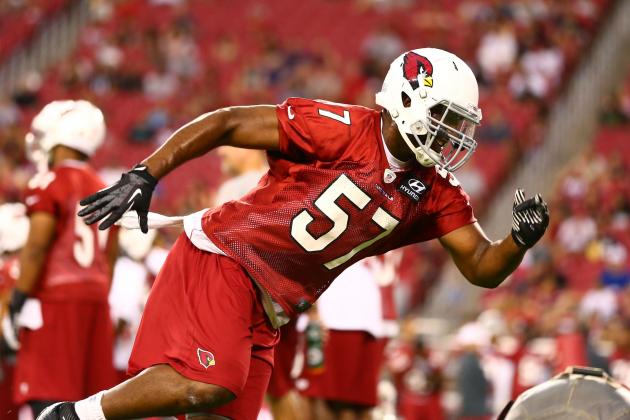 Mark J. Rebilas-USA TODAY Sports

Alex Okafor should be a candidate to surprise and stand out in training camp. Okafor, the fourth-round pick from Texas, has the size and speed to be disruptive in both the run and passing game. That well-rounded aspect should help him surprise at camp.
With his motor that doesn't quit, Okafor has the get-up-and-go the NFL requires, and his power will also make him a player to watch in camp.
Okafor knows he has the opportunity to step up and potentially claim a starting role while linebacker Daryl Washington misses the first four games of the season.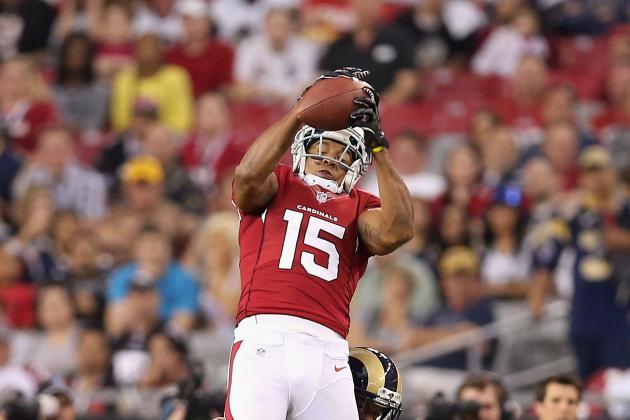 Christian Petersen/Getty Images

Second-year wide receiver Michael Floyd is a strong candidate for a player to surprise in camp.
His rookie season was rocky due to the ongoing carousel at quarterback and the inconsistency showed in his results. Floyd was limited to fewer than five receptions in 10 games in 2012, including seven games with two catches or fewer.
Arizona upgraded the quarterback position and picked up Carson Palmer in the offseason to provide stability. The stability should help Floyd produce much better numbers in 2013.
The Cardinals drafted him as a wideout to be a complement to Larry Fitzgerald. With the coaching scheme of Bruce Arians, Floyd should be lined up more on the outside, and Andre Roberts should have a crack at the slot receiver role. That move would also help Floyd in the coming season.
Floyd has been up in Minnesota with Fitzgerald and the rest of the receiving corps, as well as all three quarterbacks, to get additional work on their game. Hopefully, the extra work points to a positive surprise for Floyd in his second NFL training camp.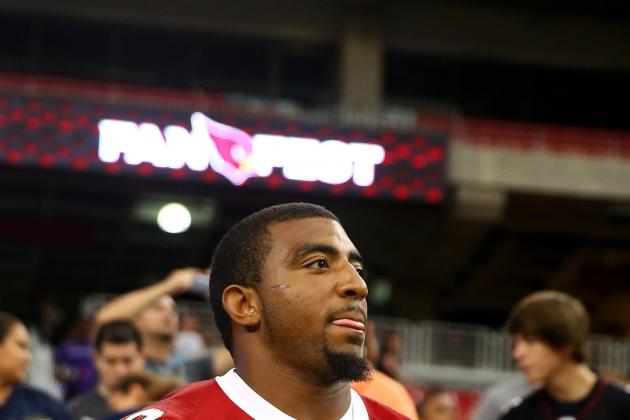 Mark J. Rebilas-USA TODAY Sports

Offensive tackle Bobby Massie had two very different halves to his rookie season of 2012.
In the first half of the season, he was getting beaten quite often and wasn't able to run block very well. In the second half, Massie was able to turn it around and perform at a much higher level.
He was still part of a leaky Arizona Cardinals offensive line that allowed a league-worst 58 sacks last season. Despite that, there is hope that he can build off of his final games of 2012 and start to help Arizona rebuild offensively. If Massie can come into training camp and start out like the player he was in the second half, he should be a very pleasant surprise heading into his second season.
Then again, after giving up that many sacks and having the worst rushing offense in the league, there really isn't anywhere to go but up.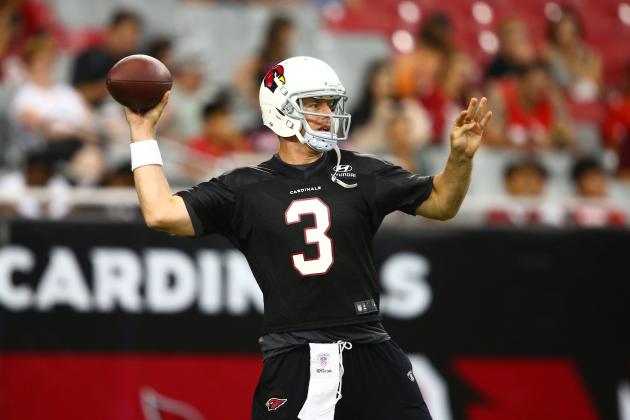 Mark J. Rebilas-USA TODAY Sports

Quarterback Carson Palmer should be a pleasant surprise for the Cardinals at camp. He brings experience and stability to the position and should walk right into the starting role.
The surprise element here comes from being able to work with a talented group of receivers that could be the best set of players he's thrown to since his time in Cincinnati. Palmer hopefully should be able to deliver and perform like he did when he first came into the league.
In 2005, Palmer threw for 32 touchdowns and 12 interceptions with the Bengals while rolling up 3,836 passing yards. Could those kinds of numbers be in Palmer's upcoming season?
Some people may have given up on Palmer since Oakland sent him to Arizona in a deal that involved sixth- and seventh-round draft picks. He'll need to be able to surprise the naysayers with steady, consistent play because the options behind him (Drew Stanton and Ryan Lindley) are thin at best.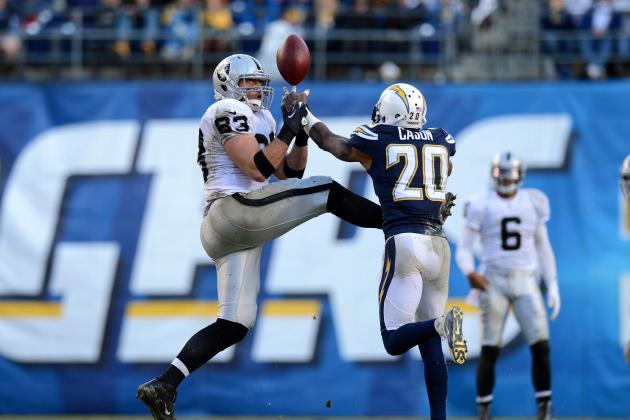 Jake Roth-USA TODAY Sports

Cornerback Antoine Cason is a Cardinal set to surprise at training camp and possibly claim the starting cornerback role opposite Patrick Peterson.
Cason signed a one-year deal, and the former Charger will compete with Jerraud Powers for that starting role. Powers is another former Colt who made the move west after Arians was named head coach.
Powers has fought with injury issues, as he has never played a full 16-game season. Last season, he only made eight appearances and has never been in more than 12 games in a season.
Cason is able to contribute more in the running game as well, and the stats show it. Cason recorded 73 total tackles last season (11 assisted), while Powers has never turned in more than 57 stops in any of his four NFL seasons. Last season, Powers had only 33 tackles in eight games, and he recorded the same number in 12 games the prior season. Each player averages two interceptions a season, so they're identical in that regard.
Cason signed a one-year, $2 million deal with Arizona in March, while Powers signed a three-year, $10.5 million contract. Perhaps the smaller contract might motivate Cason, but he should be a surprise as he battles Powers for the starting job.