Projected St. Louis Rams Final 53-Man Roster, Training Camp Edition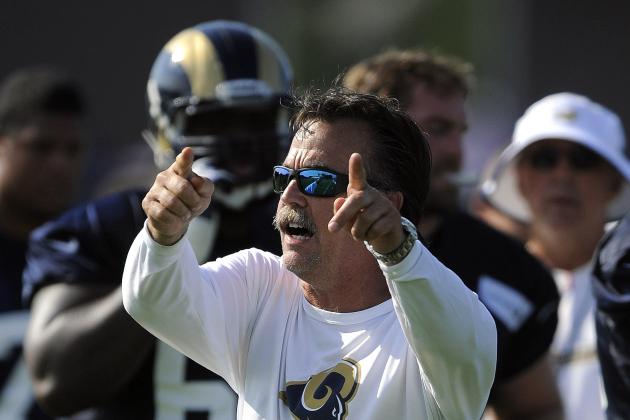 Jeff Curry-USA TODAY Sports
Head coach Jeff Fisher
The St. Louis Rams' roster is currently bloated with the 90-man maximum, but they'll only bring 53 players to the Edward Jones Dome to take on the Arizona Cardinals in Week 1.
Every year, training camp surprises us. Players who have no chance make a few plays and end up on the final roster.
It's impossible to predict the roster accurately with so many new faces and unknown commodities, but here's a glance of what the 53-man roster might look like in 2013.
Begin Slideshow

»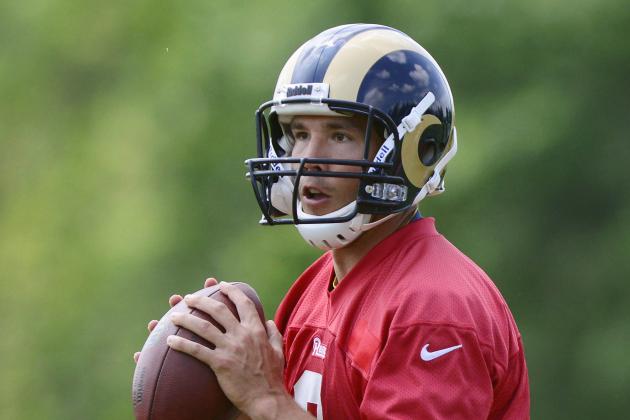 Jeff Curry-USA TODAY Sports
Sam Bradford
(3): Sam Bradford, Austin Davis, Kellen Clemens
Sam Bradford leads the Rams as the starter for the fourth consecutive year.
Kellen Clemens has been the No. 2 for the past two seasons, but expect the 30-year-old to be unseated by second-year pro Austin Davis, who's an exciting performer on the field.
Either way, the Rams will likely go into battle with three passers.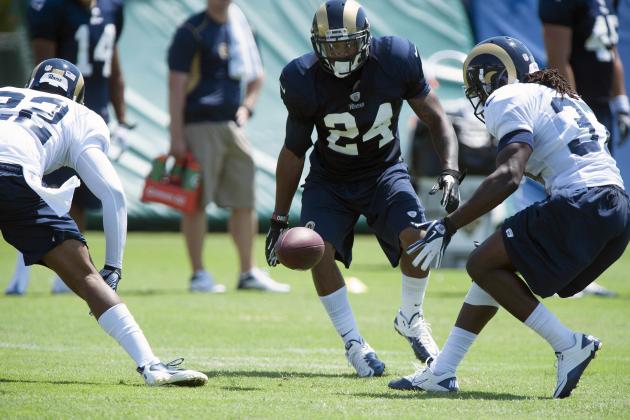 Jeff Curry-USA TODAY Sports
Isaiah Pead (center)
(4): Isaiah Pead, Daryl Richardson, Zac Stacy, Terrance Ganaway
Isaiah Pead only carried the ball 10 times as a rookie in 2012, but the second-round pick is ready to step up and embrace his role as the team's primary back.
Daryl Richardson has the most experience among the St. Louis backs, but he's strictly a third-down back. He'll see plenty of action, but he won't carry the majority of the workload.
Zac Stacy is a 216-pound back who runs like a bowling ball and will likely get a portion of the carries, but the rookie will be eased into the mix.
Terrance Ganaway is a 240-pound monster who will be utilized in short-yardage situations and on special teams.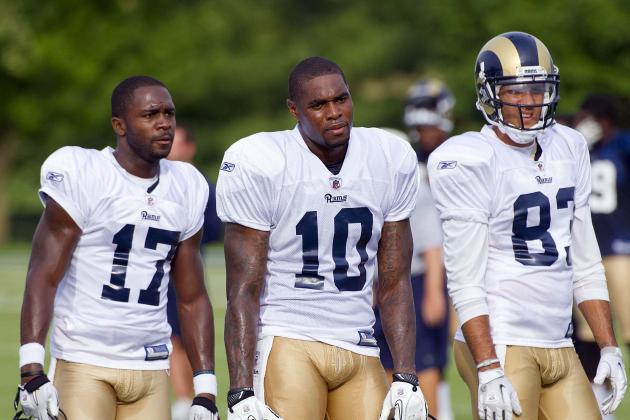 Scott Rovak-USA TODAY Sports

(5): Chris Givens, Tavon Austin, Austin Pettis, Brian Quick, Stedman Bailey
Chris Givens had 698 receiving yards in limited playing time as a rookie last season and will continue his success as the the Rams' top receiver.
Tavon Austin is an electric playmaker who will not only replace Danny Amendola in the slot but also in the return game.
Austin Pettis and Brian Quick will duke it out for the starting wideout job, but both players will see action this season.
Stedman Bailey is a rookie third-round pick who will need to prove himself before he sees the field, but he'll get enough reps to show off his skills.
Jeff Curry-USA TODAY Sports
Lance Kendricks
(3): Jared Cook, Lance Kendricks, Mike McNeill
Jared Cook will line up at receiver more than 50 percent of the time and will primarily be utilized in the passing game.
Lance Kendricks will also be used in the passing game, but he's also a solid blocker who will help the run game.
Mike McNeill made the squad last season as a part-time tight end and special teams contributor. Expect him to do the same in 2013.
Jeff Curry-USA TODAY Sports

(10): Jake Long, Shelley Smith, Scott Wells, Harvey Dahl, Rodger Saffold, Chris Williams, Joe Barksdale, Barrett Jones, Brandon Washington, Rokevious Watkins
The Rams have a tough starting five, but Jake Long, Scott Wells and Rodger Saffold have struggled to stay healthy in recent years, so the Rams will heavily depend on their depth.
Chris Williams will be the top backup for the guards, while Joe Barksdale will back up both tackle positions.
Rookie Barrett Jones, who can play anywhere on the line, will also be a valuable piece of depth. His primary role will be as the No. 2 center behind Wells.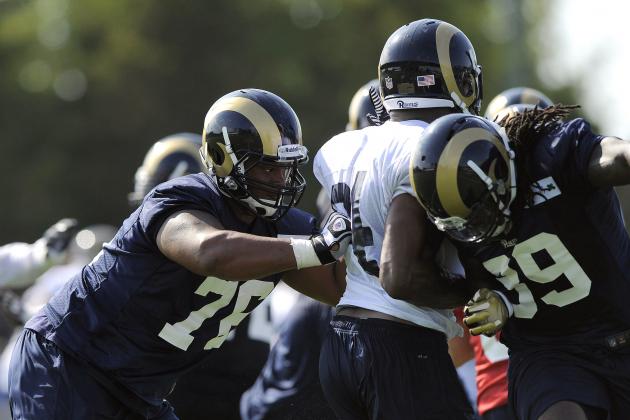 Jeff Curry-USA TODAY Sports

(8): Chris Long, Robert Quinn, Michael Brockers, Kendall Langford, William Hayes, Eugene Sims, Matt Conrath, Jermelle Cudjo
Chris Long and Robert Quinn both finished with double-digit sacks in 2012 and will likely do the same in the upcoming season.
Michael Brockers is a surprisingly effective pass-rusher out of the tackle position, and his monster 322-pound frame also helps the defense stuff the run.
Alongside Brockers is Kendall Langford, who struggled to adjust to a 4-3 scheme after coming from a 3-4 in Miami, but he'll improve in Year 2.
William Hayes is the ultimate fifth man, as he plays both tackle and end. He finished the 2012 season with seven sacks and will be a valuable weapon in the upcoming season.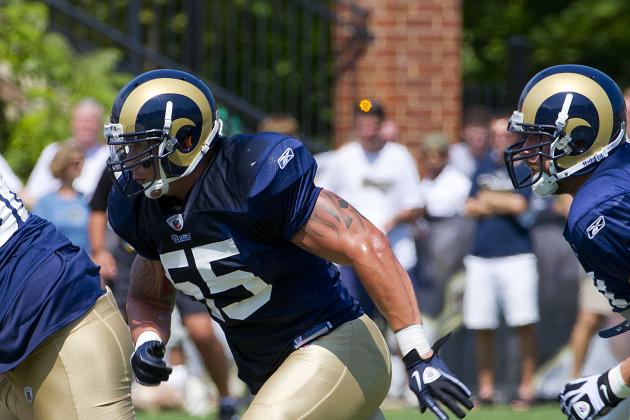 Scott Rovak-USA TODAY Sports
James Laurinaitis
(7): James Laurinaitis, Jo-Lonn Dunbar, Alec Ogletree, Josh Hull, Sammy Brown, Ray-Ray Armstrong, Will Witherspoon
James Laurinaitis, Jo-Lonn Dunbar and rookie Alec Ogletree will formulate one of the more dangerous 4-3 linebacker trios in the entire league.
Will Witherspoon, a 12-year veteran, will be the No. 4 linebacker.
Sammy Brown played at the University of Houston and was an excellent pass-rusher during his collegiate years.
Ray-Ray Armstrong is making the switch from safety to linebacker. The transition will take time, but in the meantime, he'll be a valuable special teams weapon.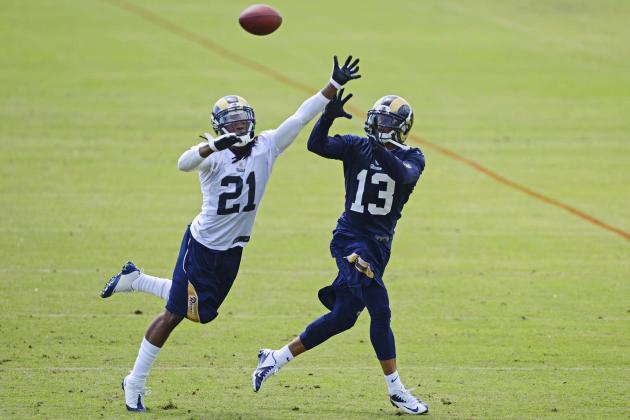 Jeff Curry-USA TODAY Sports
Janoris Jenkins (left)
(5): Cortland Finnegan, Janoris Jenkins, Trumaine Johnson, Brandon McGee, Quinton Pointer
Cortland Finnegan and Janoris Jenkins were one of the more formidable corner duos in all of football in 2012, and the same will be true in 2013.
Second-year pro Trumaine Johnson finished with two picks last season and will see plenty of action as the team's No. 3 corner. He was a player who literally got better every week last season, so he'll be exciting to watch.
Rookie Brandon McGee and Quinton Pointer will provide depth.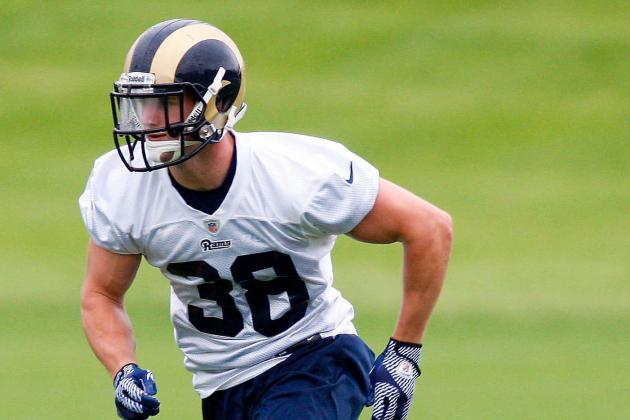 Scott Kane-USA TODAY Sports
Cody Davis
(5): T.J. McDonald, Darian Stewart, Rodney McLeod, Matt Giordano, Cody Davis
The safety position is loaded with unproven talent, but they have the potential to be a decent group.
T.J. McDonald is a hard-hitting rookie who will solidify the run defense, while Darian Stewart is a solid coverage safety.
Rodney McLeod was an undrafted rookie a year ago and will improve in his second year.
Matt Giordano was a starter for Oakland last season and has been known to miss tackles, but he gives the Rams a veteran presence up top.
Cody Davis is an undrafted rookie from Texas Tech, but he's an impressive player who should make the final roster.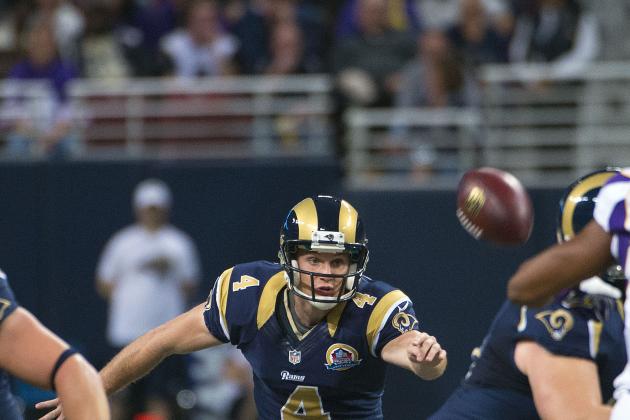 USA TODAY Sports
Greg Zuerlein
(3): Greg Zuerlein, Johnny Hekker, Jake McQuaide
Special teams will look the same as last year.
Greg Zuerlein is a dangerous kicker with insane leg strength, but he'll look to improve his accuracy in his second season.
Johnny Hekker will start as the Rams' punter, and Jake McQuaide will once again win the job as long snapper.