Fantasy Baseball: Week 16 Start 'Em or Sit 'Em Breakdown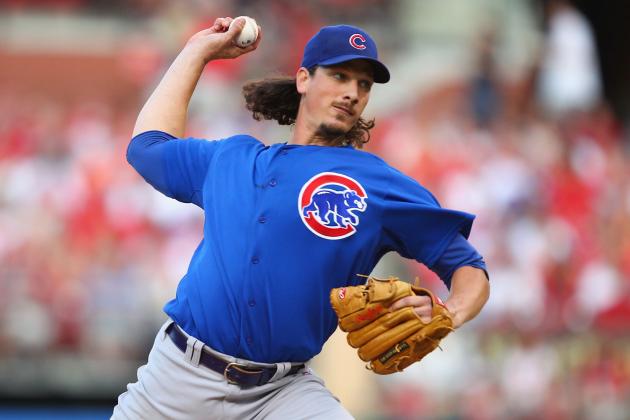 Dilip Vishwanat/Getty Images
Jeff Samardzija can use a few days off after two rough starts before the break.
The MLB All-Star Game gives fantasy baseball managers a few days to relax, but the hiatus won't wipe out the entire week.
For four days, fantasy gamers will have no lineups to set and no scores to monitor. This brief void may feel like an eternity to some devoted owners, and it doesn't help that many teams are taking their sweet time announcing their post-break probable pitchers.
Real baseball resumes on Friday, so the clock is not ticking as sharply as other weeks to cement a lineup. That doesn't mean, however, that we can't proceed with business as usual.
It's not possible in some circumstances to assemble a complete lineup for the weekend slate of games following the All-Star festivities, but many owners are creatures of habit. The week doesn't truly start before locking in a lineup.
Can certain pitchers who entered the break on fire keep the momentum going? Will slumping hurlers return from the break stronger than before? Let's take a look at some interesting pitchers scheduled to take the mound this weekend.
Note: All Statistics, unless otherwise noted, are courtesy of FanGraphs.com.
Begin Slideshow

»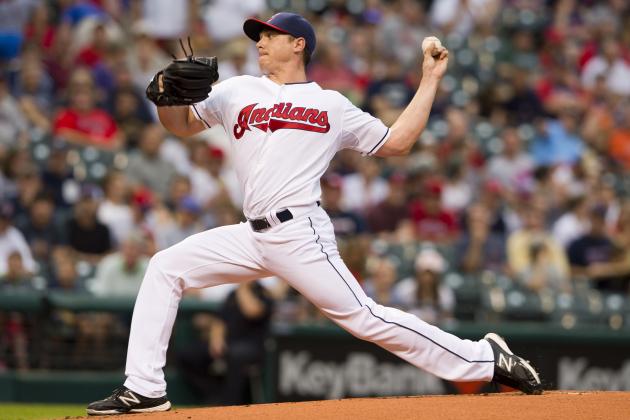 Jason Miller/Getty Images
Scott Kazmir has not stayed healthy this long since 2010.
Scheduled Start: Friday at Minnesota Twins
Former future ace turned afterthought Scott Kazmir broke out of his grave to snatch a spot in Cleveland's starting rotation. While the results have fluctuated, Kazmir's name belongs back in the Rolodex of usable starting pitchers.
You don't want to live and die with a guy sporting a 4.60 ERA and 1.37 WHIP. Heck, you probably don't want to own him on a regular basis in standard mixed leagues. But he's interesting in the right scenario.
The 29-year-old lefty has occasionally displayed what once made him such a premier prospect. His 92.2 mph average fastball velocity compares to his rate from 2007, when he fanned 239 batters for the then Tampa Bay Devil Rays.
That speed has yielded results outside the radar gun; he registered a 8.37 K/9 ratio during his initial 16 starts. His 42 percent ground-ball rate is also his highest rate since 2007, so there's still some left in the tank.
Good enough to circumvent the Minnesota Twins? Probably. In two prior starts against Minnesota this season Kazmir has scooped up two wins, striking out 14 batters with one walk in 13 innings. Bet on his third go-around also transpiring smoothly.
Verdict: Start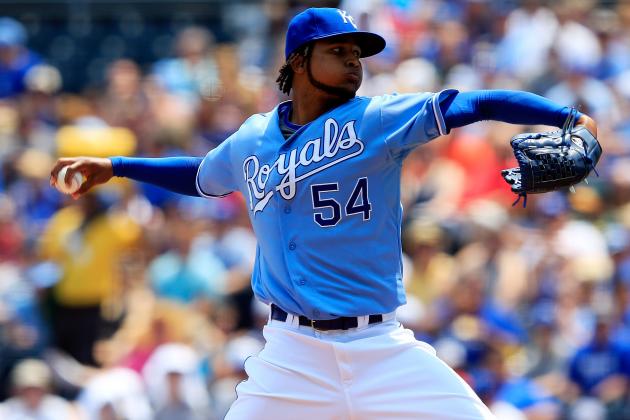 Jamie Squire/Getty Images
Despite a strong half, Ervin Santana is entering the break on a sour note.
Scheduled Start: Friday vs. Detroit Tigers
While we're on the subject of former star pitchers...
We need to concoct a new word to rightfully describe how awful Ervin Santana was last year. Terribad? Awfible?
Santana posted a 5.16 ERA, 5.63 FIP and minus-0.9 WAR (per FanGraphs) last year, enough to coerce the Los Angeles Angels to pawn him off to Kansas City during the Royals' desperate quest for starting pitching. Good move.
The 30-year-old has undertaken a complete 180, mostly by slashing his 3.08 BB/9 rate to 1.98. He now has a shiny 3.37 ERA and 1.11 WHIP despite collecting only five victories for his masterful pitching.
This is where the bad stuff comes. A .266 BABIP and 76.5 percent strand rate has helped Santana outperform his 3.89 FIP, and his decline has already begun.
Through his past four outings, Santana has relinquished 17 earned runs during 24 innings. While his full body of work would usually lead to preaching caution here, he has a ferocious opponent waiting in the Detroit Tigers, who enter the break ranked second in runs scored.
Give Santana the week off while attempting to fetch some value for him on the trade market.
Verdict: Sit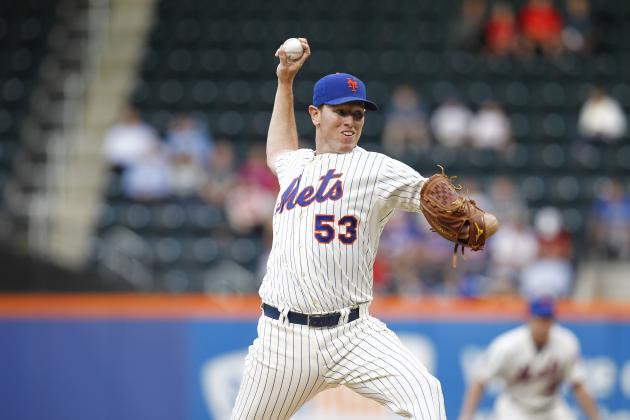 Jeff Zelevansky/Getty Images
Jeremy Hefner is one of baseball's hottest pitchers heading into the All-Star break.
Scheduled Start: Friday vs. Philadelphia Phillies
Now we'll move on to a no-name wildly exceeding all reasonable expectations.
The secret that is Jeremy Hefner is slowly unraveling but not nearly at the appropriate speed. Despite boasting a 3.33 ERA and 1.15 WHIP, he remains owned in only 28 percent of Yahoo! leagues.
Hefner has compiled a 1.76 ERA and 0.98 WHIP over his past eight starts, but the anticipated bull rush to buy his stock has not commenced. Sure, he's a 27-year-old who entered the majors with little fanfare. And yeah, the 4.24 FIP and .257 BABIP indicate that his torrid stretch won't last.
For now, let's just enjoy the ride.
Hefner has leaned more on his slider in 2013 to prolific results. The pitch, which he now employs 22.3 percent of the time, has netted a PITCHf/x value of 10.8. Maybe part of this improbable surge has some substance behind it.
He'll look to keep the good times rolling against the Philadelphia Phillies. While they can sometimes disguise themselves as a decent offense in Citizens Bank Park, it's much harder for them to keep afloat in more spacious confines.
Philadelphia sports a .387 team slugging percentage on the road this season, and Hefner has utilized Citi Field to his advantage with a 2.68 ERA at home. Give Hefner a chance to nab a spot on your squad.
Verdict: Start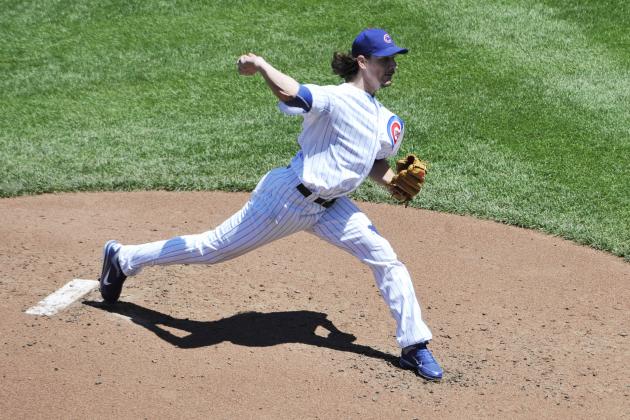 David Banks/Getty Images
Is Samardzija too good to sit?
Scheduled Start: Friday at Colorado Rockies
No matter who you are, you never want to see "at Colorado Rockies" listed in your itinerary.
That is precisely what Jeff Samardzija faces this week, and it could not come at a worse time. The strikeout fiend limped to the All-Star break, surrendering 25 baserunners and 14 runs during his last two starts.
With Coors Field waiting for him, should Samardzija's owners banish him to the bench?
Samardzija is a tricky case that continues to confound owners anticipating his ascendance into ace territory. While he continues to strike out more than a batter per inning, he also commonly torpedoes his numbers with the occasional series of terrifying outings.
His 3.38 xFIP represents a carbon copy of last year's output, but his ERA can never seem to stay that low. The mark, which finished at 3.81 in 2012, has now climbed to 4.06 entering the Midsummer Classic.
Normally a guy who never exists in the thought stream while corralling pitchers for such a column, Samardzija is way too good to abandon after two ugly outings. That makes it all the more tougher to recommend sitting him against the Rockies, who hit .282/.341/.458 at home.
But barring another complete meltdown, he belongs right back in your lineup next week, where he should remain for the rest of the 2013 season.
Verdict: Sit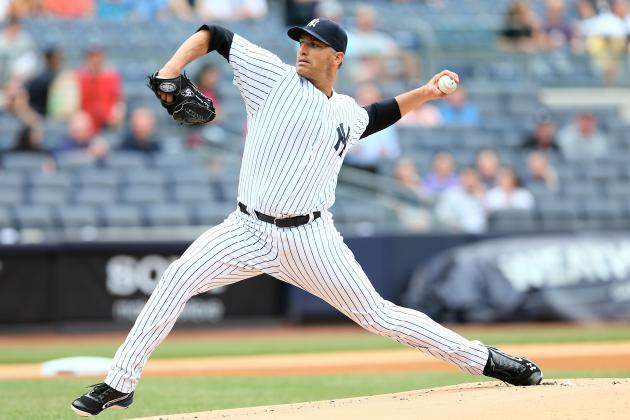 Elsa/Getty Images
It's time to cut ties with Andy Pettitte in standard fantasy leagues.
Scheduled Start: Friday at Boston Red Sox
So let's get this straight: Andy Pettitte is owned in more Yahoo! leagues than Hefner, Phil Hughes, Corey Kluber, Rick Porcello and Eric Stults.
Umm, why? Are we looking at the same 41-year-old pitcher with a 4.39 ERA and 1.37 WHIP?
Is it his incredibly average 6.50 K/9 ratio that's driving all you boys and girls wild? Or is it just that there are several fantasy newbies out there who roster him simply because he's a familiar name who pitches for the New York Yankees?
Since so many of you own him, I might as well use this space as a warning cry to bench him against the Boston Red Sox.
Pettitte has allowed four or five runs in seven of his last eight outings, with the only exception coming at Safeco Field. That stretch also yields just 32 strikeouts through 49 innings.
There's really no reason to own Pettitte in your run of the mill, 10- or 12-team mixed league, so there's especially no reason to run him out against the Red Sox, who have compiled more runs than any team in baseball.
Over his long career as a Bronx Bomber tangling against the Sox, Pettitte holds a 1.57 WHIP in 100 career innings pitched at Fenway Park. The veteran can still hold his own for the Yankees as a pitcher who will bend but not break. For fantasy owners, that simply won't do.
Verdict: Sit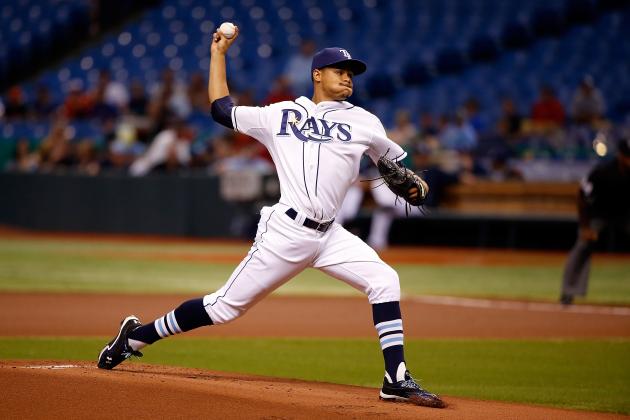 J. Meric/Getty Images
Chris Archer ended the midway mark with a complete game shutout.
Scheduled Start: Sunday at Toronto Blue Jays
Sterling Archer's long-lost brother is beginning to raise some eyebrows for Tampa Bay, who has yet again harnessed other talented young pitcher.
After a lackluster start to his pro career, Chris Archer now holds a 2.96 ERA through 51.2 major league innings. Most of the damage occurred during July, where he has allowed two earned runs in three games, including a complete game shutout against the Houston Astros on Sunday.
Before getting too giddy over Archer, let's take a closer look at the small sample size.
The ERA is great, but that's all he has going for him. Archer's 6.97 K/9 rate is decent yet unspectacular, his 3.66 BB/9 ratio is concerning, and the 4.22 FIP and .231 BABIP should ignite some suspicion about whether he can keep this up.
We should also consider the competition that has put Archer on the fantasy map. He handled the Twins and took care of the Astros twice, so the opposition has not been too steep.
The Toronto Blue Jays, on the other hand, rank second in home runs and figure to provide Archer with a more challenging test. He needs to pass this exam before earning the trust of mixed-league owners.
One who starts Archer this week at Toronto is broaching dangerous territory. One might dare to refer to it as a zone of danger. A danger zone, if you will.
Verdict: Sit (Start in AL-only leagues)