WWE Money In The Bank 2013: Live Results, Reaction and Analysis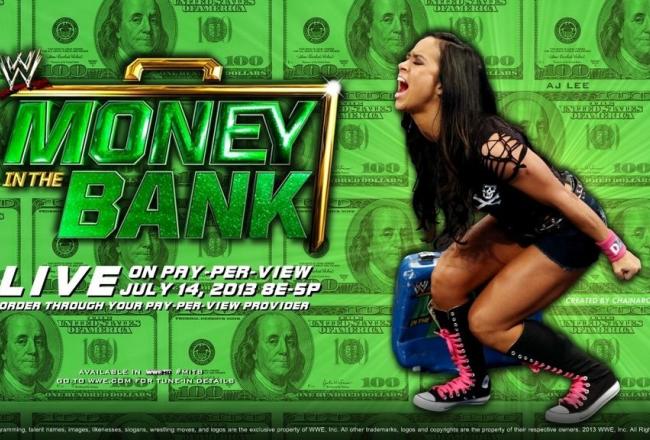 WWE.com

Welcome to the Bleacher Report live coverage of Money in the Bank 2013. The event emanates from the Wells Fargo Center in Philadelphia, Pennsylvania.
This year's MITB is stacked with the two signature ladder matches and five title matches. We also have Chris Jericho against Ryback in a match where the result will be a good indicator of Ryback's future.
Even with all that gold on the line, the two ladder matches are the main focus of this event. Two men will walk out with briefcases containing guaranteed title shots at the time and place of their choosing.
We could even see someone cash in the same night or the following night on Raw. The different possibilities this event presents make this one of the most unpredictable nights of the year.
While the All-Star MITB match contains a few former winners, the World Title MITB match only has one past winner, so there is a very good chance of seeing at least one first-time briefcase winner.
Other than John Cena, every Money in the Bank winner has cashed in and won the title, so winning tonight will almost certainly guarantee a title reign for that person.
The All-Star MITB also has a bit of a surprise element to it since Kane has been taken out of the equation. WWE has not announced the name of the final participant yet, so we could see another big return besides Rob Van Dam, or possibly even one of the losers in the WWE or World title match.
Here is a quick rundown of the card as it currently stands.
The Shield (c) vs. The

Usos

(Tag Title Match on the

Pre

-Show)
Chris Jericho vs.

Ryback

Curtis Axel (c) vs.

Miz

(

IC

Title Match)
AJ Lee (c) vs. Kaitlyn (Divas Title Match)
Alberto Del Rio (c) vs. Dolph

Ziggler

(World Title Match)
John

Cena

(c) vs. Mark Henry (

WWE

Title Match)

TBD

vs. Randy Orton vs. CM Punk vs. Daniel Bryan vs.

Sheamus

vs. Christian vs.

RVD

(

WWE

Title

MITB

Match)
Wade Barrett vs. Cody Rhodes vs. Damien

Sandow

vs. Fandango vs. Jack Swagger vs. Antonio Cesaro vs. U.S. Champion Dean Ambrose (World Title

MITB

Match)
Two different teams are in the World Title MITB Match together, so we could see some partners turn on each other when they end up on opposite sides of the ladder. We could also see the Wyatt Family make an appearance. Anything could happen.
Make sure to bookmark this page and come back Sunday at the start of the pre-show for live coverage of all the action as it happens on pay-per-view.
Before the show starts, feel free to share your predictions for the show below.
Thanks for reading, and follow me on Twitter @BR_Doctor.
I went 5-3 with my predictions for the show, but I am most happy I predicted Orton to win the MITB match. How did you guys do?
Excellent, innovative, intense main event. I just hope no one was seriously hurt. Those #MITB matches are downright nasty on the human body.

— Mick Foley (@realmickfoley) July 15, 2013
Punk is being looked at for a cut outside the ring while Orton celebrates with the red briefcase atop the ladder.
Lets recap. No titles changes hands, Ryback defeated Chris Jericho and Randy Orton and Damien Sandow won the two briefcases.
This PPV had some great action. Saying which match was the outright best match of the night would be a hard call to make.
The turn by Paul Heyman on CM Punk assures us that Heyman will be in Brock Lesnar's corner for their eventual match.
Monday night on Raw we could see a possible cash in by one of the winners if a champion is left vulnerable, or it could take several months. You never know with the MITB cases.
RVD's return certainly allowed him to have a few cool spots, but hopefully we get to see him in some singles matches in the coming weeks.
SummerSlam is the next PPV, so expect WWE to start building new feuds on Raw.
Thanks for joining me for coverage of Money in the Bank 2013. Which match do you think stole the show?
WWE Title MITB Match Part 5
Randy Orton is all alone in the ring, and he climbs up the ladder to get the briefcase and win the match.
Winner: Randy Orton
WWE Title MITB Match Part 4
Sheamus ends up tipping over the ladder RVD is on to stop him from winning. Bryan comes in out of nowhere and starts kicking Sheamus and RVD.
Bryan goes on a roll and takes out everyone, including CM Punk into some ladders with a suicide dive. Bryan knocks Sheamus from the top turnbuckle down through the big ladder he set up earlier.
Bryan climbs to the top of the ladder, but Curtis Axel comes out of nowhere with a chair and stops Bryan. He takes Bryan outside the ring and drives his face into the floor.
Punk grabs Axel and hits him with a GTS to the delight of the crowd. Heyman comes out and yells at Axel about messing with Punk, even though he is out cold.
Punk gets in the ring and starts to climb a ladder. Heyman cheers on Punk as he slowly climbs up the rungs of the ladder. Heyman gets in the ring and uses a ladder to hit Punk off the ladder he is climbing.
Punk looks confused as Heyman takes the ladder and hits him right in the face with it before walking away. Heyman is now officially against Punk.
RVD comes in and climbs up the ladder. Orton pulls him off into an RKO. That spot was awesome!
WWE Title MITB Match Part 3
Sheamus and Bryan end up on top of the ladder slugging it out. The crowd chants No to Sheamus' hits and Yes to Bryan's.
Sheamus knocks Bryan down, but Punk is able to stop Sheamus from grabbing the briefcase and winning the match.
Sheamus is against the ladder in the corner and Punk hits him with the running knee. Punk gets behind the ladder and uses it to squash Sheamus on the mat.
Orton comes in and starts taking it to Punk. The look on Punk's face before Orton T-Bone suplexed him into the ladder was priceless.
Orton drops Punk with a DDT and he is all alone in the ring until Christian comes in and Spears him. He then Spears Bryan off the apron and sets up a ladder to climb.
RVD comes in with another ladder and knocks Christian down with it. The crowd chants for tables as Christian and RVD keep fighting.
RVD ends up on top of a ladder and he hits Christian with a Five-Star Frog Splash.
WWE Title MITB Match Part 2
Christian takes out a bunch of people with a ladder. He even uses a step stool to take out Orton.
Christian sets up the ladder and Sheamus is there to cut him off. Sheamus tries to go up the ladder, but RVD knocks him off and he falls onto the side of the ladder.
Sheamus sets up a big ladder between the ring and the announce table. He grabs Bryan to put him through it, but Bryan counters out of it and comes off the apron with two knees to the face of Sheamus.
Orton and Punk fight on one of the ladders inside the ring. Christian comes in and joins the fight, followed by Bryan with another ladder.
All six men end up on the two ladders reaching for the briefcase, but the ladders fall and everyone goes down with them.
Sheamus is up first and he starts taking out everyone with his signature moves.
WWE Title MITB Match Part 1
Not a single one of these guys is clean-shaven. Just thought that was funny and should mention it.
The bell rings and everyone looks at RVD. He poses before everyone takes him out and sends him out of the ring.
Everyone teams up on Sheamus next and it is down to four men in the ring. Christian locks up with Punk and Bryan goes after Orton.
Christian and Orton get sent out of the ring and Bryan squares off with Punk after they knock RVD into a ladder. They go after each other with kicks and forearms.
Sheamus comes in with a ladder and takes out both men. He takes out Christian too, but Orton comes in and dropkicks him with the ladder.
RVD comes off the top rope with a kick to Sheamus before he goes after Punk. RVD takes it to everyone in the ring with a flurry of his signatures.
Remember when Orton almost killed RVD with an RKO?
RVD looks like he is in great shape at the moment. RVD gives Justin Roberts a big hello after his intro. He soaks up the crowd response for a bit before Christian comes out next.

The rest come out in the following order; Daniel Bryan, Randy Orton, Sheamus and CM Punk.
Somebody in the crowd wants Dr. Shelby.
RVD is out first for the match, and he gets a massive pop, as expected.
A recap of Kane being taken out by The Wyatt Family is shown before we go to the final match of the night, the WWE Title MITB Match.
Cena vs. Henry (WWE Title Match) Part 3
Cena goes to the top rope and dives right into Henry's arms for a World's Strongest Slam. Cena barely kicks out at two and Henry is pissed.
Henry grabs a pair of steel chairs despite the ref's warning. Scott Armstrong grabs the chairs and throws them out of the ring.
Henry removes a turnbuckle cover, but Cena runs Henry into it and then locks in the STF. Henry crawls to the ropes and breaks the hold.
This match is getting better as it goes, but it started out slow. Henry shoves Cena into the ref and then hits Cena with a low blow. Cena still kicks out at two.
Cena counters a WSS into an STF. He ends up dragging Henry to the middle of the ring and Henry taps.
Winner: John Cena
I never thought Henry would win the match, but the last half was much better than I anticipated.
Cena vs. Henry (WWE Title Match) Part 2
Cena tries to build a little offense, but Henry knocks him down with one shot. Henry grabs Cena and whips him around the ring before letting go and sending Cena crashing to the mat.
Henry sends Cena into the barricade and Cena barely makes the count back in. Cena tries to lift Henry for a body slam, but he falls back and Henry gets another near fall.
Cena starts to fight back and he takes Henry down after two running shoulder tackles. He barely gets Henry up for a side suplex before hitting the Five Knuckle Shuffle.
Henry gets up and Cena tries for the AA, and falls forward again. Henry gets another near fall. Cena barely counters a move into a DDT.
He goes for the AA again, and this time he hits it, but he only gets a two count.
John Cena vs. Mark Henry (WWE Title Match) Part 1
Neither man really gets a positive reaction from the crowd. Justin Roberts gives the official introductions before the bell rings and the match gets underway.
Henry hits a knee lift to start things off. He puts Cena in the corner and yells at him. Henry whips Cena into the corner as dueling Cena chants break out.
Henry smashes Cena in the corner for a one count. They take the fight to the outside and Henry drops Cena cross the steel steps ribs first.
Henry rolls him in for another near fall. Henry crushes Cena against the ring ropes as he slides to the outside.
The WWE Title match is up next, which makes it impossible to see a surprise cash in tonight at this point.
We go to a video package for Mark Henry and John Cena.
Somebody brought a Funaki sign!
JBL is upset that we didn't get to see a clean finish, and I have to agree. Del Rio celebrates as Ziggler argues with AJ in the ring. Ziggler leaves the ring with AJ standing in the ring screaming she is sorry.
The crowd chants "You screwed Ziggler" as we cut out to a National Guard video.
Ziggler vs. Del Rio (World Title Match) Part 3
Del Rio counters a fame-asser with a German Suplex for a close two count. Ziggler ducks a kick in the corner and hits the second attempt for another near fall.
Del Rio hits a nice tilt-a-whirl backbreaker for another close two count. This match has been very entertaining so far.
Del Rio goes to the top rope, but he jumps off into a dropkick from Ziggler. Ziggler gets yet another close two count.
AJ's music hits and she skips her way out, confusing Ziggler. Ziggler tries to tell her to leave and she looks upset. Ziggler hits a beautiful jumping DDT for another two count.
Del Rio ends up hitting a reverse superplex to Ziggler for another two count. The crowd chants for Ziggler again as Del Rio calls for the CAB.
He nails Ziggler with a kick to the face after a quick exchange and gets a close near fall. AJ is still watching from ringside as Del Rio lines up for another kick.
Ziggler blocks it and AJ comes in the ring and nails Del Rio with the Divas title, causing a DQ.
Winner: Alberto Del Rio
Ziggler is beside himself.
Ziggler vs. Del Rio (World Title Match) Part 2
Ziggler drops 10 elbows on Del Rio before knocking him out of the ring. He slams Del Rio's head into the apron before rolling him back in.
Del Rio hits Ziggler with a kick to the head as he tries to get in the ring. He grabs Ziggler and throws him into the barricade to take control.
Del Rio locks Ziggler in a headlock. Ziggler fights out and ends up hitting a dropkick. Del Rio sidesteps Ziggler and Ziggler's head bounces off the ring post. The sound Ziggler made when he hit was pretty nasty.
Lets go Ziggler chants break out as Del Rio continues to control the match. Del Rio mocks Ziggler before trying for a dropkick, but Ziggler moves and Del Rio goes right through the ropes.
Del Rio pulls Ziggler down over the top rope, but when he climbs to the top rope, Ziggler runs up and pulls Del Rio off the turnbuckle to land face-first on the mat.
Ziggler crawls over for a cover, but Del Rio kicks out.
Dolph Ziggler vs. Alberto Del Rio (World Title Match) Part 1
The video ended with an image of Ziggler holding up the title. I wonder if that foreshadows his victory. Ziggler is out first to a decent reaction, but not as big of a pop as I expected.
It seems like he has a new color shirt every week these days.
Del Rio is out, and it just doesn't feel the same without Ricardo Rodriguez being there to announce his name. He will be back in a couple weeks.
Lilian Garcia gives the official introductions. Ziggler gets a good response when she says his name.
The bell rings and Ziggler chants break out right away. Ziggler nearly wins with a roll up right away and then he mocks Del Rio.
Del Rio takes Ziggler down with a back elbow for a one count. He starts in one the arm of Ziggler to set up for the Cross Armbreaker. Ziggler gets up and nails a dropkick for a two count.
Ziggler hits a corner splash for another near fall. The crowd chants his name once again.
The World Title Match is up next. Who predicts Sandow will cash in right away tonight?
Ryback vs. Jericho Part 3
Jericho misses a Lionsault and Ryback rolls him up for a pin and the win.
Winner: Ryback
It looks like Ryback is still on WWE's list of pet projects.
Ryback vs. Jericho Part 2
Ryback comes off the middle rope with a splash for a near fall. Ryback takes Jericho off the apron with a forearm, and Jericho goes between the announce tables and hits his ribs on the way down.
Ryback throws Jericho across the ring by his head before putting him back in a headlock.
Jericho comes back with a Northern Lights suplex for a near fall. He tries for the Walls of Jericho, but Ryback kicks him off.
Ryback stumbles into a kick, but he catches Jericho coming off the top rope for a belly-to-belly suplex. Ryback lays out Jericho with a Meat Hook before he calls for Shell Shocked.
He gets him up, but Jericho fights out. He tries for a Codebreaker, but Ryback counters and hits a powerbomb for a near fall.
Jericho ends up hitting a Codebreaker to Ryback while he is on the apron, and Ryback falls to the floor. The ref starts the count, but Ryback makes it back in by 9.
Jericho comes off the top with a cross body for a near fall. Jericho counters Shell Shocked into a DDT for a close two count.
This article is
What is the duplicate article?
Why is this article offensive?
Where is this article plagiarized from?
Why is this article poorly edited?