7 Underused WWE Superstars Who Need More Exposure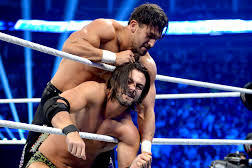 Photo courtesy of WWE.com
The WWE currently has a loaded roster, which is a good "problem" to have.
Unfortunately, a roster that's stacked from top to bottom does result in one major actual problem: stars getting lost in the shuffle.
Because the WWE has so many Superstars and a limited amount of TV time to spotlight those stars, plenty of talented guys aren't getting enough exposure or—when they are getting exposure—aren't getting good exposure.
While it's understood that not everyone can be pushed at the same time, certain stars are undoubtedly getting the shaft because the creative team can't find a good TV spot (or any TV spot) for them.
Although you could make a case that dozens of Superstars deserve better than they're getting, let's take a look at seven who undoubtedly need more quality exposure.
NOTE: This list will not include any Superstar who is currently out of action with an injury. There's simply no way to tell how much exposure an injured star might be getting if he were fully healthy.
Begin Slideshow

»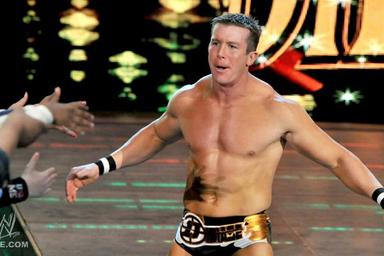 Photo courtesy of WWE.com
Remember Ted DiBiase?
Once a rising star as a member of Randy Orton's Legacy faction, DiBiase has completely fallen off the map, going from someone who was deemed a "future main eventer" to a complete afterthought on WWE programming.
Honestly, it's hard to remember the last time DiBiase was on TV at all, much less involved in an important angle or feud. For all intents and purposes, he's done nothing of note since his late 2011 feud with Cody Rhodes.
You have to think there's something going on behind the scenes that has resulted in DiBiase steadily declining over the last several years, or perhaps the WWE just doesn't see much potential in him.
While DiBiase isn't the greatest overall performer (he struggles a bit as a talker), he developed a solid fan-friendly gimmick (remember the DiBiase Posse and tailgating parties?) and has shown he's a very good in-ring performer.
A main event run is totally out of the question at this point, but whether he's face or heel, DiBiase could certainly bring some value to the midcard.
After all, he's only 30 years old, so he's in the prime of his career right now—well, he would be if he were on TV, that is.
The Prime Time Players are grouped with Epico and Primo here because their respective TV absences combine to perform a bigger problem: a struggling tag team division.
The Shield is currently holding the WWE Tag Team Championship, but Seth Rollins and Roman Reigns have lost a ton of momentum because they don't have enough quality opponents to feud with.
The WWE is doing the right thing by trying to build up the Usos as legitimate threats to The Shield (although most aren't buying them yet), but it needs to do more than that. It needs to make the Prime Time Players, as well as Epico and Primo, matter again.
Darren Young and Titus O'Neil form a very charismatic and entertaining duo that—although not great in the ring—could easily perform well as either a face or heel tag team if given consistent TV time. Meanwhile, Epico and Primo are very talented in-ring performers who could do exactly the same.
No one expects any star in either of these tag teams to be a main event talent at any point, but that's exactly why they belong in the tag team scene, where they can improve tag team wrestling in the midcard.
Tag team wrestling definitely has a place in the WWE, but it won't mean much if teams like Epico and Primo and the Prime Time Players don't get more TV exposure.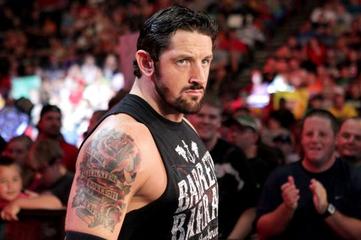 Photo courtesy of WWE.com
Wade Barrett hasn't been underused so much as he's been misused over the course of the last few years.
Back in 2010, this guy was involved in main event angles with the likes of John Cena and Randy Orton and was one of the featured acts on WWE programming. Since then, however, he's taken a giant plunge down the card.
Whether it was a failed run with The Corre, two horrendously booked Intercontinental Championship reigns or countless losses, Barrett doesn't have anywhere near the momentum he had just a few short years ago.
He's lost an absurd amount of TV matches in 2013, and, perhaps more importantly, he's had no meaningful feuds and virtually no mic time at all during that span. Unsurprisingly, his career is stagnating as a result.
When it comes to Barrett, fixing his issues is more about giving him quality TV time and using him properly than it is about getting more TV time. He appears on TV pretty consistently (although he's appeared less frequently recently), but that doesn't mean much if he's booked like crap when he does get on either Raw or SmackDown.
Barrett has all the talent in the world and is one of the WWE's best overall performers. It's time the WWE cuts out all the nonsense and treats him as such.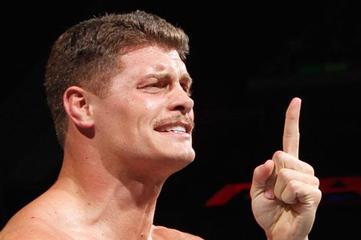 Photo courtesy of WWE.com
Cody Rhodes has long been associated with words and phrases like "potential," "rising star" and "future world champion."
But at least so far, the WWE is failing to allow Rhodes to live up to his potential.
Sure, Rhodes has shown some promise from time to time, like a couple of years ago when he was quickly rising up the ranks on SmackDown. Over the course of the last year-and-a-half, however, he's taken a backseat to a number of other up-and-coming heels.
Rhodes has had virtually no meaningful feuds or angles during that span. He's often jobbed to the WWE's biggest stars. He's consistently lost. He's struggled to get any meaningful mic time.
While Rhodes is on TV more than a lot of other midcard and lower-card workers, that TV time hasn't been used correctly. Rather, it's turned him from a promising star to a glorified jobber who almost never wins anymore.
Rhodes is still only 28 years old, so his situation isn't as bad as some others on this list. But he's been stuck in a rut for so long now that it's hard to imagine him getting out of it.
That's a real shame, too. He's a tremendous talent who can truly do it all, and if he's ever given a legitimate chance of being elevated, there's no doubt he'll take the ball and run with it.
It looks like Rhodes could be getting a major opportunity after his incredible performance at Money in the Bank, with a looming face turn likely. Let's just hope the WWE capitalizes on a golden opportunity.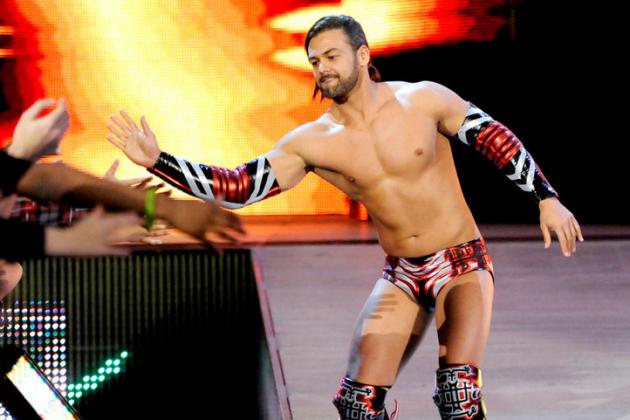 Photo courtesy of rockingmania.com
In a WWE where many Superstars are cut from the same mold, Justin Gabriel definitely stands out from the pack.
He looks different. He wrestles different. He sounds different. But that has gotten him virtually nowhere.
Gabriel had a lot of success early on as a member of heel factions The Nexus and The Corre, but ever since he last held the WWE Tag Team Championship in 2011, he's been stuck as someone the WWE clearly has no idea what to do with.
He's spent most of his time jobbing to midcard heels or being left off of TV altogether, which is rather unfortunate. He's a natural babyface who is incredibly athletically gifted and does things in the ring that no one else can.
The WWE has really struggled to find enough quality midcard babyfaces to feud with its countless midcard heels, but it's got one right in front of its face in Gabriel.
Gabriel won't ever be confused for a great talker, but he's charismatic, likeable, athletic and good in the ring—all qualities that make him a perfect candidate for a potential secondary champion or title contender.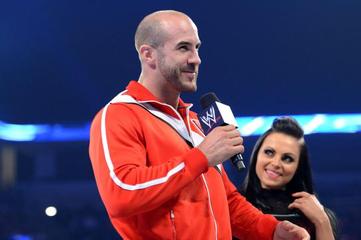 Photo courtesy of WWE.com
On paper, a 239-day reign with the United States Championship sounds pretty good and seems like a sign the creative team has a lot of confidence in you.
In reality, Antonio Cesaro knows that isn't the case.
Cesaro held that US title for almost eight months, but it was a totally lackluster reign that hurt him more than it helped him. It featured no noteworthy feuds and saw Cesaro lose too many non-title TV matches to count.
Although Cesaro put on countless quality matches during that span, his title reign ruined him. It turned him into a loser, resulted in him disappearing from TV for a short span and has now forced the WWE to try to build him back up.
Cesaro is now being paired with Zeb Colter in order to do that, but there hasn't been a whole lot to suggest it will work, and Cesaro still isn't getting nearly as much TV time as he should be.
Cesaro is one of the most physically impressive Superstars in the WWE and one of the company's best in-ring performers, but he has never been treated as such.
That needs to change, and it needs to change soon, or the WWE will run the risk of ruining the career of a potentially great Superstar.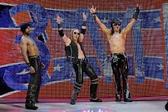 Photo courtesy of WWE.com
Drew McIntyre has taken a dramatic plunge since his early days as "The Chosen One."
Just a few short years ago, McIntyre was deemed a "future world champion" by Vince McMahon himself. Now, he's a wannabe rock star who only appears on TV randomly and looks stupid when he does.
It's been an incredible fall from grace for McIntyre, who has all the physical tools to succeed in the WWE. He's got the look, the in-ring talent and the size to be a main event guy, but, for whatever reason, he's being held back.
There's a very good chance McIntyre's time with 3MB has ruined him. But if you want to look at things optimistically, he's still only 27 years old, so things could turn around for him.
For his sake, let's hope they do.
It doesn't get much worse than being portrayed as a joke on TV like McIntyre has been—well, maybe it does when Triple H buries you in a backstage Raw segment.
That's how far McIntyre has fallen, and now he's faced with the seemingly impossible task of digging himself out of a deep hole and building himself back up.
That's easier said than done, though, and it will take a ton of help from the creative team in order for McIntyre to successfully do it.
Drake Oz is a WWE Featured Columnist for Bleacher Report. Follow him on Twitter!