SuperSport vs. Manchester City: 5 Things We Learned from Preseason Friendly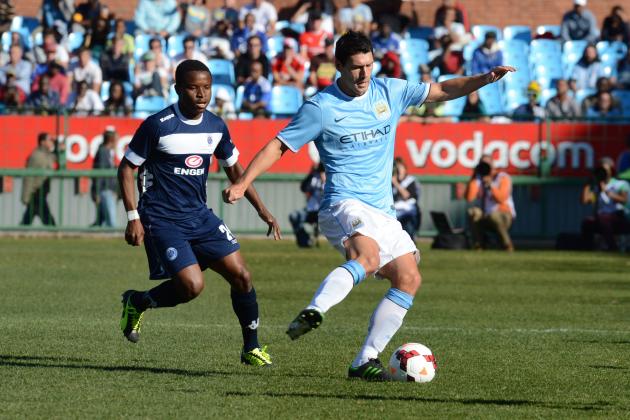 Gallo Images/Getty Images
A Sky Blue in comfortable possession was a rare sight against SuperSport.
"SuperSport:2 Manchester City:0" was probably not a heavily predicted score line, but there it was at the dawn of the Manuel Pellegrini era at Manchester City.
Insofar as SuperSport was paying 10/1 to win on some online betting sites, my sincere hope is that you had the homestanding South African side for a mortgage payment or two.
In all probability, though, you didn't. And that's okay. Betting on a preseason friendly half a world away from City's home ground is a sign of serious degeneracy.
It was not a great match, anyway. The thrill of seeing the Sky Blues in their sky blue kits quickly abated once it became clear just how little the match meant to the Citizens.
Ultimately, then, City's match with SuperSport taught us five things we probably already knew.
Begin Slideshow

»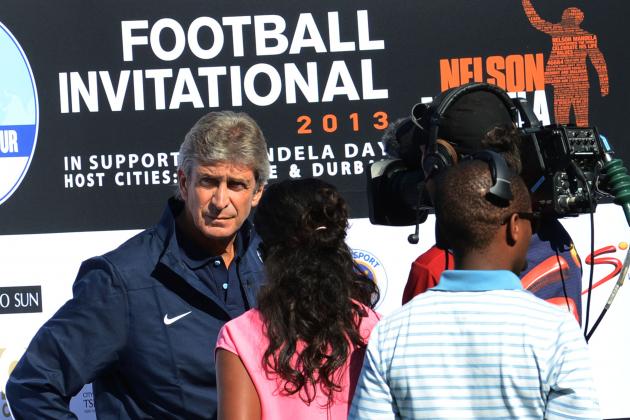 Gallo Images/Getty Images
Manuel Pellegrini kept his cool even as he must have been thinking "what are we doing here?"
Google Maps never comes up short on the funny.
If you like, ask the program to direct you from Manchester City Football Club, Rowlsey Street, Manchester, United Kingdom to Loftus Versfeld Stadium, Kirkness Street, Pretoria, Gauteng, South Africa.
The program gently warns you that your 185-hour, 8,298-mile journey includes tolls, a car transport and a ferry. Right, so the Citizens probably flew on one of Sheikh Mansour's reserve Gulfstreams.
It's still a serious hike.
The cause is noble enough. Per the club's website, "during a welcome reception at the team hotel in Pretoria, the players were introduced to Ndaba Mandela (grandson of Nelson Mandela) and presented him with a Manchester City shirt ahead of the Blues' clash with SuperSport United."
The shirt, signed by the club's players, bears the number 67 "recognizing the number of years Nelson Mandela spent fighting for peace in South Africa."
At some level the football was secondary. City's play against SuperSport certainly bore that out.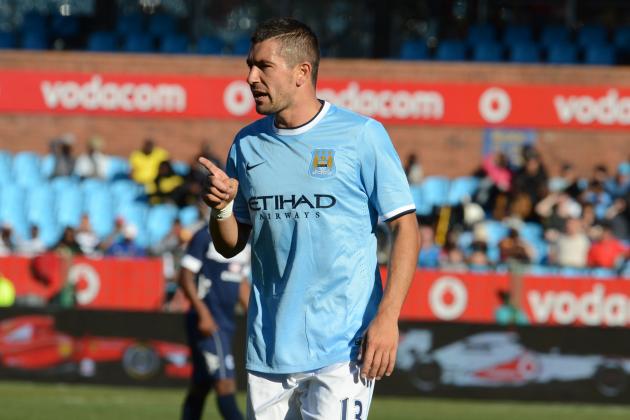 Gallo Images/Getty Images
"Okay, I know that guy, and that guy, but I have no idea who that other guy is."
Things started in a relatively normal fashion for Manchester City in this friendly against SuperSport. City's side featured several of their stars, including Vincent Kompany, Fernandinho, Samir Nasri and Edin Dzeko.
Sure, there was no Sergio Aguero or Yaya Toure, no Gael Clichy or Matija Nastasic, but it was a representative side nonetheless.
And with so many world-class players on the pitch, City created chances and played (sort of) cohesive football for much of the first half.
Per Stephen Darwin's match report for Goal.com, Dzeko and Aleksandar Kolarov had the most notable chances (Dzeko for sure should have scored) and the first half ended scoreless.
Then new City boss Manuel Pellegrini emptied the bench—quite literally.
The second half featured City old boys Toure and Joleon Lescott making it up as they went along with players like Emyr Huws and Dedryck Boyata. The results were predictable.
Thankfully, that sort of hodgepodge lineup is almost surely never going to be seen in a match City really wants to win.
It better not be.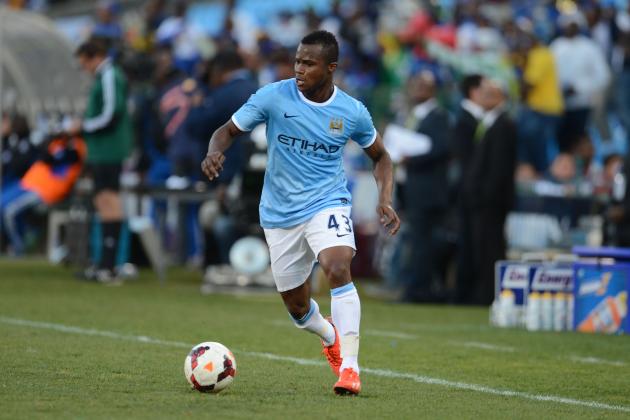 Gallo Images/Getty Images
It is fine and well to criticize Alex Tchuimeni-Nimely for his indifferent play, but then it is not like he had a full run either.
Playing with unfamiliar teammates is difficult enough.
Combine that with aborted shifts, and, well, you get the scattershot, occasionally confused effort Manchester City put forth against SuperSport.
Per the match report of The Guardian, "Pellegrini fielded completely different line-ups in each half. The Brazil midfielder Fernandinho started for City in a subdued debut alongside the young Spanish midfielder Denis Suárez. Both made way as part of the wholesale changes for the second half."
Untold in many of the match reports, perhaps because the authors did not feel it needed to be said, was the imprecision of City's play. Improperly weighted through balls missed their targets as often as properly weighted passes failed due to ill-timed runs.
Whether this was due to unfamiliarity, match rust, jet lag or some combination thereof, it certainly was not helped by Pellegrini's wholesale lineup switch.
By the time the starters were loose and starting to play in a collaborative way, they were gone.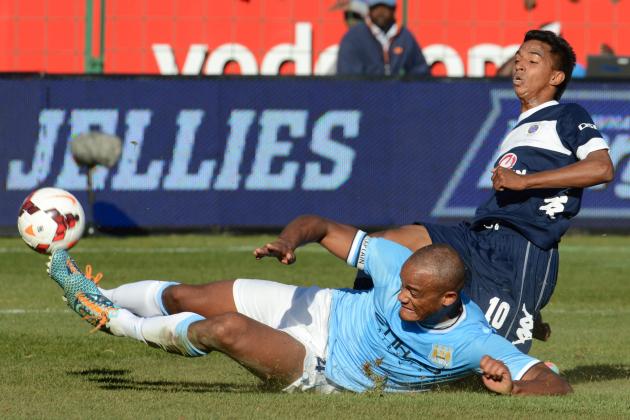 Gallo Images/Getty Images
This spectacular Vincent Kompany challenge in his own penalty area was compelled by City's loose play at the back.
Manuel Pellegrini has promised that Manchester City will play more attractive, energetic and attacking football with him at the helm.
"We will see an attractive team playing in the opponents' half, we will try to be an attacking team. All the teams I worked at before did that and that is why I am here now," said Pellegrini at his first press conference this week (per Goal.com).
Well that sounds terrific, but in practice against SuperSport what it meant was City pouring defenders and midfielders forward to try to create chances. They did that—for SuperSport.
Diagonal through ball after diagonal through ball ripped through the City midfield after City ceded possession cheaply. Gael Clichy was not active in this match, and maybe that was for the best because the amount of traffic that SuperSport poured through his normal post would have been unnerving.
SuperSport won the match 2-0, but in truth a stronger side with more capable finishers would have rung up five or six goals against City the way they defended.
Still, to see a comparatively weak side like SuperSport repeatedly charging into City's area with the ball and a numbers advantage was pretty disconcerting.
Roberto Mancini probably looked on with a bemused grin and mumbled something (in Italian) about how it is better to draw 0-0 or win 1-0 than it is to lose 0-2.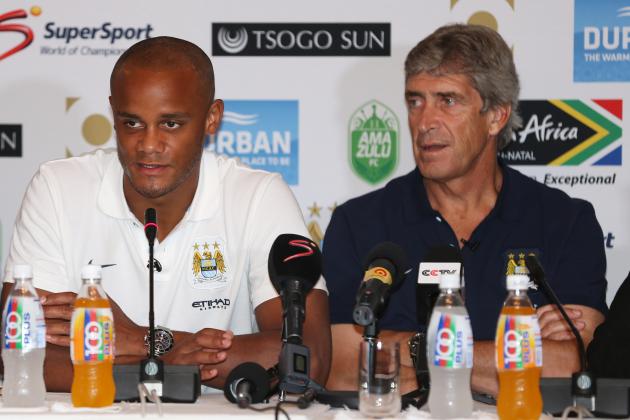 Gallo Images/Getty Images
Manuel Pellegrini figures to keep Vincent Kompany close at hand all season.
Despite the foibles and pratfalls, Manchester City's friendly loss to SuperSport was not even a small disaster.
City pretty clearly was not trying all that hard to win the match. Manuel Pellegrini obviously wanted a lot of Sky Blues to play, and a lot of them did.
Moreover, several Citizens distinguished themselves even in the limited time they were given.
Joe Hart was not breached despite SuperSport having a few good looks at his net.
Vincent Kompany played end to end with purpose and covered quite a few errors from his midfield with determined backtracking and tackling.
And if Edin Dzeko had converted even one of the chances he had, he would get more credit for his industry and threat.
You have to figure City will play better against AmaZulu on Thursday.
It would be tough to play too much worse.