2013 MLB Futures Game: Live Score, Analysis and Reaction to Tomorrow's Stars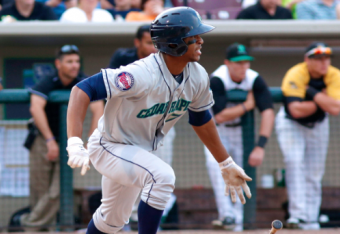 The future was on display on Sunday afternoon as the MLB Futures Game took place at Citi Field.
A two-run homer by Matt Davidson of the Arizona Diamondbacks earned the third baseman MVP honors and the U.S. pitching was spectacular holding the world to just three hits on the afternoon.
Final: Team USA 4, Team World 2
Overall, the 2013 Futures Game was an uneventful one on the diamond, but there was still plenty to take away from it.
I was impressed with Xander Bogaerts' speed and approach at the plate. I also loved Jesse Biddle's curveball and the pure heat that Yordano Ventura showed (even though he threw one pitch the entire game).
Either way, some of these players that were there today will be making an impact for your team in the near future and there is plenty of talent to be excited about.
Your MVP is Matt Davidson. He and Owings made for the best team representation today. #FuturesGame

— J.P. (@Jaypers413) July 14, 2013
Galindo grounds out to end the game, and the United States wins by a score of 4-2. I'm assuming Matt Davidson will be named MVP after his two-run dinger in the fourth gave the U.S. the lead after a rough top half of the inning.
Btw, if World ties this at 4, we're not likely to see extra innings. All pitchers have now pitched.

— JJ Cooper (@jjcoop36) July 14, 2013
If the Futures Game ends in a tie, Miguel Sano will face George Springer in a winner-take-all home run derby. I hope.

— Ben Badler (@BenBadler) July 14, 2013
The last pitcher in the U.S. bullpen will come in as A.J. Cole will represent the Washington Nationals with two on and one out in the ninth inning.
Kyle Crick will try and finish off the world as the United States goes to the ninth with a 4-2 lead.
I hate the word swagger, but Yordano Ventura has it. Comes in, throws one pitch and walks off the mound like a boss. Too bad his team is losing as we head to the ninth.
End of 8th: Team USA 4, Team World 2
In comes Yordano Ventura. Here comes the best velo we'll see all day. Count on it. #futuresgame

— JJ Cooper (@jjcoop36) July 14, 2013
I always find some sort of sick joy out of 40-year-old guys getting excited about catching a foul ball. At least he didn't mow over a kid to get it.
I just checked, I have smoke coming out of my own ears trying to keep up with this madness myself.
I'm guessing MLB's box score program has smoke pouring out from it trying to work through these changes.

— JJ Cooper (@jjcoop36) July 14, 2013
The U.S. puts Billy Hamilton back in and he starts running all over the place. The U.S. also starts hitting again and tacks on a run to make it 4-2.
Ruh roh....B-Ham is back, and he looks hungry. #FuturesGame

— J.P. (@Jaypers413) July 14, 2013
Carlos Contreras now pitching for World team. Carlos Correa now in at SS. Correa put on one of best BPs we saw this morning. #futuresgame

— JJ Cooper (@jjcoop36) July 14, 2013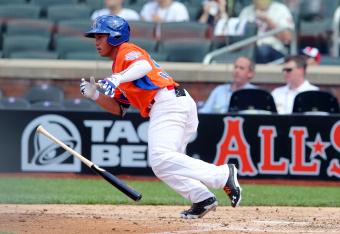 Another quick inning for the United States and we go to the bottom of the 8th.
Middle of the 8th: Team USA 3, Team World 2
As a sidenote, after spouting off about Buxton as baseball's best prospect, he's gone 0-for-2 with two strikeouts. Whoops.
Wonder how many of the Twitterverse are already calling Buxton a bust? Sheesh. #FuturesGame

— J.P. (@Jaypers413) July 14, 2013
Some highlights from earlier in the game. This is Yelich's RBI double to get the United States on the board.
A quick inning once again for the world as the score remains the same again...not much action since the fourth inning.
End 7th: Team USA 3, Team World 2
Miguel Almonte will pitch for the world in the bottom of the 7th as they try to keep the US at an arm's length.
As we head to the 7th, there are plenty of changes on the lineup card...this time for the world roster.
Yeison Asencio replaces Reymond Fuentes in left field, Dilson Herrera replaces Arismendy Alcantara at second base, Jesus Galindo replaces Gregory Polanco, Francisco Lindor replaces Maikel Franco at designated hitter and Christian Bethancourt replaces A.J. Jimenez.
All of this while Jimmy Nelson throws an inning for the U.S. and keeps the world down by a run.
Middle 7th: Team USA 3, Team World 0
Eduardo Rodriguez of the Baltimore Orioles is the new pitcher for the world. He has a quick inning of work to keep the game close.
End 6th: Team USA 3, Team World 2
An easy inning for Butler as he gives up a hit, but it's quickly erased by a double play.
Middle of the 6th: Team USA 3, Team World 2
Eddie Butler of the Colorado Rockies is the new pitcher for the United States. He can throw some heat with a 97 mile-per-hour fastball.
De Paula gets in a little bit of trouble, but he's able to get a couple ground balls to get him out of it.
End of 5th: Team USA 3, Team World 2
De Paula shows he's pretty good too fanning Buxton in a pretty decent at-bat.
Rafael DePaula now pitching for the World, and his first test is going to be the electric Byron Buxton.
This article is
What is the duplicate article?
Why is this article offensive?
Where is this article plagiarized from?
Why is this article poorly edited?