Martinique vs. Mexico: Gold Cup Live Score, Highlights, Recap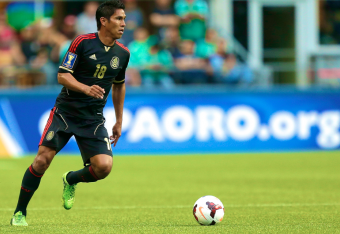 CONCACAF Gold Cup, Group A, Sports Authority Field, Denver, Colo., July 14.
Full time: Mexico 3-1
Goals: Marco Fabian (MEX) 20'; Luis Montes (MEX) 33'; Kevin Parsemain 43' (MTQ); Miguel Ponce (MEX) 90'
Martinique: Kevin Olimpa; Gael Germany, Steve Gustan, Audrick Linord (Abaul 35'), Gregory Arnolin, Jean-Sylvan Babin; Daniel Herelle, Olivier Thomert, Fabrice Reupeme (Tresfield 78'), Jordy Delem (Cretinoir 56'); Kevin Parsemain
Mexico: Moises Muñoz; Miguel Layún, Joel Huiqui, Juan Carlos Valenzuela, Adrian Aldrete; Carlos Peña (Velarde 69'), Alejandro Castro, Luis Montes, Marco Fabian (Ponce 87'); Raul Jimenez, Rafael Marquez Lugo (Orozco 81')
Full time
Mexico defeats Martinique 3-1. Still a lot of uncertainty with El Tri. The team is not focused and clearly lacks of a strategy.
Miguel Layun had two assists, Marco Fabian scored his third goal of the tournament and Miguel Ponce grabbed his first goal with the first team.
This puts Mexico in the second place of Group A, which means the quarterfinal game could be against Haiti or Honduras, depending on their pending matches (July 15).
Thanks for joining me in this live blog. Don't miss all the action of the Gold Cup, here in Bleacher Report.
Injury time
Referee Mark Geiger adds five minutes to the game.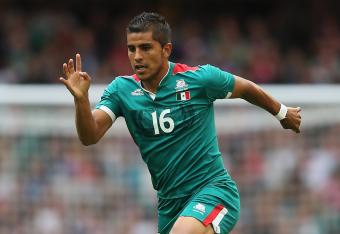 Mexico goal
90'—Miguel Ponce pushes the ball after a good cross from Miguel Layun.
Substitution
87'—Miguel Ponce in for Marco Fabian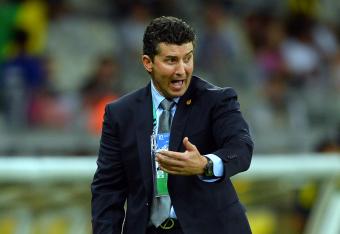 83'—Jose Manuel de la Torre giving instructions to his players. Justino Compean, President of the Mexican Football Federation, watches the game from the box.
Substitution
81'—Rafael Marquez Lugo leaves the pitch. Javier Orozco takes his place.
Substitution
78'—Kevin Tresfield in for Fabrice Reuperné.
Clash!
74'—Velarde, who just came to the pitch, hit his head with Cretinoir's. He received medical attention due to a cut in the eyebrow. He is back in the game, though.
Long distance
Mexico has eight shots to goal. Five of them from outside the box.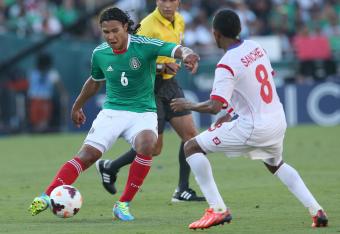 Substitution
69'—Carlos Peña leaves the pitch. Efrain Velarde comes in.
Good performance
Luis Montes is trying hard. He has three shots on goal, he scored Mexico's second goal.
He has also contributed with 11 passes, three of them to Adrian Aldrete.
Substitution
56'—Sebastien Cretinoir in for Jordy Delem
Offside
54'—Rafael Marquez Lugo with a forward pass to Carlos Peña. The León midfielder could not complete the play because he was in offside.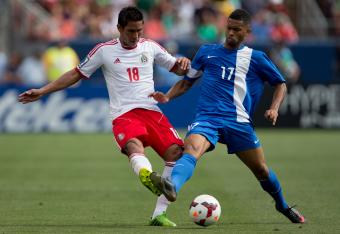 51'—Mexico has given Martinique the ball possession. The Caribbean squad is taking advantage of its speed and physical strength.
47'—Peña loses the ball feet away from Martinique's box. The play results in a corner kick for the Caribbean squad.
The second half is underway!
First half stats
Mexico attempted 157 passes and completed 123 (78%). Martinique tried 106 and completed 56 (58%).
El Tri had seven shots on goal; Martinique three.
Half time
Mexico still lead the game 2-1. Martinique is putting up a good fight. Don't go anywhere, I'll be back shortly with all the action of the second half.
45'+1—Joel Huiqui with a terrible play. He cannot defend correctly and Martinique tries to surprise with a header that leaves the pitch.
Penalty kick
41'—Miguel Layún with a foul inside the box. Kévin Parsemain takes the penalty and scores.
Substitution
35'— Linord leaves the pitch; Abaul takes his place.
Mexico goal
33'—Luis Montes with the second goal of the match. The León midfielder shoots from outside the box and defeats the goalkeeper.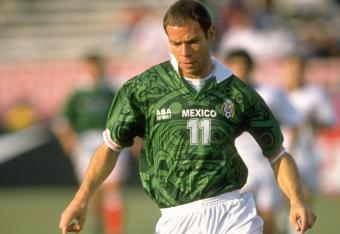 Fact
10 years ago, at the 30th minute, Mexico had already scored three times. All the goals from Zague (11', 21' and 29').
This article is
What is the duplicate article?
Why is this article offensive?
Where is this article plagiarized from?
Why is this article poorly edited?