The 7 Biggest Storylines Heading into the Packers Training Camp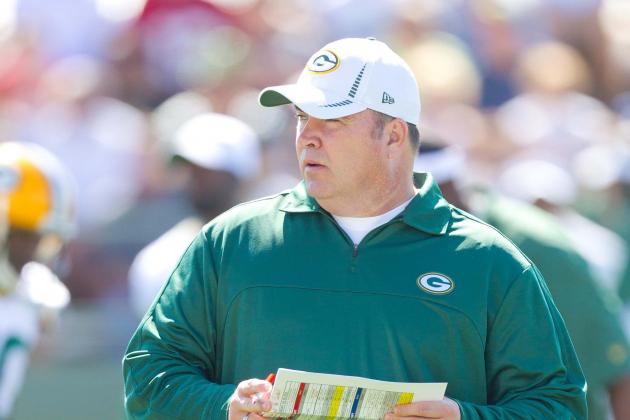 Jeff Hanisch-USA TODAY Sports

The Green Bay Packers have played in the postseason for four consecutive seasons now. In that time, the Packers have gone 47-17 in the regular season, won two straight NFC North titles and won Super Bowl XLV.
As the 2013 training camp gets closer for head coach Mike McCarthy and his coaching staff, there are a number of very interesting storylines that Packer Nation will be following.
The 2013 Green Bay team may be the most talented team that general manager Ted Thompson has assembled since he took over the front office in 2005.
Let's take a look at some of the key questions heading into this year's training camp, which starts in less than two weeks.
Begin Slideshow

»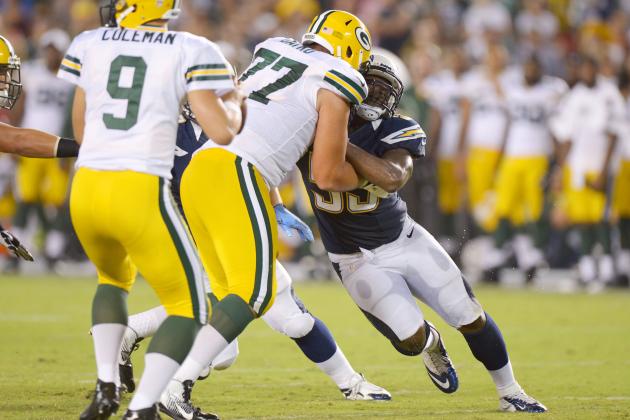 Jake Roth-USA TODAY Sports

The Packers decided to make some big changes to their offensive line two and a half months ago. The team decided to put their two best offensive linemen on the left side of the line.
They moved both tackle Bryan Bulaga and guard Josh Sitton from the right side of the line to the left. Why? The biggest reason is to protect the blind side of quarterback Aaron Rodgers, who coincidentally became the highest paid player in the NFL right around the same time the team made this move.
There will be a number of candidates for the right tackle job. Former starting left tackle Marshall Newhouse got the first crack there at the recent OTAs, but he will receive a lot of competition. Plus, there is the fact that Newhouse gave up 24.5 sacks the past two seasons at left tackle and was considered a soft run-blocker.
Others who will compete with Newhouse for the right tackle job include Derek Sherrod (when healthy), Don Barclay, Andrew Datko and rookie David Bakhtiari.
Training camp hasn't started yet, but my early favorites to win the job are Datko or Bakhtiari. I see Barclay becoming more of an inside offensive lineman, playing more guard and also getting some snaps at center.
Sherrod has the talent to start without a doubt, but until he is cleared to practice medically, we won't know for sure.
Newhouse might be better on the right side compared to the left, but he will need to really shine in training camp to remain a starter on the offensive line.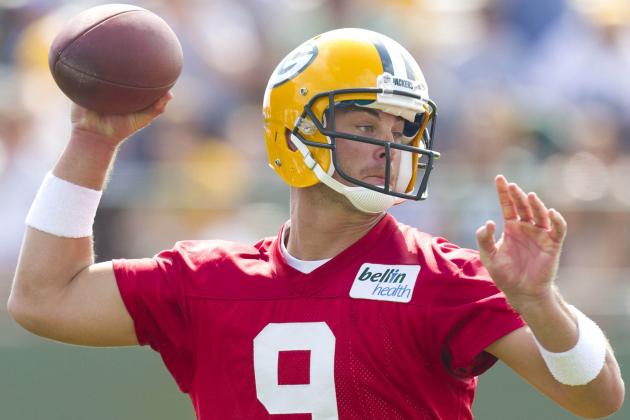 Jeff Hanisch-USA TODAY Sports

The competition for the backup quarterback job behind Aaron Rodgers will be one of the most interesting battles to watch in camp.
The two players vying for the job are veteran Graham Harrell and second-year player B.J. Coleman.
Harrell struggled mightily in training camp last year, especially in preseason games, until he finally played lights out in the final exhibition game. Then, when given a chance to play in a key moment of a regular-season game, Harrell fumbled a handoff to a running back as the Packers were about to score inside the New Orleans Saints 10-yard line.
That turnover almost cost the Packers the game, but Aaron Rodgers returned to the game and the Packers won a close one.
Bottom line, Harrell has to play much better this summer. The biggest reason is the improved play of Coleman, who looked very sharp in the rookie minicamp, which also included second-year players.
The big test for both of these quarterbacks will be in preseason games. The team wants to find a reliable backup, much like the team had when Matt Flynn was on the team.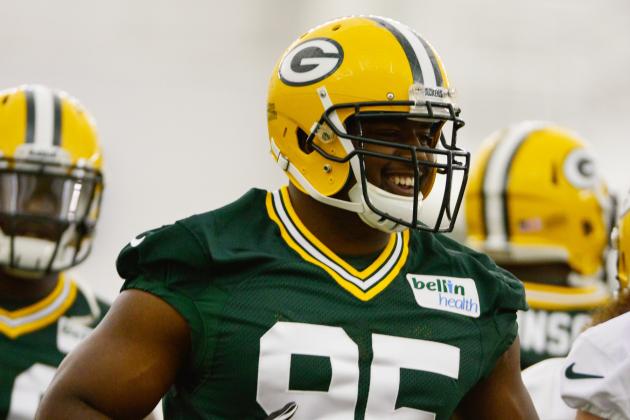 Benny Sieu-USA TODAY Sports

The 2013 rookie draft class might be the most dynamic class ever drafted by Ted Thompson. I expect at least four of those picks to have key roles in how the Packers do this season.
Defensive end Datone Jones is expected to start right away, and he has the ability and talent to help both in stopping the run and rushing the passer. I expect him to do just that.
The running game will get a big lift with the selections of both Eddie Lacy (second round) and Johnathan Franklin (fourth round). I expect both of these talented backs to get a lot of playing time and to help the Green Bay rushing attack become more potent and effective.
I also expect offensive lineman David Bakhtiari to compete for the starting right tackle job and to play wherever the team needs him to play, whether it's on the right side of the left.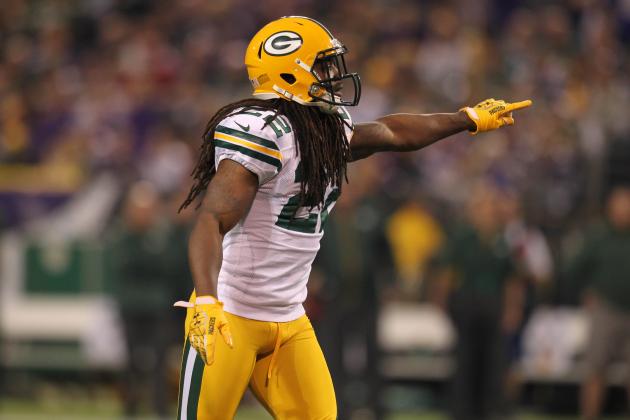 Brace Hemmelgarn-USA TODAY Sport

The Packers know that one of their starting safety spots will be manned by Morgan Burnett. However, there will be quite a battle for the other starting safety job between M.D. Jennings and Jerron McMillian this summer.
Both Jennings and McMillian received significant playing time in 2012 due to the broken collarbone injury to Charles Woodson.
Both played in all 16 games. Jennings had 52 tackles and one pick for a touchdown. McMillian had 27 tackles, an interception and a fumble recovery.
Second-year player Sean Richardson will also have a chance to compete once he is cleared medically (neck) to play.
Although the competition will be fierce, I like McMillian to win the job because he is a better tackler and he keeps improving his coverage skills.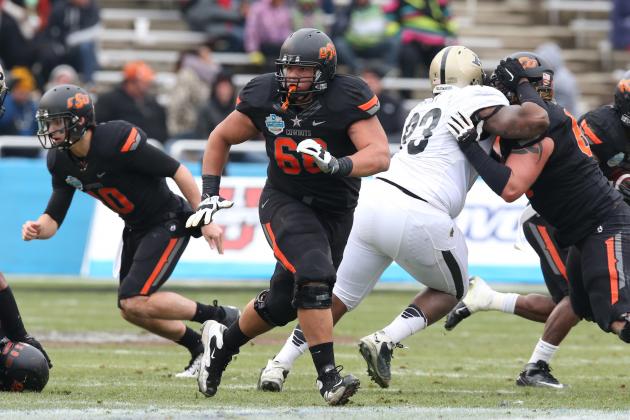 USA TODAY Sports

Every year there seems to be at least one undrafted rookie who makes a name for himself in training camp with the Packers. In 2012, the Packers had a number of undrafted rookies make the team due to their performance in camp last year.
The list included linebacker Dezman Moses, offensive lineman Don Barclay, wide receiver Jarrett Boykin and safety Sean Richardson.
This year's undrafted class has quite a bit of talent. Players to watch are offensive guard Lane Taylor, defensive tackle Gilbert Pena, outside linebacker Andy Mulumba, running back Angelo Pease and wide receiver Myles White.
Some of these undrafted rookies could get significant playing time too, depending on the situation. Last year, Moses started six games defensively at outside linebacker, while Barclay started four at right tackle.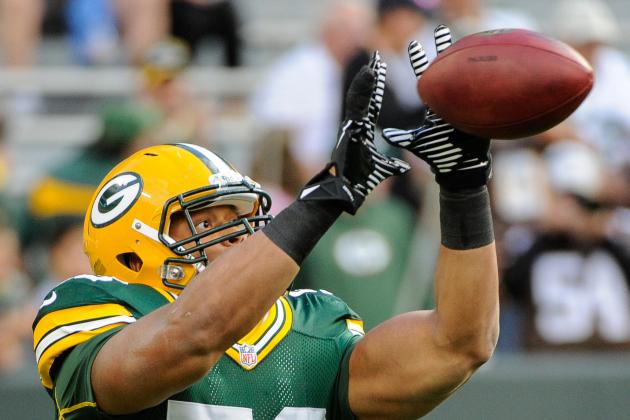 Benny Sieu-USA TODAY Sports

When a player is picked in the first round of the NFL draft, much is expected of him. That was certainly the case with Nick Perry of the Packers after he was selected in the first round of the draft last year.
The biggest obstacle for Perry was learning how to play outside linebacker in the pros after playing defensive end in college at USC.
Perry showed his athleticism at the NFL Scouting Combine with both his speed and strength.
He was slowed by injuries his rookie year, as he suffered both a wrist and a knee injury. The wrist injury ended up putting Perry on injured reserve for the 2012 season after just six games.
Perry was just starting to get comfortable at outside linebacker under the tutelage of coach Kevin Greene at the time his season ended. Perry ended up with 18 tackles and two sacks in those six games, but more is expected of him in 2013.
I expect Perry to be much improved this season, as the Packers will have a California Gold Rush going after quarterbacks in 2013 with Perry, Clay Matthews (USC) and Datone Jones (UCLA).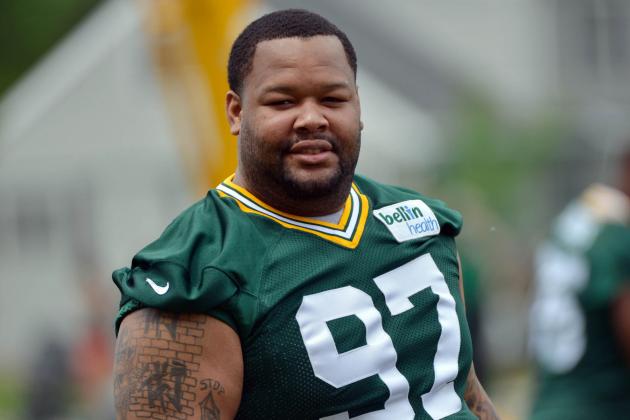 Benny Sieu-USA TODAY Sports

It is very rare when a player in the NFL can come back to the game and be effective after sitting out three full seasons. But that is what defensive lineman Johnny Jolly is attempting to do in 2013.
Jolly was suspended indefinitely in 2010 for violating the league's substance abuse policy. That situation caused Jolly to miss three full seasons before he was reinstated by commissioner Roger Goodell in February.
Jolly is now 30 years old. Before his suspension, he was considered one of the better defensive linemen with the Packers.
The 6'3", 325-pound Jolly started all 16 games in 2008 and 2009 for the Packers and had 88 combined tackles those two seasons, as he was a very effective run-stopper. Jolly was also very adept at batting down pass attempts by opposing quarterbacks, as he had 10 of those in 2009 alone.
The competition for the defensive line will be very tough for Jolly to make a comeback, as the Packers will probably only keep six D-Linemen, or perhaps seven.
Spots will be tough to come by, if one assumes that Datone Jones, B.J. Raji, Ryan Pickett, Mike Neal and Mike Daniels all make the team.
We will soon find out how Father Time has affected Jolly over these past few years. If Jolly looks like he did in 2009, there is little doubt that he will make the team. But the chances of that occurring are not very high.