3 Reasons We Still Want to See Cris Cyborg vs. Ronda Rousey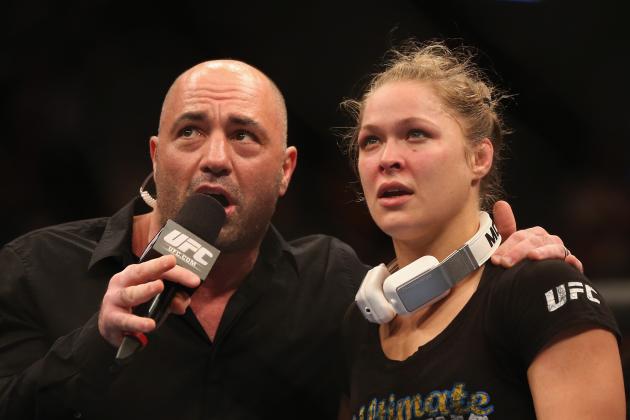 Jeff Gross/Getty Images

A loss to Marloes Coenen at last night's Invicta FC event would have severely dampened superfight talks between Cris "Cyborg" Justino Venancio and UFC women's bantamweight champ Ronda Rousey.
A furious fourth-round assault from Cyborg, however, ensured that Coenen didn't play spoiler.
Cyborg dispatched the Dutch submission specialist for the second time in her career, all but wiping out the notion that a failed drug test would hinder the Brazilian's continued growth in the sport.
A few key issues must get resolved in the meantime, but a superfight between new Invicta FC featherweight champ Cyborg and Rousey now seems more tantalizing than ever.
Here are three reasons fans still yearn to see Cyborg lock horns with Rousey.
Begin Slideshow

»
Like with any juicy rivalry, Rousey and Cyborg have fueled their potential clash in the Octagon with several verbal sparring sessions in the media.
Most recently for Rousey, she used her Q&A session at the UFC Fan Expo in Las Vegas last Saturday to continue discrediting Cyborg. Here's what she said when asked about Cyborg's decision to leave the UFC women's bantamweight division:
I don't have to fight her at 145 (pounds). I'm the one that has the belt. She's the one that should come to me. And I'm not going to be making exceptions or bending over backwards for someone who is a cheater and a disgrace. I think that's the wrong message to be sending.
Just five days before her second fight with Coenen, Cyborg fired back by telling The MMA Hour's Ariel Helwani that she doesn't think Rousey has evolved.
"No I don't (think she's evolving). I think she's the same thing. But she try better, I think."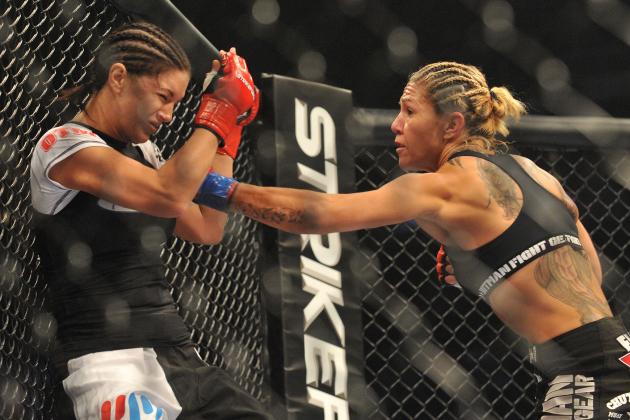 Jon Kopaloff/Getty Images

An outmatched Gina Carano had the Muay Thai dexterity and grit to at least offer Cyborg a battle. Rousey, on the contrary, poses threats in the grappling department that Cyborg may not be equipped to deal with.
While Cyborg has looked machine-like in her ability to win stand-up wars, Rousey has only allowed her last five opponents to land a combined 38 strikes—22 of which came against Liz Carmouche at UFC 157.
Rousey tends to close the distance feverishly, clinch up with her opponents and then employ her judo game to score takedowns.
A brown belt in Brazilian jiu-jitsu who's displayed underrated grappling chops, Cyborg would need to stop Rousey's takedown attempts early and often to stay out of the danger zone with the Olympic judoka.
Conversely, if Rousey failed to floor Cyborg in the fight's opening minutes, then the 26-year-old champ would have to enact superb footwork and head movement to avoid getting dropped. Finding herself underneath the ferocious Brazilian could prove unhealthy for Rowdy.
With that said, Rousey obviously knows how to finish off her back. Against Cyborg, however, Rowdy would definitely rather nail a takedown, advance position on top and then fish for a submission.
Regardless of how they'd approach this fight strategically, the stark difference in their styles makes Rousey vs. Cyborg a dream matchup for diehard MMA enthusiasts.
The thought of Rousey attempting to survive Cyborg's relentless attacks, and vice versa, seems downright alluring.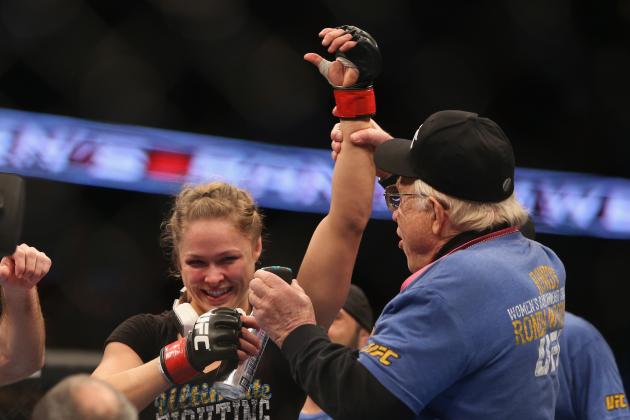 Jeff Gross/Getty Images

Disagreements with the UFC and a failed drug test surely impeded her progress, but her last two wins cemented Cyborg's status as one of the world's top two female fighters.
If Rousey happens to get through her rematch with Miesha Tate, then a catchweight bout at 140 pounds with Cyborg would seem more realistic in the future.
Granted, Cat Zingano earned a crack at Rousey's belt after finishing Tate at the Ultimate Fighter 17 finale, but she can't even think about trying to snatch the belt from Rousey until she heals up from the ACL surgery that she had in May.
Nevertheless, Rousey claims she won't bump up to 145 and Cyborg says a move to 135 is out of the question, so the two are at a virtual standstill.
It's obvious that fans want to see the two most renowned female fighters duke it out. However, logistical disagreements from both fighters could sadly prevent the biggest fight in female MMA history from ever happening.