NASCAR 2013 Camping World RV Sales 301: Live Results, Updates and Reaction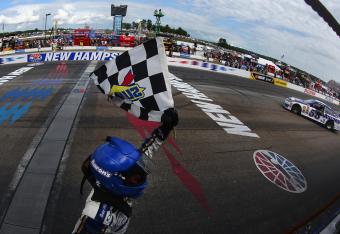 Tom Pennington/Getty Images
The Camping World RV Sales 301 at New Hampshire was a race filled with cautions, and one where drivers needed to worry about their tires.
Jimmie Johnson put on a show, and went from 43rd place to an eventual sixth place finish.
The real story of the race though, was Brian Vickers ending up in victory lane.
Vicker's hadn't won a race since 2009, and with his win today in the 55, he's basically locked up for a full-time ride with Michael Waltrip Racing in the 55 car.
New Hampshire had plenty of action, and saw several lead changes.
Tony Stewart looked like he had a great shot at taking home the victory, but during the green-white-checkered finish, Tony would run out of gas and finish in 26th.
His Chase hopes took a huge shot with a poor finish at New Hampshire, as he slid to 13th in the standings.
Kurt Busch also saw his Chase hopes take a hit when he was caught up in a wreck with Ryan Newman.
Other drivers, like Brad Keselowski and Denny Hamlin had solid finishes today, and while it might be too late for Hamlin to make it into the Chase without winning races, Keselowski still has a shot to see the post season.
There's still several races left before the Chase that could change the standings, so make sure to join us back here in two weeks as we cover the race at Indianapolis.
Winner: Brian Vickers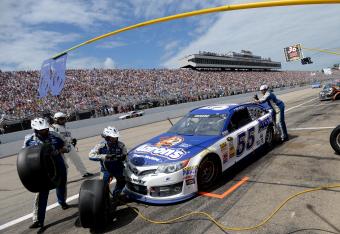 Well that's all for us today at the Bleacher Report. Make sure to join us back here in two weeks for the race at Indianapolis.
Winner: Brian Vickers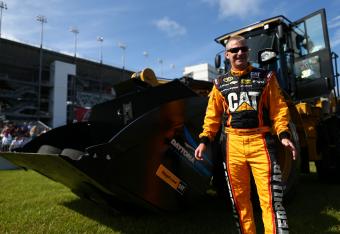 Jeff Burton had a great finish, but there's no way he makes it into the Chase.
Rough break for Stewart as he drops to 13th in the standings. Keselowski on the other hand, has moved up to 9th.
Brian Vickers wins at New Hampshire!
Green-White-Checkered flag. This might get a little crazy.
Caution is out. This race is far from over.
Bobby Labonte runs out of gas. That doesn't speak well for Tony Stewart.
Top 10: Vickers, Stewart, Kyle Busch, Burton, Keselowski, Almirola, Johnson, Harvick, Kenseth, Hamlin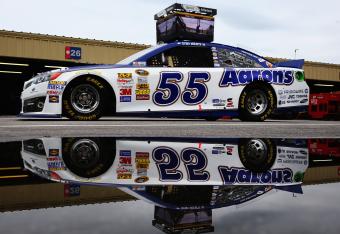 Brian Vickers makes the pass on Tony Stewart.
Brian Vickers is all over Kyle Busch and passes the 18.
19 Laps to go. Does Smoke have enough fuel?
Smoke finally has some company up front. Kyle Busch and Brian Vickers are right behind him.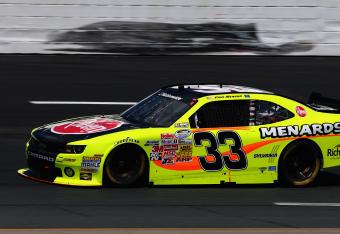 Menard was not happy with Gordon when he decided to spin him.
Top 10: Stewart, Kyle Busch, Vickers, Almirola, Labonte, Burton, Keselowski, Johnson, Harvick, Hamlin
Tony can't be stopped on these restarts.
Caution out as Jeff Gordon spins.
48 Laps to go. Jeff Burton is on the move.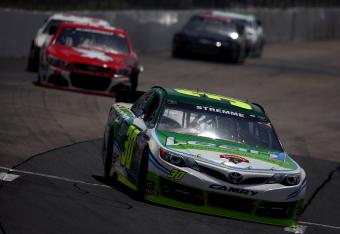 Top 10: Stewart, Kyle Busch, Almirola, Vickers, Labonte, Johnson, Burton, Montoya, Keselowski, Hamlin
Tony gets out in front again as the race goes back green.
Kurt Busch is getting back in his car. He might be after someone.
#NASCAR Stenhouse, Kvapil and Patrick. The love triangle continues.

— David Newton (@DNewtonespn) July 14, 2013
Kvapil not too happy with Danica.
Caution out again. Ricky Stenhouse and Kvapil wreck.
Stewart pulls head as the race goes green.
Here's the order before we go back to green:
Kenseth seemed to get into the back of the 78, causing the spin. Kenseth ended up taking a hit from the 5 after he spun Kurt.
This article is
What is the duplicate article?
Why is this article offensive?
Where is this article plagiarized from?
Why is this article poorly edited?