The Los Angeles Lakers have never been a team to shy away from major offseason signings. While Dwight Howard exited just as quickly as he arrived, it wouldn't be a surprise to see general manager Mitch Kupchak brush it off and look for another superstar next offseason.
And as Alex Kennedy of Hoopsworld reported last month, that's exactly what he plans on doing:
What's next for the L.A. Lakers? They'll try to make a run in the 2013-14 season and then make a run at LeBron James, according to sources.

— Alex Kennedy (@AlexKennedyNBA) July 6, 2013
It comes as no surprise the Lakers could be planning a free-agency coup to land LeBron James next summer, providing he opts out of the final year of his current contract with the Miami Heat. Every general manager in the league would love to land the NBA's preeminent player—though, as we've seen time and again, only the most attractive free-agent landing spots are going to be in play for the best player in basketball.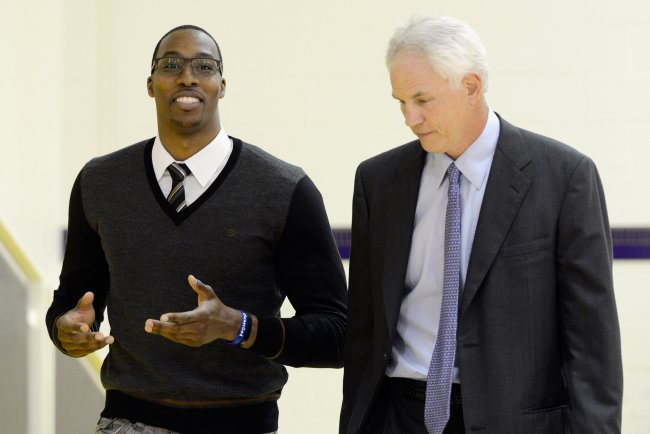 Kevork Djansezian/Getty Images
Kupchak understands that, and he's doing everything he can right now to prepare for the pursuit. As noted by Arash Markazi of ESPN, the GM is playing it safe this offseason to put the Lakers in contention for James next summer:
Lakers plan is simple. Go after bargains with one-year minimum deals this year and go for broke next year.

— Arash Markazi (@ArashMarkazi) July 14, 2013
That strategy has included cutting ties with Metta World Peace and signing a few role players to short-term contracts, effectively freeing up cap space for next offseason.
As noted by SportsCenter, Los Angeles added Howard's replacement in Chris Kaman to a one-year deal:
THIS JUST IN: Lakers have agreed to terms on one-year deal with former Clippers C Chris Kaman. (via @ESPNSteinLine)

— SportsCenter (@SportsCenter) July 8, 2013
Likewise, Nick Young signed on a one-year deal, as reported by Kevin Ding of the Orange County Register:
Kaman: 1-year, $8m deal last year --> 1-year, $3.2m from Lakers now. Nick Young: 1-year, $6m last year --> 1-year, $1.2m from Lakers now.

— KEVIN DING (@KevinDing) July 11, 2013
And now the Lakers have inked Wesley Johnson to a short-term contract, per Mike Bresnahan of the Los Angeles Times:
Lakers agreed to terms with SG Wesley Johnson...1-yr deal for vet's min of $1 mill. Was 4th pick in 2010 draft, played last season for PHX.

— Mike Bresnahan (@Mike_Bresnahan) July 14, 2013
Short-term contracts are par for the course at this stage of free agency, and it isn't as if Kupchak is reinventing the game with his strategy. What he is doing, however, paints a very clear picture of what his plans are for next summer.
Howard is gone, Kobe Bryant is on the shelf for the foreseeable future and Steve Nash was often injured last season. With World Peace no longer on the roster, the core of last year's roster is almost entirely dismantled.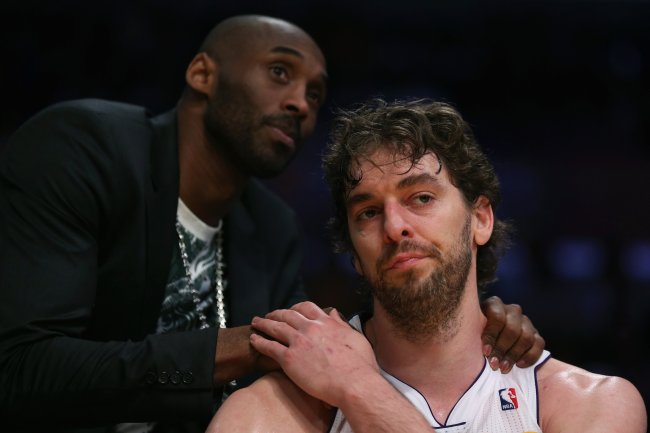 Jeff Gross/Getty Images
While such a strategy could put the Lakers at a disadvantage when James looks at his free-agency options next summer, Los Angeles will always be an appealing landing spot for marquee free agents. There's nothing surprising about any of this.
What is surprising, however, is the fact that James may not be all that interested in Los Angeles right now.
For which team is LeBron James most likely to play next season?
Stephen A. Smith appeared on ESPN Radio recently and touched on a rumor he has heard involving James' current preferences, claiming the superstar will consider all his options, but that he is more likely to end up with the New York Knicks or Cleveland Cavaliers.
Of course, we're speculating on a situation that won't fully develop until next summer, so expectations should be tempered.
The bottom line, though, is this: The Los Angeles Lakers know they must retool and prepare for the pursuit of James next offseason. Kupchak is doing everything he has to do right now to make that happen.
Time will tell if the strategy pays off, but there's little more Kupchak can do at this point. James may have been lured to Miami with promises of superstar teammates and championships, but the Lakers have always been capable of making those promises, even if they haven't put all those pieces in place this offseason.