Power Ranking Every Portland Trail Blazers Player Already on Roster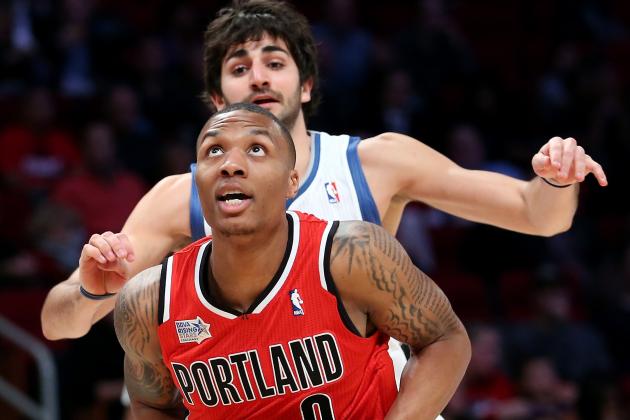 Ronald Martinez/Getty Images
Lillard was amazing for Portland last year.
As free agents are scooped up and the 2013-14 NBA season gets closer and closer, the Portland Trail Blazers are continuing to finalize their roster.
They've grabbed some players in the NBA draft. They've picked up some free agents. They've made some trades. So, let's take a look at Portland's current players and power rank them.
Begin Slideshow

»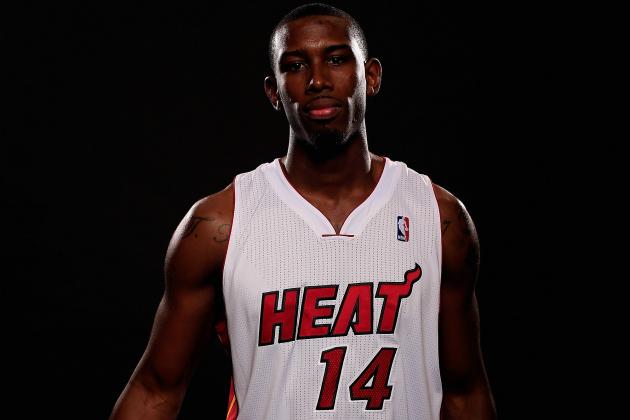 Chris Trotman/Getty Images
Harris began his NBA career with the Miami Heat.
The Trail Blazers recently acquired Terrel Harris from New Orleans in a trade. The shooting guard is 25 years old and has two years of experience in the NBA.
Last season, he averaged 0.8 points, 1.3 rebounds, 0.5 assists and a pretty terrible field-goal percentage of .148 in 6.9 minutes per game. He also only appeared in 20 games for the Pelicans. Obviously, Portland shouldn't count on Harris for much.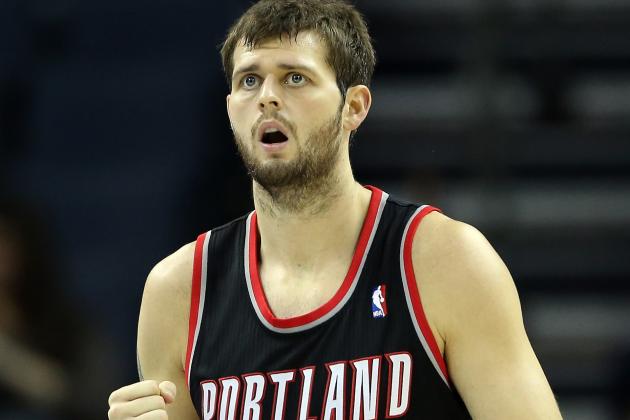 Streeter Lecka/Getty Images
Freeland didn't do much for the Blazers last season.
There's not too much to say about British power forward Joel Freeland. He was drafted by Portland in 2006, and last season he averaged a measly 2.6 points and 2.3 rebounds in 9.4 minutes.
With Thomas Robinson and Robin Lopez now added to the low-post crew, there isn't too much room for 26-year-old Freeland to grab a ton of minutes in Portland next season. He'll have to fight for time on the court.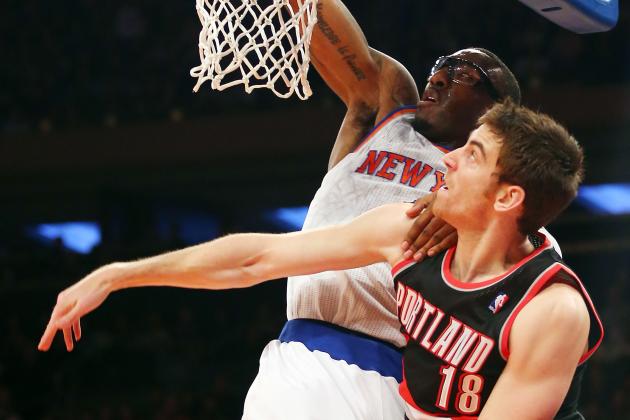 Elsa/Getty Images
Claver will return to Portland for another season.
The 24-year-old small forward played for Portland last year, averaging 3.8 points, 2.4 rebounds and 16.6 minutes per game. Claver is a professional player from Spain.
His statistics are mediocre, but perhaps the small forward will step it up this season for the Trail Blazers. He is still young, after all, and has time to grow and develop as an NBA player.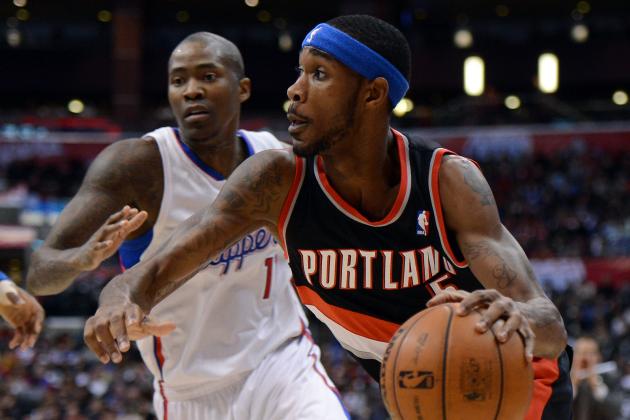 Harry How/Getty Images
Barton needs to step it up at the shooting guard position.
With another year in Portland, the 22-year-old Barton will have the chance to prove himself as a shooting guard. During the 2012-13 season, he averaged 4.0 points, 2.0 rebounds and 0.8 assists in 12.2 minutes of gameplay.
Hopefully, with a bit more experience on the court and with Lillard, Barton will develop and become more of a key player for Portland.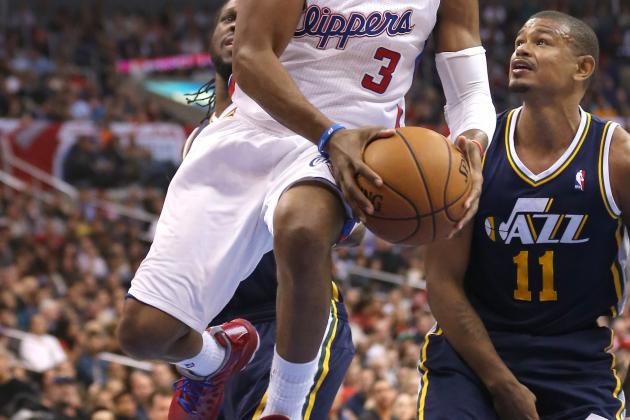 Stephen Dunn/Getty Images
Watson played for the Utah Jazz last season.
Watson became a free agent this summer after playing for Utah, and he signed a one-year deal with the Trail Blazers. The point guard has an impressive 12 years' experience in the league.
Last season with Utah, he averaged 2.0 points, 1.8 rebounds and 4.0 assists in 17.3 minutes per game. Though he's not an outstanding scorer, Watson will undoubtedly serve as a good choice for a backup when Damian Lillard needs a rest.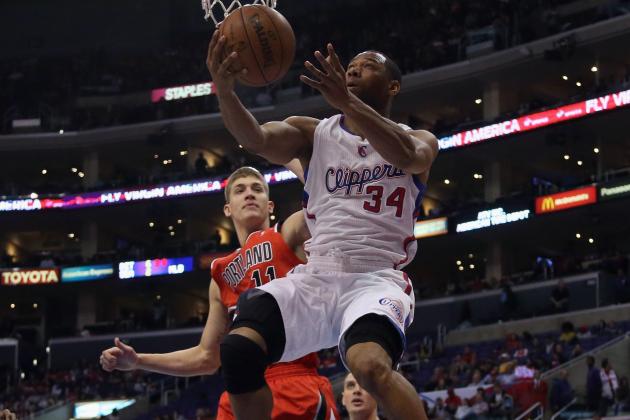 Jeff Gross/Getty Images
Leonard plays at the center position.
Portland drafted Leonard during the first round of the 2012 NBA draft. The center played a decent 17.5 minutes per game during his rookie season, averaging 5.5 points, 3.7 rebounds and a field-goal percentage of .545.
Hopefully, Leonard will continue to grow as a center this coming season under the direction of more experienced centers and power forwards on the Blazers roster.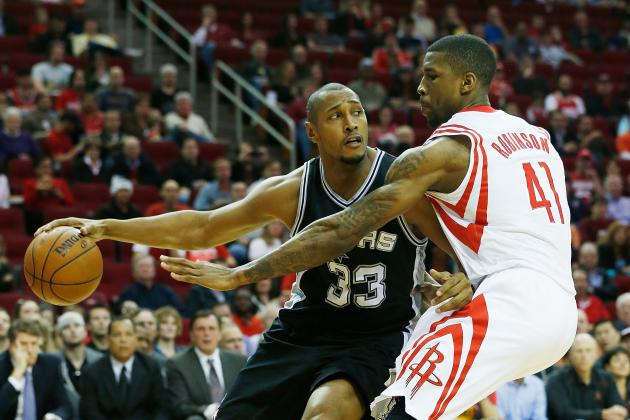 Scott Halleran/Getty Images
Robinson is coming off a season with the Rockets.
Portland grabbed Robinson from the Houston Rockets through a trade. During the 2012-13 season with the Rockets, the power forward averaged 4.8 points and 4.5 rebounds in only 15.1 minutes per game.
At 22 years old, Robinson is still young and will undoubtedly continue to flourish under the guidance of seasoned big men—like LaMarcus Aldridge—during his time in Portland.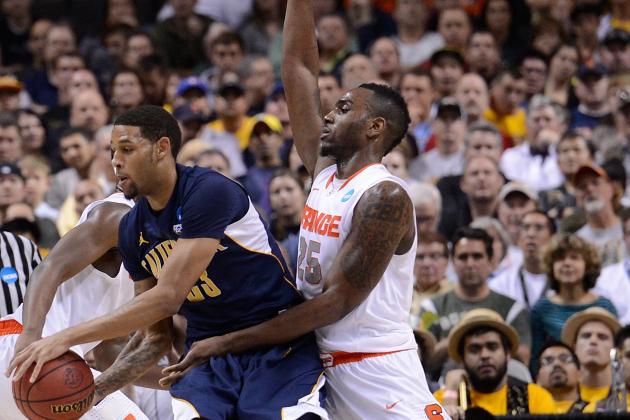 Thearon W. Henderson/Getty Images
Crabbe played very well for California.
The Portland Trail Blazers acquired Crabbe through a draft deal with Cleveland. The shooting guard from California was selected during the second round of the 2013 NBA draft.
During his final season with California, Crabbe averaged 18.4 points, 6.1 rebounds, 2.6 assists and 1.1 steals in 36.2 minutes per game. Like Lehigh's C.J. McCollum, Crabbe shows promise at the guard position. Once he gets used to the nuances of professional ball play, Crabbe could definitely be a force for Portland.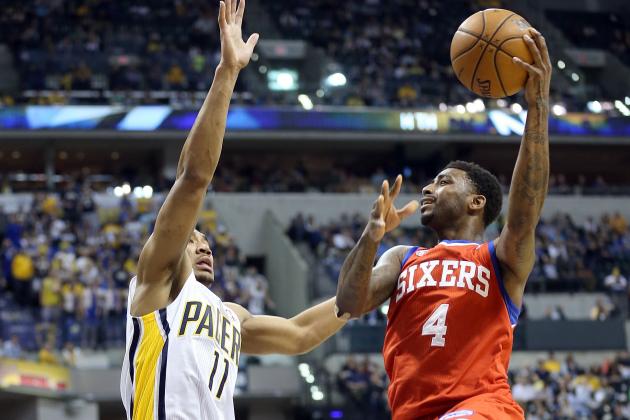 Andy Lyons/Getty Images
Wright is heading to Portland.
The Trail Blazers got small forward Dorell Wright to agree to a two-year deal recently. The 27-year-old was previously with the Philadelphia 76ers. Last season, Wright averaged 9.2 points, 3.8 rebounds and 1.9 assists per 22.6 minutes each game.
He's a veteran, having played nine years in the NBA. He'll have to compete with Nicolas Batum for minutes, but Wright will undoubtedly see some solid playing time next season.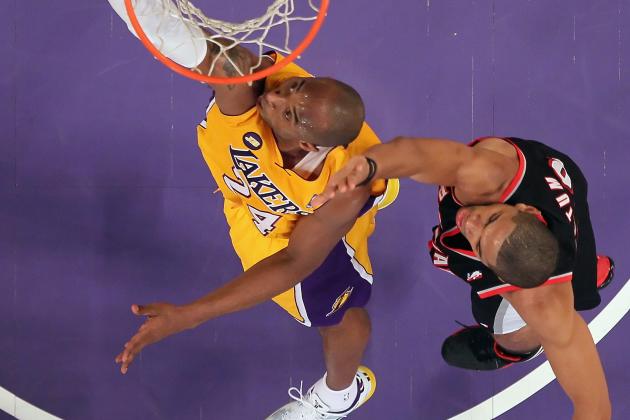 Jeff Gross/Getty Images
Batum plays at the small forward position for the Blazers.
Unfortunately, Nicolas Batum missed time at the end of last season because of a shoulder injury. Hopefully, he will be recovered and injury-free by the time the 2013-14 season rolls around.
The Trail Blazers will need the small forward, given his strong statistics last season. For 2012-13, he averaged 14.3 points, 5.6 rebounds, 4.9 assists and 1.2 steals in 38.5 minutes of gameplay.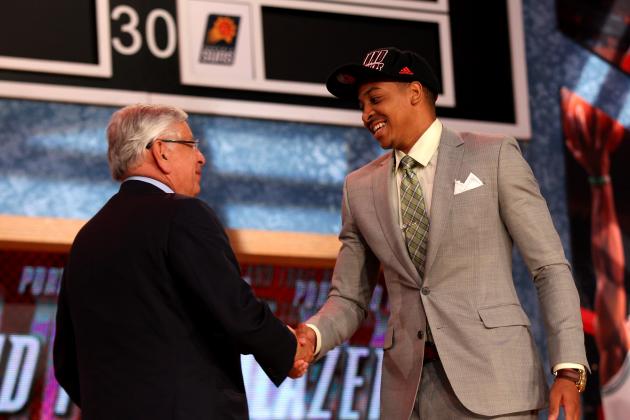 Mike Stobe/Getty Images
Portland selected McCollum during the first round of the 2013 draft.
At the 10th spot in the first round of the 2013 NBA draft, the Portland Trail Blazers selected C.J. McCollum from Lehigh University. The guard averaged an impressive 23.9 points, 5.0 rebounds, 2.9 assists and 1.4 steals in 31.0 minutes during his final season at Lehigh.
After the team had such a successful season with rookie Lillard, the stakes are set high for Portland's highest pick in the draft. But McCollum's skills are evident from his play at Lehigh. As long as he works with and learns from Lillard, McCollum will do great things for Portland.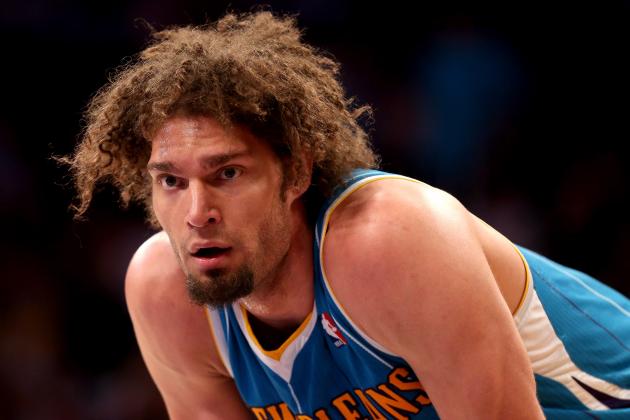 Stephen Dunn/Getty Images
Robin is the brother of Brook Lopez.
The Blazers acquired Robin Lopez, twin brother of Brook Lopez, from a trade with the New Orleans Pelicans. The center averaged 11.3 points, 5.6 rebounds and 1.6 blocks in 26.0 minutes last season with New Orleans.
Standing at 7' and weighing over 250 pounds, Lopez will certainly be a force at center. It will be interesting and exciting to see if he and LaMarcus Aldridge can make a powerful low-post team.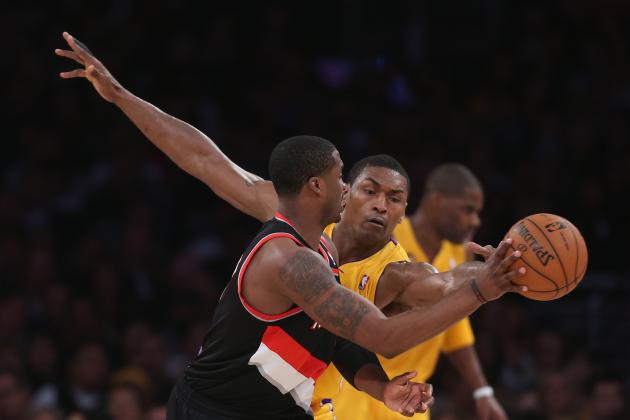 Jeff Gross/Getty Images
Matthews is a shooting guard for the Blazers.
With Damian Lillard coming off a stellar rookie season, he will need a solid partner at shooting guard. That puts the pressure on shooting guard Wesley Matthews to deliver.
For 2012-13, the 26-year-old averaged 14.8 points, 2.8 rebounds, 2.5 assists and 1.3 steals in 34.8 minutes. Matthews underwent a procedure on his elbow at the end of May. The recovery time was set at three to four weeks; let's hope his elbow is fully repaired by the start of next season.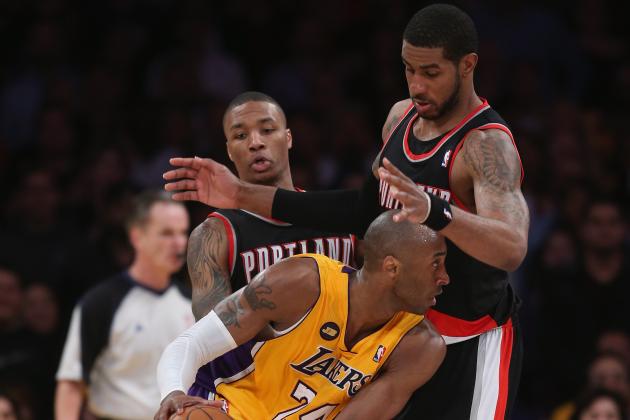 Jeff Gross/Getty Images
Aldridge is Portland's key big man.
Big man LaMarcus Aldridge is a huge part of the Trail Blazers, and he's the most effective part of their low-post crew. Last season, he averaged 21.1 points, 9.1 rebounds and 2.6 assists per 37.7 minutes of gameplay.
He also has a strong field-goal percentage of .484. The 27-year-old stands at 6'11" and weighs in at 240 pounds.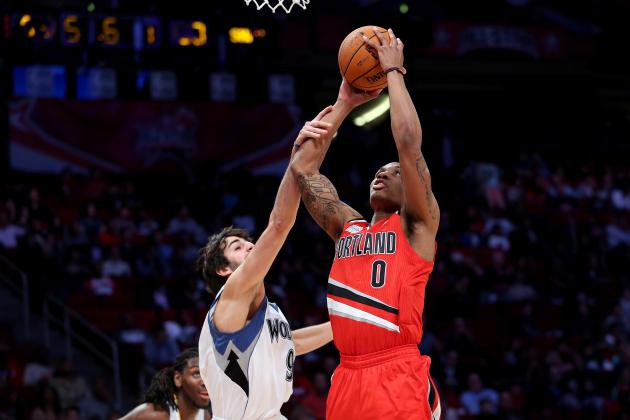 Ronald Martinez/Getty Images
Lillard is a star at point guard.
After his incredible rookie season, there are many reasons to argue that Damian Lillard is the most valuable player on the Portland Trail Blazers squad. The 2012-13 Rookie of the Year averaged 19.0 points, 3.1 rebounds and 6.5 assists in 38.6 minutes per game.
Drafted in the first round at the No. 6 spot in 2012, Lillard flourished as Portland's primary point guard. Undoubtedly, Blazers fans are excited in anticipation of his second NBA season.