UFC on Fox 8 Preview: Ranking Jake Ellenberger's UFC Fights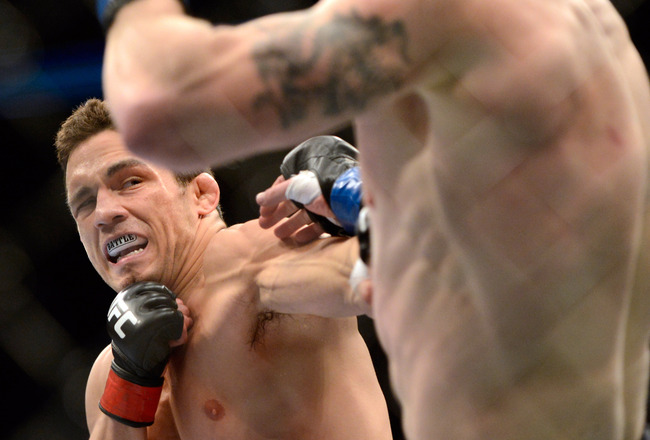 Eric Bolte-USA TODAY Sports
Jake Ellenberger has a big fight in front of him. On July 27, the 29-6 welterweight will face the 14-1 Rory MacDonald in the co-main event of the UFC on Fox 8 fight card.
The two fighters are ranked right next to each other in the division, Ellenberger holding the No. 4 spot in the division and MacDonald the No. 3 spot. It's not out of the question that the winner of this bout would be heavily considered to face the winner of the upcoming bout between UFC welterweight champion Georges St-Pierre and top-ranked contender Johny Hendricks.
As the fight between Ellenberger and MacDonald nears, let's take a look at Ellenberger's 10 fights inside the Octagon.
10. Jay Hieron at UFC on FX 5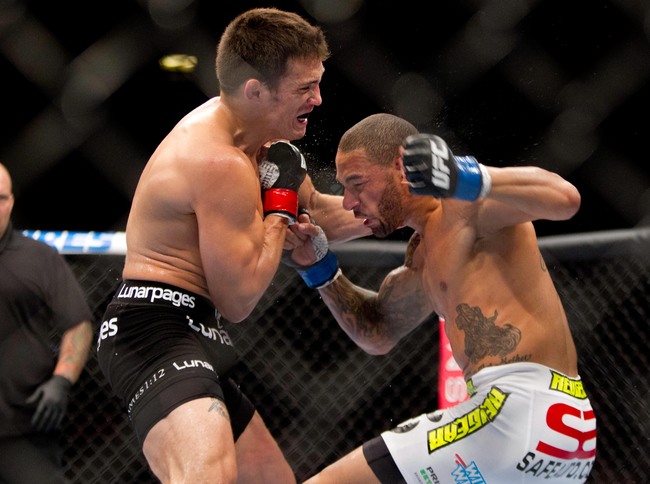 Bruce Kluckhohn-USA TODAY Sports
You can sometimes judge a fighter by how they bounce back after a loss. In the case of Ellenberger, there was not much to judge when he faced Jay Hieron at UFC on FX 5 following his loss to Martin Kampmann.
Ellenberger seemed tentative throughout the fight. The aggressive fighter we saw in previous fights was replaced by a cautious fighter who operated at a distance, scoring mostly with takedowns.
Some of that caution may have been due to the fact that Hieron had handed Ellenberger his first professional loss back in 2006. Some of it may have been due to Ellenberger wanting to conserve energy and not tire in the third round. Some of it may have been due to Ellenberger wanting to play it safer than usual and not get caught like he did against Kampmann.
Whatever the reasons behind Kampmann's performance, it was not very memorable. Sure, he won, but he did so in a way that didn't leave fans talking about his fight the next day.
9. Martin Kampmann at 'The Ultimate Fighter 15' Finale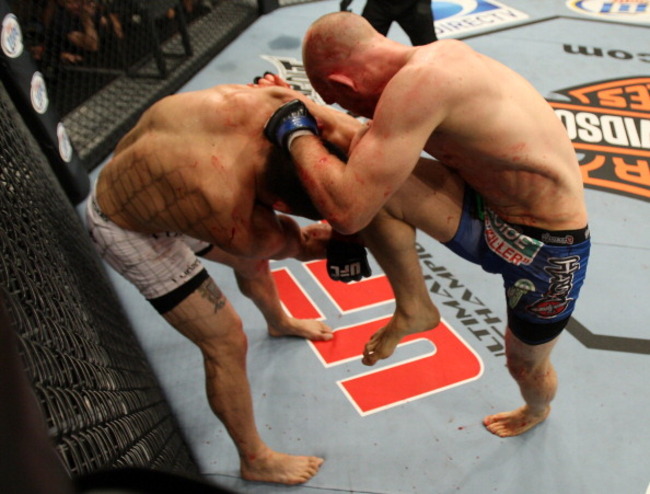 Josh Hedges/Zuffa LLC/Zuffa LLC via Getty Images

After defeating Diego Sanchez, Ellenberger was matched up against Kampmann.
The fight, scheduled for five rounds, began fairly slowly, but when the two decided to open up, it was Ellenberger that got the upper hand, dropping Kampmann and landing some solid ground strikes before Kampmann was able to clear his head and work toward a guillotine. Kampmann spent much of the first round with his back to the cage, allowing him to regain his wits and energy.
The second round began with Ellenberger bloodying Kampmann, but the ever-resilient Kampmann hung in there. When the two got back together, Kampmann staggered Ellenberger with a right and backed him to the cage. From there, Kampmann delivered several knees to the head of Ellenberger, dropping him to the mat and bringing the referee in for the stoppage.
Ellenberger had Kampmann badly hurt, but he could not finish him. He also looked a little sloppy when he sensed his opponent was in bad shape, he lowered his hands and left himself unprotected—something that can't be done against a fighter like Kampmann, who is always in the fight.
If you get a chance, check out the replay of this fight and watch for the death stare that Kampmann is throwing when the results are read in the cage.
8. Carlos Eduardo Rocha at UFC 126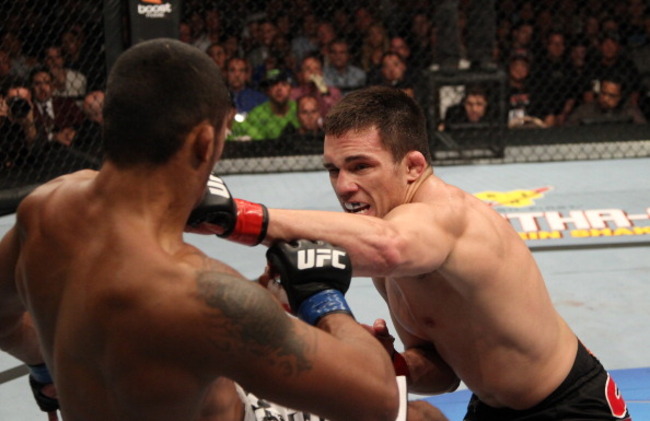 Jed Jacobsohn/Zuffa LLC/Zuffa LLC via Getty Images

Ellenberger was originally scheduled to face Jon Fitch at UFC 126, but Fitch was pulled from the bout and moved to face BJ Penn at UFC 127. In Fitch's place, the UFC inserted Carlos Eduardo Rocha, not exactly the same level of competition.
The step down in competition may have had something to do with Ellenberger's performance. He wasn't his normal aggressive self. He looked uninspired.
Ellenberger walked away with the split-decision win, but it was close. Without the takedowns Ellenberger secured in the second and third rounds, this fight could have very easily gone in the opposite direction.
It was a win, but it was a step backward for Ellenberger.
7. John Howard at UFC on Versus 2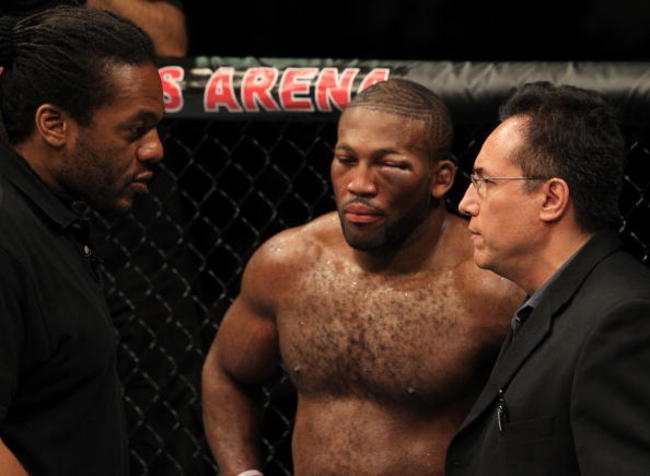 Josh Hedges/Zuffa LLC/Zuffa LLC via Getty Images

Ellenberger faced John Howard on August 1, 2010. Both fighters entered the bout coming off knockout victories. Knowing this, the crowd was clearly expecting a striking battle from the two fighters. When the fighters spent the majority of the early going in the clinch, the fans did not hide their disapproval.
Howard started off the second round and landed two solid strikes, which brought Ellenberger in for the takedown. Once he had Howard on his back, he went to work with his ground-and-pound, leaving Howard with a badly swollen eye.
Howard was aggressive to open the third round, but he slowed quickly. Ellenberger gained a takedown, and after a referee stand-up the doctor was called in to look at the damaged eye of Howard. The physician did not take long to wave the fight off, awarding the TKO victory to Ellenberger.
6. Sean Pierson at UFC 129
Al Bello/Zuffa LLC/Zuffa LLC via Getty Images

Ellenberger stepped in to face Sean Pierson at UFC 129 on just 17 days' notice. With the short notice and practically no camp to speak of, it was no surprise that Ellenberger did not come out as aggressive as he had in past fights.
Ellenberger was patient, and he did not need to wait long for an opportunity to present itself. Ellenberger threw a counter left that caught Pierson on the side of the head and dropped him to the mat. There was no need for any additional strikes, and the fight was a wrap at the 2:42 mark of the first round.
5. Carlos Condit at UFC Fight Night 19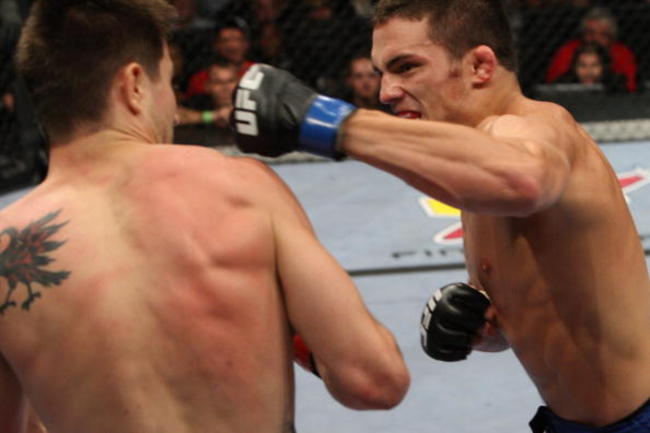 Josh Hedges/Zuffa LLC via Getty Images

Ellenberger made his UFC debut in September 2009, facing former WEC champion Carlos Condit on the main card of UFC Fight Night 19.
If Ellenberger was suffering from a case of Octagon jitters in his first fight with the UFC, he did a good job of hiding it, coming out fast and almost immediately dropping Condit to his back.
Ellenberger used his striking to put Condit in deep waters in the first round, rocking him on more than one occasion. A referee with a quick trigger finger may have even stopped this one in the first.
Condit recovered and bounced back in the second working his submission attempts and gaining mount where he went to work with ground strikes.
The third round saw Ellenberger fade a bit while Condit remained active.
In the end, the fight was scored a split decision for Condit, but it showed that Ellenberger had the skills to hang in the UFC.
4. Mike Pyle at UFC 108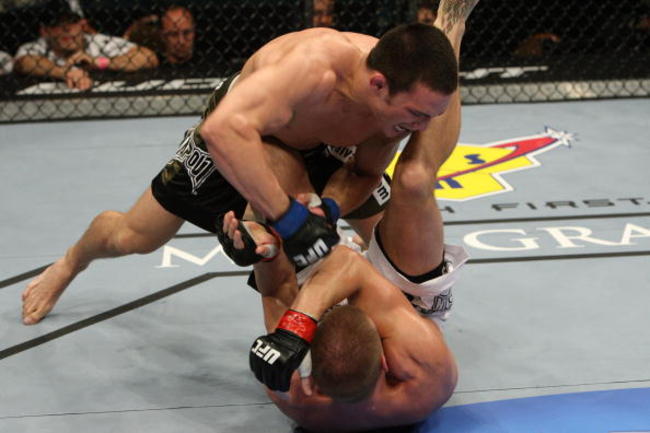 Josh Hedges/Zuffa LLC via Getty Images

After losing to Carlos Condit in his UFC debut, Ellenberger was matched up against Mike Pyle at UFC 108. The two fought on the preliminary card.
Like the Condit fight, Ellenberger came out aggressive, dropping Pyle with a punch early on. Pyle, very comfortable on his back, used wrist control to limit the effectiveness of Ellenberger's striking game once on the ground.
Ellenberger regrouped between the first and second round, and he once again came out strong, dropping Pyle with a right. The difference between the start of the first and second rounds was that Ellenberger gave Pyle no recovery time once he rocked him in the second. Once Pyle went to the ground, Ellenberger swarmed and quickly finished him with heavy ground strikes.
3. Diego Sanchez at UFC on Fuel TV 1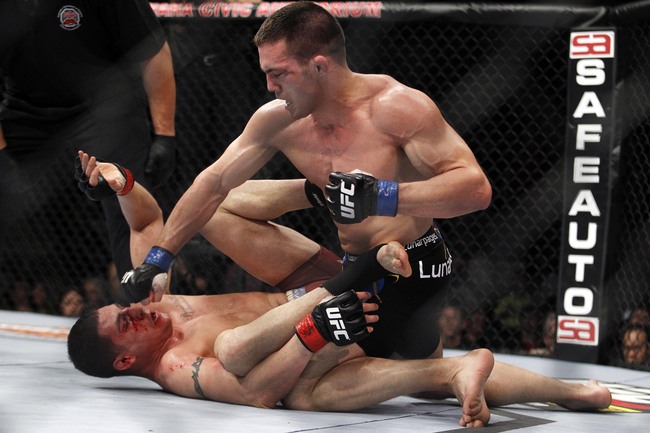 Matt Ryerson-USA TODAY Sports
If Ellenberger's victory over Jake Shields put him on the radar of fight fans, his fight with Diego Sanchez at UFC on Fuel TV 1 tattooed his name on their brains.
Ellenberger's striking was on point during this matchup—as was his wrestling—at least through the majority of the fight. He faded late in the third round while Sanchez staged a last-minute rally.
Had the fight been a five-rounder, it's hard to tell how this one would have ended. Being as it was a three-round contest, Ellenberger walked away with the unanimous decision win.
A very memorable scrap and very deserving of Fight of the Night.
2. Jake Shields at UFC Fight Night 25
Josh Hedges/Zuffa LLC/Zuffa LLC via Getty Images

Jake Shields may not have been in the best frame of mind when he stepped into the Octagon to face Ellenberger on September 17, 2011. After all, his father had passed away just a few weeks before, but that does not take away from what Ellenberger accomplished in the main event of UFC Fight Night 25.
What he accomplished was finishing Shields by TKO at the 53-second mark of Round 1, becoming only the second man to stop Shields in a professional career that began in 1999.
Shields took home Knockout of the Night honors for his effort in this one.
This was the fight that really put Ellenberger on the map in the welterweight division.
1. Nate Marquardt at UFC 158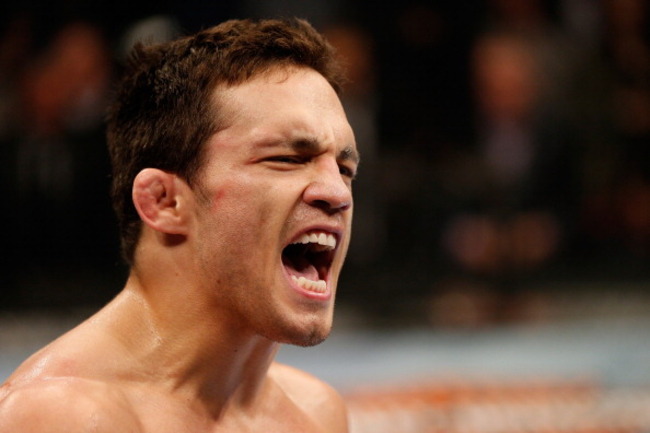 Josh Hedges/Zuffa LLC/Zuffa LLC via Getty Images)

After a lackluster effort against Hieron, Ellenberger needed a statement fight. He got that in his next outing, putting Nate Marquardt away three minutes into the first round of their bout in March of this year, earning "Knockout of the Night" honors in the process.
Marquardt opened the fight with several leg kicks, which Ellenberger took with little difficulty while waiting for an opening. He found that opening when Marqaurdt went for a kick to the body and Ellenberger countered with heavy strikes to the head that backed Marqaurdt to the cage before dropping him to the mat. Once on the mat, Ellenberger dropped his opponent facedown on the canvas with some additional punches.
Keep Reading