Philadelphia Flyers' Biggest Takeaways from Free Agency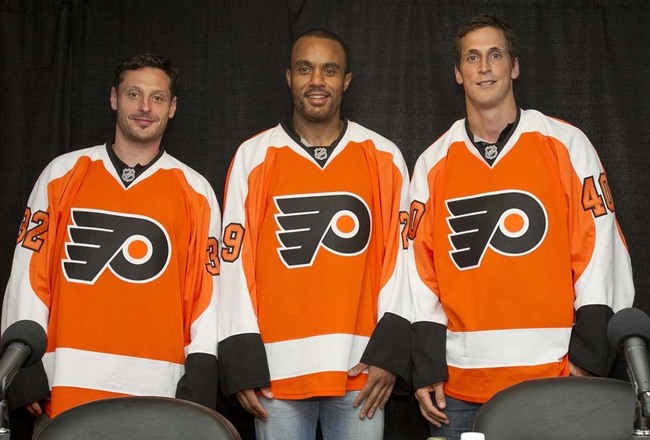 photo via thetriangle.org

The Flyers have had quite an eventful offseason, adding two of the top unrestricted free agents, Vincent Lecavalier and Mark Streit, to bolster their roster, along with goalie Ray Emery.
With the main signing period over (but a few more moves could be made), it's time to look back at what happened over the past couple weeks and where the Flyers stand now.
Streit was announced first after Philadelphia traded for his rights and then subsequently locked up the ex-captain of the New York Islanders.
Then Paul Holmgren kept the spending going when he went and surprisingly grabbed the biggest name on the market, another former captain, Vincent Lecavalier.
Lastly, the Flyers grabbed a former player of theirs, Ray Emery, who will help shore up the goaltender position after Ilya Bryzgalov was bought out.
These moves are definitely significant, but what exactly do they mean for Philadelphia moving forward? Here are the biggest takeaways from the Flyers' free-agency period.
Trying to Win Now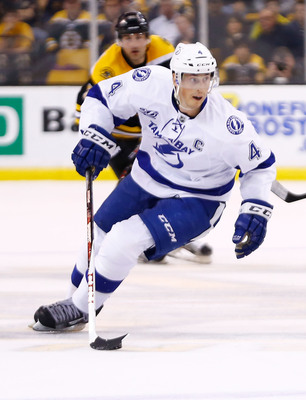 Jared Wickerham/Getty Images
Although they have a plethora of young forward talent, it seems like Paul Holmgren thinks he has a roster capable of being competitive this upcoming season.
Emery is 31, Lecavalier is 33 and Streit is 35, so they are not forward-looking signings by any means. Guys like Jakub Voracek, Wayne Simmonds and Luke Schenn are all going to have to continue taking steps forward.
They bring good leadership for the group of younger players, but they also bring talent that will only remain at a high level for another couple seasons at best.
The Flyers' success window has taken a somewhat strange turn now with these veterans aboard.
Schenn and Couturier's Roles Unclear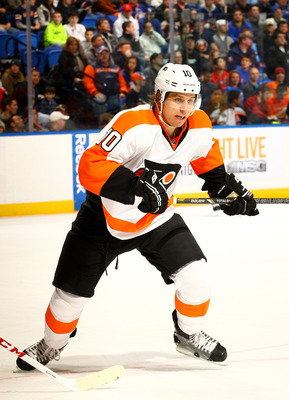 Al Bello/Getty Images
The signing of Lecavalier, a center, is somewhat peculiar given that the Flyers had two of the most promising centers in the NHL behind Claude Giroux on the depth chart.
Twenty-one-year-old Brayden Schenn, just a couple years removed from being the top prospect in hockey, was slotted in to be the second-line center position, which will now be Lecavalier's.
Sean Couturier, at a ripe 20 years of age, looked to be a very good third-line center. But now, with Schenn and Couturier both fighting for that third spot, how does the team win?
One option is to just push them each down a spot, but sticking Couturier on the fourth line would be a waste. Another would be to throw Schenn out on the wing, but I don't love the idea of moving a player of his potential to a new position.
In a way, bringing in Lecavalier shows that management may not have been confident in the youngsters' abilities to step up and take on those expanded roles this year. But now they are in a bit of a pickle.
New Goaltender Controversy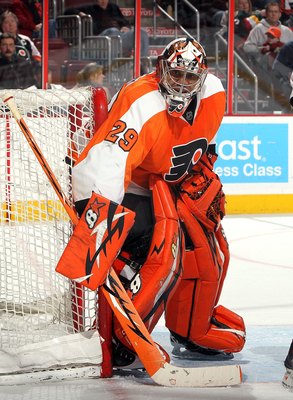 Jim McIsaac/Getty Images
For yet another year, the Flyers' goalie situation will be a hot topic. But this year, it could actually be a good thing.
After trading for Steve Mason in April, he posted an impressive 4-2 record with a 1.90 GAA and .944 save percentage in the orange and black.
But he will go into training camp battling for the starter spot with Ray Emery, who has had a stint in Philadelphia before and is coming off a career year, going 17-1 with a 1.94 GAA for Chicago.
The two seem like they could complement each other well, and if both are playing at a high level, then that would be an unfamiliar yet pleasant situation for the Flyers.
More Moves Are Imminent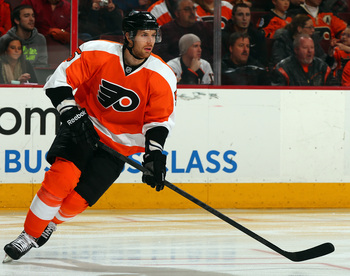 Elsa/Getty Images
The three signings do press the Flyers up against the cap a little bit. Even though Chris Pronger's cap hit will come off the books, there is a lot less wiggle room now than there was previously.
Some will point to Kimmo Timonen's and Andrej Meszaros' deals expiring after this year and their collective $10 million cap hits that will likely not be retained.
But wiser fans would retaliate that Claude Giroux has been given a big extension, and Matt Read, Brayden Schenn, Sean Couturier and Tye McGinn will all be owed new contracts next summer. Both of the Flyers' goalies are also on extremely cheap one-year deals this season.
The Flyers also have a lot of money wrapped up in a pretty average defense, and guys like Meszaros, Braydon Coburn and Nicklas Grossman could all get moved.
With the Lecavalier signing, the Flyers also now have four talented centers under 21 years old, with Scott Laughton and Nick Cousins coming in behind Schenn and Couturier, so there could be a lot of potential for packages to be dangled around the league.
Don't be surprised if a major deal is made in the next few weeks.
Keep Reading

Philadelphia Flyers: Like this team?