Power Ranking Every New Orleans Pelicans Player Already on Roster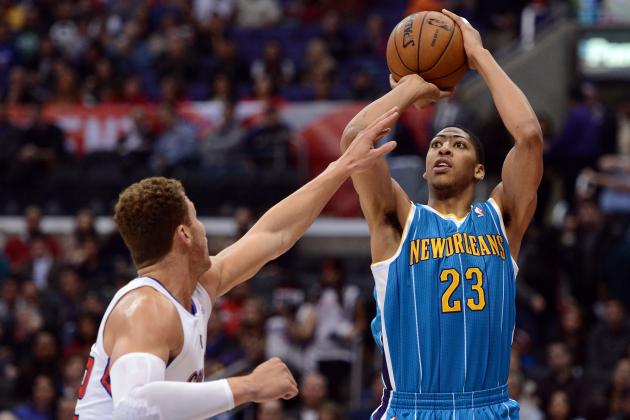 Harry How/Getty Images
Is Anthony Davis the best player on the Pelicans?
No longer Hornets, the New Orleans Pelicans have a certain buzz surrounding them this offseason.
The Hornets were a 27-55 club in 2012-13, but general manager Dell Demps has been busy trying to turn his franchise into contenders.
That meant trading away two-fifths of last year's starting lineup while getting younger, more proficient players for the future.
The acquisitions of All-Star point guard Jrue Holiday and former Rookie of the Year Tyreke Evans have bolstered the backcourt. Adding solid role players for depth has changed the atmosphere of the team as preparations begin for 2013-14.
With the roster basically set—there is no more cap room for Demps to play with—these early power rankings will take into account the non-guaranteed contracts of Brian Roberts and Darius Miller, as well as the recent draft picks acquired via trade (Pierre Jackson and Jeff Withey), all of whom are on the summer league roster.
Does a new signing have the top spot? Does that honor go to Anthony Davis or Eric Gordon? Let's find out.
Begin Slideshow

»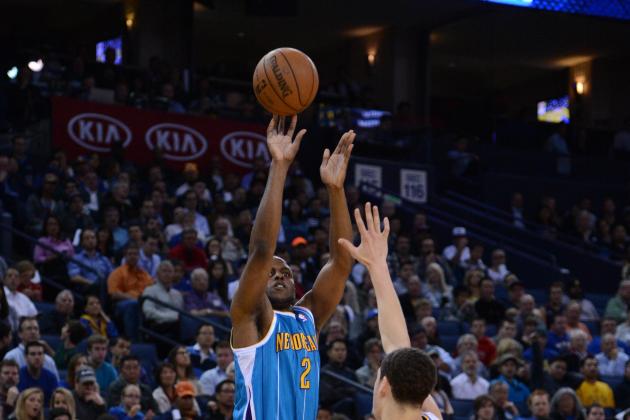 Kyle Terada-USA TODAY Sports

With all the offseason additions, Darius Miller may be the last player off the bench. Worse, he could be a constant DNP (Did Not Play-Coach's Decision) in the box score.
Participating in New Orleans' summer league, the former Kentucky Wildcat has a chance to prove he deserves a spot in the rotation.
In the first summer league game, Miller scored 11 points on 4-of-11 from the field. He brought down three rebounds and committed four fouls.
A young player with potential, Miller has a lot of work to do to sustain a role on this new-look Pelicans team.
In 52 games as a rookie in 2012-13, including two starts, Miller averaged 13.3 minutes with a 6.34 player efficiency rating.
He has a smooth stroke and is capable of making tough shots, though he's often tentative with the ball in his hands. Miller needs to take a more aggressive approach. He had a perfect free-throw percentage, but that's because he only took eight foul shots all season.
At 6'8" he had just 78 total rebounds and a rebound rate of 6.8, per ESPN's Hollinger stats (Insider access required), a low number even in limited playing time.
Additionally, coach Monty Williams had the swing-forward playing multiple positions. According to 82games.com, opposing power forwards had a 20.6 player efficiency rating, while opposing small forwards had a 15.6 efficiency rating.
There's a long road ahead for Miller and he's likely to receive minimal playing time without drastic improvement on both sides of the ball this summer.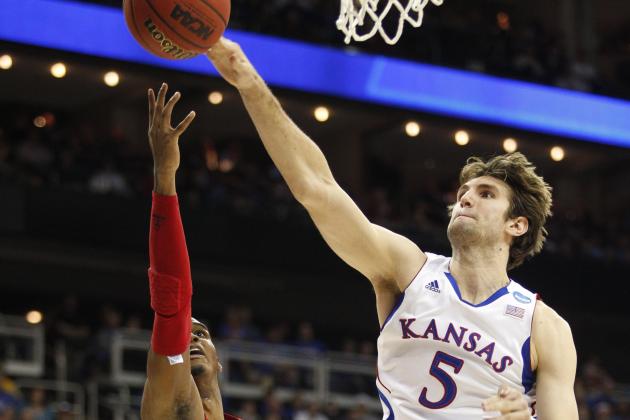 Ed Zurga/Getty Images

The reigning Big 12 Defensive Player of the Year, Jeff Withey was acquired by New Orleans in the trade that sent Robin Lopez and Terrel Harris to the Portland Trail Blazers.
What will benefit Withey in New Orleans is his experience. He played four seasons with the Kansas Jayhawks and established himself as a premier defender without getting into foul trouble. He averaged just 2.1 fouls during his senior campaign.
The 7'0" Withey excels at shot-blocking. This past season, he swatted 3.9 shots per game and set a school record with 146 total blocks.
He steadily progressed throughout his four years in Kansas, and by the time he was a senior, he averaged 8.5 rebounds in 30.9 minutes per game.
Though New Orleans has a pair of big men already on the roster, Withey could settle into the rotation if only because of his defensive prowess.
On offense, Withey scored 13.5 points per game during his senior season, becoming an inside threat throughout Kansas' NCAA tournament run.
He's a player who should be higher on this list, but you can't base a power ranking on college stats. He has yet to play a summer league game and we'll have to see just how his game translates to the next level.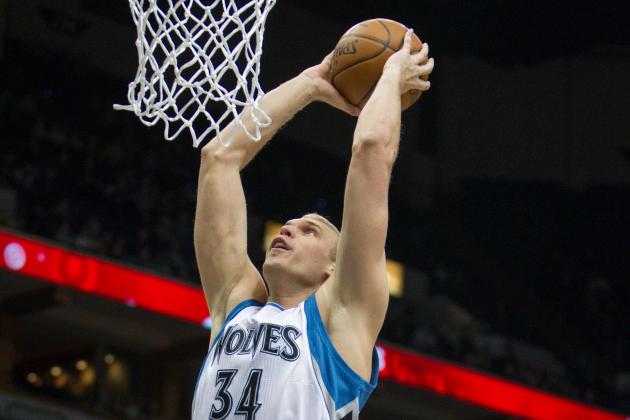 Brace Hemmelgarn-USA TODAY Sport

After being cut by the Minnesota Timberwolves, 27-year-old Greg Stiemsma signed a one-year, $2.65 million deal with the Pelicans' mid-level exception.
He is another player who will provide New Orleans with inside defense. Like Withey, Stiemsma is a prominent shot-blocker who puts himself in great position on the defensive end.
The 6'11" big man blocked 1.2 shots per game with a 10.52 player efficiency rating in just under 16 minutes per contest last season. He's a strong rebounder as well, grabbing 8.6 boards per 40 minutes.
Stiemsma has a career 48.4 percent field-goal percentage, but averaged just four points a year ago.
What ranks Stiemsma ahead of Withey is his experience. While Withey has better offensive numbers, he just has four years of college ball under his belt. Stiemsma has two years of learning from Kevin Love and Kevin Garnett, two of the best big men in the game.
He can be a valuable contributor for this team, and while he shines on defense, the offense from Stiemsma may take some time to come to fruition.
When he played extended minutes with the Timberwolves, he found a groove on offense. It's too early to know what Stiemsma's role will be with the Pelicans.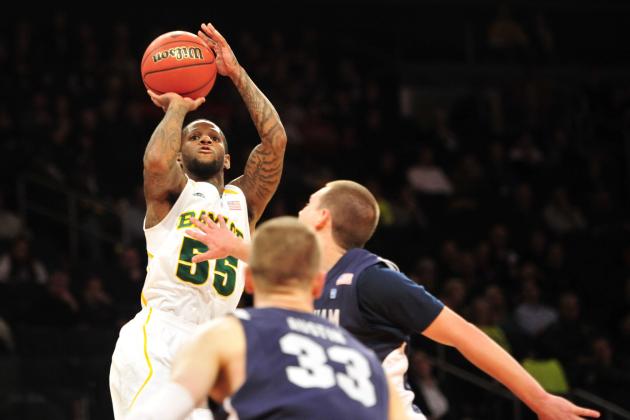 Joe Camporeale-USA TODAY Sports

The No. 42 pick in the draft, Pierre Jackson is an explosive point guard with a dynamic jump shot.
Jackson is quick to the rim and uses his size (or lack thereof) to weave in and out of the defense. Standing 5'10" tall, Jackson has his work cut out for him in the NBA.
For him, that's nothing new. He's dealt with adversity since high school, fighting and battling his way to the NBA draft.
As a second-round pick Jackson doesn't have a guaranteed contract, but if he's able to impress in the summer league, he could shoot up the power rankings as the offseason goes on.
His true-shooting percentage—57.4—sparked his Big 12-leading 19.6 points and 7.1 assists per game.
With Jrue Holiday, Tyreke Evans and Austin Rivers all capable of playing the point, the summer league is going to be crucial for Jackson to prove his worth.
If Jackson plays like he did in the NIT last season, when he was named MVP with 11 assists per game, Williams will find a role for him.
Jackson turned into a quality facilitator during his senior season at Baylor, but tried to do too much and this resulted in a 16.4 percent turnover rate. With the talent around him, he won't be relied on as much and can be free to play his style.
Though he has tremendous lateral quickness, he's got to focus on defending the bigger, more athletic NBA-level point guards in order to make an impact this season.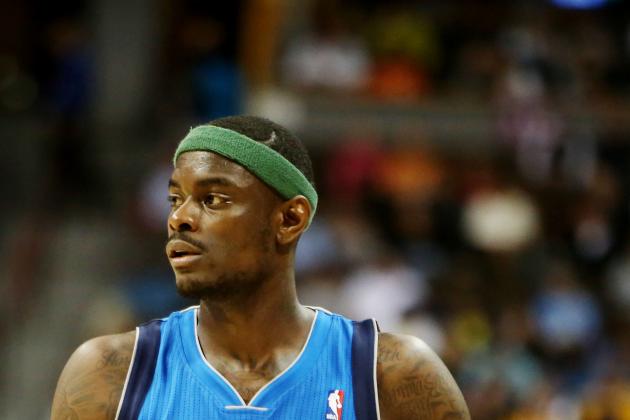 Chris Humphreys-USA TODAY Sports

The signing of Anthony Morrow gives the Pelicans added depth on the wing. A sharpshooter who started his career with the Golden State Warriors, Morrow has struggled to get playing time the past couple of years.
If he has any type of role on this team, he could be a dangerous bench player, but that remains to be seen.
Last season, he split time with the Atlanta Hawks and Dallas Mavericks. He made just one start and barely had a role with the Mavericks, seeing 4.8 minutes per game of action in 17 games. His numbers were down in all categories, but he is averaging 10.9 points over his five-year career.
His best season came in 2010-11 with the New Jersey Nets, when he played 32.2 minutes per game and averaged 13.2 points.
Morrow is a career 42.4 percent shooter from three-point range and could provide the Pelicans with more of a presence on the perimeter.
The Pelicans are deep at guards, so it remains to be seen where Morrow will fit on this team. With the ability to shift to small forward, we could see Morrow get some time at the 3.
In any case, Morrow has to show he can still be productive at a high level. He could be a more effective Roger Mason Jr.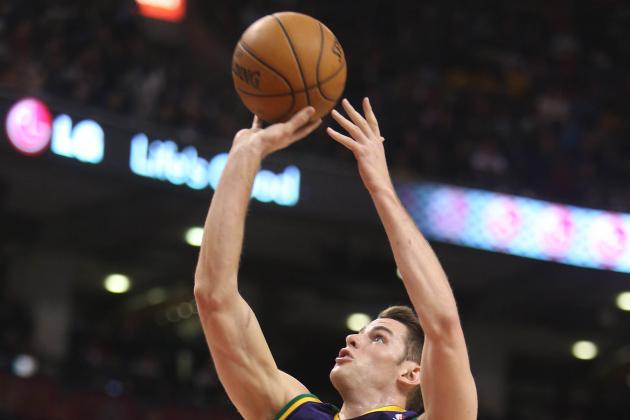 Tom Szczerbowski-USA TODAY Sports

As the offseason goes on, Jason Smith will climb up the rankings. However, because he's still unable to do any type of basketball activity while rehabbing from shoulder surgery, I can't put him any higher on this list.
When healthy, Smith is a valuable contributor. He came off the bench in 51 games last year, tallying a player efficiency rating of 16.84.
His role will certainly change this upcoming season. Last year, the 7'0" Smith saw floor time behind starter Robin Lopez. This year, as the most serviceable veteran big man, Smith could take over Lopez' role.
Playing 17.2 minutes per game last season, Smith averaged 8.2 points and 3.6 rebounds.
The 27-year-old has had more success at the 4, but he has the body for a 5. He held opposing power forwards to an 11.3 PER, while opposing centers had a 19.2 PER. Offensively, Smith's PER at the 5 was 17.7, compared to just 14.6 at the 4, per 82games.com.
Look for Smith to play increased minutes next season, but that's only if his rehab goes well and he's healthy for the season.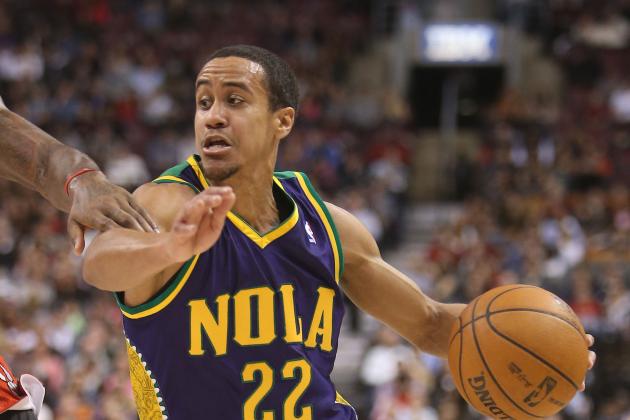 Tom Szczerbowski-USA TODAY Sports

Brian Roberts was a solid contributor off of Williams' bench last season. He was a 26-year-old rookie after spending time overseas.
Backing up Greivis Vasquez, Roberts played 17 minutes per contest in 78 games and scored 7.1 points with 2.8 assists per game. He led the team with a 90.9 free-throw percentage.
The highlight of his season came on March 25 in a 110-86 victory over the Denver Nuggets. With Vasquez missing the game, Roberts displayed his passing skills, racking up 18 dimes. It was one of just two games in which Roberts exceeded 10 assists in the season.
Back on the summer league squad this year, Roberts was just 4-of-13 from the field against the New York Knicks in the Pelicans' first game. He scored 10 points in 32 minutes of action with five rebounds and two assists.
Though he started the 2012-13 campaign as a score-first type of point guard, Roberts' value will come from his ability to be a facilitator. His assist ratio last season was 28.2 in limited floor time.
The youngsters on this team will make Roberts earn his minutes, and if Jackson can establish himself, we could see Roberts drop in the power rankings as summer moves along.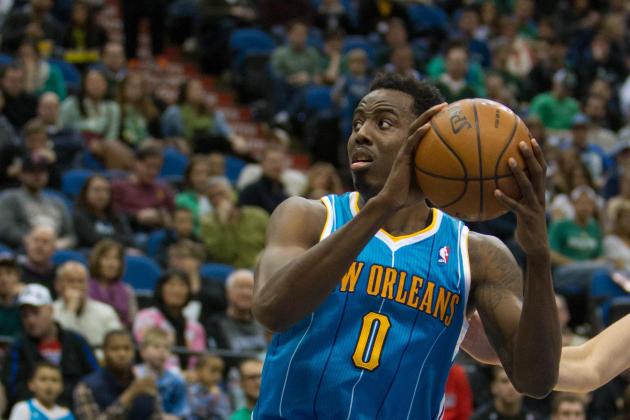 Brace Hemmelgarn-USA TODAY Sport

The Pelicans' small forward a year ago, Al-Farouq Aminu, is returning to New Orleans on a $3.7 million contract.
Aminu, the 6'7" forward, is a lengthy wing player with a 7'3" reach. He's very athletic, which is giving him a boost in these initial rankings.
Though small forward was looked at as an area of need, the acquisition of Evans and the return of Aminu take away that need.
Aminu, who will be 23 years old when the 2013-14 season starts, had a career-best year with 7.3 points per game on 47.5 percent from the field.
With Aminu still in the development phase, last year's experience—in which he started 71 of the 76 games he played in—will be beneficial.
However, he doesn't have an outside jump shot—he shot just 21.1 percent from beyond the arc—and he struggles with ball-handling. He's still a "potential" type of player, and since he's not playing in the summer league, we'll have to wait until training camp to see his improvements and maturation.
He's a solid bench option for the Pelicans going forward, with the possibility of continuing his role as starter, which is why he's ranked now at No. 7.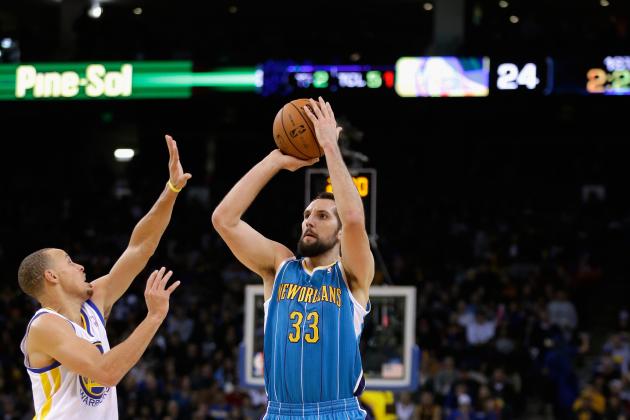 Ezra Shaw/Getty Images

In the running for Sixth Man of the Year in 2012-13, Ryan Anderson is currently ranked No. 6 on the Pelicans roster.
After starting 61 games in a lockout-shortened season in 2011-12 for the Orlando Magic, Anderson was reduced to a bench role in New Orleans while playing behind No. 1 overall pick Anthony Davis. Despite the change, it was the most productive season in Anderson's professional career.
With an 18.17 player efficiency rating, Anderson scored 16.2 points per game in 30.9 minutes. He has a quick release on his jump shot and has come to be known for his three-point shooting.
For a 6'10" player, he isn't the best defender—not too quick on his feet—but he held his opponent counterparts to a 15.0 player efficiency rating at the power forward position.
He knows his role is to back up Davis, and after a year to get accustomed, he will excel with the new talent on the roster. Instead of playing with the second tier of 2012-13 that included Roger Mason, Lance Thomas, Roberts and Xavier Henry, he will be playing with the likes of Morrow, Gordon, Evans and Austin Rivers.
Participating in the Team USA minicamp at the end of July should add to his confidence.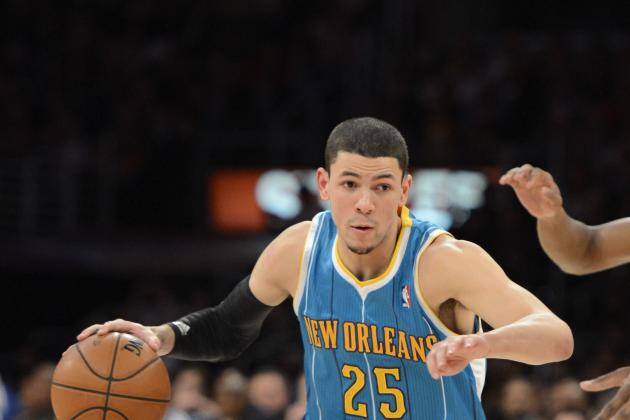 Richard Mackson-USA TODAY Sports

Austin Rivers had a horrendous offensive season in 2012-13. The No. 10 overall pick, Rivers averaged a mere 6.2 points and 2.1 assists in 61 games.
So why is he so high on the list?
Well, based on pure basketball talent.
It took him some time to realize what the NBA style was like. When he broke his hand in early March, it ended his rookie campaign just as he was starting to get comfortable in the NBA.
He didn't live up to his status as a top-10 pick and has spent the offseason trying to get back on track. According to Zach Harper of CBSSports.com, the Pelicans gave Rivers a list of things he needed to improve on. Rivers said:
It's kind of like a discharge paper of what you need to work on when you come back. One is to trust my work. Everyone knows how hard I work. When I go on the floor, sometimes I can be too unselfish. They want me to go out there, be aggressive within the team's concept, and just be aggressive and have fun. Don't think too much.
In the summer league win against the Knicks, Rivers was the leading scorer. He dropped 24 points on 8-of-15 from the floor and 7-of-11 from the foul line. He also grabbed seven rebounds and dished out six assists.
If he reverts back to the rookie Austin Rivers, his ranking will drop quickly. For Pelicans fans, the hope is he stays confident and doesn't let up.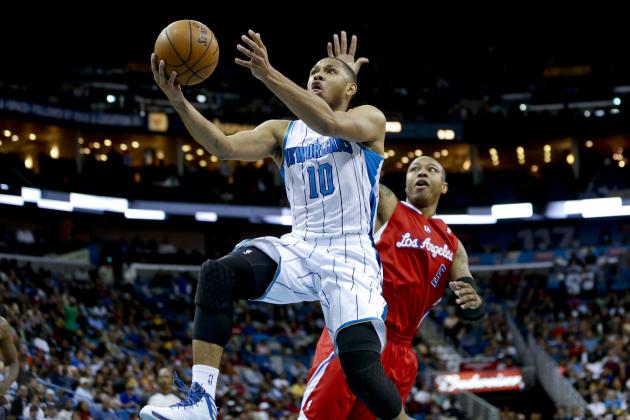 Derick Hingle-USA TODAY Sports

Eric Gordon was the leading scorer on the team last season.
Not playing in back-to-back games all year is what drops Gordon's ranking to No. 4. He is a dynamic shooter and an explosive finisher at the rim. He scored 17 points per game on 40.2 percent from the field in 2012-13.
His career shooting percentage is 44.3, so if Gordon is 100 percent healthy for a full season, we could see a career year in 2013-14.
Though his heart may have been in Phoenix a year ago, he has since changed his stance and is all in with the Pelicans. He told John Reid of the New Orleans Times-Picayune,
I've always been all-in, but I'm very excited about the team thus far. With this young team we can be good for a long time if we grow together.

...

I think we will maximize all of our abilities if we play up-tempo. With the guards we have and having Anthony (Davis) as the rim runner, we should be pretty effective. When I spoke to Jrue the day after the draft, we were both very excited to hoop together.
With the talent level now surrounding Gordon, he doesn't need to do too much. He was the go-to guy last season when he was on the court, and now the team has up to four other go-to guys.
The fast-paced offense that New Orleans is shaping up to have will force Gordon to make quick decisions. The ball will be shared frequently, and when he gets the ball, he has to know whether to shoot, pass or drive right away.
It's difficult to rank Gordon when he's still not 100 percent, but when he's on the court, he is a game changer.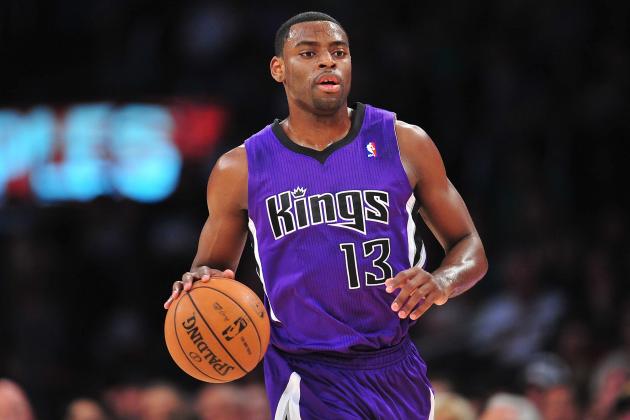 Gary A. Vasquez-USA TODAY Sports

The Pelicans gave a max contract of four-years, $44 million to Sacramento Kings guard Tyreke Evans. At 6'6", Evans is a versatile athlete who can play multiple positions. He was drafted as a point guard, but spent most of the past few seasons at the 2 and 3.
For the Pelicans, Evans is ready to fill any role Williams needs. While it's not clear yet what Williams has planned—whether it's the sixth man, the 2 or the 3—Evans is going to get his minutes.
The 23-year-old scored 15.2 points per game last season while shooting 47.8 percent from the floor. Evans is a great ball-handler with a knack for the rim. He has the speed to get through the defense and score at the rim, seemingly at will.
He needs to work on his outside shooting, but the former Rookie of the Year has improved his three-point percentage, which was 33.8 in 2012-13, compared to 20.2 in 2011-12.
There's a lot of room for growth, and the acquisition of Evans gives the Pelicans the multi-faceted player they need to become contenders in the Western Conference.
Now they just need to find a consistent role for Evans.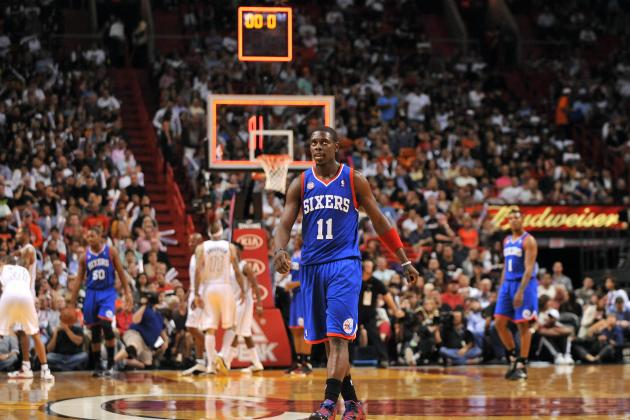 Steve Mitchell-USA TODAY Sports

Newly acquired Jrue Holiday is headed to New Orleans to take over the starting point guard duties.
Coming off an All-Star year with the Philadelphia 76ers, Holiday averaged 17.7 points and eight assists in 78 games played. He has proven his durability, missing just five games in the past two seasons combined.
Still just 23 years old, Holiday has emerged into a premier point guard in the NBA. There is plenty of room to grow and now he is surrounded by young, top talent that will allow his game to excel.
His turnovers jumped to 3.7 per game (292 total) in 2012-13, but that can be written off as trying to do too much on offense. In Philadelphia, Holiday was the offense; the facilitator and the scorer. Without help, he tried to force passes and drive the lane when nothing was there, only to give the ball away.
Still, he recorded the best player efficiency rating of his career (16.74).
In New Orleans, the help will be there and he won't have to force anything.
Under contract for the next four years, Holiday can grow and develop further with this young core. He has shown he can lead a team and comes in as one of the best all-around players on the roster.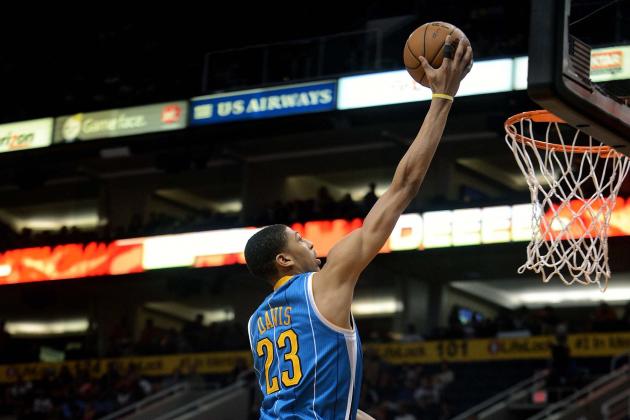 Jennifer Stewart-USA TODAY Sport

The former No. 1 overall pick, Anthony Davis now has one year of growth and maturity.
The 20-year-old Davis is the best player on this roster. In his rookie season, during which he missed 18 games with injury, Davis had a player efficiency rating of 21.80.
There's no better way to improve your abilities on the basketball court than by surrounding yourself with the game's best players and coaches. That is what Davis will be doing at the Team USA minicamp this summer.
He was the runner-up for Rookie of the Year (won by Portland's Damian Lillard) and made first team All-Rookie after shooting 51.6 percent from the field.
Davis averaged 13.5 points and 8.2 rebounds in 64 games. He is a double-double threat every time he steps on the court, recording 20 in his rookie campaign.
He has great length at 6'10" and is an elite shot-blocker. He averaged 1.8 blocks per game and had a season-best five blocks on two separate occasions.
His performances will only improve with the players around him. Davis told Mike Gegenheimer of the New Orleans Times-Picayune that he has been working on multiple facets of his game this offseason: "(I'm working on) form for when I'm shooting, ball handling and post moves. Those are the three biggest keys."
He's only going to get better. Barring any lengthy injury, Davis will be the best player in New Orleans for a long time to come.