Full Training Camp Roster Breakdown for the St. Louis Rams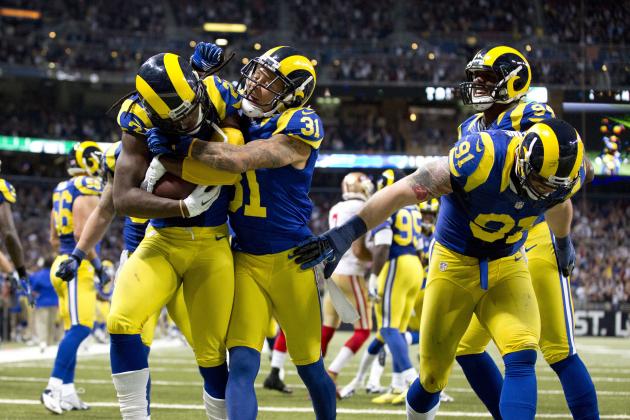 David Welker/Getty Images

The St. Louis Rams will enter training camp with 90 bodies and exit with only 53.
Over the next several weeks, the coaching staff will mold the roster and burn off the excess fat in attempt to field the best team possible.
Here is a breakdown of all 90 players and a brief summary of where they stand.
Begin Slideshow

»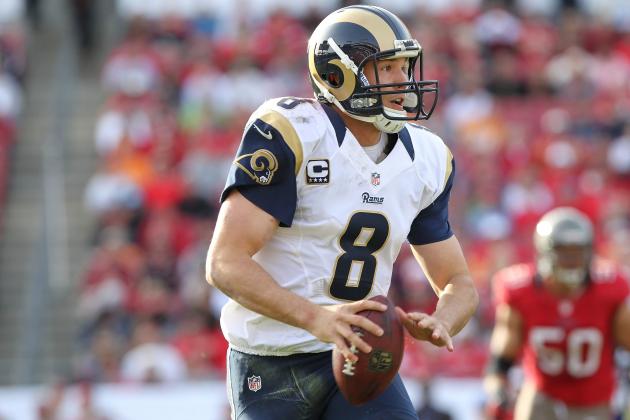 Kim Klement-USA TODAY Sports

Sam Bradford (No. 8)
Sam Bradford is entering his fourth year as an NFL starter (how time flies).
Bradford tossed 21 touchdowns against 13 interceptions in 2012 and experienced a great rebound season after a pitiful 2011 performance. He will enter camp determined and anxious to establish himself as the team leader now that Steven Jackson is in Atlanta.
This is a big year for Bradford. It will tell us if he can truly be an elite quarterback or if he'll remain a game manager for most his career (nothing necessarily wrong with that).
Kellen Clemens (No. 10)
After six seasons in the Brian Schottenheimer offensive system, Kellen Clemens has to be a certified Schotty expert at this point.
If the Rams choose to play it safe, they'll stick with the veteran Clemens as the No. 2 back. If they want a backup with more potential, they'll turn to No. 9.
Austin Davis (No. 9)
Austin Davis was exciting to watch in the 2012 preseason. While he didn't throw for any touchdown passes, he played like a true gunslinger. I guess that's how they raise quarterbacks at Southern Mississippi, Brett Favre's Alma mater.
If Bradford were to miss a game or two due to injury, it'd be very interesting to see what Davis could accomplish in this offense.
Tim Jenkins (No. 3)
As a small-school standout at Fort Lewis, Tim Jenkins is a long shot and was primarily brought in as an extra camp arm.
He will compete for the No. 3 spot. If he's impressive during camp, there's always a chance he'll land on the practice squad.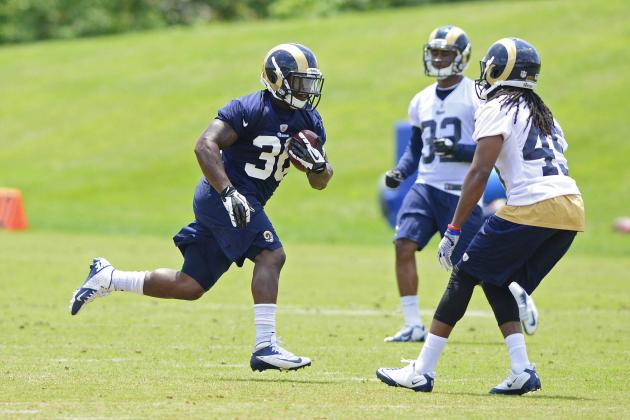 Jeff Curry-USA TODAY Sports

Daryl Richardson (No. 26)
Daryl Richardson was the No. 2 running back behind Steven Jackson in 2012, and he finished his rookie year with 98 carries for 475 yards.
Richardson, who weighs under 200 pounds, is primarily a third-down back and will struggle to carry the ball more than 20 times a game throughout a 16-game season.
He will be a major part of the offense, but he won't be a primary running back.
Isaiah Pead (No. 24)
Isaiah Pead had a disappointing rookie year, carrying the ball only 10 times all season. But he's looking to establish himself as the starter and wants to remind fans why he was a second-round pick.
Pead is a talented runner with explosive speed out of the backfield. If he has a breakout year in 2013, the Rams will have an extremely dangerous offense.
Zac Stacy (No. 30)
In case Richardson and Pead are incapable of carrying the load, the Rams draft Zac Stacy in the fifth round as an insurance policy.
At only 5'8" and 216 pounds, he is a surprisingly effective runner between the tackles and is practically a clone of Maurice Jones-Drew.
Stacy may need some time to develop, but he's an exciting player who will see some action in 2013.
Terrance Ganaway (No. 42)
Terrance Ganaway was a late-round draft pick for the New York Jets in 2012, but he was cut from the roster and scooped up by the Rams. He did not carry the ball once during his rookie year, but he hopes to change that in 2013.
At 240 pounds, Ganaway is a bruising runner and has the size and durability to carry the ball 30 times a game.
He's the dark-horse candidate at running back.
Benny Cunningham (No. 45)
Benny Cunningham played for small-school Middle Tennessee State and was a star player for the Blue Raiders, scoring 11 rushing touchdowns in 2012.
At 5'10" and 209 pounds, he is yet another back on the smaller side. The Rams have plenty of runners who fit that description, so it could be difficult for Cunningham to make the final 53.
Chase Reynolds (No. 34)
Chase Reynolds has been to Earth City, Missouri, for training camp several times now. He has yet to make the final roster and appear in the regular season, but he has a shot to make the final 53 as a special teams contributor.
Eric Stevens (No. 47)
At 240 pounds, Eric Stevens will attempt to make the roster as a fullback. However, with tight end Lance Kendricks doubling as the team's fullback, it's unlikely that he will crack the final roster.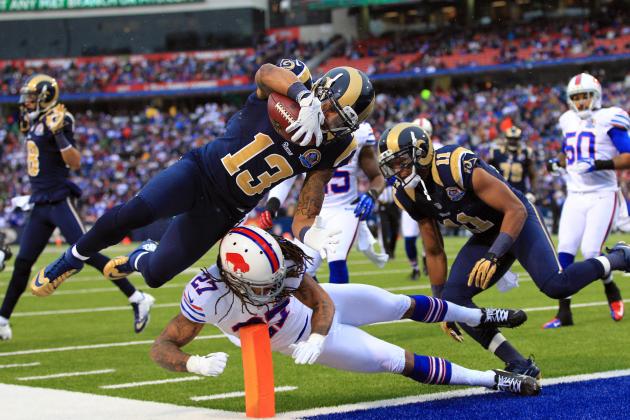 USA TODAY Sports

Chris Givens (No. 13)
Chris Givens was an explosive deep-ball threat as a rookie in 2012, racking up 698 yards and three touchdowns. He didn't even start producing until about four weeks into the regular season and missed one game for disciplinary reasons, so the young receiver certainly has 1,000-yard capabilities.
Givens struggles on short routes and struggles with catches in heavy traffic. It will be interesting to see if he can develop into a more well-rounded receiver in year two.
Tavon Austin (No. 11)
Tavon Austin has the quickness of Wes Welker, the deep-ball speed of Mike Wallace and the return skills of Joshua Cribbs. In other words, it's not surprising that the Rams used the No. 8 overall pick to obtain him.
He will immediately be a key part of this offense, and he'll be a fun player to watch in 2013.
Austin Pettis (No. 18)
Austin Pettis missed the first two games of 2012 due to a suspension. While he struggled to consistently produce, he did have some flashes. He produced 261 yards last season and was a solid red-zone weapon, grabbing four touchdown passes.
Pettis is looking to have a breakout year and has a chance to be the starting wideout.
Brian Quick (No. 83)
Brian Quick was selected No. 33 overall in 2012 (one pick away from being a first-rounder), but he saw very limited action in 2012, with just 156 receiving yards and two touchdowns.
Quick is loaded with potential and could bust out anytime, but by the looks of it, he needs another year or two to develop before he can truly shine.
Stedman Bailey (No. 12)
Stedman Bailey was a standout player at West Virginia, racking up 1,622 yards and a jaw-dropping 25 touchdowns in his final season. He was a solid addition in the third round.
He will struggle to earn playing time early on as he adjusts to the NFL, but he'll get more and more reps as the season progresses.
Emory Blake (No. 16)
Emory Blake was a standout player at Auburn, but he went undrafted last spring as a result of inconsistent play. He will compete for a roster spot, but his only hope is the practice squad.
Andrew Helmick (No. 84)
Andrew Helmick is a local St. Louis athlete, which makes him a favorite among fans, but he'll struggle to make the final roster.
Nick Johnson (No. 14)
Nick Johnson is a shifty slot receiver, much like Amendola when he first entered the league, but he has no chance at beating Austin for the slot receiver job.
He is still eligible for the practice squad. It may be handy to keep him on reserve in case there's an injury to Austin.
Raymond Radway (No. 15)
At 6'3" and over 200 pounds, Raymond Radway has the size coaches love for outside receivers, but he doesn't have the athleticism of a top-notch wideout. He spent his rookie year in 2011 on injured reserve and wasn't able to make a final roster in 2012.
Radway is hoping to injuries are behind him and that he'll finally get a chance to show his stuff.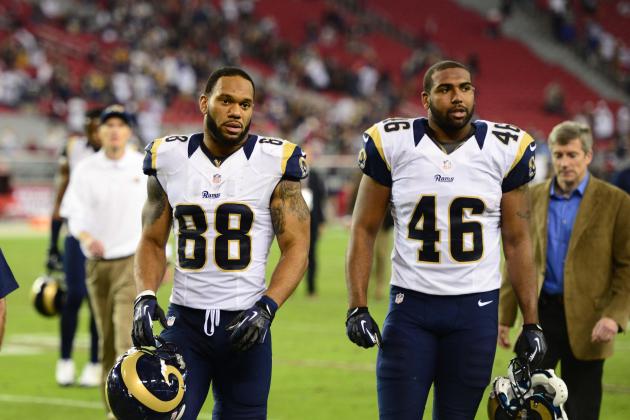 Mark J. Rebilas-USA TODAY Sports

Jared Cook (No. 89)
Jared Cook has "Tight End" next to his name, but make no mistake, he's a wide receiver. Coach Fisher could care less about his run blocking and pass protection. He'll be split out wide or in the slot on practically every snap.
At 6'5", Cook is a dangerous downfield weapon and will help the team produce points in the red zone.
Lance Kendricks (No. 88)
Lance Kendricks was a solid run-blocker in 2012 and is likely the most underrated player from last season. He helped keep Sam Bradford upright in pass protection and helped move the chains with his consistent and effective run blocking.
Not to mention, he ended the year with four touchdowns and 519 receiving yards—the second-highest yards total among NFC West tight ends, only slightly behind Vernon Davis (548 yards).
Kendricks is an important weapon and has a lot to offer the Rams in 2013.
Cory Harkey (No. 46)
Cory Harkey was able to surprise some people in training camp last year. The Rams kept him around in 2012, though he only caught one pass in the regular season.
Harkey is 260 pounds, so he's a big body capable of moving defenders as a run-blocker, and his size makes it difficult for smaller defensive backs to bring him down.
He has a shot at the 2013 roster, but he'll primarily be utilized on special teams.
Mike McNeill (No. 89-B)
At 235 pounds, Mike McNeill is on the smaller side, but he's a decent receiver and may eventually develop into a reliable pass-catching tight end.
He had four catches for over 30 yards in very limited playing time last season, but those numbers could grow as McNeill develops and grows as a player.
Philip Lutzenkirchen (No. 43)
Philip Lutzenkirchen was a solid contributor for the Auburn Tigers during his college years, producing 14 touchdowns throughout his four-year career.
He has sluggish straight-line speed, so he won't develop into a full-time starter at tight end. But at 6'3" and 258 pounds, he may be useful as a red-zone tight end in certain packages.
Zach Potter (No. 87)
Zach Potter played with Jacksonville for four season, but he had very little production and limited playing time.
Potter's experience in the NFL could give him an edge against the younger candidates at tight end, but he's still a long shot.
Unfortunately, his past experience makes him ineligible for the practice squad, so he either makes the final 53 or his NFL career is likely over.
Cameron Graham (No. 81)
Cameron Graham was a solid pass-catching tight end during his collegiate years at Louisville, catching 67 passes for 793 yards and seven touchdowns in his final two seasons. But he has struggled to establish himself at the NFL level.
Cook and Kendricks have pretty much maxed out the capacity for pass-catching tight ends, so Graham will have a tough time making the final 53, but he's eligible for the practice squad.
Colby Prince (No. 86)
Colby Prince was underutilized as a pass catcher for the Oregon State Beavers, catching just 18 passes for 136 yards and one touchdown as a senior.
He is looking to surprise the coaching staff and prove that he's a better pass-catcher than his stats reflect, but he has a lot of hurdles to overcome.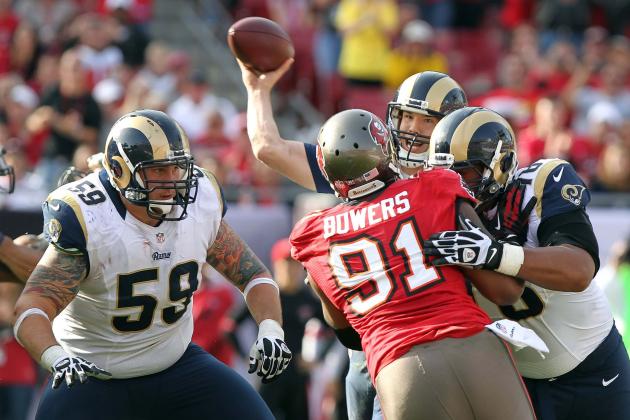 Kim Klement-USA TODAY Sports

T Jake Long (No. 77)
The Rams locked up Jake Long in free agency in hopes that he'll once again establish himself as the best left tackle in all of football.
Long made the Pro Bowl in each of his first four seasons and appeared to destined for a Hall of Fame career, but injuries in the last two seasons have temporarily derailed that train.
If he is finally healthy, his dominate presence will give the Rams their best offensive line since the Greatest Show on Turf era.
T Rodger Saffold (No. 76)
Rodger Saffold was St. Louis' second-round pick in 2010 and surprised everyone by immediately winning the left tackle job and providing stellar play.
However, he has been struggling with injuries, which has forced him to miss 13 games over the last two seasons.
With Long on board, the Rams will ask Saffold to move to right tackle. If the move is successful, the Rams could end up with the best pair of tackles in the entire NFL.
G Harvey Dahl (No. 62)
Harvey Dahl is a mean, nasty player who provides the offensive line with tenacity and gives it an edge. He has been the Rams' best offensive lineman since his arrival in 2011 and will be a key part of the offensive front in 2013.
Dahl did miss two starts in 2012 due to injury and is 32 years old, but he should have another year or two of solid play left in the tank.
C Scott Wells (No. 63)
Scott Wells was a Pro Bowl center for the Packers in 2011 and was expected to provide the Rams with the same top-notch production. But he missed nine games due to injury.
If the 32-year-old can stay healthy in 2013, the Rams will have a very impressive offensive front.
G Shelley Smith (No. 66)
Shelley Smith was signed midseason in 2012 as an unknown waiver pickup, but he surprised everyone, starting six games and playing surprisingly well.
Smith is the likely front-runner for the left guard job. If he can develop and further improve his play, he'll be a solid contributor for the Rams in 2013.
C/G/T Barrett Jones (No. 67)
Barrett Jones was a steal in the fourth round of the 2013 draft.
With Wells missing nine games last season, Jones' primary role will be backing up him as the No. 2 center. If Wells goes down again, the Rams can plug Jones into the mix without skipping a beat.
However, he's much more than a backup center. He can play every position on the offensive line and will be ready to jump into action the minute a starter goes down.
Jones will likely spend most of the 2013 season as a backup. He'll compete for the left guard job, but he'll have a tough time beating out Smith.
G Brandon Washington (No. 70)
Brandon Washington was a promising prospect from the University of Miami. But he surprisingly slipped to the sixth round of the 2012 draft, selected by the Eagles at No. 200 overall.
Washington was cut by Philadelphia just before the start of the 2012 regular season, and the Rams scooped him up.
He needs some development, but he should make the final roster and will provide valuable depth at guard.
G Rokevious Watkins (No. 73)
Rokevious Watkins won the left guard last season by default.
He started the 2012 season opener in Detroit, but he was overwhelmed by Detroit's tough defensive front and had a poor showing. He got injured in the game and missed the final 15 games of the season.
Now, Watkins is back to square one and is competing for the left guard job once again. However, this time around, he actually has some serious competition.
Watkins will miss the first game of 2013 due to an injury, and suspension will likely be the difference in what should be a neck-to-neck race at left guard.
Still, even if he fails to win the starting job, he'll provide the Rams with reliable depth. And since he appeared in only one game last season, he's still eligible for the practice squad.
G Ryan Lee (No. 59)
Ryan Lee is a small-school prospect out of Furman, and there is little info available regarding his play and qualifications.
He will compete for a job as a backup guard, but since that's a crowded position, he'll have a tough time making the roster.
G/T Chris Williams (No. 65)
Chris Williams is a five-year veteran with 38 starts on his resume. He was released by the Chicago Bears during the 2012 season and was signed by the Rams. He appeared in three games.
Williams will compete at left guard, and his experience could give him an edge over younger players such as Smith and Watkins.
He is expected to make the final roster, either as a starter or as depth.
T Ty Nsekhe (No. 60)
Ty Nsekhe is a mammoth tackle at 6'8" and 325 pounds, but the 27-year-old is lacking in experience. He spent his first three seasons as a pro in the Arena Football League, where he played for Corpus Christi, Dallas and Philadelphia.
In 2012, he finally got a shot at the NFL after being signed by the Indianapolis Colts. But he was released by the end of training camp. The Rams picked him up and signed him to the practice squad.
Nsekhe is still eligible for the practice squad, but he has a chance to make the roster as a backup tackle. Given the injuries to Long and Saffold, the Rams need all the backup tackles they can get.
T Joe Barksdale (No. 68)
Joe Barksdale was a highly touted prospect out of Louisiana State and was considered a first-round prospect at one point, but he slipped to the third round in 2011 and was picked up by Oakland.
Oakland released Barksdale several weeks into the 2012 season and he was picked up by St. Louis. He started two games in place of Wayne Hunter and Rodger Saffold, playing well in his limited action.
With his experience, he'll be the No. 3 tackle on the team.
T Sean Hooey (No. 64)
Sean Hooey played tackle at Cincinnati during his collegiate career, so perhaps his experience in a fast-paced offense will make him useful to the new and improved Rams offense. He will have a tough time cracking the final roster, but the practice squad is always an option.
G Braden Brown (No. 69)
Braden Brown is a 6'6", 300-pound tackle who was a solid performer at BYU. But the rookie hopeful will have a tough time beating out Joe Barksdale, Chris Williams and Ty Nsekhe for a tackle spot.
C Tim Barnes (No. 61)
Tim Barnes is a hometown favorite who played for the Missouri Tigers during his collegiate career. He made the final roster in 2012, but, unfortunately, he'll likely be cut this year since the team found a new backup center in Barrett Jones.
C/G Kevin Saia (No. 79)
Kevin Saia is a small-school hopeful out of Louisiana Tech, but with plenty of competition at both guard and center, he'll have a tough time surviving the first round of cuts.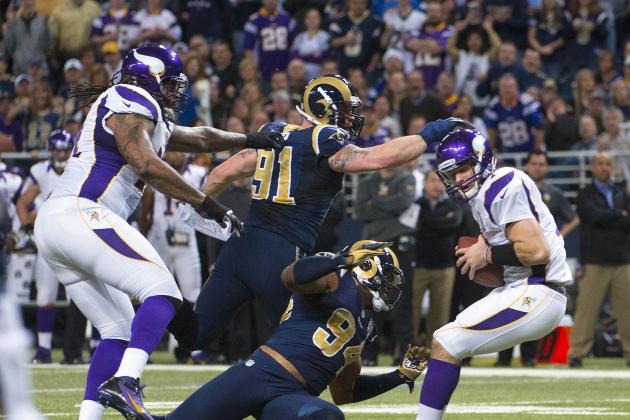 USA TODAY Sports

DE Chris Long (No. 91)
Chris Long is one of the better pass-rushers in the NFL, and he now has back-to-back seasons with double-digit sacks after recording 11.5 sacks in 2012. He is the leader of the defense and is a vital component of what should be an elite pass-rushing defense in 2013.
DE Robert Quinn (No. 94)
Long receives most of the attention and praise from the National media, but Robert Quinn is actually has more potential and is a player to watch in 2013. In 2012, his second season in the league, he recorded 10.5 sacks and one forced fumble.
Quinn is a freakish athlete and has the makings a superstar. He hasn't come close to reaching his full potential, and year three should be a breakout year for him.
It's not out of the question for Quinn to sniff 16 to 20 sacks in the upcoming season. He's that good.
DT Michael Brockers (No. 90)
Despite being labeled a weak pass-rusher by draft analysts and missing three games due to injury, Michael Brockers was a dominant force as a rookie, recording four sacks.
He is only 22 years old and is entering his second NFL season. Already, he is one of the top young tackles in the game, and things will only get better as he gains experience.
Brockers will be the anchor of the defense in 2013 and will help the Rams finish with a top-10 unit.
DT Kendall Langford (No. 98)
Kendall Langford was signed as a free agent a year ago out of Miami, where he played in a 3-4 scheme, and struggled to adapt to St. Louis' 4-3 system.
He was still a dependable player and wasn't a liability, but he has the potential to be much better and should make solid strides in his second year.
DE/DT William Hayes (No. 95)
Williams Hayes had a solid year as the No. 3 rotational end and had success coming in on third downs as a tackle.
Despite being a part-time player, he still recorded seven sacks in 2012 and was an important part of a St. Louis pass rush that led the NFL in sacks (tied with 52).
Hayes entered free agency following the 2012 season, and retaining him for 2013 was a major achievement for this defense.
DE Eugene Sims (No. 97)
Eugene Sims has quietly been an important part of the Rams defensive line depth and specials teams unit.
He recorded a career-high three sacks in 2012, despite receiving very limited playing time, and figures to make the roster once again as depth.
DT Matthew Conrath (No. 71)
Matthew Conrath had an impressive preseason in 2012. He held his own against the run and consistently penetrated the pocket and pressured the quarterback.
He was meant to be an important part of the defensive line rotation, but injuries kept him sidelined for the entire 2012 season.
In 2013, Conrath will look to regain his role as a rotational tackle.
DT Jermelle Cudjo (No. 93)
Like Conrath, Jermelle Cudjo has struggled with injuries since entering the league, but Cudjo still appeared in 15 games in 2012. He recorded one sack and 21 tackles in limited playing time and also appeared on special teams.
Cudjo, along with Conrath, will continue to develop and provide the Rams with solid tackle depth in the upcoming season.
DE Mason Brodine (No. 96)
Mason Brodine is a small-school prospect out of Nebraska-Kearney, and he'll do what he can to make the roster as a special teams contributor.
With so much talent on the St. Louis defensive line, it will be tough for any of the long shots to crack the roster.
DE Gerald Rivers (No. 99)
Gerald Rivers is an undrafted rookie out of Ole Miss. He faced stiff competition in college, but he has no chance out outplaying a loaded group of ends.
Rivers is a solid candidate for the practice squad, and hopefully he'll turn into a contributor at some point.
DE R.J. Washington (No. 92)
R.J. Washington was a four-year player for the Oklahoma Sooners. He was a solid contributor for Oklahoma, but he had limitations as a pass-rusher and ended his collegiate career with only seven total sacks.
It's doubtful Washington will crack the final roster.
DT Garrett Goebel (No. 69)
Garrett Goebel was a solid contributor for the Ohio State Buckeyes. He finished the 2012 season with one sack, 42 tackles and four tackles for a loss.
Goebel may have to spend a year on the practice squad before he's ready for action, but it's possible that he's a younger version of Conrath and Cudjo
DT Al Lapuaho (No. 79)
Al Lapuaho is an undrafted rookie out of Utah State. He was actually a productive player at Utah State, sacking the quarterback three times in 2012, with 35 tackles and 4.5 tackles for a loss.
Lapuaho will attempt to make the practice squad, but he has little to no chance at making the final roster.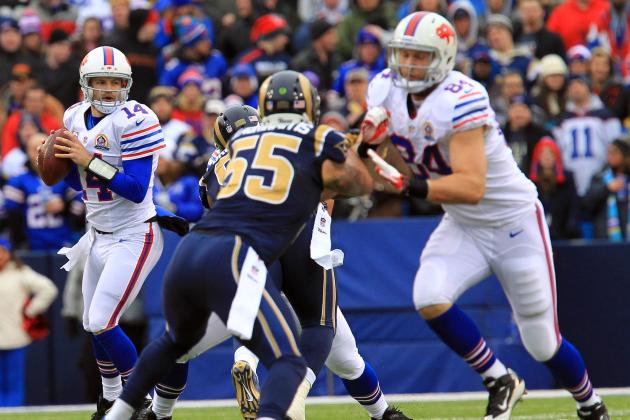 USA TODAY Sports

James Laurinaitis (No. 55)
Since entering the league in 2009, James Laurinaitis has been the quarterback of the defense and will continue that role in 2013.
While he is not an elite linebacker or a big-time playmaker, he's a dependable player and one of the best 4-3 inside linebackers in the league.
Look for Laurinaitis to further improve during his second year in Jeff Fisher's system and take his game to the next level.
Alec Ogletree (No. 52)
Alec Ogletree was drafted by the Rams in the first round last spring with the No. 30 overall pick.
Whereas Laurinaitis has some physical limitations that prevent him from being elite, Ogletree is a physical freak and has the ability to be a difference-maker in this league.
It's unclear how effective Ogletree will be as a rookie, but he'll be a starter from day one.
Jo-Lonn Dunbar (No. 58)
Jo-Lonn Dunbar was a low-key acquisition in free agency a year ago, but he turned out to be a major steal. He not only solidified St. Louis' run defense, but his trash-talking and attitude gave the Rams a new level of tenacity they'd been missing for years.
Between Dunbar, Laurinaitis and Ogletree, the Rams will have a nasty trio of linebackers in 2013.
Will Witherspoon (No. Not Listed)
Will Witherspoon was a last-minute addition and will replace Phillip Steward on the roster, giving the Rams some experience at the position.
He played four seasons with St. Louis between 2006 and 2009 and was one of the better linebackers on the team during his tenure, despite being forced to play out of position as a middle linebacker.
Witherspoon is a 12-year veteran, and he will give the Rams some much-needed depth at the position.
Josh Hull (No. 56)
Josh Hull has been Laurinaitis' backup at middle linebacker since entering the league in 2009, and he will likely retain that role in the upcoming season.
In addition to backing up Laurinaitis, he is also a solid contributor on special teams.
Jonathan Stewart (No. 59)
Jonathan Stewart is a product of Texas A&M and played against top-notch competition in the SEC.
Besides Laurinaitis, Stewart is the only other inside linebacker listed on the roster, so we can assume he'll be battling against Hull for the backup job behind Laurinaitis.
Stewart has the talent to be an efficient run-stopper on first and second down, but his pass coverage will require some coaching.
Look for Stewart to make a serious run at the final 53, or the practice squad, as he's one of the more highly touted undrafted rookies entering camp.
Jabara Williams (No. 52-B)
Jabara Williams has the potential to be a solid player in this league, but it has taken some time for him to develop since entering the league out of small-school Stephen F. Austin State.
He has a real shot at making the final roster as a special teams star, and he'll provide the Rams with solid depth moving forward.
Sammy Brown (No. 57)
Sammy Brown was a standout pass-rusher at the University of Houston. During his senior year of college in 2011, he recorded 13.5 sacks, including 30 tackles for a loss, which immediately put him on the map.
Brown went undrafted, but he has remained a member of the Rams since 2012 and the coaching staff has been developing him, hoping that he'll eventually contribute.
It's unknown if he'll make the team for a second year in a row, but he certainly has the potential to be something special.
Ray-Ray Armstrong (No. 50)
Ray-Ray Armstrong was a rising star at the University of Miami as a hard-hitting safety, but he'll be making the transition to linebacker in St. Louis.
Armstrong is an extremely talented player. If he masters the transition, there's no telling what he can accomplish in the NFL.
Daren Bates (No. 51)
Daren Bates is an undrafted rookie out of Auburn University.
He played against the top competition in all of college football as a member of the SEC, but at just 212 pounds, he's a bit undersized for an NFL linebacker.
Joseph LeBeau (No. 64)
Joseph LeBeau is a small-school hopeful out of Jackson State. At 6'1" and 245 pounds, he has ideal size for a 4-3 linebacker, but he has a lot of competition and will struggle to make the roster.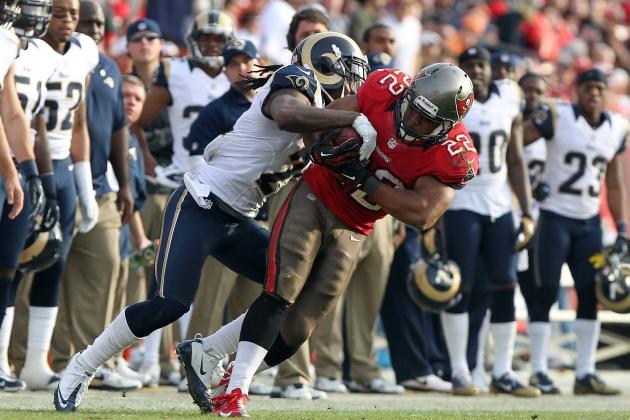 Kim Klement-USA TODAY Sports

Cortland Finnegan (No. 31)
Cortland Finnegan is one of the better corners in the league and is a defensive leader for the Rams. In 2012, he recorded 101 tackles, three interceptions and a forced fumble.
On top of his solid stats, Finnegan is a nasty player who knows how to get in his opponent's head, which is extremely valuable in the NFL.
Finnegan will be a key part of the defense in 2013.
Janoris Jenkins (No. 21)
Janoris Jenkins was arguably the top play-making corner in the entire NFL last season. He recorded four interceptions, returned three for touchdowns and scored an additional touchdown with a fumble recovery against San Francisco.
Jenkins was phenomenal in year one, and he has the talent to be the best corner in the NFL within the next year or two.
Trumaine Johnson (No. 22)
Trumaine Johnson received limited playing time as a third-round rookie in 2012, but he was a solid contributor. Despite playing only part time, he still recorded two interceptions and racked up 31 tackles.
Johnson will not start in 2013 unless there's an injury, but he'll see plenty of action and provide depth.
Brandon McGee (No. 32)
With the departure of Bradley Fletcher in free agency, the Rams decided to grab Brandon McGee as his replacement in the fifth round of the draft.
McGee played at the University of Miami and recorded two interceptions and 54 tackles as a senior. He will make the roster as the No. 4 corner and should provide value on special teams.
Quinton Pointer (No. 33)
Quinton Pointer made the 2012 squad as depth, but he only appeared in six games and recorded just five tackles.
Pointer has some competition when it comes to making the final roster in 2013, but he's the favorite as the No. 5 corner.
Robert Steeples (No. 36)
Robert Steeples is a rookie out of the University of Memphis, and he'll compete for a spot on the practice squad. It's unlikely that he'll make the final roster, but he may get a look as a special team contributor.
Darren Woodward (No. 35)
Darren Woodward is a small-school standout from the University of Texas El Paso. Like the other long shots, he will attempt to secure a spot on the practice squad.
Drew Thomas (No. 41)
Drew Thomas was Woodward's teammate in 2012 at UTEP, but the two will now be competing against each other for their NFL survival.
However, it's unlikely that either player will make the roster.
Andre Martin (No. 43)
Out of North Dakota State, Andre Martin is yet another small-school hopeful.
At 5'10" and 195, he is slightly oversized for a corner and undersized for a safety, so it'll be interesting to see where he lines up at training camp.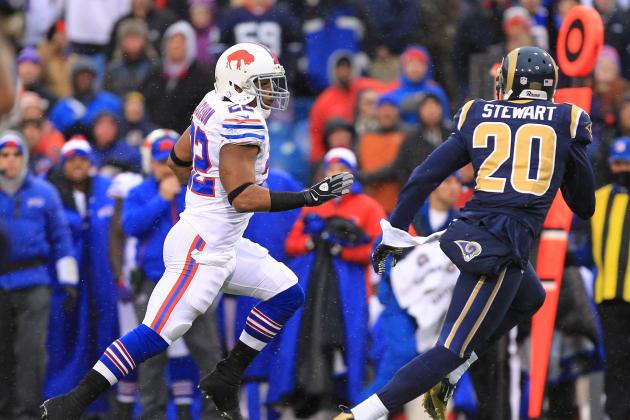 USA TODAY Sports

T. J. McDonald (No. 25)
T.J. McDonald was once viewed as a standout collegiate safety destined for the first round, but a lackluster senior year allowed the Rams to grab him in the third round. Obviously, Rams fans are hoping his first-round potential will shine, allowing him to excel as a rookie.
The Rams are paper thin at safety this year, so McDonald's ability to start and play up to his potential will be key factor in the upcoming season.
Darian Stewart (No. 20)
Darian Stewart was a starter for the Rams in 2011, but injuries kept him on the sidelines for the majority of 2012.
He is a raw player and has a lot of work to do if he's going to win a starting job. But then again, he may be handed a job by default.
Stewart is a decent coverage safety, but he's been burned on occasion. His run defense, though, is pretty weak.
The Rams really need him to step up his game if they want to field a top-10 unit in 2013.
Cody Davis (No. 38)
Cody Davis was a four-year standout for the Texas Tech Red Raiders, but he he somehow went undrafted in spite of solid production and measurables. The Rams lucked out and were able to sign him as an undrafted free agent.
Davis has a decent shot at making the final roster and even has a chance to start if he's overly impressive.
Rodney McLeod (No. 23)
Rodney McLeod made the 2012 team primarily as a special teams contributor, but he'll be eyeing a starting job in 2013.
With one year of experience under his belt, he is hoping to make solid strides, which will help the Rams solidify the safety position in 2013.
Matt Giordano (No. 27)
Matt Giordano is an eight-year veteran with starting experience and will attempt to win a job as a starter. He was brought in as an insurance policy due to the youth at the position.
Giordano has been known to miss tackles, but he has recorded seven interceptions over the last two seasons, which is a positive.
Basically, he is a Craig Dahl who can catch.
Matt Daniels (No. 37)
Matt Daniels appeared in four games for the Rams in 2012, but he missed the majority of the year due to injuries.
He was a long-shot rookie a year ago out of Duke, but he impressed the coaching staff and managed to stick around. It should be interesting to see how much he can improve in year two.
Cannon Smith (No. 48)
Cannon Smith was a productive player for the University of Memphis, recording 51 tackles in his final season.
With so little depth at safety, every player on the roster has a shot at the final roster. However, he is the most likely to be cut.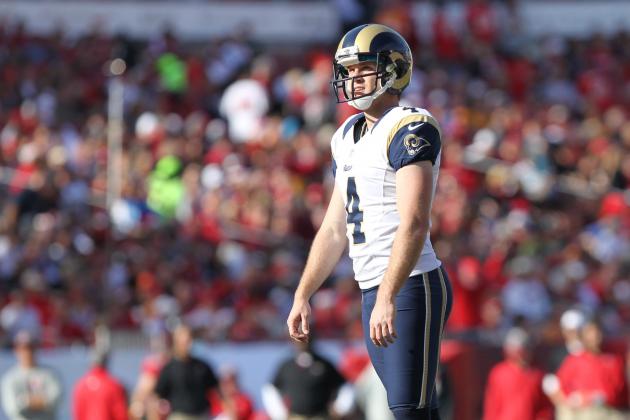 Kim Klement-USA TODAY Sports

K Greg Zuerlein (No. 4)
Greg Zuerlein generated a ton of hype early in the 2012 season after sinking each of his first 13 field goals, including a 60-yard bomb. He struggled at times in the final 11 games of the season, missing eight of his final 18 field goals, but that was mostly due to rookie nerves.
In year two, Zuerlein will establish himself as an elite kicker in the NFL. With his leg strength, he'll likely set the record at some point for the longest field goal in NFL history, which currently stands at 63 yards.
P Johnny Hekker (No. 6)
Johnny Hekker had a solid season as the Rams' rookie punter in 2012, averaging 39.9 yards per punt.
He is also a secret weapon, as he has a decent arm, which sets up the fake. In one instance, as the field-goal holder, he threw a touchdown to Danny Amendola during a fake field-goal attempt.
He has some rookie inconsistencies, but he should improve in his second season.
LS Jake McQuaide (No. 44)
Jake McQuaide started all 16 games as the Rams' long snapper, and he will once again hold that job title in 2013, so long as there are no surprises.
LS Jorgen Hus (No. 49)
Jorgen Hus was brought in as competition, but in all likelihood, McQuaide will retain the job, as he's the guy the coaches are comfortable with.
K Brett Baer (No. 5)
Brett Baer was brought in as an extra camp leg for running special teams drills, but Zuerlein will certainly retain the job unless there's an injury.