In yet another dramatic finish, France outlasted Uruguay in the 2013 Under-20 World Cup final in Instanbul on Saturday, surviving the South Americans 0-0 (4-1) on penalty kicks, via FIFA.com on Twitter:
PENS - FRANCE SCORE. Foulquier scores to make it France 4-1 Uruguay in the #u20wc final. FRANCE ARE CHAMPIONS - http://t.co/fgc5VShRv8

— FIFA.com (@FIFAcom) July 13, 2013
Saturday's final featured plenty of chances from each side, but the two goalkeepers stepped up and stole the show as the match went scoreless for over two hours before France delivered Uruguay a crushing blow in penalties.
Twenty minutes in, Uruguay's Nicolas Lopez created the best chance of the opening half, taking advantage of a poor header from French defender Mouhamadou-Naby Sarr to put an awkward shot on goal that Alphonse Areola was fortunate enough to get a leg on and send wide.
Lopez would finish the first half with three shots, two of which fell on goal.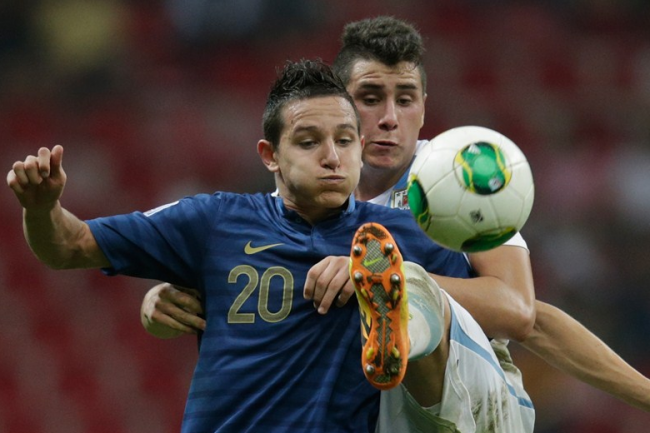 France would have a few chances of its own in the first half, but nothing would pan out for Les Bleuets, and the teams entered their halftime dressing rooms tied at 0-0.
French midfield star Paul Pogba was booked just 15 minutes into the second half after picking up a handful of fouls.
Uruguay would miss out on another golden opportunity to break the deadlock around the 80-minute mark, as French goalkeeper Alphonse Areola made a brilliant play to run off his line and smother a chance from Felipe Avenatti, who had received a gorgeous through ball from Giorgian De Arrascaeta.
Moments later it was France creating chances in Uruguay's defensive third. But a pair of superb saves from Guillermo De Amores kept the score level, via Tom Robinson:
Two huge saves from De Amores to keep Uruguay in it. Gimenez injury could be big too - best defender in the tournament so far #U20WC

— Tom Robinson (@tomrobbo89) July 13, 2013
After 90 minutes plus injury time, nothing would be decided, which signaled extra time, per French Football Weekly on Twitter:
It is indeed another 30 mins. Uruguay have had to face this in the last 2 rounds so can France exploit the tired South Americans?

— FFW (@FrenchFtWeekly) July 13, 2013
Uruguay would come out the more aggressive side to start the first extra time period, but the South Americans were unable to convert, via Football Uruguay on Twitter:
Uruguay have started extra time on fire with a number of chances already. Need to convert one ASAP!

— Football Uruguay (@footballuruguay) July 13, 2013
In the second half of extra time, French manager Pierre Mankowski made a controversial decision to send in a substitute for Alexy Bosetti, who had been sent on as a sub in the second half. Mankowski had to be thinking about penalties, but nevertheless the switch served as one of the more surprising moments of extra time.
After 120 minutes of scoreless action, the tournament final went to penalty kicks for the second time in four years, per sports journalist Jerrad Peters:
Off to penalties in Istanbul. It's almost a relief.#U20WC

— Jerrad Peters (@jerradpeters) July 13, 2013
Alphonse Areola would turn out to be the hero in the end, saving Uruguay's first two shots to give France a huge lead that it wouldn't relinquish.
Match Grades
Nicolas Lopez, Uruguay: B
Uruguay star striker Nicolas Lopez certainly wasn't shy on Saturday, looking to go for goal nearly every chance he had.
The 19-year-old Roma forward was active the final third throughout the match, putting two shots on goal in the first half and then adding to his shot tally in the second half. Still, Lopez will be kicking himself for a long time for not converting on a single chance Saturday.
Kurt Zouma, France: A
The French defender was sensational in Saturday's final, playing excellent defense from start to finish and turning the Uruguay attack away several times.
Zouma's non-stop effort in the defensive third may not show up in the stat sheet, but his hustle helped keep Uruguay off the board and propel France into the penalty shootout.
Emiliano Velazquez, Uruguay: D
Uruguayan defender Emiliano Velazquez struggled in defense early but rebounded nicely. After picking up an early yellow card, he continued to play on the edge, making several questionable challenges that could have put La Celeste a man down, via French Football Weekly on Twitter:
Velazquez walking a very fine line - that's his 2nd or 3rd foul after picking up a yellow. Can't afford many more!

— FFW (@FrenchFtWeekly) July 13, 2013
Velazquez would compose himself and play big defensively down the stretch, but his missed penalty kick will come back to haunt him and Uruguay.
France
| | | |
| --- | --- | --- |
| Pos. | Player | Grade |
| G | Alphonse Areola | A |
| D | Dimitri Foulquier | B |
| D | Kurt Zouma | A |
| D | Lucas Digne (Off 115') | B |
| D | Mouhamadou-Naby Sarr | B |
| M | Paul Pogba | A |
| M | Geoffrey Kondogbia | B |
| M | Jean-Christophe Bahebeck (Off 64') | C |
| M | Jordan Veretout | B |
| F | Yaya Sanogo | C |
| F | Florian Thauvin | B |
| F | Alexy Bosetti (On 64') (Off 112') | B |
| M | Axel Ngando (On 112') | B |
| D | Polomat Pierre-Yves (On 115') | B |
Uruguay
Pos.
Player
Grade
G
Guillermo De Amores
A
D
Emiliano Velazquez
D
D
Gastón Silva
A
D
Gianni Danielle Rodríguez (Off 99')
B
D
Jose Gimenez (Off 83')
B
M
Leonardo Pais
B
M
Sebastian Cristoforo
B
M
Diego Laxalt Suárez (Off 70')
B
M
Federico Acevedo Fagundez
B
F
Nicolas Lopez
B
F
Felipe Avenatti
B
M
Giorgian De Arrascaeta Benedetti (On 70')

C
D
Guillermo Varela

(On 83')

B
D
Lucas Olaza (On 99')
B
What It Means
This is France's first Under-20 World Cup title. Prior to Saturday, the French came the closest in 2011, finishing in fourth place in Colombia after reaching the semifinals.
For Uruguay, a win Saturday would have been its first Under-20 championship as well. La Celeste finished as runner-up in 1997 and finished third in 1979. It should be noted that Uruguay's heartbreaking loss comes just days after it survived against Iraq on penalties in the semifinals.
Both France and Uruguay allowed just two goals each during the knockout stages this summer, and neither allowed a goal on Saturday.
This was the fifth Under-20 World Cup final to require penalty kicks, and the third to require a penalty shootout following a scoreless draw.
Follow Bleacher Report Featured Columnist Patrick Clarke on Twitter.