The 5 Biggest Storylines Heading into Detroit Lions Training Camp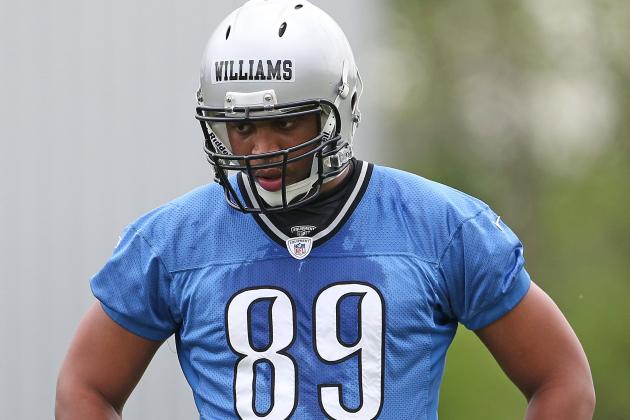 Leon Halip/Getty Images

After a lengthy period of NFL inactivity, training camps are just around the corner, marking the official beginning of the NFL preseason.
From the end of July to the beginning of February, the NFL is a constant source of intrigue and news, and the first thing we're going to see play out is the answers to the questions surrounding each team all summer.
While the Detroit Lions' offseason hasn't exactly been the most exciting and full of intrigue, there are still very important storylines to follow.
Better yet, the biggest storylines for the Lions refer to things happening on the field, not off. Most of them are even good things.
It hasn't been all cupcakes and unicorns for the 2013 Lions so far, but it's a stark improvement over last year.
So here's a rundown of the biggest storylines following the Lions into training camp. Spoiler alert: None of them have to do with legal trouble.
Begin Slideshow

»
Yes, we're starting off talking about kickers.
This is a story that carries amplified intrigue. For starters, it will be strange for Lions fans to see anybody other than No. 4 booming field goals from 50 yards out. Whoever replaces the man who remained the Lions' kicker since 1992 is automatically going to be a point of intrigue.
But this story goes so far beyond just replacing Jason Hanson. The Lions went out and got two kickers to compete for the vacant kicking position, and perhaps the only thing they have in common is their kicking foot.
David Akers, a six-time All-Pro kicker, spent the majority of his career with the Philadelphia Eagles before leaving for San Francisco. For the 49ers, he had one of his best seasons in 2011, then followed it with unequivocally his worst season in 2012, where he was good with only 69 percent of his field goals, including an embarrassing 9-for-19 from 40 yards or more.
In the other corner, we have a guy who was, until recently, considered little more than a novelty—someone to fill in while Akers recovered from the groin injury that may have affected his accuracy in 2012.
Havard "Kickalicious" Rugland, the Norwegian trick shot-kicking sensation responsible for the attached video, went to Lions minicamp and started drilling kicks from all over the field. There was no rush, no crowd and no pressure from the game situation, but Rugland has put himself squarely in the conversation to succeed Hanson as the Lions' next kicker.
Oddly enough, as reported by Tim Twentyman of DetriotLions.com, Matthew Stafford got his contract extension of three years for $53 million at the time when it was being least discussed.
Stafford didn't sign his deal in the interest of helping the Lions sign more free agents, at least not this year. Free agency is basically over already, and training camp has fired up. But now that Stafford is locked up as a Lion through 2017, there are sure to be more questions surrounding the 25-year-old quarterback than usual.
Can Stafford fix his mechanics issues? Can he take the step to elite status? Will he emerge as the true leader of this Lions team?
Now that the Lions have committed to Stafford long-term, the honeymoon is over. It's obvious that Stafford is an extremely talented quarterback, more so than any to pass through Detroit in decades. But to live up to his contract, he'll need to put all that talent together into a complete on-field package.
It's uncharacteristic of Jim Schwartz's Lions to hand over an important starting position to a young player without so much as a competition.
Yet that's exactly what's happening with Riley Reiff at the left tackle position right now. With the retirement of Jeff Backus, the Lions have effectively no options at the left tackle position other than Reiff, who was drafted in 2012 with the intention of taking over that position.
But is he ready after one year? Clearly, the Lions are betting on it, because neither of their other tackles—Jason Fox and Corey Hilliard—is expected to seriously compete for the starting position on the left side. Rather, Fox and Hilliard comprise one of the more interesting roster battles at right tackle, with the loser expected to hit the bench.
Of course, Reiff isn't going into this completely cold. He started a game for the Lions at left tackle last year in the only game Jeff Backus missed in his career. The results are mixed, but at the very least, Reiff rarely looks overmatched.
But now that Reiff is entrenched as the starter, things will be similar to how they are with Stafford: unforgiving.
Mistakes from here on will be noticed, analyzed and thrown into the pile of evidence meant to determine whether or not he should be unchallenged as the starter again next year.
On the field, Louis Delmas is one of the Lions' most effective defenders. He changes the flow of the game with his athleticism and hitting ability.
Off the field, however, Delmas can't do any of that. And Delmas has found himself off the field (or limited, at least) for the majority of the last two seasons.
To this point, not much has changed. Delmas' knee still isn't fully healthy, as reported by Gillian Van Stratt of MLive.com, and there is very little indication as to how soon it will be. Suffice to say, one of the more active stories in training camp will be about when Delmas practices and how often.
When Delmas is on the field, the Lions defense is notably better. The only question left, which will eventually be answered as we get closer to the regular season, is whether we can expect Delmas' presence on the field to be consistent.
Between Ziggy Ansah, Darius Slay, Larry Warford and Sam Martin, the Lions could be looking at starting as many as four rookies from the first game of the season.
Of course, it's far from guaranteed that any of those four rookies will be starting out of training camp. That's why they're worth watching in training camp.
Of particular interest is Ansah, who is likely the most assured of an immediate starting position. He faces lofty expectations, but the one thing that remains true of Ansah throughout his career is that he learns and grows quickly. He is the one player who might actually show notable improvement from the beginning of training camp to the end.
Even with rookies not competing for starting positions, all of them have something to aspire to. Rookie tight ends Joseph Fauria and Michael Williams will battle for a roster spot, while wide receiver Corey Fuller and running back Theo Riddick will make their respective cases for a roster spot.
In 2012, the rookie class carried relatively little intrigue, as none of those players were drafted for immediate impact.
In 2013, the Lions will require several of their rookies to provide just that, and training camp will be their first real chance to prove that they can.