All 12 teams at the 2013 UEFA Women's European Championship had played a match by Friday, and Saturday marked the second round of group competition in Sweden.
Moving back to Group A, Italy and Denmark kicked off Saturday's slate of matches. Finland and Sweden would begin shortly after, as the host nation was aiming to take a step toward making the semifinals for the first time since 2005.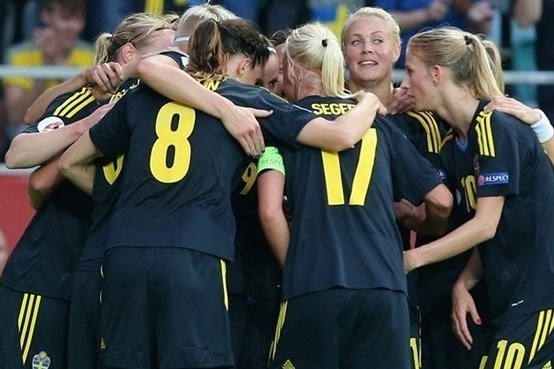 Italy is a two-time runner up at the UEFA Women's Euro, including a second-place finish to Germany during the 2009 event. Denmark is a four-time semifinalist, while Sweden was the inaugural champion in 1984. Finland was a semifinalist in 2005.
The Italians forced a 0-0 draw with Finland during their first match out, while Denmark and Sweden played to a 1-1 draw in the other Group A match of the tournament so far. With all four teams taking home one point from the first round of matches, top spots were once again up for grabs on Saturday.
As you can see in this tweet from Womens Soccer United, a large crowd found its way to Gamla Ullevi to take in some football action:
Fantastic support for tonight's #Euro2013 group match, Finland v Sweden! - RT @sweden2013 Attendance: 16, 414 !!

— Womens Soccer United (@WomensSoccerUtd) July 13, 2013
From goals to late-match excitement, Saturday's action in Sweden had it all. Check out the sections below to see for yourself.
Italy 2, Denmark 1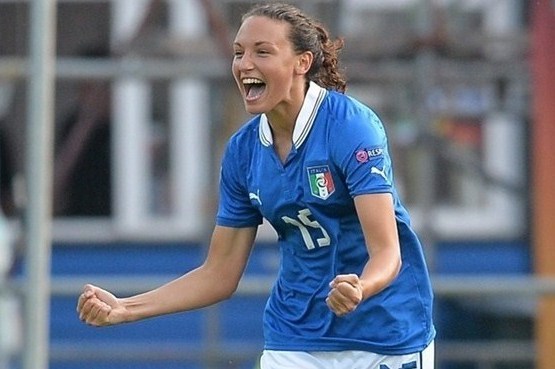 Through the first 45 minutes of action, it looked like we were going to have another draw at the 2013 UEFA Women's Euro.
But Italy scored twice before the 60-minute mark to take a 2-0 lead and managed to keep Denmark at bay despite a response goal from Mia Brogaard and a late push during the last five minutes of the match.
With the 2-1 victory, Italy grabbed three points in the Group A table. BBC Sport Football had the tweet as things went final in Sweden:
VIDEO: Thrilling finish as Italy beat Denmark: Italy beat Denmark 2-1 in an entertaining match in the Women's ... http://t.co/dKvNHSXyHP

— BBC Sport Football (@BBCFootball1) July 13, 2013
Italy and Denmark both had chances to score in the first half, with Denmark coming away with three inside the first 15 minutes of action.
Pernille Harder put the ball around the net three times before the 13-minute mark, but came away empty all three times. She was very active throughout the first half, but Denmark's aggression did not result in an early lead at the half.

Italy was actually the closest team to scoring in the first half, but Sandy Iannella's goal off a beautiful through ball from Melania Gabbiadini was disallowed after the referee judged her to be offsides.
It was the Italians who took over the aggression in the match as the second half began.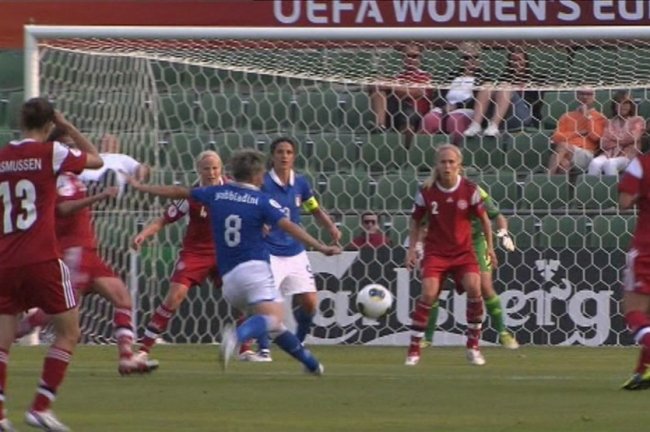 Gabbiadini got Italy on the board in the 55th minute, scoring a deflected goal to grab her side's first goal of the match and the tournament. Womens Soccer United on Twitter had the post as she found the net:
55' GOAL! Italy 1-0 Denmark (Gabbiadini's shot gets a slight defection!) #Euro2013 #wsu

— Womens Soccer United (@WomensSoccerUtd) July 13, 2013
Teammate Ilaria Mauro, who had just come on two minutes early, then increased Italy's lead to two with a goal just five minutes later. UEFA.com's Sam Crompton had this tweet as Italy took a 2-0 lead.
GOAL! She's only been on the pitch a matter of moments but her impact is immediate as Mauro follows up Panico's parried header. 2-0 Italy.

— Sam Crompton (@UEFAcomSamC) July 13, 2013
Brogaard responded with her goal to cut the deficit in half, and at one point, it looked as if Denmark was going to force the third draw in Group A action as things were winding down.
Denmark finally mounted a late attack in the 88th minute, but a free kick off an Italian yellow card went high. Denmark would regain possession in added time; Nadia Nadim had the last chance for her side but failed to capitalize on a late shot that would have tied the score.
Italy managed to hang on and pick up the first win in Group A, but Sweden and Finland would have to finish their match before the Azzurri could lay claim to the top spot in the table at the end of the day.
Sweden 5, Finland 0
Taking a lesson from Denmark's inability to score early, the host nation found the net early and often to produce the most lopsided outcome from the 2013 Women's Euros so far.
Nilla Fischer and Lotta Schelin each recorded a brace for Norway and Kosovare Asllani added a goal in between to give Sweden some much-needed momentum heading into the final group game against Italy on Tuesday.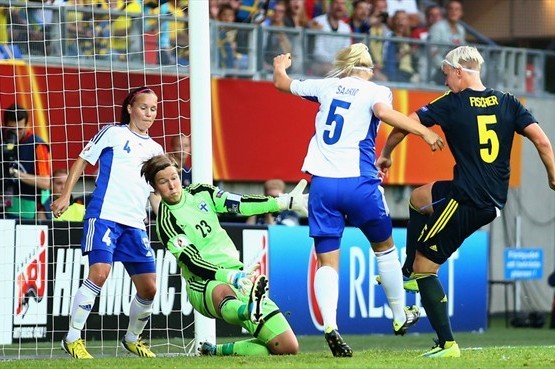 UEFA.com's Paul Saffer had this tweet as Sweden completed a dominating victory in the night cap of the action on Saturday:
Sweden have now equalled the @uefawomenseuro record win 5-0 up v Finland. And Nilla Fischer leading Golden Boot #euro2013

— Paul Saffer (@UEFAcomPaulS) July 13, 2013
Finland managed to keep the sheet clean against Italy during their first time out, but there was no such luck to be had against the host nation. Sweden pressed early, found the net in the process and took a 3-0 lead into the half to leave Finland searching for answers at the intermission.
There were no answers to be found in the second half.
Schelin's brace came in the next 45 minutes and helped the Swedes equal the largest victory ever at this event. Schelin also equalled teammate Fischer's two-goal mark from the first half in the process.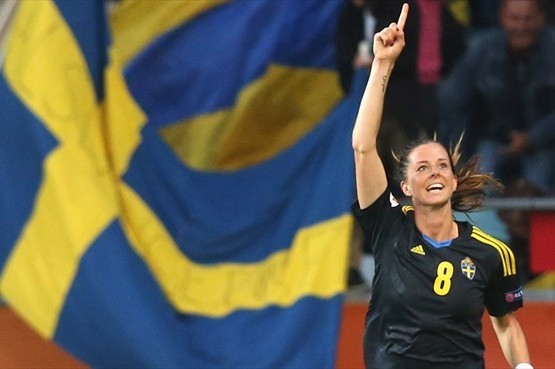 As NextBet jokingly put it on Twitter, Schelin's late score was the icing on the cake for the Swedes:
GOAL! Sweden Women make it 5-0 in the 87th minute, had us slightly worried there. #90Bets #4 lands.

— NextBet.co.uk (@NextBetTips) July 13, 2013
There was a lot of disappointment lingering with Pia Sundhage's squad after an opening-match draw with Denmark, but Finland was clearly the recipient of that frustration from the opening kick until the final whistle.
Who wins the Sweden/Italy Group A matchup on Tuesday?
Sweden dominated the attack, possession and outshot Finland by 12 (16-4) in their record-setting performance. Sweden also had a whopping 21 corners on the evening, compared to just one earned by Finland.
The host nation earned the top spot in the Group A standings in the process, supplanting Italy's short-lived trip to that spot by beating Denmark. Since Sweden picked up five goals and leads in the standings based on that fact, Italy can only win Group A with an outright win over the host nation on Tuesday.
A draw would guarantee both teams reach the next phase of the tournament, while an Italy loss and Denmark win has the potential to vault the Danes into the No. 2 spot in the table.
There's a lot of football left to be played, but Sweden made an emphatic statement on Saturday in pummeling Finland in front of a packed house.
Group A Standings
| | | | | | | |
| --- | --- | --- | --- | --- | --- | --- |
| Team | MP | W | D | L | +/- | Points |
| Sweden | 2 | 1 | 1 | 0 | 5 | 4 |
| Italy | 2 | 1 | 1 | 0 | 1 | 4 |
| Denmark | 2 | 0 | 1 | 1 | -1 | 1 |
| Finland | 2 | 0 | 1 | 0 | -5 | 1 |
*via UEFA.com.
What's Next?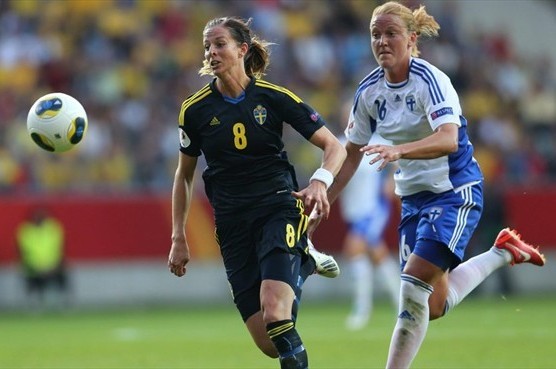 We'll move back to Group B on Sunday, when Iceland will take on Germany and Norway will square off with the Netherlands.
The two previous matches in this group (Iceland vs. Norway and Germany vs. Netherlands) both finished in a draw, so the Group B is literally up for grabs during Sunday's action in Sweden. Group C (France, Spain, England, Russia) will then have its second set of games on Monday.
Group A won't hit the pitch again until Tuesday.
*All stats courtesy UEFA.com.
Follow B/R's Ethan Grant (@DowntownEG) on Twitter.