2013 British Open: Stock Watch for Golf's Top Stars Heading into Muirfield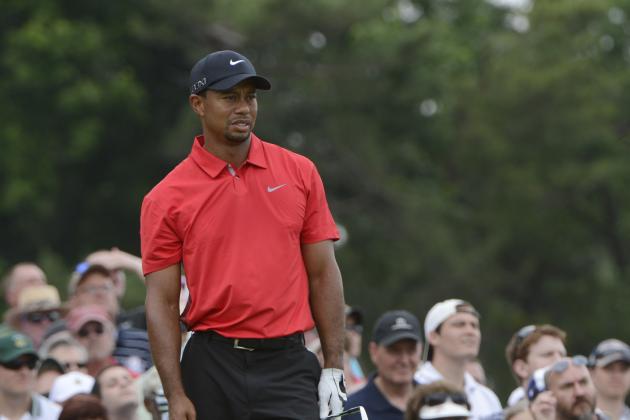 Eileen Blass-USA TODAY

Tiger Woods is the betting favorite nearly every time he competes in any tournament.
That has certainly been the case the last two years, when he has won seven tournaments. As he prepares for the 2013 British Open, Woods is once again the favorite to win even though it has been five full years since he last won a major championship.
Woods' 14 career major victories and his competitiveness make him a major story in every major that he plays. However, that does not mean he is in top form at the moment. Here's our look at the stock watch for the top contenders in the British Open.
(All ranking numbers are courtesy of World Golf Ranking.)
Begin Slideshow

»
World Ranking: 1
Majors Won: 14
Current Form: Tiger Woods is always the focus in every major tournament he enters, and that's not likely to change any time soon. However, Woods has not played a round since the U.S. Open and while he has had a sensational 2013 season overall, he did not play his best golf in the Masters or U.S. Open.
Now he moves to the British Open and his overall conditioning is not a certainty. Woods has had a left elbow strain and that injury has kept him from playing since the U.S. Open.
There is also a severe mental strain that goes with a five-year drought when it comes to winning majors. Woods will have to demonstrate that his elbow has recovered and his mind is right if he is going to contend and possibly win his 15th major title.
Woods has won the British Open three times.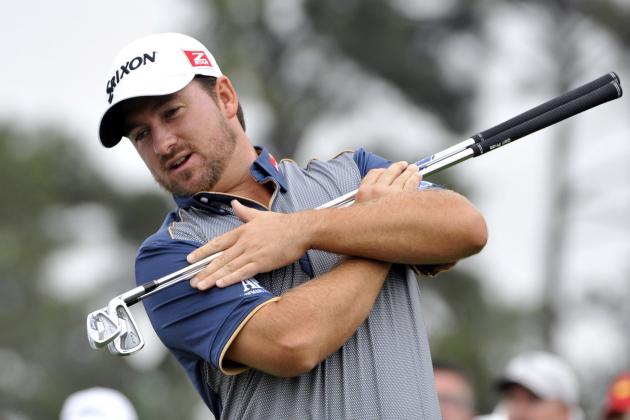 Michael Madrid-USA TODAY Sports

World Ranking: 6
Majors Won: 1
Current Form: Graeme McDowell recently won the French Open, and that tournament should serve as a tuneup for the British Open for him.
McDowell has been enjoying a stellar 2013 season, as he has already won three tournaments (two in Europe). However, despite his victory total, it has not been the most consistent of years.
While he has been at or near the top when he has been on his game, he has also missed the cut five times. He has not been a consistent golfer and it seems that one or two bad holes can knock McDowell off of his game.
McDowell's major victory came in the 2010 U.S. Open.
Andrew Redington/Getty Images

World Ranking: 72
Majors Won: 3
Current Form: Harrington is a two-time British Open winner and deserves to be mentioned when potential winners and contenders of the event are up for consideration.
Harrington has not been at his best recently. Harrington shot back-to-back rounds of 66 to open the Travelers Championship in late June, but he closed with a 72 in the third round and an 80 in the final round. That's not what you want to see as the Irish native prepares for the British Open.
Harrington has been using a belly putter this year, and the results have been inconsistent.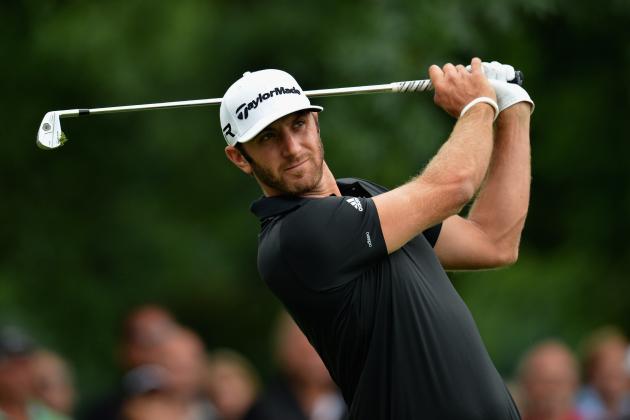 Warren Little/Getty Images

World Ranking: 24
Majors Won: None
Current Form: Dustin Johnson is becoming a staple on TMZ because of his relationship with Paulina Gretzky, the Great One's daughter.
However, Johnson is a superb golfer who has played in the final grouping in three majors. He's a huge hitter who is averaging 304.9 yards per drive, a figure that ranks second on the PGA Tour. He's also 14th with an average of 3.83 birdies per round.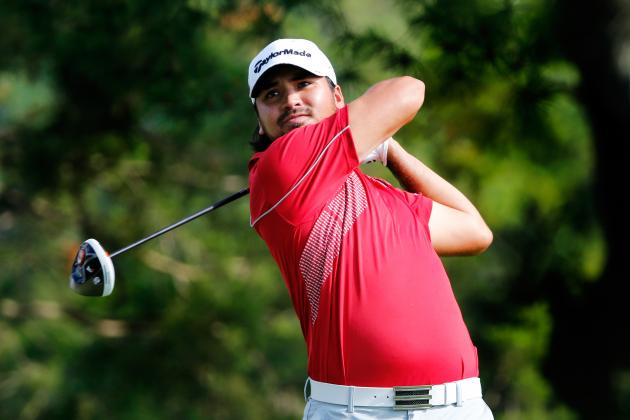 Rob Carr/Getty Images

World Ranking: 18
Majors Won: None
Current Form: Jason Day has been a contender in the Masters and the U.S. Open. He finished third in the Masters and tied for second in the U.S. Open. However, Day has only won one tournament on the PGA Tour in six years. He certainly has proven that he can get close, however, he needs to show he can close the deal and get an important victory.
Until he does that, it's difficult to see this Australian native winning the British Open.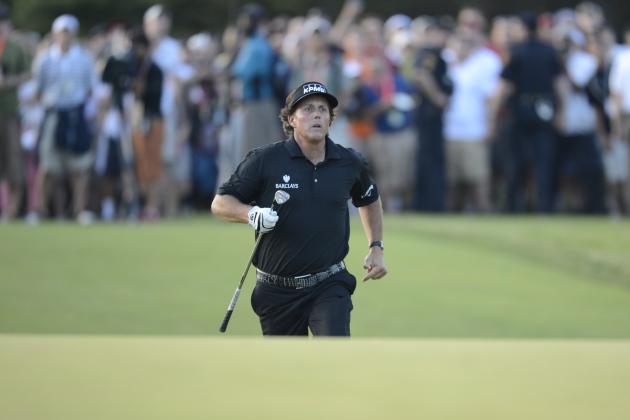 JD Mercer-USA TODAY Sports

World Ranking: 8
Majors Won: Four
Current Form: Mickelson had not been at his best on a links course like Muirfield, but he played brilliant golf in winning the Scottish Open. While that victory won't wipe out the pain of shooting a 74 in the final round of the U.S. Open, it allows Mickelson to go into the British Open with momentum.
Mickelson demonstrated that he can rebound with a spectacular performance. His go-for-broke mentality is often jeered at by his critics, but he certainly has the courage to try difficult shots under circumstances that would cause others to hesitate.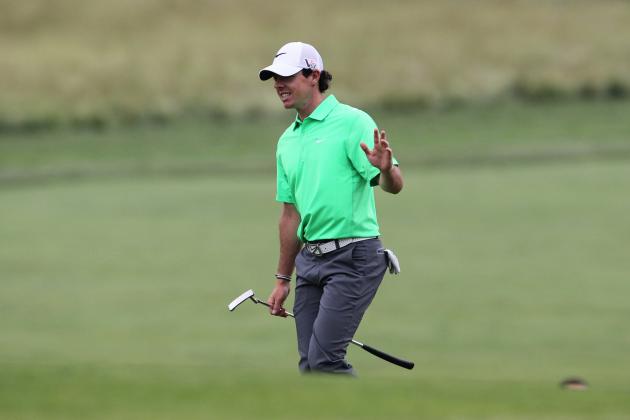 Matthew O'Haren-USA TODAY Sports

World Ranking: 2
Majors Won: 2
Current Form: Rory McIlroy has endured a difficult year after earning the No. 1 ranking last year and seemingly qualifying as a rival for Tiger Woods. He has not provided any recent evidence that he is ready to compete for four rounds at a major.
He could join golf's elite if he could manage to win in Scotland or the PGA Championship, because it would give him major titles in each of the last three years. That would put him in the same grouping with Tiger Woods, Phil Mickelson, Jack Nicklaus and Tom Watson as the only golfers to have accomplished that feat in the last 50 years.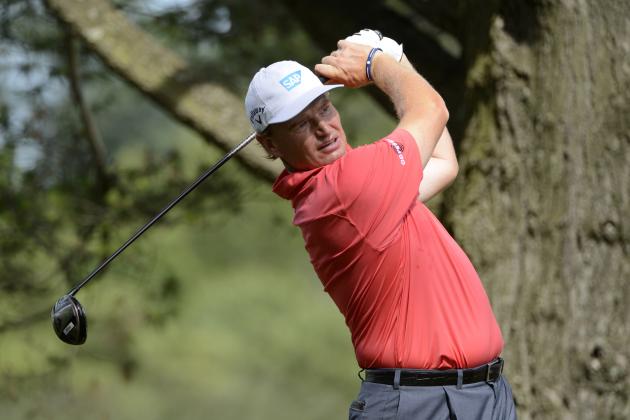 Eileen Blass-USA TODAY Sports

World Ranking: 13
Majors Won: Four
Current Form: A look at his most recent tournaments show that Els was right in contention for the U.S. Open title. He finished five-over-par and that placed him in a tie for fourth place. As long as Els is putting the ball decently, he has a chance to assert himself in the championship he has won twice, including last year.
Els usually finds a way to get near the leaders, as his 92 top 10 finishes indicates. He's also the defending British Open champion.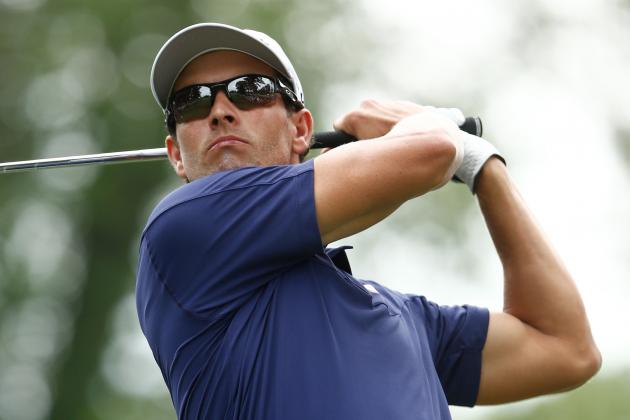 USA TODAY Sports

World Ranking: 4
Majors Won: One
Current Form: Adam Scott overcame a lot of personal demons when he won the Masters earlier this year for the first major title of his career. Not only was he calm, cool and clutch in his playoff win over Angel Cabrera, he rebounded from his disastrous finish at last year's British Open.
Scott bogeyed the last four holes at Royal Lytham & St. Anne's and blew a four-shot lead. His ability to quickly rebound—at least from a major perspective—speaks volumes about his game.
Michael Cohen/Getty Images

World Ranking: 16
Majors Won: None
Current Form: Keegan Bradley has all the tools needed to win a major championship, and it seems that it's only a matter of time before it happens for him. However, the same emotion that made him a crowd favorite at the Ryder Cup last fall could cause problems for him at the biggest moments.
Bradley ranks eighth in distance off the tee with an average of 302.6 yards per drive. He is also averaging 3.80 birdies per round, ranking 17th on the tour. However, he hasn't won this year and Muirfield may prove to be a tough course to assert himself.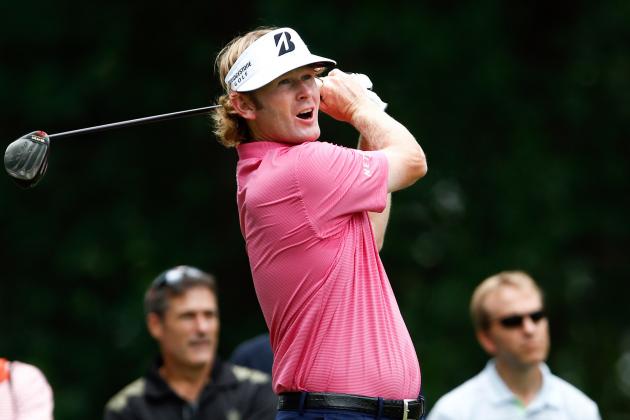 USA TODAY Sports

World Ranking: 7
Majors Won: None
Current Form: Snedeker has a chance to take over any tournament that he enters. Earlier this year, he finished second in back-to-back tournaments that were won by Tiger Woods and Phil Mickelson, and then came back to win the following week.
He has been in contention in two of the last four majors. That experience should help him at Muirfield if he can hit the ball accurately off the tee. He ranks 27th in driving accuracy this year.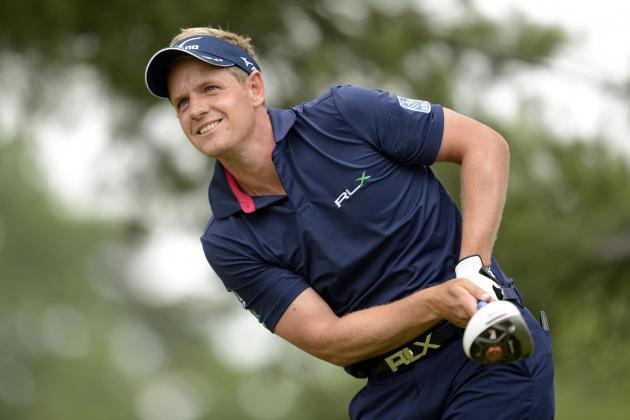 JD Mercer-USA TODAY Sports

World Ranking: 9
Majors Won: None
Current Form: Donald still may have an impressive overall ranking, but he is going the wrong way. He was ranked as the No. 1 golfer in the world and he may be ready to fall out of the top 10. While he has never been the biggest hitter, Donald's lack of power off the tee (276.9 yards per drive, 163rd on the tour) seems to be hurting him more now than it has in the past.
Donald simply is not as accurate as he has been in the past. He ranks 151st in hitting greens in regulation, and that's not good enough when you are hoping to win your first major.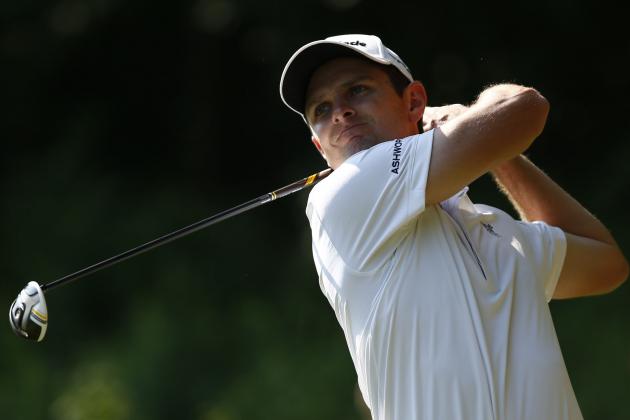 Debby Wong-USA TODAY Sports

World Ranking: 3
Majors Won: One
Current Form: It would be hard to imagine a more spectacular year for Justin Rose if he were to come a away with the win at Muirfield. He has already won the U.S. Open this year, closing with a final round of 70 and finishing one-over-par to win the tournament. With everything on the line, he hit a deadly accurate four-iron on the 18th fairway to clinch the championship.
If the English native were to take the British Open as well, he would become the fifth player in the sport's history to win both storied championships in the same year.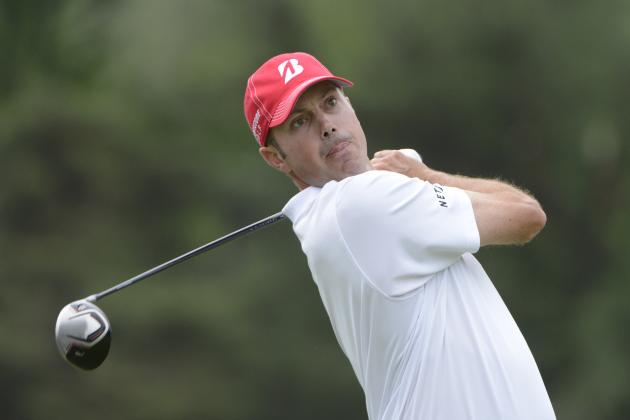 Eileen Blass-USA TODAY

World Ranking: 5
Majors Won: None
Current Form: It's difficult to look at the season Matt Kuchar is having and say he has something to prove, but that's just the case. He is No. 2 on the FedEx points list behind Tiger Woods, he has won two tournaments and he has more than $4.3 million in earnings.
However, even though he has been in contention at this year's Masters—he finished tied for eighth—you don't always get the feeling that Kuchar is going to be at his best in the biggest tournaments. However, he's a solid putter and ranks third in scoring average, so he should have a chance if he gets off to a good start at Muirfield.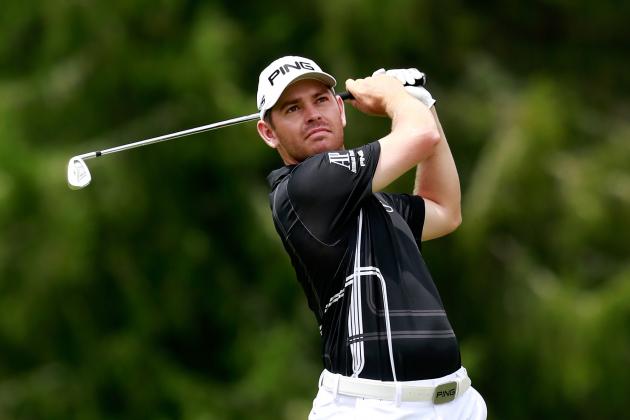 Chris Trotman/Getty Images

World Ranking: 10
Majors Won: One
Current Form: Louis Oosthuizen has one of the best swings in golf, so he has to be considered a legitimate contender. But despite his brilliant swing, Oosthuizen has one top 10 finish in PGA tournaments this season.
Oosthuizen missed the cut at the Masters and was unable to finish the U.S. Open because of a hip injury. He has not yet found his groove.
If Oosthuizen is healthy, he has a chance to repeat the success he had when he won the 2010 British Open. Otherwise, it's likely to be a disappointing run this time around.